Paris is without a doubt a beautiful city, and the residents of the city have gone to great lengths to keep it that way for years. It's one of the dreamiest and most famous European vacation destinations and attracts millions of visitors each and every year. Over the past few decades, thanks to a large number of eco-conscious travelers and more awareness of environmental safety, Paris has stepped up their game on greenness and sustainability.
Many businesses and accommodations have become more solicitous of the environment and have made changes to their structures to better protect the environment and minimize their impact on nature. This guide will give you a glimpse into 5 different Parisian hotels that are either eco-certified by an independent body or have become highly well-known for their eco-friendly practices and commitment to protecting the environment.
If you are an eco-conscious traveler looking for a sustainable hotel option in the city or love, consider one of the following options during your visit to Paris.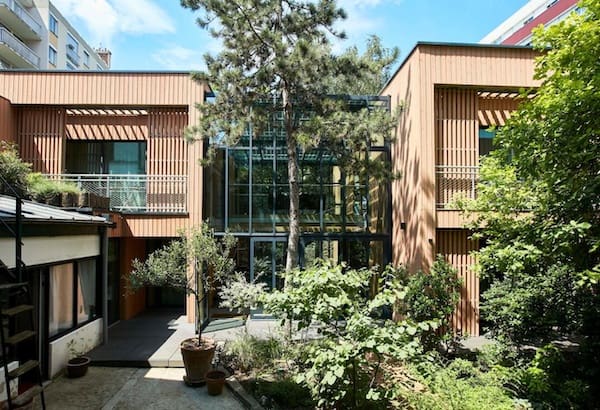 Eden Lodge
Experience the warmth of nature right in the heart of Paris. Eden Lodge is an eco-luxury wellness establishment that focuses on high standards of comfort and service. The staff goes to great lengths to provide a diverse and friendly environment with amazing hospitality for guests.
Located on the Eastern side of Pairs, it is within walking distance of various shops and restaurants, the AccorHotels Arena, Place de la Republique, and is 9 miles away from Orly airport. While it is in a local area close to multiple metro stations for easy access to other parts of the city, the lodge itself is a quiet, cozy, and spacious slice of heaven. The property includes free wifi throughout the facility, free breakfast, a fully loaded kitchen, and use of bicycles. Each room comes equipped with a television, private bathroom and seating area.
What makes Eden Lodge sustainable
Built in 2015, the lodge features multiple ecological innovations and provides some of the best environmental performances in Paris. It has a wooden structure with LED lighting, purified air, and renewable solar and wood pellet energy making it a zero-carbon lodge, wet rooms, and Japanese-style toilets to reduce water consumption. Eden Lodge is also a part of the Travel Sustainable program, taking significant steps to make the most possible sustainable stay.
Hotel details
Address: 
175, Rue De Charonne, 11th arr., 75011 Paris, France.
Guest rating:
4.5 out of 5
Price per night:
From $185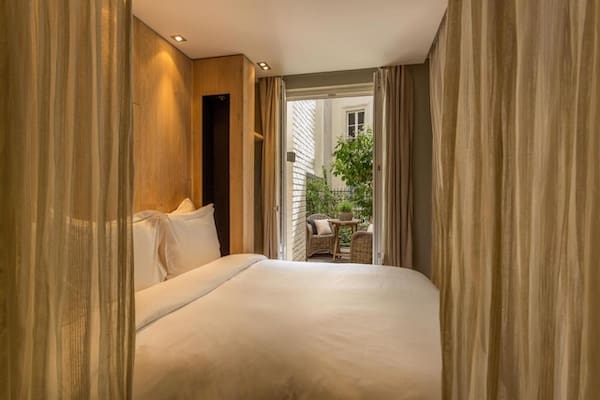 Hidden Hotel
Hidden Hotel takes guests into a world of secluded nature in a natural serenity tucked away in central Paris. Designed with comfort and relaxation in mind, the hotel presents itself in a way where luxury comes easy and unforgettable memories are made. It provides guests with a perfect mixture of uniqueness, ideal location, and attentive and friendly staff.
Located in central Paris just a hop, skip, and a jump away from the Arch de Triomphe, Hidden Hotel is your home away from home. Tucked away on a quiet street, it's an ideal location to be conveniently located, but away from all the hustle and bustle. Hidden Hotel is 1500 feet away from Avenue des Champs-Elysees, a 15-minute walk from Parc Monceau, and right around the corner from the Etoile metro station that can link you to all the famous sights and landmarks in Paris.
Each room has a unique decor with a bend of natural materials, wood, leather, and fur. They included a television, marble and stone bathrooms, and a cozy atmosphere. Daily breakfast is served buffet style, in addition to the Hidden Bar, which serves wine, cocktails, and charcuterie boards.
What makes Hidden Hotel sustainable
The Hidden Hotel is a sustainable hotel inspired by nature and has been designed, constructed, and decorated with materials to stay both environmentally friendly and stylish. Materials such as wood, marble, concrete, wool, linen, leather, slate, natural latex, and coconut fibers guarantee an environment designed to relax and provide a natural and peaceful atmosphere.
Hotel details
Address: 
28 Rue de l'Arc de Triomphe, 17th arr., 75017 Paris, France.
Guest rating:
4.4 out of 5
Price per night:
From $186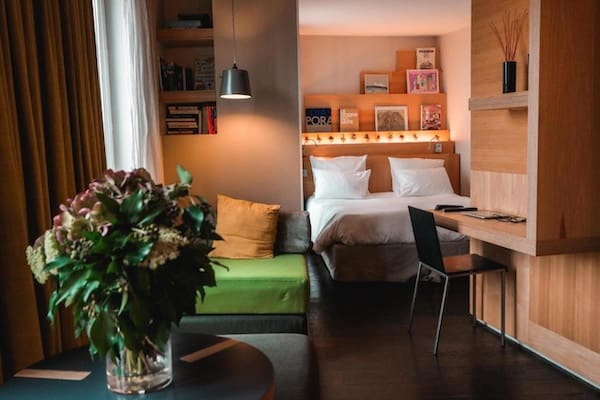 Le Citizen Hotel
Hidden away above a wine shop is the charming Le Citizen Hotel. Sitting in a location with a romantic and Bohemian atmosphere, it's an ideal choice for a sustainable hotel to experience the true romance of the city of love. With a Scandinavian charm and inviting space, Le Citizen Hotel provides harmony and relaxation.
Located in the 10th District of Paris, Le Citizen Hotel sits directly across the street with unobstructed views of the Canal St-Martin. Stroll over the various footbridge and throughout the various street-lined restaurants and boutiques. Le Citizen Hotel is within walking distance of 2 different metro stations, Jacques Bonsergent and Republique, that can take you directly to Place de la Bastille, Champs-Elysses, and Gare de l' Est Train Station.
Each room in Le Citizen Hotel has a modern design with wooden paneling. They come to view fantastic views of the Canal St. Martin, free wifi, televisions, and free on-demand films. Additionally, a tea and coffee facility is present in each room, as well as a free fully loaded iPad with a guide to the surrounding area.
What makes Le Citizen sustainable
Designed with sharp clean lines and natural woods, Le Citizen is an eco-friendly boutique establishment that takes pride in having a green philosophy. Le Citizen hotel is a reflection of being responsible for the environment without being wasteful. Focusing on water conservation and disposal, low paper consumption, energy conservation, and reduction of waste and plastic, Le Citizen is an environmentally conscious oasis.
Hotel details
Address: 
96 Quai De Jemmapes, 10th arr., 75010 Paris, France.
Guest rating:
4.4 out of 5
Price per night:
From $167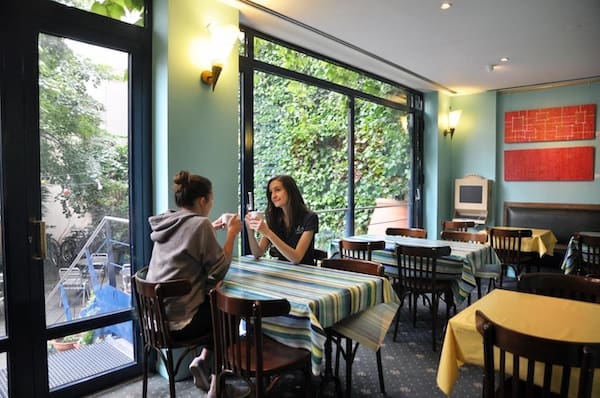 Solar Hotel
The Solar Hotel takes pride in being the best budget-friendly green and economical hotel in Paris. It was one of the first to be environmentally friendly, comfortable, and affordable in the city. The friendly and attentive staff are there to make each stay as relaxing and convenient as possible.
Located in Paris' 14th District, the Solar Hotel is surrounded by restaurants, shops, and boutiques in every direction. It is a quick 2-minute walk away from the Catacombes Museum, and Denfert Rocherearu Metro Station. It is within walking distance from the famous Notre Dame Cathedral and Louver Museum and is 8 miles away from Orly Airport.
The Solar Hotel offers a free, all-organic french breakfast each morning, using only the freshest of locally grown products. The rooms have been renovated with a preference for natural and recycled materials, they are equipped with televisions, high-quality bedding, storage cabinets, a work area, and a private bathroom. Additionally, the Solar Hotel has a large private garden, is a very bike-friendly area, and offers free bicycle rentals for guests.
What makes Solar Hotel sustainable
The Solar Hotel has had an ecological commitment for over 20 years, being a Green Hotel and Activist. The hotel includes solar panels for energy conservation, rainwater collectors on the sidewalks, a locally grown zero-waste breakfast, and labeled cleaning and recyclable facilities at all levels.
Hotel details
Address: 
22 rue Boulard, 14th arr., 75014 Paris, France.
Guest rating:
4.0 out of 5
Price per night:
From $115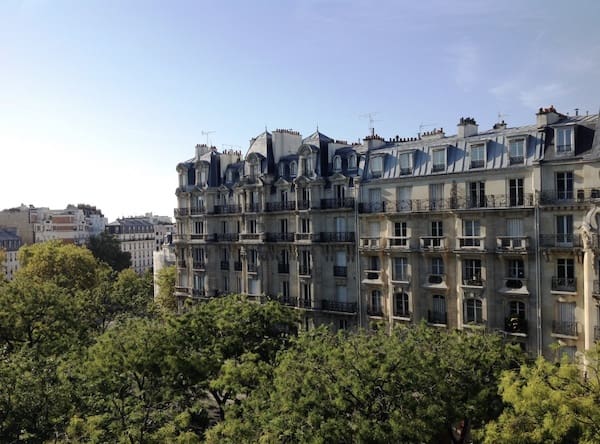 Hotel du Printemps
Hotel du Printemps is a perfect choice for a sustainable hotel in Paris for its charming and convenient location, blending with an eco-friendly and relaxing atmosphere. Surrounded by a tree-lined boulevard, gorgeous natural city views await guests. Hotel du Printemps is a charming facility with a staff eager to assist you and assure your stay is as pleasant as Paris.
It is conveniently located on the northern side of the city in the 18th District of Paris. The Bel Air area is an excellent home base for a visit to Paris, being more residential and peaceful, but with all the charm of the city. It's just a stone's throw away from the Place de Nation, lively markets, Picpus Metro Station, and various shops, restaurants, and cafes.
Each room in Hotel de Printemps is decorated with natural and neutral tones, elegant furnishings, and parquet floors. Rooms come with televisions, free wifi, soundproof walls, and a private bathroom. The hotel serves a buffet-style breakfast each morning, with access to an on-site patio and lounge with a fireplace.
What makes Hotel de Printemps sustainable
The property has been awarded the Green Key Label for good sustainable practices. It strives to provide ecological awareness and was the first accommodation serving as an international eco-label for tourism. Hotel du Printemps encourage staff and guests to always reduce the use of plastic and bad practices of environmental impact.
Hotel details
Address: 
80, Boulevard de Picpus, 12th arr., 75012 Paris, France.
Guest rating:
4.2 out of 5
Price per night:
From $110
How we select the best eco-friendly hotels in Paris
We are a travel research company. We check a lot of details and guest reviews before making a selection. First, we check which hotels follow eco-travel principles. Are they recycling their waste? Do they work with local communities? Are they using renewable energy? Are they not using single-using plastics?
Secondly, we check guest reviews across multiple websites and only list hotels which have an aggregated review rating of at least 4 out of 5. So you can be certain you will be staying at an excellent eco-friendly hotel in London.
Sustainable travel is becoming increasingly popular and important as we strive to reduce our carbon footprints. There are many easy ways to reduce your impact while traveling, from choosing eco-friendly accommodations to respecting the local wildlife. Here are some of the most important tips for sustainable travel.
More Paris tips
Get to know the city even better and check out our other articles about Paris: