The islands of Hawaii are known for their outstanding natural beauty, volcanos, and marine life that flourishes in the Pacific Ocean surrounding Hawaii. The Hawaiian islands have some of the most impressive tropical landscapes, including natural waterfalls, secluded lagoons, and many unique species of plant life that are only found in Hawaii.
In order to protect this beautiful natural environment, many Hawaiian resorts and hotels are making considerable efforts to become eco-friendly and incorporate sustainability into their daily practices to ensure that they protect the local ecosystem and reduce the environmental impact of tourism.
The following resorts are the 5 best sustainable hotels in Hawaii and have been selected due to their sustainable practices.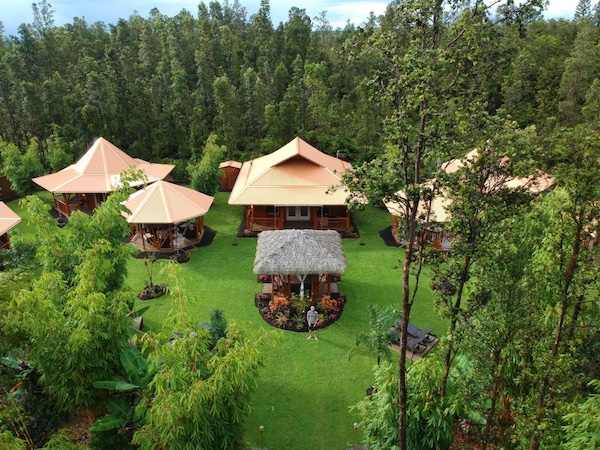 Volcano Eco Retreat, Big Island
The adult-only tropical Volcano Eco Retreat is located on the largest Hawaiian island, nicknamed The Big Island, known for its spectacular active volcanoes. The hotel is nestled among the lush tropical vegetation of Hawaii and includes an outdoor spa and individual luxury villa-style accommodations. Guests are encouraged to reconnect with nature through outdoor yoga sessions, and forest bathing. The Volcano Eco Retreat is located at the foothill of two large volcanoes which are within hiking distance and black and green sand beaches are located nearby.
What makes Volcano Eco Retreat sustainable
The hotel has been constructed with LEED-certified bamboo materials that have a low impact on the natural environment of Hawaii:
No single-use plastics are used within the retreat and glass bottles and straws are provided.
Biodegradable cleaning products are used throughout the retreat.
All the water used at the Volcano Eco Retreat is recycled Hawaiian rainwater which is filtered onsite.
Air conditioning is not used within the accommodations, instead relying on natural ventilation and open areas.
Food produce is sourced from local farmers and prepared meals are plant-based.
Food is also grown onsite and food waste is composted or recycled where possible.
Hotel details
Address: 
11-2888 Hibiscus Street, Mountain View, HI 96771, United States of America.
Guest rating:
4.8 out of 5
Price per night:
From $380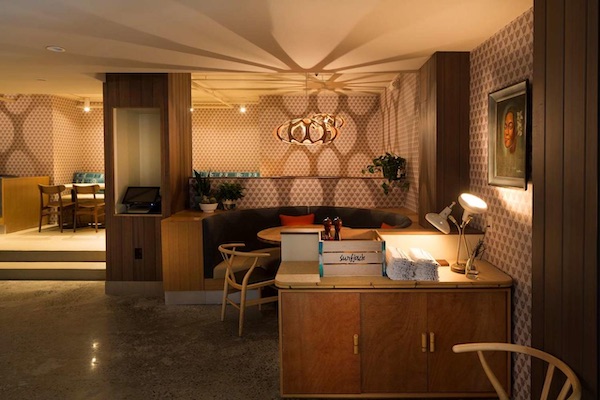 Surfjack Hotel & Swim Club, Waikiki
Located on the island of Oahu the Surfjack Boutique Hotel is a short walk from some of the most beautiful and popular beaches in Waikiki, which are known for their excellent surfing and vibrant nightlife. The hotel has 112 spacious rooms designed with a vintage aesthetic that is modern and welcoming. There is also a swim club, which offers guests a retro-style pool experience with open-air movie screenings and cocktails served around the poolside.
Popular areas such as Chinatown and Kaka'ako, an area known for its artistic culture, are a short drive away from the hotel and the Diamond Head and Kapiolani Park are only 2 miles away, offering guests the opportunity to immerse themselves in the beautiful scenery of Hawaii. Four-legged friends are welcome here, as the hotel enjoys welcoming guests and their dogs.
What makes Surfjack Hotel and Swimclub sustainable
The Surfjack Hotel ensures eco-friendly practices are included in its hotel management, and the hotel was one of the first hotels in Waikiki to remove single-use plastics. The hotel was recognized for its sustainable efforts by Lonely Planet which include:
Offering free reef-safe sunscreen to its guests to help protect marine life when swimming in the ocean.
Hosts 'talk-story' sessions on cultural and environmental topics.
The hotel restaurant, Mahina & Sun's serves locally grown Hawaiian produce and has a sea-and-farm-to-fork ethos
Provides eco-conscious in-room amenities including refillable shampoo and conditioner bottles, and plastic-free bar soaps from eco-friendly brands.
Hotel details
Address: 
412 Lewers Street, Waikiki, Honolulu, HI 96815, United States.
Guest rating:
4.5 out of 5
Price per night:
From $160
Turtle Bay Resort, Oahu
The beautiful Turtle Bay Resort is located on the quiet North Shore of the island of Oahu and has over 400 guestrooms, including suites and bungalows, offering stunning views over the ocean. The resort is the only fully serviced resort on the North Shore of the island and has a spectacular terraced pool area, two golf courses, tennis and pickleball courts, and many outdoor activities to take part in such as kayaking and surfing.
The resort is situated next to the idyllic beach of the same name, which includes a vast conservation area that is protected by the resort and attracts lots of marine wildlife such as the endangered Hawaiian monk seal, humpback whales, and green sea turtles. 
What makes Turtle Bay Resort sustainable
Turtle Bay Resort is deeply concerned with its responsibility to the environment, particularly the ocean, and strives to embody the culture of respect and responsibility established by ancient Hawaiians. Turtle Bay Resort has incorporated sustainability by:
Installing solar panels on its roof to generate energy and reduce fossil fuel usage, which helps to reduce the carbon footprint of the resort.
Room temperature monitors are used within the guestrooms to reduce the use of air conditioning.
Recycling areas have been installed for both guest and staff usage, and the resort has dramatically reduced the amount of waste going to landfills.
Organic produce is sourced from local farmers and used within the hotel's restaurants
The resort includes 650 acres of permanently allocated conservation space, which the resort actively protects and conserves.
Turtle Bay Resort is actively involved in the conservation of the native marine life of Hawaii and is part of the program for the Hawaiian Island Humpback Whale National Marine Sanctuary, which helps to protect the natural habitat and breeding area of humpback whales.
Hotel details
Address: 
57-091 Kamehameha Hwy, Kahuku, HI 96731, Hawaii.
Guest rating:
4.4 out of 5
Price per night:
From $314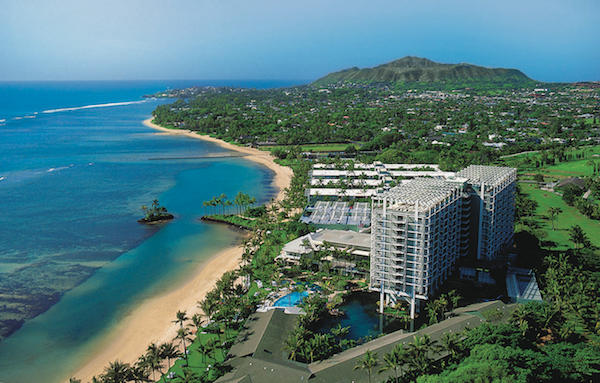 Kahala Resort, Honolulu
The stunning Kahala Resort is located on a secluded white sandy beach in Honolulu, with idyllic views over the ocean and a short distance from the many wonderful shops and restaurants of the Waikiki area. The resort has a luxury wellness spa, a state-of-the-art fitness center, and a private pool area. The hotel offers Hawaiian cultural classes such as Hula dancing and Lei making and fitness classes such as CHI Fitness. Guests can also rent kayaks, bikes, and surfing equipment to make the most of the beachside location. 
What makes Kahala Resort sustainable
The Kahala Hotel and Resort is committed to protecting the land, ocean, and culture of Oahu and is an industry leader among the Hawaiian islands in implementing sustainable practices within daily operations. The Kahala Hotel implements sustainability throughout its hotel by:
Replacing all light bulbs with LED light bulbs, and including motion sensors to reduce energy consumption
Air conditioning and lighting are on an energy management system which reduces their usage
The heat generated by the chiller system is used to heat the outdoor swimming pool
All guest rooms include low-flow shower heads, toilet, and sinks, which have reduced water consumption by 50%
Food waste within the resort is sent to farms to be composted or used for agriculture.
The resort recycles waste materials where possible including aluminum cans, bottles, glass, and paper, rubbish from guestrooms is recycled by the housekeeping team
Single-use plastics have been removed from the entire resort, including plastic laundry bags, take-out containers, plastic straws, and plastic cups
No chemicals are used near marine life and the ocean.
The resort also conducts quarterly community beach and neighborhood clean-ups.
Hotel details
Address: 
5000 Kahala Ave, Honolulu, HI 96816, Hawaii.
Guest rating:
4.4 out of 5
Price per night:
From $475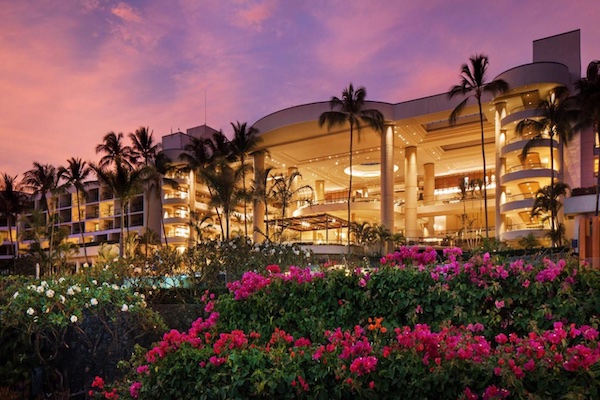 The Westin Hapuna Beach Resort, Big Island
The wonderful Westin Hapuna Beach Resort is situated on the beach of the same name on the Kohala Coast which wraps around the North West tip of the Island of Hawaii. The rooms at the hotels are decorated in a modern contemporary design with clean lines and dark furniture and are spacious with the choice of roomy suites with either a garden or an ocean view. The extensive resort has beautifully manicured gardens, a golf course, an excellent spa, a workout and CrossFit room, and two swimming pools that overlook the gorgeous Hapuna beach.
What makes Westin Hapuna Beach Resort sustainable
The Westin Hapuna Beach Resort has been named Hawaii's first carbon-neutral resort due to its partnership with the Hawaiian Legacy Reforestation Initiative and their joint goal to turn the land around the Westin Hapuna Beach Resort back into an endemic Hawaiian forest. The resort will achieve this goal by planting 100,000 Milo Legacy Trees, which guests of the resort can help with by sponsoring a Legacy Tree at the resort or by planting one themselves.
The resort is committed to being an eco-sustainable hotel and ensures that the hotel operates within the best interests of the environment:
The resort has removed all single-use plastics from the hotel complex.
Has water-efficient toilets and showers throughout the resort.
The resort recycles as much waste as possible and encourages guests to recycle by providing recycling bins throughout the resort.
The resort reduces food waste and sources organic food locally where possible.
Offers guests electric car charging to encourage eco-friendly transport.
Hotel details
Address: 
62-100 Kaunaoa Drive, Hapuna Beach, HI 96743, United States of America.
Guest rating:
4.3 out of 5
Price per night:
From $699
How we select the best eco-friendly hotels in Hawaii
We are a travel research company. We check a lot of details and guest reviews before making a selection. First, we check which hotels follow eco-travel principles. Are they recycling their waste? Do they work with local communities? Are they using renewable energy? Are they not using single-using plastics?
Secondly, we check guest reviews across multiple websites and only list hotels with an aggregated review rating of at least 4 out of 5. So you can be confident you will stay at an excellent eco-friendly hotel in Hawaii.
Sustainable travel is the key to enjoying a responsible and meaningful trip. You can make a difference in the environment and the communities you visit with the right sustainable travel tips. From packing light to choosing eco-friendly transportation and accommodations, there are plenty of ways to reduce your environmental impact.
More Hawaii guides
Get to know the islands even better by reading our other articles about Hawaii: