Manchester might be known as the center of the Industrial Revolution, but that doesn't mean that this city is all about work. While Mancunians take their work lives seriously, they also rest and play just as much, meaning that Manchester abounds in lively bars, thriving restaurants, beautiful parks, and incredible attractions.
Manchester is the most populous city in North West England for many good reasons. Between the unique canal system and architecture to the many sports clubs and musical groups, this city has something to offer for every type of tourist and resident. While Manchester was known in the past as a grim industrial landscape, the city that stands today couldn't be further from this stereotype. Creativity, attractions, and fun exist in every neighborhood of the city.
If you are trying to decide where to stay in Manchester, you have come to the right place! With so many vibrant neighborhoods, it can be challenging to choose where to stay. Whether you want fun nightlife, a central location, diversity, live entertainment, or access to all of the sporting events, Manchester neighborhoods have it all!
Keep reading to discover five of the best areas to stay in Manchester, England.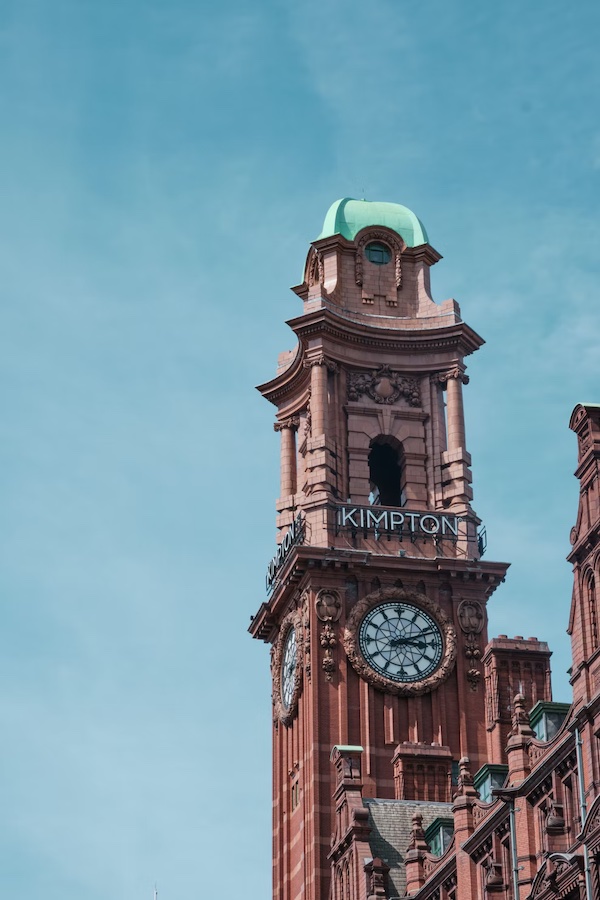 City Center
From incredible entertainment to top-notch shopping areas, Manchester's city center is one of the best places to stay. If you love to shop, Market Street and Arndale Center offer some of the best shops in the city. As you wander the streets and browse through stores, you might just hear the background music of a few sidewalk street performers.
After an entire day of shopping, stop by Piccadilly Gardens to replenish your energy with some delicious street food. Enjoy a show at one of the many theaters in this neighborhood, including the Opera House, the Royal Exchange, and the Palace Theater. You can also hear the Halle Orchestra perform at the nearby Bridgewater Hall.
The incredible nightlife, free attractions, and spectacular cultural activities make the city center the best in every category. For those who love art, check out the free Manchester Art Gallery or the Whitworth. The People's History Museum is also located in the city center, where you can learn about the history of working people and see a variety of historical artifacts.
You can also enjoy old-fashioned pubs in the area, such as the Peveril of the Peak, a Victorian Irish pub with green-tiled walls. After dinner, stop by one of the many lively clubs with live music.
Best place to stay in City Center
Kimpton Clocktower Hotel. Address: Oxford Street, Manchester, M60 7HA, United Kingdom.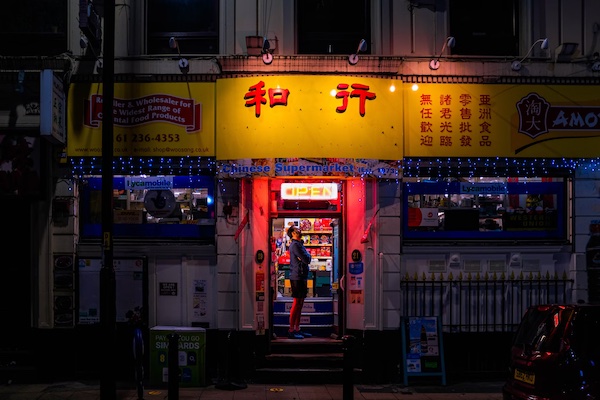 Chinatown
As the second-largest Chinatown in the UK and the third-largest in Europe, Manchester's Chinatown is the cultural center for Chinese people in this area, making it a unique and lively place to stay. While staying here, make sure to snap a picture of Faulker Street's golden arch, which China gifted to Manchester in 1987.
Spend an afternoon browsing one of the many food markets, and in terms of restaurants, you can find Asian food of every kind. Manchester's Chinatown boasts Chinese, Vietnamese, Thai, Korean, and Malaysian restaurants, bakeries, shops, and supermarkets, so there is something here for everyone.
To experience an intriguing and unique side of Manchester, Chinatown is the perfect place to stay. While this area is always vibrant, an especially lively time to visit is during the Chinese New Year, when many buildings are adorned with red lanterns. The colorful Chinese New Year parade is a sight to see with dancing dragons and incredible music and dance performances.
Best place to stay in Chinatown
The Allan Hotel. Address: 18 Princess Street, Manchester, M1 4LG, United Kingdom.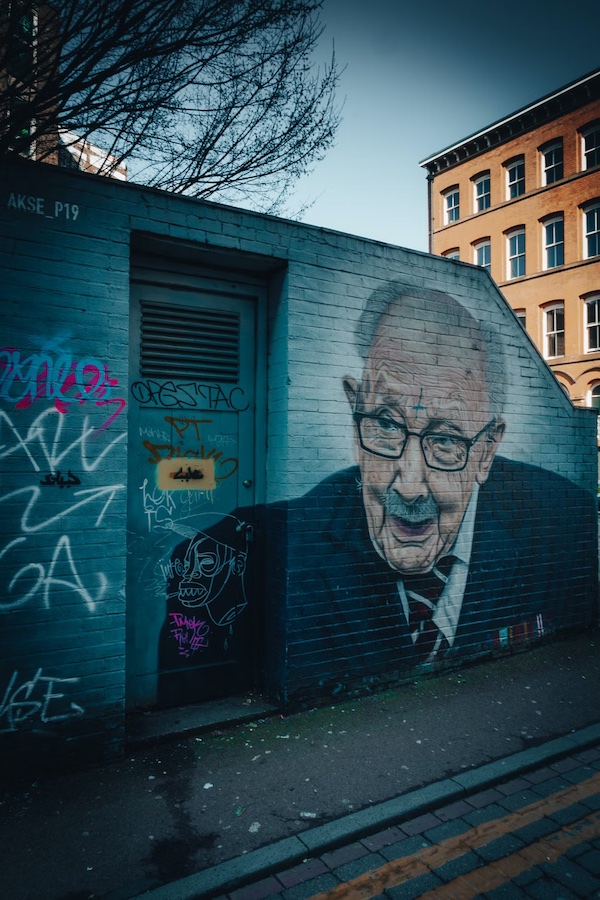 Northern Quarter
From English pubs to live music, the Northern Quarter abounds with vibrant nightlife. Enjoy a night out by visiting one of the many entertainment venues, such as live music at the Night and Day Cafe or Matt and Phred's Jazz Club. You can also order a drink at one of several craft breweries or enjoy a more laidback evening at a tea house or unique restaurant. There are also plenty of traditional pubs, like The Old Wellington, which dates back to 1552. For a more modern evening experience, stop by The Printworks, a complex with bars, restaurants, and one of the largest IMAX screens in Europe.
Besides nightlife, the Northern Quarter offers plenty of other attractions. The streets are lined with eclectic shops selling everything from records and antiques to vintage clothing and trendy fashion. The Centre for Chinese Contemporary Art is an excellent place for art lovers and history lovers alike, while the National Football Museum is ideal for sports fans. If you have time, catch a concert at Manchester Cathedral on Victoria Street. With so much to do, it's no wonder why this area has a variety of hotels to choose from.
Best place to stay in Northern Quarter
The Cow Hollow Hotel. Address: 57 Newton Street Northern Quarter, Manchester, M1 1ET, United Kingdom.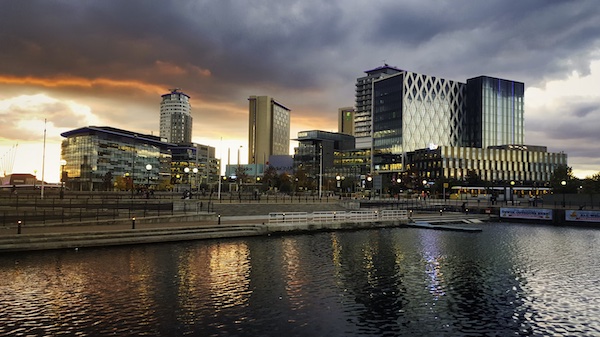 Salford Quays and Old Trafford
This vibrant area is easily accessible by the metro and boasts a spectacular waterfront location. Home of the architecturally-acclaimed Lowry theater and art gallery, named after Salford artist L.S. Lowry, this area is an ideal destination for art connoisseurs. While Lowry was best known for his painted depictions of the city, the museum showcases a well-rounded view of all his artistic talent.
Media City is visible from the Lowry, where you can take a tour of BBC studios or sit in on a show for free. This area is only a few minutes away via public transportation and has its own metro stop.
You can also check out the Imperial War Museum, covering the stories and history of wartime and peace over the past hundred years. If you get hungry or thirsty while you're there, the onsite cafe is particularly pleasant. However, the entire area offers numerous bars and restaurants, perfect for replenishing your hunger after a day of sightseeing.
The Manchester United Football Club and Old Trafford cricket are only a few minutes away if you love sports. Helly Hansen Watersports Center on the Quays is also worth visiting.
Peaceful during the day and quiet in the evenings, the Quays and Old Trafford are excellent places to stay in Manchester and are slightly more affordable than the more popular areas.
Best place to stay in Salford Quays & Old Trafford
Hotel Football. Address: 99 Sir Matt Busby Way, Manchester, M16 0SZ, United Kingdom.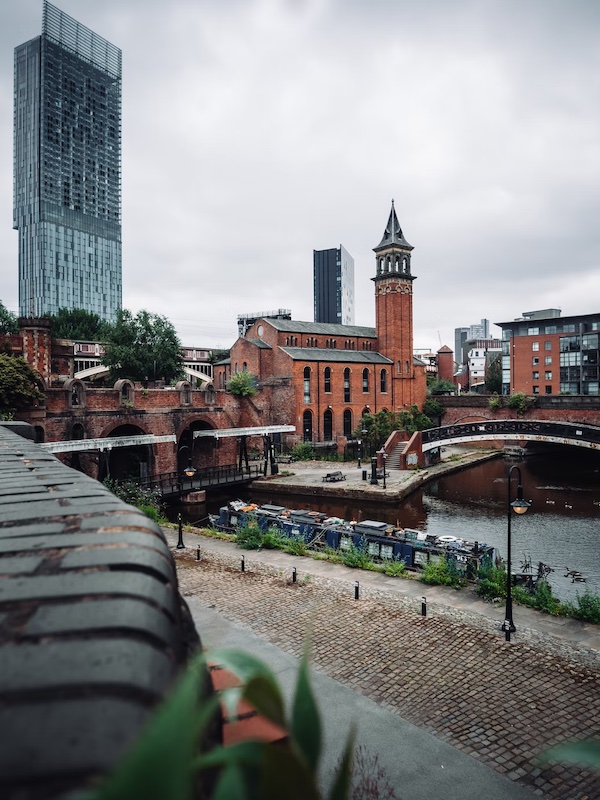 Castlefield
For a leisurely experience in a charismatic neighborhood, book a hotel in Castlefield. This laidback area boasts a canal-side location in central Manchester, making this an ideal spot for a relaxing stroll along the water. You can enjoy several fantastic pubs and eateries, Roman history, and incredible museums in this area. While tourists often overlook Castlefield, it is popular among locals for an escape from everyday life for several reasons.
At one time, Castlefield was the site of a Roman settlement and the hub of Manchester's industrial empire. Today, the cobblestone streets and lovely architecture create a picturesque backdrop to the many bars and paths along the river. Check out Cloud 23 bar in the Beetham Tower for delicious drinks and incredible views of the city. For a larger meal, head to Dukes 92, which has an outdoor terrace perfect for warm summer evenings.
In terms of cultural activities, the Museum of Science offers incredible history and educational opportunities through events, workshops, and exhibits. Here, you can see the world's first commercially-available computer. Stop by HOME at 2 Tony Wilson Place, a cultural complex where you can get a taste of international art, film, and theater.
Best place to stay in Castlefield
Castlefield Hotel. Address: Liverpool Rd, Manchester, M3 4JR, United Kingdom.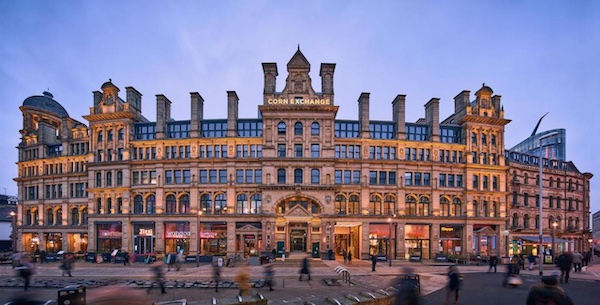 Where travel critics stay in Manchester
Want to know where travel critics from publishers like The New York Times, Frommer's, Fodor's and Lonely Planet stay in Manchester? Check out our overview of all recommended hotels and accommodations in Manchester.
Budget
"Across from the Piccadilly Rail Station, the sleek design inside Motel One, an outpost of the German budget hotel chain, makes up for the more dingy feel of the street outside." – New York Times.
Address: 34 London Road, Piccadilly, Manchester, M1 2PF, United Kingdom.
Mid-range
"This place has 114 beautifully appointed self-catering studios and suites in the old Grade II–listed Corn Exchange, right on the edge of the Northern Quarter. Room sizes range from the snug (Neo Studio) to the spacious (Sovereign Suite)."  – Lonely Planet.
Address: The Corn Exchange, 37 Hanging Ditch, Manchester, M4 3TR, United Kingdom.
Luxury
"You'll instantly feel relaxed in King Street Townhouse, a charming 40-room boutique hotel. From its infinity spa-pool with a spectacular view of the Town Hall clock, and stylish public areas, to bedrooms you'll struggle to leave, this is an indulgent retreat in the city centre." – Telegraph.
Address: 10 Booth Street Manchester, Upper King Street Conservation Area, Manchester, M2 4AW, United Kingdom.
FAQ: Manchester hotel tips
Looking for the best budget, boutique, or luxury hotel in Manchester? Or maybe you're a backpacker looking for an excellent hostel? Want to know which Manchester hotel serves a great breakfast? Here are the answers to all those and other questions about where to stay in Manchester.
How much does it cost to stay in a Manchester hotel?
For a 3-star hotel, you have to pay around $160 per night and for a 4-star hotel, you would be looking at $250 per night. If you're after a luxury 5-star Manchester hotel then you can expect to pay around $400 per night.
What is the best affordable hotel in Manchester?
If you're looking for an affordable hotel, then book Motel One Piccadilly. It's an excellent budget hotel offering great value for money. It's in a good location, it's been recommended by travel experts and the hotel has excellent customer reviews. Also check out our list of the best cheap hotels in Manchester.
What is the best boutique hotel in Manchester?
You like some luxury but don't like the famous chain hotels. If you're looking for the best boutique hotel in Manchester, you should check out The Cow Hollow Hotel. It's a very cool hotel that has been highly recommended by travelers and experts. For more cool hotels, check out our list of the best boutique hotels in Manchester.
What is the best luxury hotel in Manchester?
If money isn't a problem and you're looking for a luxury hotel in Manchester, then go for the Stock Exchange Hotel. The hotel offers excellent service, it's in a top location, it has been rated very highly by previous guests and renowned travel critics have recommended it. For more 5-star hotels, check out our list of the best luxury hotels in Manchester.
What is the best hostel in Manchester?
Looking for a good and affordable private room or cozy dorm in Manchester? Check out YHA Manchester. The hostel has been highly rated by backpackers. Also check out our shortlist of the best hostels in Manchester, it's based on thousands of reviews from backpackers.
Which Manchester hotel serves great breakfast?
Let's start the day with some good food. The Kimpton Clocktower Hotel is an excellent option if you're looking for a Manchester hotel offering a great breakfast. Recent guests have given great ratings for the breakfast service at this hotel.
Which Manchester hotel is the best for a family stay?
Planning a holiday trip to Manchester with your family? Guests who traveled to Manchester with their families rated The Cow Hollow Hotel very highly.
Best time to visit Manchester
Spring and summer are undoubtedly the prime seasons for visiting this magnificent city. From March to June, Manchester comes alive with a burst of colors as flowers bloom and the days get longer. The weather is generally mild and pleasant, making it the perfect time to explore the city's numerous outdoor attractions, such as the picturesque Heaton Park or the fascinating Manchester Science and Industry Museum. Plus, during this time, you can catch the Manchester International Festival, where the city is buzzing with excitement and creativity from the world's most innovative artists.
Summer months, particularly July and August, not only offer the warmest temperatures (averaging around 20°C) but also a myriad of events and festivals that you won't want to miss. The Manchester Jazz Festival, Parklife, and Manchester Pride are just a few examples of the vibrant gatherings that take place during these sunny months.
The city's outdoor spaces, such as the trendy Northern Quarter and the bustling Piccadilly Gardens, are teeming with people enjoying al fresco dining and soaking up the sun. It's truly the best time to visit Manchester if you want to experience the city's energetic atmosphere.
Best things to do in Manchester
There are a lot of things to do in Manchester and surrounding areas, including day trips, attractions, museums, sightseeing tours and many other activities. Here's our list of 3 things you should definitely do when you're in and around Manchester.
Manchester United Museum and Stadium Tour
Immerse yourself in the history of Manchester United. Get behind the scenes access to the dressing room, tunnel, players' dugout and exclusive areas. Price: $35. More info.
60-Minute River Cruise in Manchester
Take a 60 to 70-minute cruise along Manchester's historic Ship Canal and River Irwell on board a boat from central Manchester. Venture through the industrial heartland of the north of England and see historic monuments such as Stephenson's railway bridge. Price: $13. More info.
From Manchester: Lake District, Windermere, and Lancaster
Take a journey through the exciting landscapes of the Lake District. Learn the tales of Windermere, the largest lake in England. Admire Wordsworth's cozy Dove Cottage. Marvel at the medieval architecture of Lancaster. Price: $72. More info.
More things to do in Manchester
Deciding where to stay in Manchester
Let's recap what we just learned in this article. We've covered the best areas of Manchester above. Now you can decide where to stay while visiting!
Top 5 neighborhoods to stay in Manchester
City Center
Salford Quays
Northern Quarter
Chinatown
Castlefield
As you have seen in this travel guide, there are a lot of things to explore, and deciding where to stay in Manchester is important. Whether you stay in the City Center, Salford Quays, Chinatown, Castlefield or Northern Quarter, all those neighborhoods are in good locations.
The atmosphere of the area, whether you travel for leisure or business, whether you travel with your family or friends, and proximity to the attractions you prefer to visit should probably be the deciding factors. Whatever your preference is, you'll have a great time in Manchester.
More Manchester guides
Check out our other guides about the best places to stay in Manchester: