Manchester is one of the largest and most cosmopolitan cities in the UK and has something to offer everyone. Home to world-renowned universities, an outstanding shopping scene and an extensive dining scene, it is no wonder the city is attracting more and more visitors every year.
If you're looking for a more affordable place to stay in Manchester, a hostel is an excellent option! In general, hostels offer much cheaper accommodation than hotels due to shared spaces and fewer amenities onsite. Many hostels also have a shared kitchen and a complimentary breakfast.
You can drastically reduce your food expenses while traveling by cooking your own meals and taking advantage of free breakfast. Due to saving on both accommodations and food, staying in a hostel is the cheapest way to save money while traveling.
The benefits of hostels don't stop with your budget. Hostels are also a great way to make new friends while seeing the world. Generally, hostels have a variety of shared spaces, from game rooms to dining areas, making it easy to meet new people who are like-minded travelers. When staying in a hostel, you will have a built-in group of friends with whom you can explore the city.
If you are trying to find a hostel in Manchester, you have come to the right place! Many of Manchester's hostels provide clean and comfortable accommodations in some of the best locations.
Keep reading to discover the best three hostels in Manchester, England.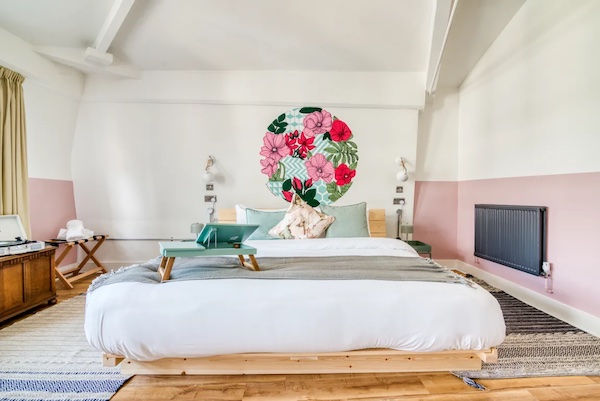 Selina NQ1 Manchester
Nestled in a refurbished Victorian building in the Northern Quarter, Selina NQ1 is located on St. Stephen's Square and is surrounded by unique restaurants, independent record stores, live music venues, and secret bars. During your stay, visit the Victorian Baths, Manchester's Craft and Design Center, and the Lowry. With so many eclectic attractions and entertainment nearby, you couldn't ask for a better location in Manchester.
The hostel's atmosphere reflects the artistic vibes of the neighborhood. Pops of color in every room, ranging from magenta to turquoise, make this hostel feel exceptionally playful. If you're a digital nomad, you can work in the CoWork space or even outside on one of the picnic tables. Guests can also enjoy the onsite library or meet fellow travelers in the coffee shop, bar, or restaurant. Enjoy nightly events and workshops hosted by the hostel, another great opportunity to mingle with guests.
Choose from private or shared rooms. Community rooms have four, six, or eight beds and access to a shared bathroom, while in a private room, you'll have the option of a full bed, two twin beds, four beds, or six beds. Family rooms are also available, equipped with a bunk bed and two twin-sized beds.
Hostel details
Address:
15 Hilton St, Manchester M1 1JJ, England.
Guest rating:
4.2 out of 5.
Price per night:
from $31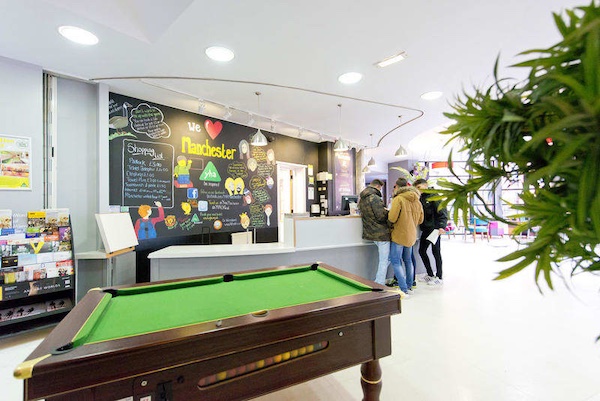 YHA Manchester Hostel
Only a short walk from the city center, this hostel was purposefully built with social spaces and comfortable bedrooms in mind. Established in 1995, YHA Manchester boasts a lovely canal-side location in the historic Castlefield neighborhood.
The bright and colorful lobby welcomes guests and offers plenty of natural light, indoor plants, tables, and chairs, creating a friendly environment, ideal for productivity. Another common social space provides comfy seating and bean bag chairs, while the dining room is home to long tables that create a space ideal for socializing. Also boasting a pool table, this is a great spot to meet other hostel guests and travelers.
Guests have access to the fully equipped kitchen, but a hot breakfast and continental breakfast options are included in your stay, served every morning from 7:30-9:00. Other meals for purchase, including pizza and traditional British fare, are also served throughout the rest of the day.
Choose from a private room or a shared space at YHA. Shared rooms have multiple bunk beds, reading lights, and storage cupboards. Some of these shared rooms, as well as private rooms, have en-suite bathrooms.
Hostel details
Address:
Potato Wharf, Manchester, England.
Guest rating:
4.5 out of 5.
Price per night:
from $13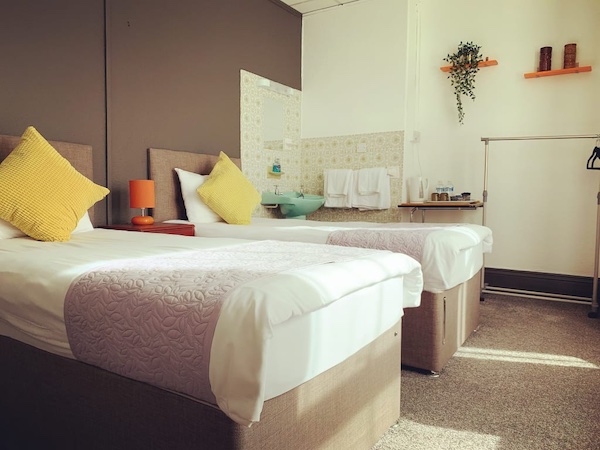 Yally Hotel
This female- and family-run guest house is located within a short metro ride to the city center. Run by a mother-daughter duo, the Yally Hotel is an old Victorian house with vintage and modern touches throughout the entire property. The historic staircase and stained-glass window add a bit of vintage charm to the space, while every guest room has modern decor, furnishings, and plush carpet. Many of the guest bathrooms have been preserved from the 1960s, where you will notice groovy tiling that adds to the character of this hotel.
All rooms come equipped with a flat-screen TV, coffee machines, tea makers, cozy beds, and WiFi. Apartment-style rooms are located on the top floor, boasting skylights, kitchenettes, and incredible views of Platts View Park, right across the street from the hostel and the city center. Some rooms have en-suite bathrooms, while others are shared in the hallway.
Board games are available during your stay, along with several books to choose from throughout the bookshelves in the house. The reception bar area serves snacks and drinks throughout the day, and breakfast is available for an additional charge. The owners are happy to provide local recommendations for attractions and eateries within the area.
Hostel details
Address:
62 Platt Lane, Manchester, England.
Guest rating:
4.7 out of 5.
Price per night:
from $40
About our Manchester hostel recommendations
Whether you're a solo traveler looking for a private room, or a backpacker traveling around in a group wanting to stay in a cheap and cozy dorm, above you will find the best hostels in Manchester for all your needs.
Please note that we only list hostels on our website that have an aggregated guest review rating of at least 4.0 out of 5. We aggregated all reviews from different booking sites and other unbiased review websites. Hence, you can be certain all hostels listed above offer an excellent value-for-money stay in Manchester.
Best price guarantee
For our hostel recommendations, we work together with Hostelworld and Booking. These partnerships don't have any influence on the recommendations we make or on the order in which our recommended hostels are listed. The reasons why we have chosen to partner with these companies is that they're trustworthy, offer excellent service and they both apply the best price guarantee. This means you can claim a refund for the difference if you find your reservation cheaper on another website. It has to be for the same property, accommodation type, dates, cancellation policy and conditions, otherwise, you can't claim a refund for the difference. If you book through Booking.com then all you need to do is contact them at least 24 hours before your check-in date. If you book through Hostelworld you must claim the refund within 24 hours after you made the booking.
Top 3 hostels in Manchester
To summarize again, based on thousands of guest reviews, these are the best hostels in Manchester:
Why you should be careful when booking the cheapest hostel available
The cheapest hostels available are typically not in a great location. If you want to go sightseeing or go for a night out in central Manchester, you probably end up having to pay for public transport or a taxi to get there. So your stay could end up being more expensive compared to a stay in a central location. For first-time travelers, we recommend staying central anyway, but also for frequent visitors, it's probably worth it to pay a bit more to stay in a central location.
Another reason why you shouldn't stay at the cheapest hostel is that the people staying at the cheapest hostels are often not the people that can afford to travel like you. Because a very cheap hostel is often cheaper than renting a flat, these places tend to attract migrant workers or local misfits. That's probably not the crowd you want to hang out with, especially if you're a solo traveler looking for friends.
The third reason why you should avoid the cheapest hostels is safety. Some of the cheapest hostels don't check IDs, don't ask for signatures, or only accept cash at check-in. The hostel won't know who is actually staying there.
Lastly, the service at these hostels isn't great. For instance, if you choose to store your luggage, your bags will be unattended in a public space. It won't be recorded anywhere or tagged and stored in a locked room.
So, it's probably worth it to spend a bit more on your hostel stay in Manchester.
And finally, a tip: always read the latest reviews of the hostel! All places have good and bad reviews, but the most recent reviews matter the most.
More Manchester tips
Get to know the city even better and check out our other articles about Manchester:
Best cheap hotels in Manchester
Best boutique hotels in Manchester