What is considered by most the hub of the American Northwest, Seattle is home to many thriving communities and prosperous culture. That being said, staying in such a dynamic and vibrant city can be both fun and beneficial.
The biggest city in the Northwest has everything from a booming coffee culture to stunning architecture and great attractions.
Seattle is less than 100 miles from the Canadian border and is about 175 miles North of Portland. This city serves as a hub for technology and international business because of its proximity to Asia.
This city has a little bit to offer anyone in any situation. Whether your whole family is looking to make a move, you are a businessperson looking to capitalize on the opportunity, or just someone looking for a change, Seattle can cater to all of your desires. If you are looking to stay in Seattle, here are five of the best areas to live!
Pike Place Market
The most-visited area in all of Seattle is the Pike Place Market. Because of the high density of tourists, some of the best accommodations in the city are located here. The actual market itself is a must-visit for all visitors of Seattle. It is here where you can see the world-famous fish market, some of the best food in the region, and tons of homemade food items for sale.
Pike Place Market is also where you should stay if sightseeing is a priority during your time in Seattle. Because of how packed in the area is, a lot of attractions and hotspots are within walking distance from wherever you are staying. Another great perk of staying in this area is being able to use the great public transportation systems. The most popular mode of transportation to explore the city is the monorail which can take you into downtown Seattle and toward the Space Needle, among many other stops.
Overall, staying in Pike Place Market is being where all the action is.
Best place to stay in Pike Place Market
Inn At The Market. Address: 86 Pine Street, Seattle, WA 98101, United States of America.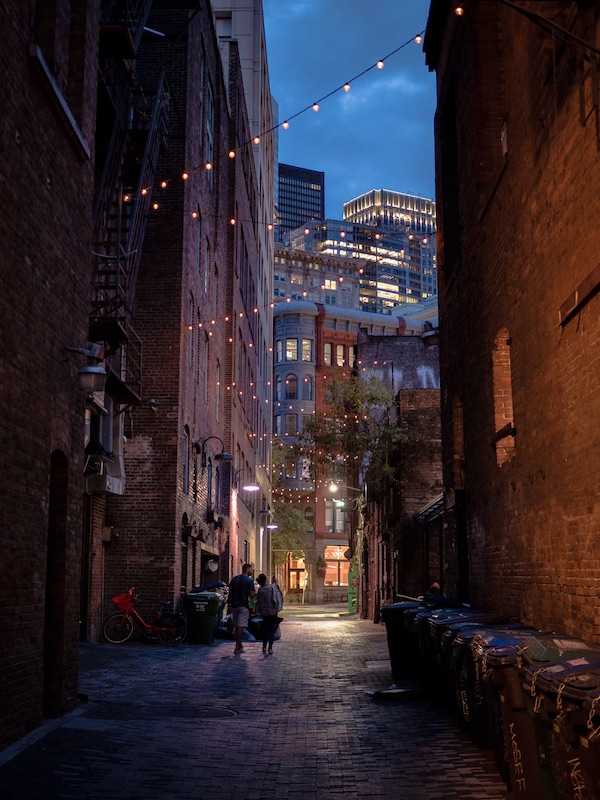 Pioneer Square
An area that is a little quieter and in a different part of town is Pioneer Square. This is South of the downtown area and is known as the "original downtown." That being said, a focal point of Pioneer Square is the historical aspect of the area. A well-known attraction in Pioneer Square is the Underground Tour that you surely will never forget.
A big part of any traveling expedition is finding the best food possible. Pioneer Square is one of the hotspots for excellent cuisine in Seattle.
Although the location is a little bit from the downtown attractions, you will be within walking distance from T-Mobile Park and CenturyLink Field. Depending on when you are there, you can attend a professional sports game or a summer evening concert.
If getting out of Seattle and doing some further exploring is on your itinerary, you are also only a few blocks from the Seattle Ferry Terminal. Like you would take a bus or train, you can take the ferry to various cities in the Northwest.
Best place to stay in Pioneer Square
The Arctic Club Hotel. Address: 700 3rd Avenue, Seattle Central Business District, Seattle, WA 98104, United States of America.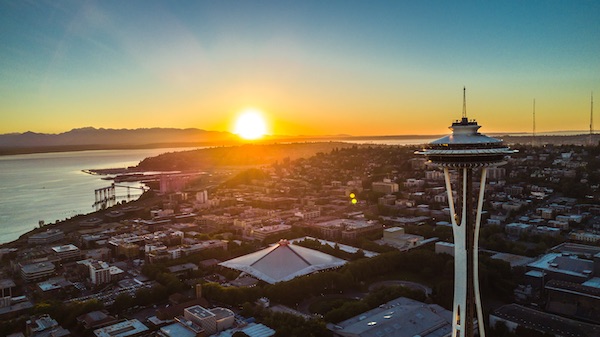 Belltown
On the other side of downtown, there is Belltown. This is home to some of the top restaurants and bars in the city and a bustling nightlife. This is probably the most social district of the city. There are a plethora of clubs, bars, and venues that are within walking distance from a lot of living arrangements.
When the summer rolls around, concerts and comedy venues are very popular to attend in this area. Whether your style is rock and roll, classical jazz, or anything in between, live music is a staple in this area.
Although it may be known as a "hipster" area, the vibrant culture of the neighborhood is quite enticing. There is no shortage of things to do and good food to eat.
The best part of Belltown is its close walking distance to the Space Needle, downtown, and the Pike Place Market. If you decide to stay in Belltown, you will have quick access to all of the best features that Seattle has to offer.
Best place to stay in Belltown
Hotel Ändra. Address: 2000 4th Avenue, Belltown, Seattle, WA 98121, United States of America.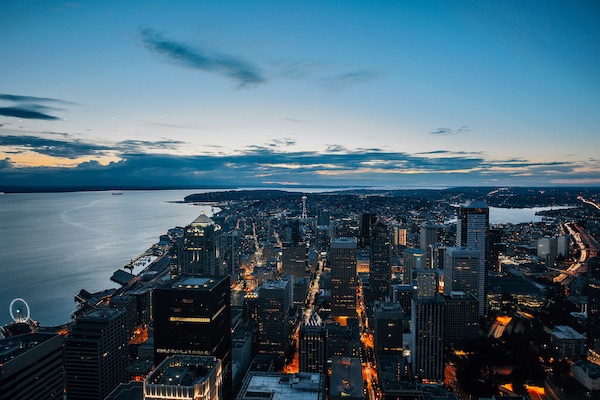 Seattle Center
Seattle Center is where the iconic Space Needle is headquartered. This is a must-visit when in Seattle. Some other great attractions in Seattle Center include the Museum of Pop Culture, the Seattle Children's Museum, International Fountain, and much more.
A big part of Seattle Center's identity revolves around live events. The Key Arena is often home to big concert and comedy venues. More than 17,000 can pack into the building and have vibrant energy. This can add some chaos to a relatively quiet area, especially in the evening.
Another popular site, especially when the weather is nice, is the Chihuly Garden and Glass. The beautiful property is covered with lush gardens and exquisite art. You can even grab a coffee and a homemade sandwich from the café on the premises.
Overall, Seattle Center is a great place to stay to see some of the city's best attractions all in one place.
Best place to stay in Seattle Center
Hyatt House Hotel. Address: 201 Fifth Avenue North, South Lake Union, Seattle, WA 98109, United States of America.
South Lake Union
The final great place to stay on this list is South Lake Union. If you are wanting a quieter and safer experience, this is the place to be. There is still a lot to do, but it is far enough from downtown to be much calmer and more collected.
There are some great food options located here along with the city's tech leaders established in the area. For example, the Amazon Go store and the REI flagship location are both in South Lake Union. That being said, the downtown hustle and bustle is only a quick streetcar ride away.
The overall feel of South Lake Union is safe and modern. Although much of Seattle is considered safe, this specific region is known for being welcoming and free of crime.
You will not regret staying in South Lake Union as your time will be spent relaxing, taking in the local scenario, and excellent amenities.
Best place to stay in South Lake Union
Hotel MOXY. Address: 1016 Republican Street, South Lake Union, Seattle, WA 98109, United States of America.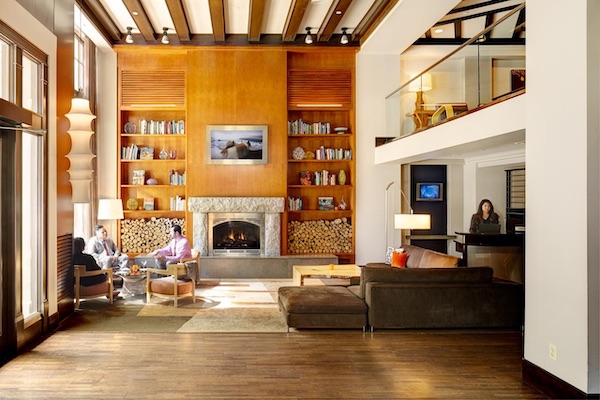 Where travel critics stay in Seattle
Want to know where travel critics from publishers like The New York Times, Frommer's, Fodor's and Lonely Planet stay in Seattle? Check out our overview of all recommended hotels, hostels and B&Bs in Seattle.
Budget
"Ballard's glittering designer hotel, which opened in May 2013, exemplifies the neighborhood's upward rise. The seduction begins outside: Hotel Ballard has a lovely street profile, with its wrought-iron balconies blending in with the redbrick edifices of yore." — Lonely Planet.
Address: 5300 Ballard Avenue NW, Ballard, Seattle, WA 98107, United States of America.
Mid-range
"The Sorrento is a hotel full of charming period details and rooms that convey personality rather than conformity, with carved wood moldings, restored vintage furniture, and white marble bathrooms with porcelain pedestal sinks and full-length mirrors." — Frommer's.
Address: 900 Madison Street, Seattle, WA 98104, United States of America.
Luxury
"Seattle's Four Seasons location overlooks Elliott Bay and the Puget Sound. From the modern Northwest-inspired design to the posh spa and infinity-edge pool, the hotel, which occupies the first 10 floors of a 21-story residential high-rise, offers an ultra-luxurious Seattle experience." — Fodor's.
Address: 99 Union Street, Seattle Central Business District, Seattle, WA 98101, United States of America.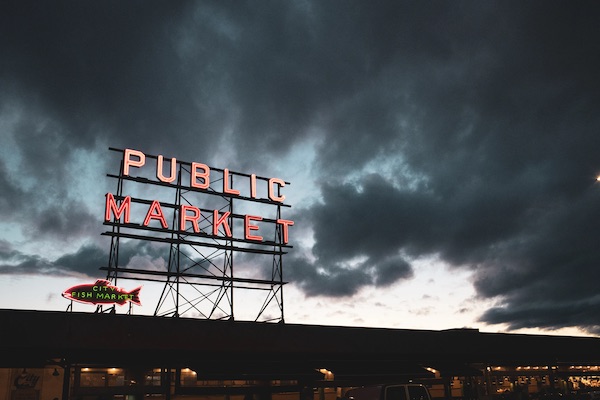 Best things to do in Seattle
There are a lot of things to do in Seattle and surrounding areas, including day trips, attractions, museums, sightseeing tours and many other activities. Here's our list of 3 things you should definitely do when you're in and around Seattle:
Beneath The Streets Underground History Tour
Discover Seattle's original neighborhood, Pioneer Square, on this guided walking tour. Explore the underground pathways that were built in the southwest corner of the Emerald City more than 120 years ago. Price: $29. More info.
Seattle: Pike Place Market Chef-Guided Food Tour
Embark on a culinary tasting adventure of Pike Place Market with a local chef guide. Stop at 10 different artisanal vendors; learning about local production and tasting your way through the flavors of the Northwest. Price: $56. More info.
Whale Watching from Friday Harbor
Get up close with the orca whales off the San Juan Islands near Seattle on this 4-hour whale-watching cruise. Price: $114. More info.
Deciding where to stay in Seattle
As you can see, there are a lot of things to explore, and deciding where to stay in Seattle is important. Whether you stay in Pike Place Market, South Lake Union, Pioneer Square, Seattle Center or Belltown, all those neighborhoods are in good locations.
The atmosphere of the area, whether you travel for leisure or business, whether you travel with your family or friends, and proximity to the attractions you prefer to visit should probably be the deciding factors. Whatever your preference is, you'll have a great time in Seattle.
Check out our other articles about Seattle:
Best boutique hotels in Seattle