Located in the Eastern Mediterranean region, this island nation is the third largest and third most populous island in the Mediterranean. Filled with history, culture, and beautiful weather, it really is a great year-round destination. If you're coming to relax, you will love the island's laid-back pace of life. Cat lovers will also enjoy the abundance of feline friends on the island, who are equally chilled out and friendly.
However, if you prefer your trips to be jam-packed with adventure and partying, there are no shortages of things to do and see, and clubs where you can dance the night away. Cyprus is also an amazing destination if you are on a tight schedule. Because the island is quite small, it's easy to get around and fit many different sights and activities into your days.
With that in mind, let's explore the top five hostels in Cyprus.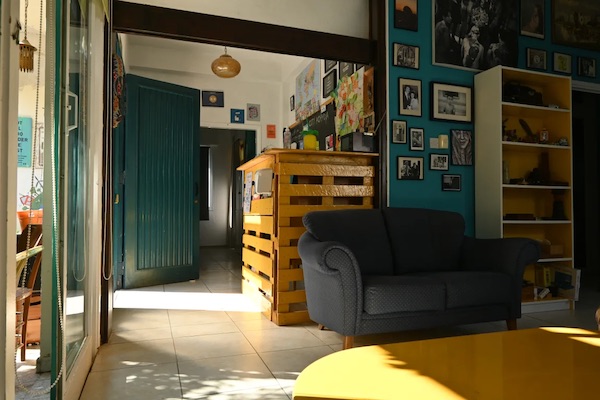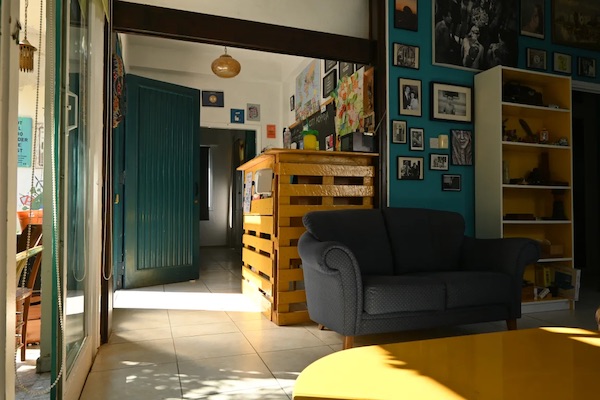 Lemongrass
This bright and colorful hostel has an authentic and cozy vibe. Located in the center of Limassol, this hostel is within easy walking distance to many local spots. Walk down the narrow streets, and you will find local craft shops, galleries, street food markets, and fashion boutiques.
The hostel is also conveniently located around 10 minutes away from the area's best restaurants clubs, and bars. If relaxing by the ocean is more your vibe, Lemongrass is only a 15-minute walk away from the beach. The accommodation consists of shared rooms for up to 6 people. Free Wi-Fi is included, and you have the use of a locker from arrival. There is also a 24-hour reception and free city maps available, so you'll never have to wonder about what to do when you step outside of your home away from home.
Hostel details
Address:
Leontiou Mahaira 73, Limassol, Cyprus.
Guest rating:
4.8 out of 5.
Price per night:
from $21.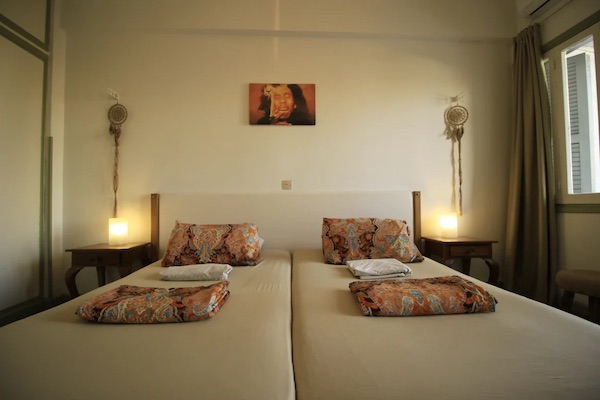 Lima Sol House
Located in Limassol, only moments away from the iconic medieval castle by the same name. If you're wanting to stay somewhere unique, then Lima Sol House is for you. This hostel has the true atmosphere of a house and consists only of four rooms. There are options for every kind of traveler here; with a single room, double room, and two dorm rooms.
The dorm rooms consist of four beds in the female dorm and five beds in the mixed dorm. The small scale of this hostel lets you really feel as though you are a Cyprus local living amongst friends. There are various facilities available free of charge such as lockers with keys, a washing machine, wifi, and a fully equipped kitchen for those times you feel like whipping up your own meal.
Hostel details
Address: 
Agias Fylaxeos 28, Limassol, Cyprus.
Guest rating:
4.7 out of 5.
Price per night:
from $15.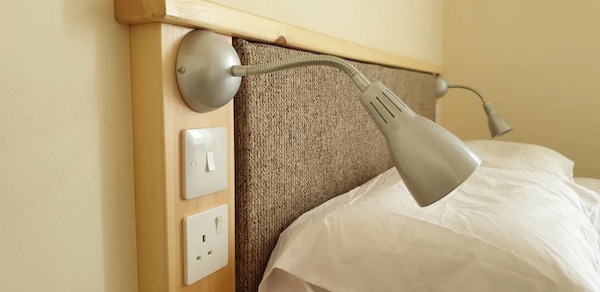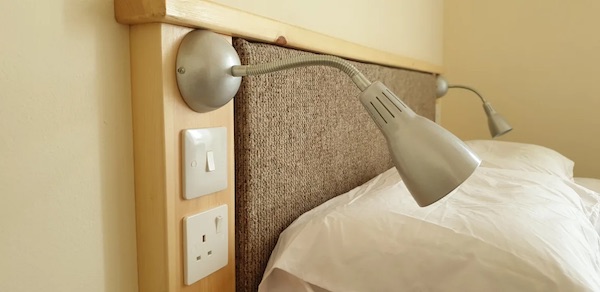 Nex Hostel
Opened in 2018, Nex Hostel still looks brand new and is pleasantly decorated in a light and breezy style. Located in the peaceful residential area of Nicosia, and only minutes away from the city center, this hostel is the perfect base for exploring the city. If you wish to travel a bit further out, the central bus station is a short stroll away along the walking track alongside the Pediaios River.
Nex Hostel has three 4 bed dorm rooms, each light-filled and spacious. All rooms come with reading lights and USB ports, as well as free Wi-Fi. There is also a large outdoor terrace that looks out over the city center – a perfect place to meet and relax with newfound friends.
Hostel details
Address: 
8, Kanari Str. (Engomi area), Nicosia, Cyprus.
Guest rating:
4.5 out of 5.
Price per night:
from $27.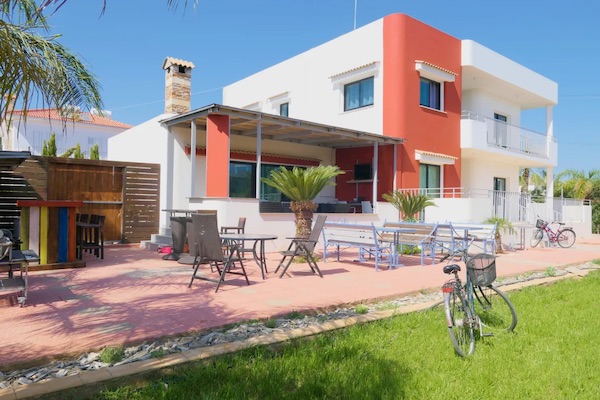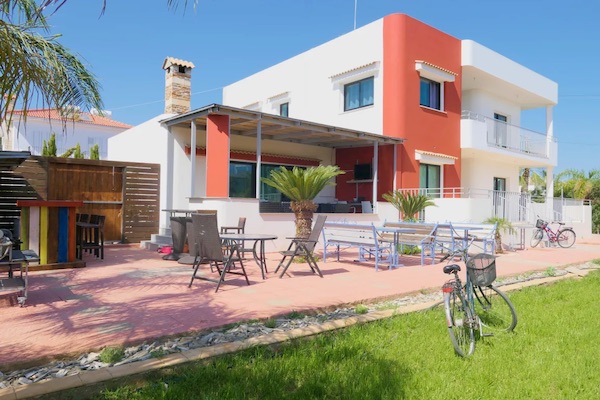 House of Nissus
This hostel has the best of both worlds! House of Nissus is located within Ayia Napa, Cyprus's main clubbing area, while also being close to the beach. Ayia Napa is known all around the world as an ultimate party city, so prepare to have a great time and be up all night! If you need a break from all the activity, you can walk to Nissi Beach in just over 10 minutes.
The accommodation consists of a large and spacious dormitory-style room with lockers next to each bed. The large outdoor terrace is equipped with hammocks that are perfect for relaxing after you've eaten a delicious BBQ meal. Getting to and from the House of Nissus is easy with the hostel offering airport transfers.
Hostel details
Address: 
Tefkrou Anthia 131, Ayia Napa, Cyprus.
Guest rating:
4.7 out of 5.
Price per night:
from $21.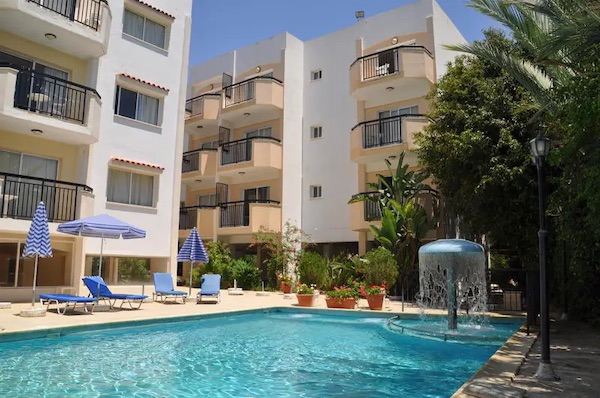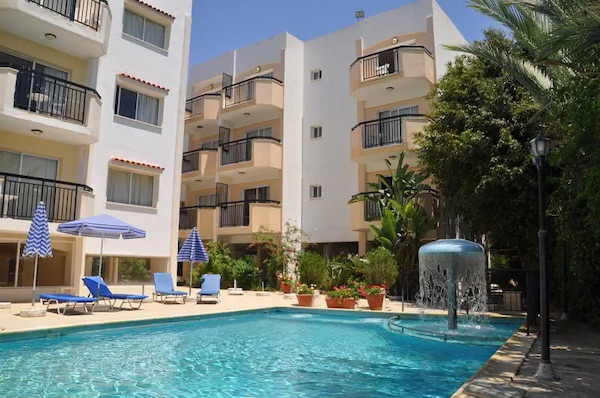 Meriela Hotel Apartments
The largest accommodation complex in this list, Meriela Hotel Apartments consists of 64 recently updated units. There are 38 one-bedroom apartments that suit 2 – 4 people and 38 studio apartments that suit 2 – 3 people. Located in Paphos and surrounded by beautiful gardens, these apartments are the perfect pick for those who like to relax and unwind in nature.
The center of town is not far away either, you will be able to reach it within a 5-minute walk. Meriela Hotel Apartments is also just 1 km away from the beach, and 3 km's away from Latchi Harbour which leads to Aphrodite's baths and the beautiful Akamas National Park. There are transfers available to and from the apartments, and breakfast is available for 5 euro per person.
Hostel details
Address:
Polis Chrysochous 8820, PO Box 66088, Paphos, Cyprus.
Guest rating:
4.3 out of 5.
Price per night:
from $28.
About our Cyprus hostel recommendations
Are you a solo traveler looking for a private room? Or a backpacker traveling around in a group wanting to stay in a cheap and cozy dorm? Above you will find the best hostels in Cyprus for all your needs.
Please note, we only list hostels that have an aggregated guest review rating of at least 4.0 out of 5. We aggregate all reviews from different booking sites and other unbiased review websites. Hence, you can be certain all hostels listed above offer an excellent value-for-money stay in Cyprus.
Best price guarantee
For our hostel recommendations, we work together with Hostelworld and Booking. These partnerships don't have any influence on the recommendations we make or on the order in which our recommended hostels are listed. The reasons why we have chosen to partner with these companies is that they're trustworthy, offer excellent service and they both apply the best price guarantee. This means you can claim a refund for the difference if you find your reservation cheaper on another website. It has to be for the same property, accommodation type, dates, cancellation policy and conditions, otherwise, you can't claim the refund for the difference. If you book through Booking.com then all you need to do is contact them at least 24 hours before your check-in date. If you book through Hostelworld you must claim the refund within 24 hours after you made the booking.
Top 5 hostels in Cyprus
To summarize again, based on thousands of guest reviews, these are the best hostels in Cyprus:
Why you should be careful when booking the cheapest hostel available
The cheapest hostels available are typically not in a great location. If you want to go sightseeing or go for a night out in Cyprus, you probably end up having to pay for public transport or a taxi to get there. So your stay could end up being more expensive compared to a stay in a central location. For first-time travelers, we recommend staying central anyway, but also for frequent visitors, it's probably worth it to pay a bit more to stay in a central location.
Another reason why you shouldn't stay at the cheapest hostel is that the people staying at the cheapest hostels are often not the people that can afford to travel like you. Because a very cheap hostel is often cheaper than renting a flat, these places tend to attract migrant workers or local misfits. That's probably not the crowd you want to hang out with, especially if you're a solo traveler looking for friends.
The third reason why you should avoid the cheapest hostels is safety. Some of the cheapest hostels don't check IDs, don't ask for signatures, or only accept cash at check-in. The hostel won't know who is actually staying there.
Lastly, the service at these hostels isn't great. For instance, if you choose to store your luggage, your bags will be unattended in a public space. It won't be recorded anywhere or tagged and stored in a locked room.
So, it's probably worth it to spend a bit more on your hostel stay in Cyprus.
And finally, a tip: always read the latest reviews of the hostel! All places have good and bad reviews, but the most recent reviews matter the most.
More Cyprus tips
Get to know the island even better and check out our other articles about Cyprus:
Best boutique hotels in Cyprus