Cyprus has a vibrant Mediterranean culture that has been influenced by Turkey and Greece. The dynamic country is one of the most charming in Southern Europe and has some of the world's most amazing historical sites. From Roman and Turkish ruins to incredible colonial-era architecture, Cyprus has everything history buffs and culture vultures could want.
The country isn't just a destination for history lovers. Foodies can find mouthwatering cuisine in Cyprus's many cities. Beach bums also have plenty to like about Cyprus. Its major cities have great beaches and resorts just waiting for your stay.
If you want to visit one of Europe's hidden gems, then book a holiday to Cyprus. The five areas below are ideal for your trip.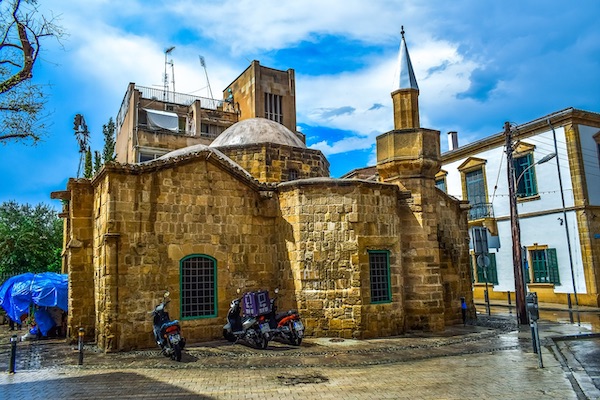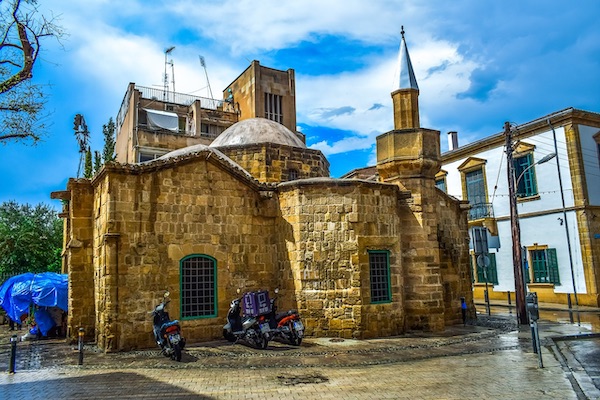 Nicosia
Nicosia is the ideal place to stay for travelers seeking a cool destination. The Cypriot city is one that many people to the island skip over. Although it is missed by travelers, it offers plenty of must-see modern attractions. Culture vultures and history buffs will discover a wealth of modern history in Nicosia and can learn about the country's interesting past. Cyprus is in the midst of a tense political situation. You can experience a tour of the area and learn more about the politics of the Mediterranean nation.
Foodies will fall head over heels for Nicosia. The city has amazing cuisine and you can discover the specialties of the region. Nicosia is separated down the middle by a DMZ. One half falls on the Greek side of the island while the other portion is on the Turkish side. The influences of both nations on Cyprus lend to its cuisine and culture.
You will find a wealth of restaurants, bars, and cafes around Ledra Street. It is the main shopping part of Nicosia. The city is vibrant thanks to the young people that move to it. Students arrive in Nicosia to attend university, giving it a dynamic atmosphere. You should explore both sides of the city to truly take in the different cultures.
Best place to stay in Nicosia
Hypnos Boutique Hotel. Address: 3, Konstantinou Kanari street, 2368 Nicosia, Cyprus.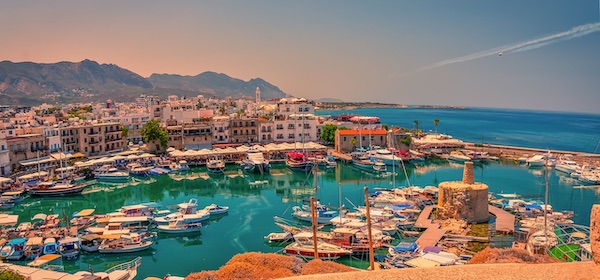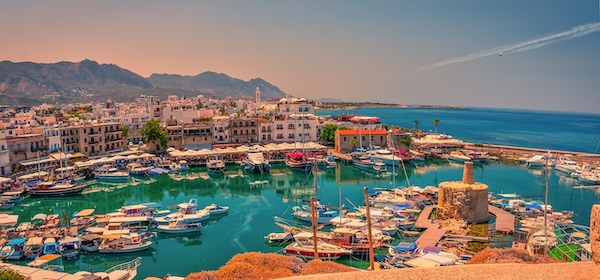 Kyrenia
Kyrenia is situated in the north of Cyprus and is off the beaten path. The region is beautiful with its mountains creating a backdrop for an adventure vacation. Kyrenia has a variety of historic sites, making it ideal for history buffs. One of the most popular sites to visit in Kyrenia is the Byzantine Castle, which is located near the city center.
Northern Cyprus is part of the Turkey controlled portion of the country. The northern region is very different than the Greek controlled southern part. Kyrenia's small size means you can move about freely on foot.
Kyrenia's cobbled streets are quaint and a throwback to yesteryear. The city's harbor is a beautiful place to explore. You will find traditional wooden ships, high-priced yachts, and gorgeous colonial-period architecture. After visiting the harbor, head to the Shipwreck Museum to see a 2,300-year-old Greek sailing vessel. The museum is conveniently inside Kyrenia Castle.
Best place to stay in Kyrenia
Gillham Vineyard Hotel. Address: 120 E Karaoğlanoğlu Caddesi, 9935 Temblos, Cyprus.
Cheaper alternative:
Olivia Palm Hotel. Address: Karakiz Sok. Olivia Palm, No: 21, 9930 Kyrenia, Cyprus.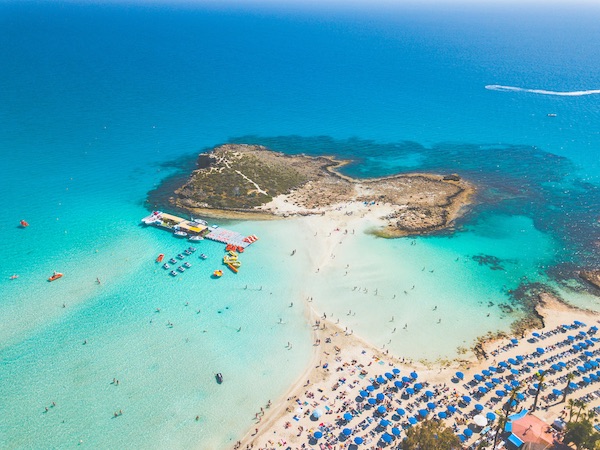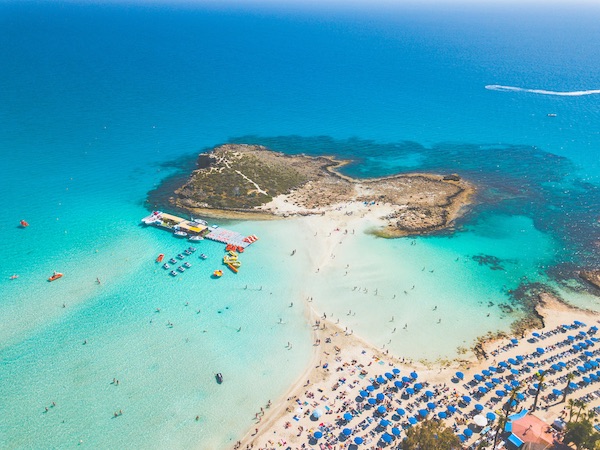 Ayia Napa
If you want to find the best nightlife in Cyprus, then book your stay in Ayia Napa. The region is home to Cyprus's best resort. Ayia Napa is renowned around Europe for its incredible nightlife that goes into the early hours of the morning.
The town is home to Cyprus's biggest and best nightclubs. The best nightclubs are found around The Square, which is the most happening place in Ayia Napa. DJs spin at the nightclubs throughout the week. You will also find beach parties in the area on some of the most gorgeous stretches of sand in the Mediterranean Sea.
Beaches are definitely the reason to visit Ayia Napa. The area is synonymous with Mediterranean beach getaways. Turquoise waters lap onto white-sand shores here. If rowdy nightlife is what you want to experience, then book a stay at one of the resorts or hotels in the area.
Best place to stay in Ayia Napa
NissiBlu Beach Resort. Address: 75C, Nissi Avenue, 5330 Ayia Napa, Cyprus.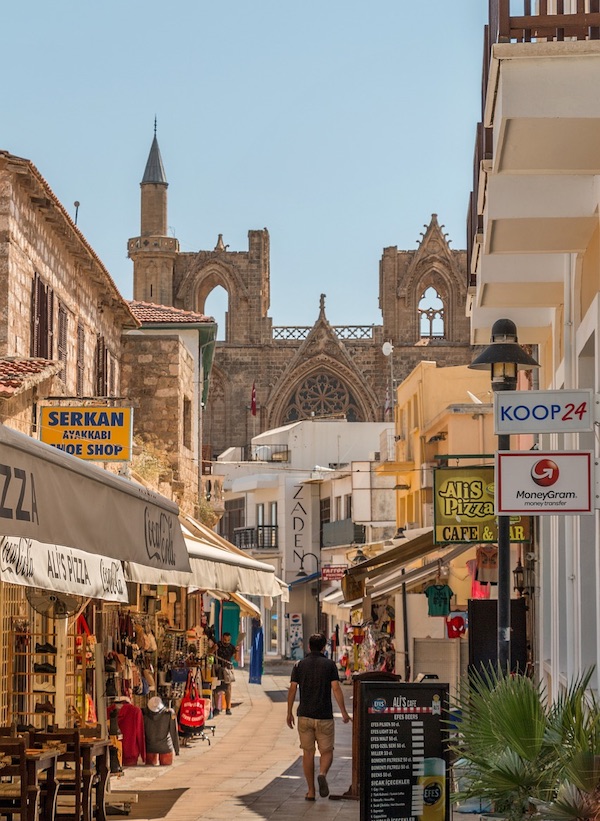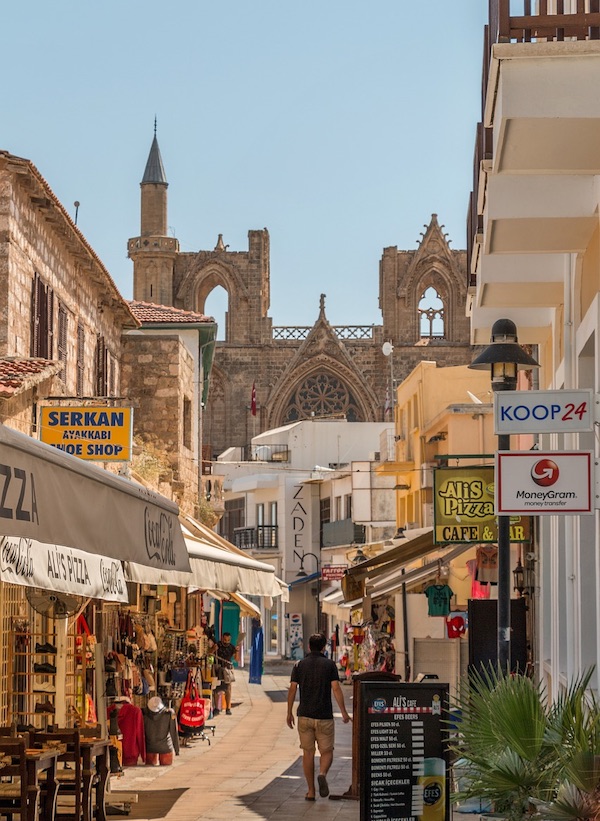 Famagusta
Culture vultures can rejoice as it isn't just all parties and beach breaks in Cyprus. Famagusta is a safe haven of culture and provides visitors with incredible landmarks to explore. Famagusta is a buzzing city with a port that has its own unique history dating back centuries.
The heart of Famagusta is its medieval center. The walled part of the city is an enchanting area that needs to be seen to be believed. Gothic architecture can be found around the area. You can find Renaissance-era architecture as well in the heart of Famagusta. One of the cool historical aspects of the medieval area of the city is the 15th-century bullet holes that still exist in the sides of buildings. The holes were made by the Ottoman siege.
Once you finish exploring Famagusta's history, head to one of the city's beaches. You can relax on the hot sunny shores of Bediz, Glapsides and Nagomi beaches. After getting your energy back, head off to see more ancient ruins which include Roman and Turkish influence.
Best place to stay in Famagusta
Ingate Elite Suite Hotel. Address: Ismet Inonu Bulvari, 88, 9900 Famagusta, Cyprus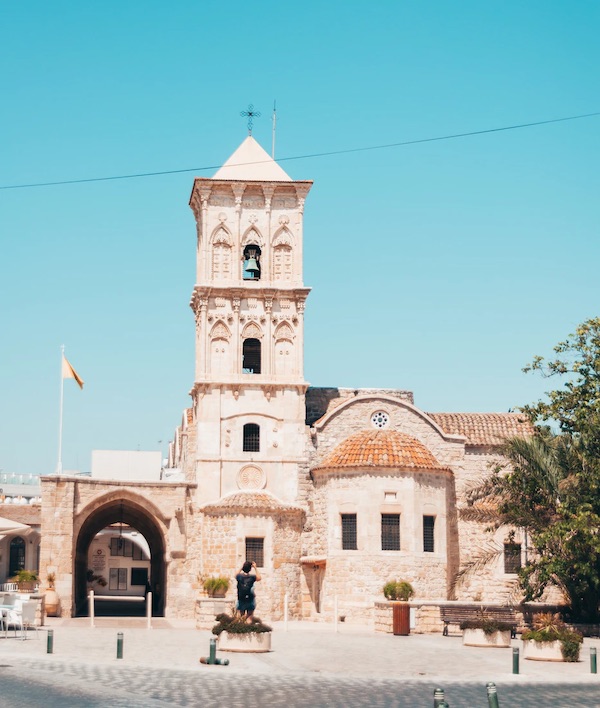 Larnaca
Larnaca is another Cyprus city that exhibits a brilliant combination of history, culture, beaches, and nightlife. The city's mix of elements is the very reason to why Cyprus is a brilliant European travel destination. Compared to other parts of Cyprus, Larnaca has a laidback atmosphere. The chilled vibe can be experienced by simply walking the streets of Larnaca or sipping drinks at a street-side cafe.
Foodies have plenty of reasons to visit the city. It has a variety of restaurants serving up local dishes. Cypriot Meze is a favorite in Larnaca and the best examples of the dish are found there. If you want a beach break that gets you away from the big crowds of the resorts, then visit Larnaca's turquoise waters. The beaches here are much quieter and there should be plenty of space to sit and relax.
One of the unique aspects of Larnaca is the shipwrecks located off the shore. You can go scuba diving or snorkeling near the sites to see an underwater world. You can also get your scuba diving certification if you have the time to spare. Basing your stay in Larnaca gives you the chance to stay in paradise and see an amazing part of Cyprus.
Best place to stay in Larnaca
The Josephine Boutique Hotel. Address: Corner Zenonos Kitieus & Mitsi street, 6022 Larnaca, Cyprus.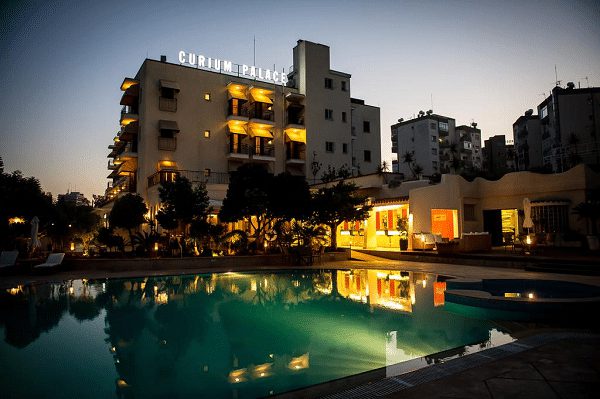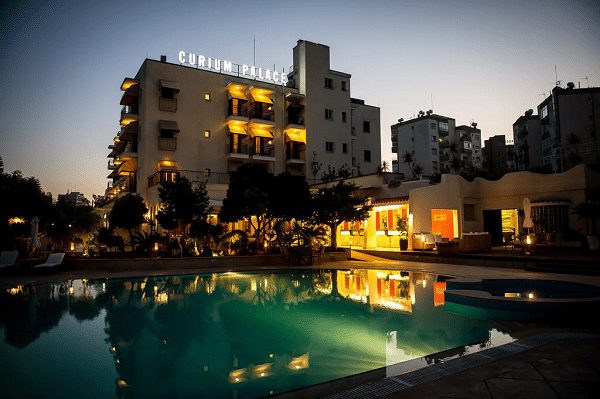 Where travel critics stay in Cyprus
Want to know where travel critics from publishers like The New York Times, Frommer's, Fodor's and Lonely Planet stay in Cyprus? Check out our overview of all recommended hotels, hostels and B&Bs in Cyprus.
Budget
"These spacious, pretty rooms have balconies with valley views. The Elyssia hotel is obviously well cared for by the owner, who is charming and eager to please." — Loney Planet.
Address: Filoxenias str. 47, Moutoullas, 2850, Cyprus.
Mid-range
"A tempting hotel option on the Limassol seafront with open vistas to the Mediterranean, an upscale spa and one of the finest Italian restaurants in Limassol, all combined with a supremely stylish décor – think chunky blond wood furniture and crystal-effect light columns." — Telegraph.
Address: Georgiou 'A 72, Germasogeia 4048, Cyprus.
Luxury
"A Mediterranean sense of place reigns at this palatial resort near the Tombs of the Kings with extensive grounds, beautiful multilevel pools, and a small beach." — Fodor's.
Address: Queen Verenikis Str, 8016 Paphos, Cyprus.
FAQ: Cyprus hotel tips
Looking for the best budget, boutique, or luxury hotel in Cyprus? Or maybe you're a backpacker looking for an excellent hostel? Want to know which Cyprus hotel serves a great breakfast? Here are the answers to all those and other questions about where to stay in Cyprus.
What is the best budget hotel in Cyprus?
If you're looking for a cheap hotel in Cyprus, then book Hanna Koumi Boutique Hotel. It's an excellent budget hotel offering great value for money. It's in a good location, it's been recommended by travel experts and the hotel has excellent customer reviews. Also make sure you read our shortlist of the best cheap hotels in Cyprus.
What is the best boutique hotel in Cyprus?
Not a fan of big chain hotels? No problem. If you want to stay in a boutique hotel in Cyprus, then you should book Gillham Vineyard. The hotel has been rated highly by previous guests for its boutique style. It has also been recommended by influential travel journalists. Also check out our list of the best boutique hotels in Cyprus, it's a manually curated list of the most unique and romantic hotels in the country.
What is the best luxury hotel in Cyprus?
If money isn't a problem and you're looking for a luxury hotel in Cyprus, then go for Elysium Hotel Paphos. The hotel offers excellent service, it's in a top location, it has been rated very highly by previous guests and renowned travel critics have recommended it. Also make sure you read our shortlist of the best luxury hotels in Cyprus, it's a manually curated list of the most exclusive 5-star hotels on the island.
What is the best hostel in Cyprus?
Looking for a good and affordable private room or cozy dorm in Cyprus? Check out Lemongrass. The hostel has been highly rated by backpackers. Also check out our list of the best hostels in Cyprus.
How much does it cost to stay in a Cyprus hotel?
For a 3-star hotel, you have to pay around $100 per night and for a 4-star hotel, you would be looking at $175 per night. If you're after a luxury 5-star Cyprus hotel then you can expect to pay around $270 per night.
Which Cyprus hotels offer a great swimming pool?
There are a lot of Cyprus hotels that offer a nice swimming pool. Try Elysium Hotel Paphos or Royiatiko Hotel Nicosia, both have excellent customer review ratings for their swimming pools.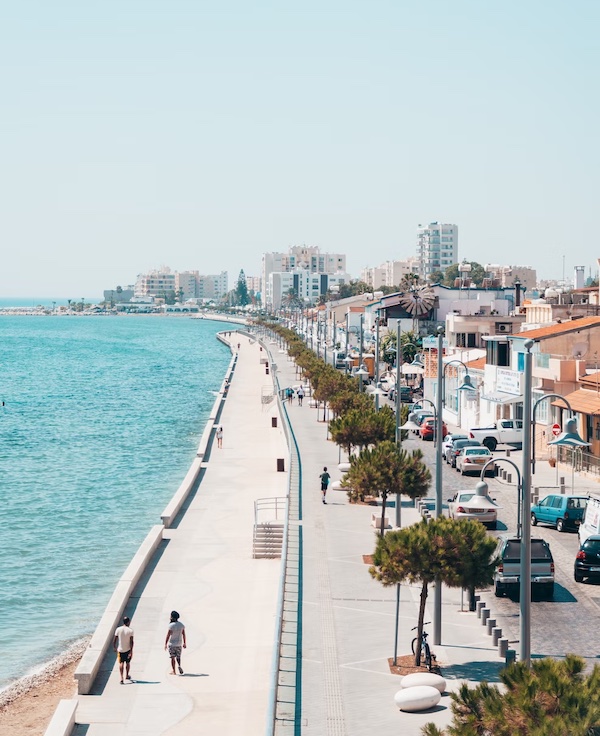 Best time to visit Cyprus
The best time to visit Cyprus is between April and October when the weather is at its most glorious. Imagine basking in the warm sun on a pristine beach, with crystal-clear waters gently lapping at your feet.
The temperature during these months typically ranges from 20°C to 30°C (68°F to 86°F), offering the perfect conditions for swimming, sunbathing, and indulging in a variety of thrilling water sports. With just the right amount of sunshine and balmy evenings, it's no wonder that the best time to visit Cyprus is during this period.
This enchanting island is also home to an array of colorful cultural events and festivals, many of which take place between April and October. From the Anthestiria Flower Festival in May to the Limassol Wine Festival in September, there's always something exciting happening to make your visit even more memorable. Don't miss out on the opportunity to discover Cyprus' rich traditions and mouth-watering cuisine during these vibrant celebrations!
Springtime, in particular, is when the landscapes come alive with a burst of colors, as wildflowers bloom and birdsong fills the air. Hike through the verdant Troodos Mountains or explore the rugged beauty of the Akamas Peninsula – there's no shortage of awe-inspiring scenery to discover.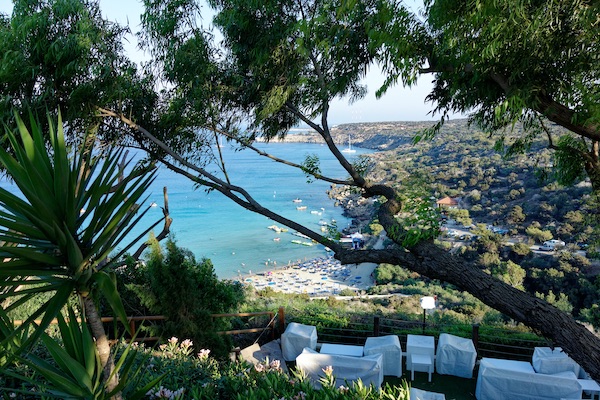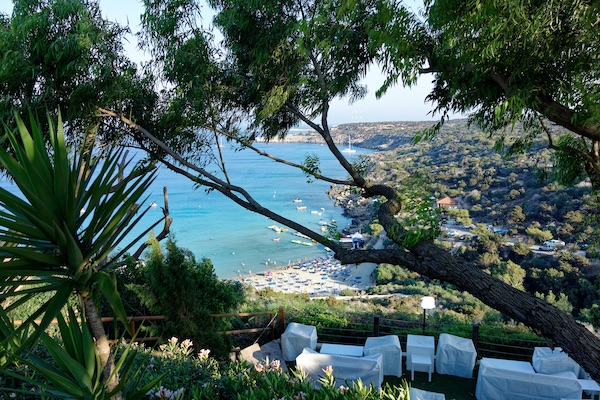 Best things to do in Cyprus
There are a lot of things to do in Cyprus, including day trips, attractions, museums, sightseeing tours and many other activities. Here's our list of 3 things you should definitely do when you're in Cyprus:
East Coast National Park: Half-Day Caves Jeep Safari
Explore Konnos National Park on an off-road adventure. Take in sea caves, ride along nature trails and see natural bridges and lovely beaches. Price: $54. More info.
Discover Scuba Diving for beginners
Learn how to scuba dive in Cyprus with this PADI Discover Scuba Diving session. Get an introduction to the diving equipment and try out basic skills in shallow waters before setting out with your instructor for a dive. Price: $78. More info.
Paphos: Aphrodite Waterpark Admission
Cooldown at the largest water park in Paphos. Enjoy a family-friendly good time as you race down waterslides, swim in the wave pool, and explore a variety of water attractions. Price: $39. More info.
Deciding where to stay in Cyprus
Let's recap what we just learned in this article. We've covered the best areas of Cyprus above. Now you can decide where to stay while visiting!
Top 5 areas to stay in Cyprus
Nicosia
Kyrenia
Ayia Napa
Famagusta
Larnaca
As you have seen in this travel guide, there are a lot of things to explore, and deciding where to stay in Cyprus is important. Whether you stay in Nicosia, Kyrenia, Ayia Napa, Famagusta or Larnaca, all those areas are in good locations.
The atmosphere of the area, whether you travel for leisure or business, whether you travel with your family or friends, and proximity to the attractions you prefer to visit should probably be the deciding factors. Whatever your preference is, you'll have a great stay in Cyprus.
Check out our other guides about the best places to stay in Cyprus: