Johannesburg, South Africa is one of the biggest and most vibrant cities in the world. The city's diverse culture and lively atmosphere provides visitors with a wide range of activities and experiences. Whether you are looking for a quiet residential neighborhood where you'll feel like a local, or a bustling area with wild nightlife and high-end dining, Johannesburg truly has something for everyone.
With a population of over 14 million, this city has no shortage of incredible neighborhoods with top-notch eateries, intriguing museums, ornate architecture, and unique coffee shops. In fact, with so many areas to choose from, it can feel impossible to know where to stay! Luckily, we're here to help. Keep reading to explore some of the best places to stay in Johannesburg and what makes them so great.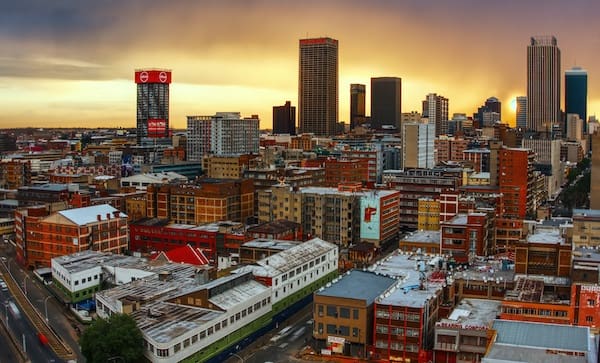 CBD
The CBD neighborhood, also known as the Central Business District, in Johannesburg, is an area known for its vibrant energy and urban culture. Located in the heart of the city, it is a bustling and diverse neighborhood that is home to a variety of businesses, restaurants, and stores. It is also one of the most visited areas in the city, and is a popular destination for locals and tourists alike.
The CBD neighborhood is home to many businesses, from small local stores to large corporate offices. However, don't let the name fool you! This area also has some of the city's most popular nightlife spots, including clubs, pubs, and bars. There are also plenty of restaurants and cafes, so there is something to suit every taste.
The CBD area boasts several of Johannesburg's most iconic landmarks, including the Nelson Mandela Square and the iconic Carlton Centre. This area is also home to many cultural and historical sites, such as the Apartheid Museum, the Hector Pieterson Museum, and the Constitutional Hill.
The CBD neighborhood is a great place to explore, with its energy and culture that makes it unique. Whether you are looking for a place to shop, eat, or just wander, the Central Business District neighborhood in Johannesburg is sure to have something for you.
Best place to stay in CDB
Hallmark House. Address: 54 Siemert Road, 2094 Johannesburg, South Africa.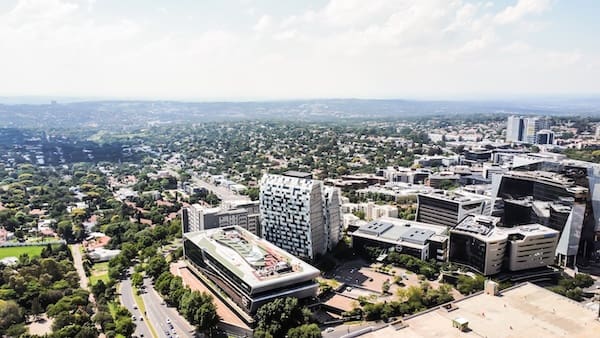 Sandton
Sandton is an affluent area in Johannesburg, located in the north of the city, and is one of the largest and most cosmopolitan areas in South Africa. It is home to many affluent suburbs and a number of business districts, shopping malls, and other amenities. In recent years, Sandton has become a major financial and business hub in South Africa.
The area is known for its high-end properties and is home to many of Johannesburg's wealthiest citizens. It is also home to the Sandton Convention Center, a large convention center that hosts many conferences and events throughout the year. The area is home to some of Johannesburg's most exclusive shopping malls and entertainment venues, so you'll never run out of things to do.
Sandton boasts some of the finest restaurants in Johannesburg. The neighborhood is also known for its nightlife, with several bars and nightclubs to choose from. This is a popular destination for tourists, who flock to the area to experience the luxury and vibrancy of this atmosphere.
Sandton is a highly sought-after area, and is often considered one of the most desirable areas in Johannesburg. It is a neighborhood of great wealth and luxury, diversity, and culture. As an area that is constantly evolving and growing, it's a fun place to visit and explore.
Best place to stay in Sandton
Garden Court Sandton City. Address: Corner of Maude and West Streets, Sandton, 2146 Johannesburg, South Africa.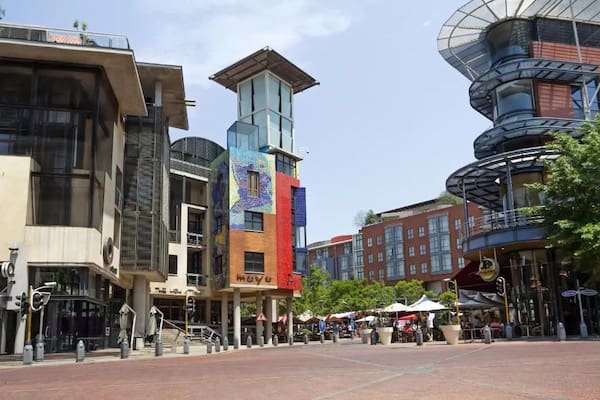 Melrose Arch
Melrose Arch provides a unique combination of modern architecture, luxurious shopping, and a relaxed atmosphere in Johannesburg. Comprising several different suburbs, this is a great place to spend the day browsing the stores, dining out, or simply relaxing in the piazza.
Melrose has become an important area in Johannesburg, and is a popular destination for both locals and visitors. Consisting of a mix of retail, residential, and commercial elements, this region is renowned for its unique blend of modern architecture, luxury boutiques, and lively bars.
As one of Johannesburg's premier shopping and entertainment destinations, Melrose Arch attracts massive crowds of visitors daily. Throughout the area, you'll find a variety of luxury retail stores, including designer clothing, jewelry, and fine art. There are also many restaurants and bars, and several entertainment venues.
At the center of Melrose Arch is a large piazza, a beautiful open space surrounded by lush gardens and modern buildings. This piazza serves as a hub of activity, hosting a range of events throughout the year, such as art shows, live music performances, and outdoor movies.
The residential component of Melrose Arch includes a selection of beautiful apartments and townhouses. These homes feature modern interiors and spectacular views of the city skyline. The residences at Melrose Arch provide a tranquil retreat from the hustle and bustle of the city.
Melrose Arch is an impressive development that is sure to continue to be a top attraction in Johannesburg for years to come. With its mix of luxury shopping, vibrant nightlife, and modern residential homes, Melrose Arch is an excellent destination for people from all walks of life.
Best place to stay in Melrose Arch
Hyatt House. Address: 28 Tottenham Avenue, 2196 Johannesburg, South Africa.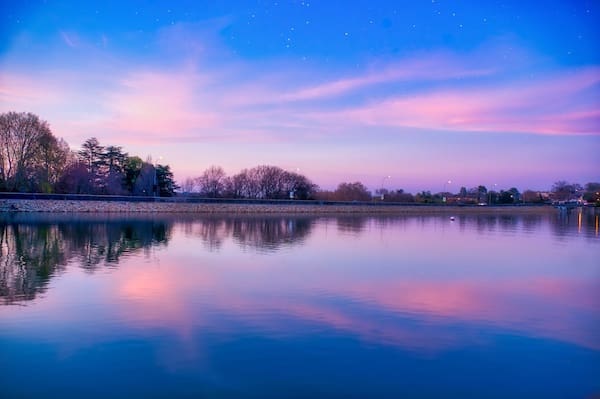 Melville
Melville is an inner-city suburb of Johannesburg, located to the north of the city center. It is a vibrant, diverse community known for its lively bohemian atmosphere and diverse demographics.
The area is home to an eclectic mix of people, from young professionals and families to an ever-growing number of international students and ex-pats. This has led to the emergence of several restaurants and bars, offering a wide selection of cuisines.
Melville is also home to some great attractions, including the Johannesburg Zoo and the Melville Koppies Nature Reserve. The area is well known for its vibrant nightlife and entertainment scene.
Mellville is well connected to the rest of Johannesburg, with easy access to the Gautrain and the city's other public transport systems. There are also plenty of bicycle paths and walking trails throughout the area, making it easy to get around.
Overall, Melville is a great place to live and visit in Johannesburg. It is home to a vibrant and diverse community, with plenty of attractions and activities to enjoy. Whether you're looking for a great place to eat or fun entertainment, you're sure to find something in Melville.
Best place to stay in Melville
Agterplaas Guest House. Address: 66 Sixth Avenue, Melville, 2092 Johannesburg, South Africa.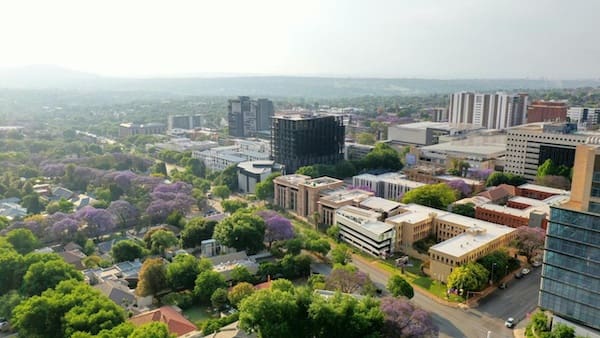 Rosebank
Rosebank is a suburb of Johannesburg, located in the northern part of the city. It is known for its cosmopolitan atmosphere and its vibrant nightlife. Rosebank is a popular destination for tourists and locals alike, with its many restaurants, pubs, clubs, and shops.
Rosebank comprises a number of large shopping malls, such as the South African Mall and the Rosebank Mall. Both are great places to find all kinds of items, from designer clothing to electronics. There are also many smaller boutique stores and independent shops that offer unique items that you can't find anywhere else.
Many visitors enjoy Rosebank's unique markets, like the Rosebank Flea Market or the African Craft Market. This is the place to visit if you want to find one-of-a-kind souvenirs!
More notably, this area is renowned for its nightlife. The bars, pubs, and clubs are some of the most popular spots in the city, so this is the place to stay if you want a fun night on the town.
Rosebank is a vibrant suburb of Johannesburg that has something for everyone. Whether you want to go on a shopping spree, a night out on the town, or simply relax and enjoy the city, Rosebank is the perfect destination.
Best place to stay in Rosebank
54 on Bath Hotel. Address: 54 Bath Avenue, Rosebank, 2196 Johannesburg, South Africa.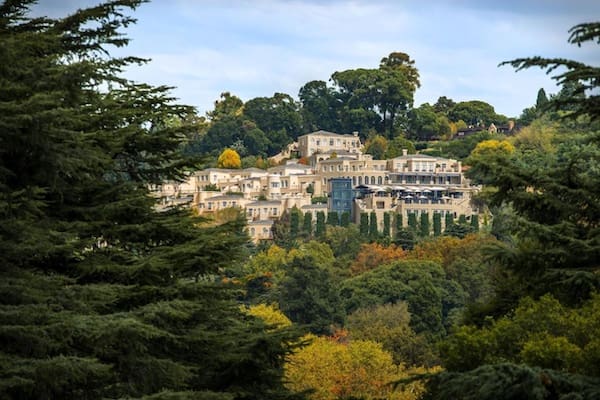 Where travel critics stay in Johannesburg
Want to know where travel critics from publishers like The New York Times, Frommer's, Fodor's and Lonely Planet stay in Johannesburg? Have a look at our overview of all recommended hotels and accommodations in Johannesburg.
Budget
"With Johannesburg's inner city booming in recent years, the only thing missing was a luxury hotel catering to high-end travelers not keen on staying in the tony suburbs. Last year's opening of the Hallmark House changed that: The 46-room hotel, which occupies two floors of a building designed by David Adjaye, has stellar skyline views and is close to all the action in the Maboneng Precinct." – New York Times.
Address: 54 Siemert Road, 2094 Johannesburg, South Africa.
Mid-range
"Best described as 'urban chic', this sexy number is a short amble from Rosebank's shopping malls. The 75 rooms are spacious and elegantly restrained, and the uber-cool 4th-floor garden terrace and pool deck is a great place to decompress." – Lonely Planet.
Address: 54 Bath Avenue, Rosebank, 2196 Johannesburg, South Africa.
Luxury
Four Seasons Hotel The Westcliff.
"The sun-splashed villas at Four Seasons Hotel The Westcliff, Johannesburg sit atop a forested ridge overlooking the city's lush northern suburbs. With more than 10 million trees, Johannesburg is one of the world's largest man-made urban forests, and with its location just above the verdant canopy, this elegant retreat literally comes out on top." – Forbes.
Address: 67 Jan Smuts Avenue, Randburg, 2193 Johannesburg, South Africa.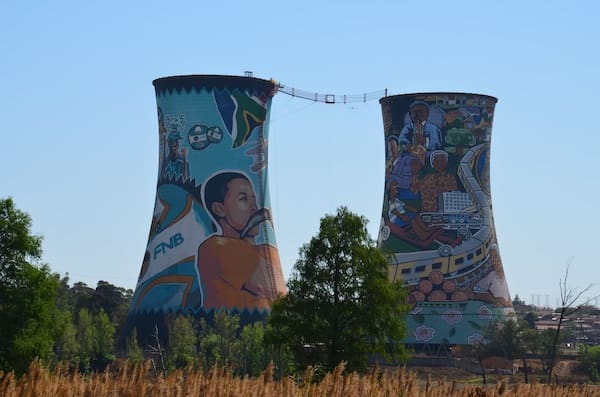 FAQ: Johannesburg hotel tips
Looking for the best budget, boutique, or luxury hotel in Johannesburg? Or maybe you're a backpacker looking for a magnificent hostel? Want to know which hotel serves a great breakfast? Here are the answers to all those and other questions about where to stay in Johannesburg.
How much does it cost to stay in a Johannesburg hotel?
For a 3-star hotel, you have to pay around $80 per night and for a 4-star hotel, you would be looking at $130 per night. If you're after a luxury 5-star Johannesburg hotel, then you can expect to pay around $250 per night.
What is the best budget hotel in Johannesburg?
If you are on the hunt for an affordable hotel, then you should consider reserving The Garden Court Sandton City. It is a great option for those on a budget, as it provides good value for your money. Additionally, the hotel is in a suitable location, and professional travelers have given it their approval. Moreover, the guests who have stayed at the hotel have shared positive reviews. We also have a list of the top-rated budget hotels in Johannesburg.
What is the best boutique hotel in Johannesburg?
If you fancy a bit of extravagance but prefer to stay away from the well-known chain hotels, then The Peech Hotel in Johannesburg is an excellent option for you. This hotel has been very well-reviewed by travelers and experts alike. For more information on other cool hotels, take a look at our list of the best boutique hotels in Johannesburg.
What is the best luxury hotel in Johannesburg?
If cost is not an issue, The Westcliff Four Seasons Hotel is a great option for those seeking a luxurious hotel in Johannesburg. This establishment offers exceptional customer service, is situated in an ideal location, and has garnered high reviews from customers and travel experts alike. To discover more 5-star hotels, take a look at our selection of the top luxury hotels in Johannesburg.
What is the best hostel in Johannesburg?
If you're searching for a well-priced private room or comfy dorm in Johannesburg, Lebo's Soweto Backpackers is worth a look. The hostel has been highly praised by backpackers. Additionally, we have compiled a shortlist of the finest hostels in Johannesburg based on thousands of reviews from backpackers.
What is the most romantic hotel in Johannesburg?
When it comes to planning a romantic getaway, there is nothing more important than choosing a cozy hotel. We recommend Sanctuary Mandela if you want to make your stay in Johannesburg truly memorable.
Which is the best hotel in Johannesburg for a family stay?
If you and your family are considering a holiday getaway to Johannesburg, travelers who have gone there with their families have had excellent feedback about voco Hotel Johannesburg.
Which Johannesburg hotel serves a delicious breakfast?
To begin the day on a positive note, the 54 on Bath Hotel is a great choice if you're seeking accommodations in Johannesburg with a fantastic morning meal. Those who have recently stayed there have provided magnificent reviews about the breakfast provided at the hotel.
Best time to visit Johannesburg
The best time to visit Johannesburg is during the months of May to September. This is when the city experiences its cooler, drier winter season. The weather during this time is mild, with temperatures hovering around 20 degrees Celsius (68 °F) during the day and dropping to 5 degrees Celsius (41 °F) at night.
This makes it the perfect time to explore the city's many outdoor attractions, such as the Johannesburg Zoo, the Botanical Gardens, and the Kruger National Park. Another reason why the winter months are the best time to visit Johannesburg is that it's also the low season for tourism. This means that you'll be able to enjoy all the city has to offer without the crowds and long queues. You'll also be able to save money on flights and accommodation, as prices tend to be lower during this time.
If you're planning to visit Johannesburg during the summer months (November to February), you should be prepared for hot, humid weather. Temperatures can soar up to 30 degrees Celsius (86 °F), and there's a high chance of thunderstorms and heavy rainfall. This can make it difficult to explore the city's outdoor attractions, but it's still a great time to visit if you're interested in the city's cultural and historical attractions.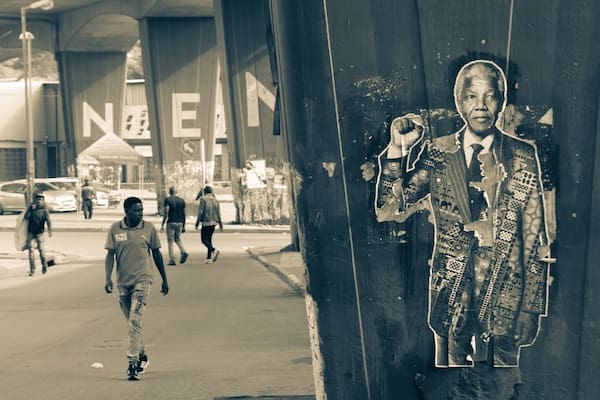 Best things to do in Johannesburg
There are many things to do in Johannesburg and the surrounding areas, including day trips, attractions, museums, sightseeing tours and many other activities. Here's our list of 3 things you should definitely do when you're in Johannesburg:
Pilanesberg Nature Reserve Game Safari
Visit Pilanesberg Game Reserve on a full-day safari from Johannesburg, where over 7000 animals roam freely. Have the chance to see the big 5 animals (elephants, rhinos, leopards, buffalos, and lions). Enjoy 2 extensive game drives in a jeep with a guide and a delicious lunch. Price: $172. More info.
Soweto Guided Bicycle Tour with Lunch
Embark on a fun and unique tour experience as you explore the urban complex of Soweto on a bicycle. Get to experience the township like a local. Get a glimpse of Hector Pietersen Museum, Mandela House and Tutu House. Price: $37. More info.
2-Day Kruger National Park Safari from Johannesburg
With an afternoon safari and a morning safari, this adventure not only gives you an opportunity to see the BIG 5, but also takes you to the most respected national park in the whole world. The drivers and guides are well-trained to give you the safari of a lifetime. Price: $526. More info.
More things to do in Johannesburg
Deciding where to stay in Johannesburg
Let's recap what we just learned in this article. We've covered the best areas of Johannesburg above. Now you can decide where to stay while visiting!
Top 5 neighborhoods to stay in Johannesburg
CDB
Melville
Sandton
Melrose Arch
Rosebank
As you have seen in this travel guide, there are plenty of things to explore, and deciding where to stay in Johannesburg is important. Whether you stay in CDB, Sandton, Melville, Melrose Arch or Rosebank, all those neighborhoods are in good locations.
The atmosphere of the area, whether you travel for leisure or business, whether you travel with your family or friends, and proximity to the attractions you prefer to visit should probably be the deciding factors. Whatever your preference is, you'll have a great stay in Johannesburg.
More Johannesburg tips
Take a look at our other guides about the best places to stay in Johannesburg:
Boutique hotels in Johannesburg