Nicknamed the "city of a hundred spires" Prague is the capital of the Czech Republic and a great destination that offers history, awe-inspiring architecture, and easy walkability. One of the main landmarks that help to orientate you within the city is the grand River Vltava with runs nearly directly through the center of the city, diving it in half.
Many visitors to this beautiful city choose to stay within the historical center, however, the city's walkability and great public transport network make getting around from anywhere a breeze. This means it's easy to stay somewhere a little further out from the main action and therefore pay cheaper prices for accommodation, yet still have a fantastic time.
Let's take a look at the 5 best hostels in the city.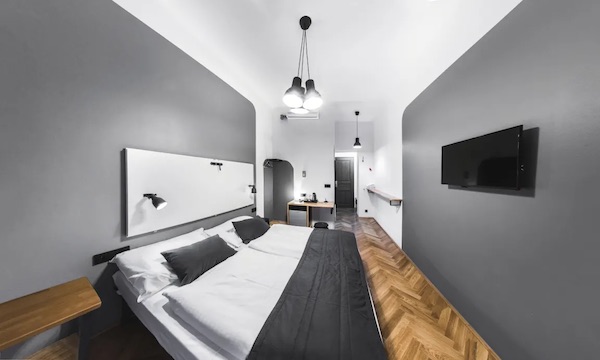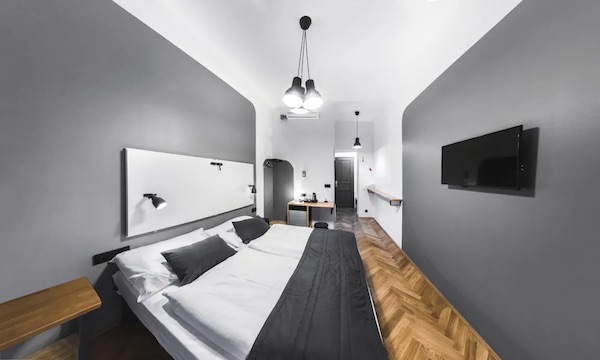 Czech Inn
Located in the trendy heart of Vinohrady, Czech Inn is the ideal spot to stay if you like to be close to the action but far enough away from the main crowded tourist areas. The Art Nouveau style building is surrounded by lots of bars, restaurants, clubs and markets. There is a tram stop right opposite the hostel that only takes 10 mins to reach the city center.
Czech Inn is a mix of dorms, private rooms, and apartments so there is something to suit everyone. There is 24-hour reception available, as well as free wi-fi throughout. This hostel also offers a buffet breakfast and free walking tours, which make for an easy way to orient yourself to the city. If you feel like having a fun night but also staying within the comfort of the hostel, Czech Inn has a basement bar that offers Happy Hour drinks.
Hostel details
Address: 
Francouzska 76, Prague, Czech Republic.
Guest rating:
4.4 out of 5.
Price per night:
from $8.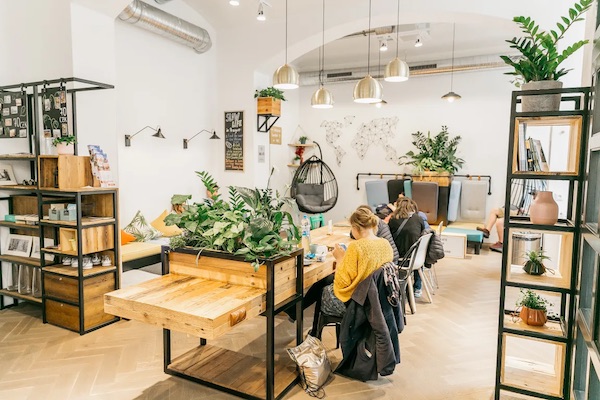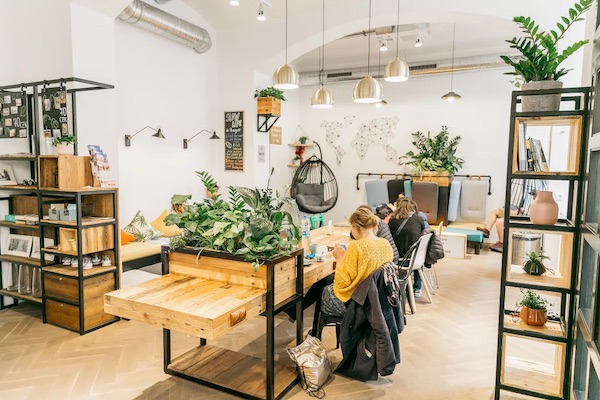 Dream Hostel Prague
Located in the center of Prague, staying at this hostel will make you feel like a local in no time. The modern interior design with fresh white walls gives the space a light and airy feel. Dream Hostel features a garden and terrace, so you can chat with newfound friends in a green and tranquil space. They also offer ideal coworking spaces so if you work remotely you will not need to worry about finding a spot to set up your laptop.
Accommodation is a mix of both shared and private rooms, all of which boast modern and clean interiors. A 24-hour reception is available so you feel at ease knowing there will always be someone around to answer any questions you may have.
Hostel details
Address:
600/23 Ve Smečkách str, Prague, Czech Republic.
Guest rating:
4.7 out of 5.
Price per night:
from $17.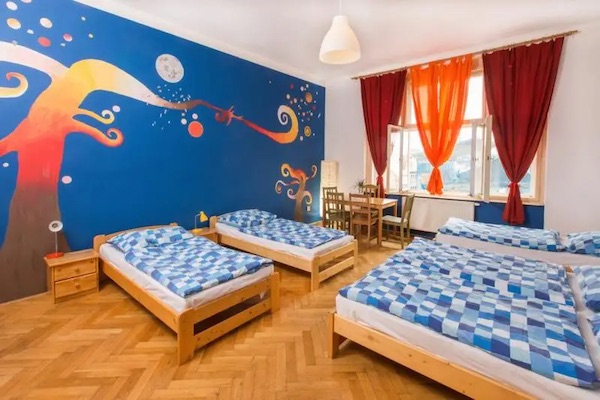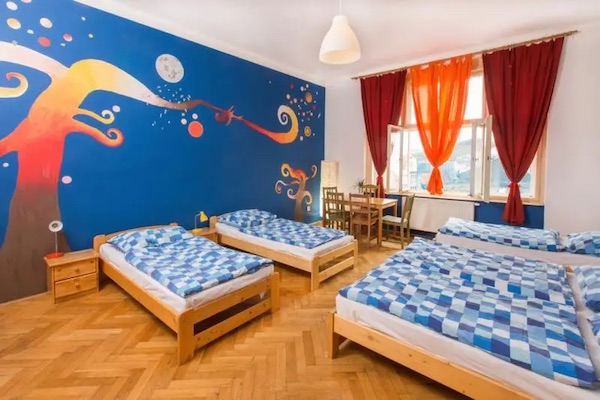 Hostel DownTown
Awarded the most popular hostel in Prague by the HOSCAR awards in 2018, this property is a great choice. Hostel DownTown is a 10-minute walk from the Old Town and Charles Bridge, and only 5 minutes from Wenceslas Square. What sets this hostel apart is the wide variety of things they provide at no extra charge. This includes wi-fi, TV with Netflix, table games, lockers in all dorm rooms, free freshly made popcorn, and a fully equipped kitchen.
There are also many activities that the hostel runs which include walking tours of different areas of the city, beer tours, pub crawls, and cooking sessions. With so many activities available, it's a great way to meet new people and make friends. Both the shared and private accommodation is newly renovated, and some rooms on the 5th and 6th floors feature beautiful views over the city.
Hostel details
Address:
Narodni 19, Prague, Czech Republic.
Guest rating:
4.7 out of 5.
Price per night:
from $19.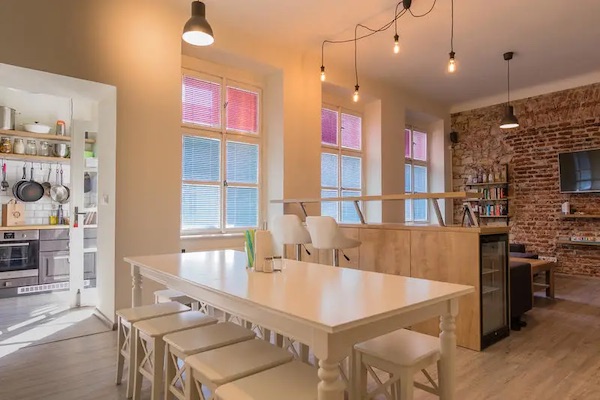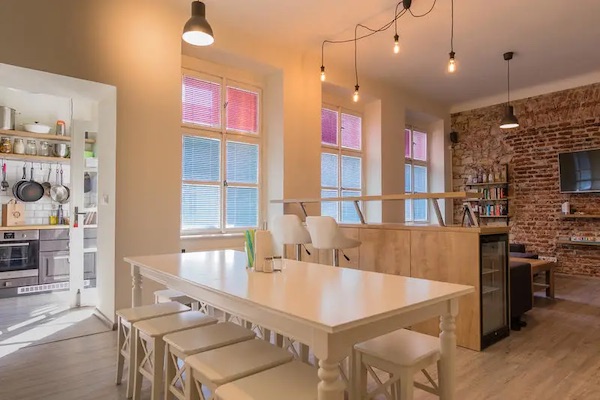 The Roadhouse Prague
Opened in 2017, The Roadhouse hostel has a laid-back and friendly atmosphere perfect for travelers who like to meet people and be social, but not go wild with partying. Located in a quiet street 150 meters away from Charles bridge, it's the perfect spot for those who like to be in quiet surroundings but still be close enough to the action. One of the highlights here is the nightly family dinners where everyone gathers around to enjoy a meal together.
There are daily activities organized by the hostel, so you can visit the sights and attractions easily with your fellow travelers. Accommodation is a mixture of 4 and 8 person dorm rooms. Many home comforts are included such as reading lights for each bed, privacy curtains, electrical outlet, and storage locker.
Hostel details
Address: 
Náprstkova 275/4, Prague, Czech Republic.
Guest rating:
4.9 out of 5.
Price per night:
from $19.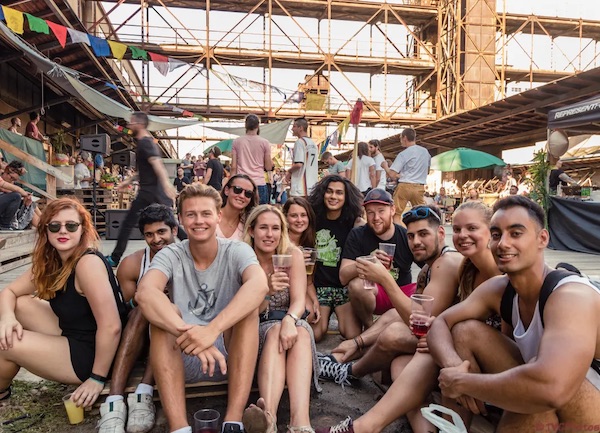 The Madhouse Prague
Sister hostel to the Roadhouse, The Madhouse is the younger sibling who loves going out. This hostel is catered specifically to those who love to be social, go out, drink and have a good time. Located in the center of the old town, there is always something going on here. Whether that be trips to the many beer gardens Prague has to offer, going to ice hockey games and cheering on the teams, or of course having a wild night out.
The Madhouse is set up like a big house where you will meet 40 new best friends. There is a large kitchen where you can have a chat over a morning coffee, as well as get together for dinner. The dorms are spacious, and all contain an en-suite bathroom, with an additional two bathrooms available on the first floor. And of course, wi-fi is included for all guests.
Hostel details
Address: 
Spalena 39, Prague, Czech Republic.
Guest rating:
4.8 out of 5.
Price per night:
from $28.
About our Prague hostel recommendations
Are you a solo traveler looking for a private room? Or a backpacker traveling around in a group wanting to stay in a cheap and cozy dorm? Above you will find the best hostels in Prague for all your needs.
Please note, we only list hostels that have an aggregated guest review rating of at least 4.0 out of 5. We aggregate all reviews from different booking sites and other unbiased review websites. Hence, you can be certain all hostels listed above offer an excellent value-for-money stay in Prague.
Best price guarantee
For our hostel recommendations, we work together with Hostelworld and Booking. These partnerships don't have any influence on the recommendations we make or on the order in which our recommended hostels are listed. The reasons why we have chosen to partner with these companies is that they're trustworthy, offer excellent service and they both apply the best price guarantee. This means you can claim a refund for the difference if you find your reservation cheaper on another website. It has to be for the same property, accommodation type, dates, cancellation policy and conditions, otherwise, you can't claim the refund for the difference. If you book through Booking.com then all you need to do is contact them at least 24 hours before your check-in date. If you book through Hostelworld you must claim the refund within 24 hours after you made the booking.
Top 5 hostels in Prague
To summarize again, based on thousands of guest reviews, these are the best hostels in Prague:
Why you should be careful when booking the cheapest hostel available
The cheapest hostels available are typically not in a great location. If you want to go sightseeing or go for a night out in central Prague, you probably end up having to pay for public transport or a taxi to get there. So your stay could end up being more expensive compared to a stay in a central location. For first-time travelers, we recommend staying central anyway, but also for frequent visitors, it's probably worth it to pay a bit more to stay in a central location.
Another reason why you shouldn't stay at the cheapest hostel is that the people staying at the cheapest hostels are often not the people that can afford to travel like you. Because a very cheap hostel is often cheaper than renting a flat, these places tend to attract migrant workers or local misfits. That's probably not the crowd you want to hang out with, especially if you're a solo traveler looking for friends.
The third reason why you should avoid the cheapest hostels is safety. Some of the cheapest hostels don't check IDs, don't ask for signatures, or only accept cash at check-in. The hostel won't know who is actually staying there.
Lastly, the service at these hostels isn't great. For instance, if you choose to store your luggage, your bags will be unattended in a public space. It won't be recorded anywhere or tagged and stored in a locked room.
So, it's probably worth it to spend a bit more on your hostel stay in Prague.
And finally, a tip: always read the latest reviews of the hostel! All places have good and bad reviews, but the most recent reviews matter the most.
Get to know the city even better and check out our other articles about Prague:
Best boutique hotels in Prague