Vieux Port, where boats and yachts wave in the sea air, is the heart of Marseille, France's historic city on the French Riviera. Along the boat-lined quay, you'll find fishmongers selling their daily catch.
Furthermore, this city is actually France's oldest city, inhabited by Greek traders 2,600 years ago and is dotted with museums and boutiques, as well as modern projects. That's some history right there! The old city has become a tourist must-see with its yacht harbor, Byzantine churches, and quirky street art. In this lively port city, North African culture collides with French cuisine.
However, in any large city, it can be difficult to identify where you should stay. We've got your back. Hostels are a great option for budget travelers, and Marseille surely has some good ones! Here are the three best hostels that you can consider on your trip to Marseille.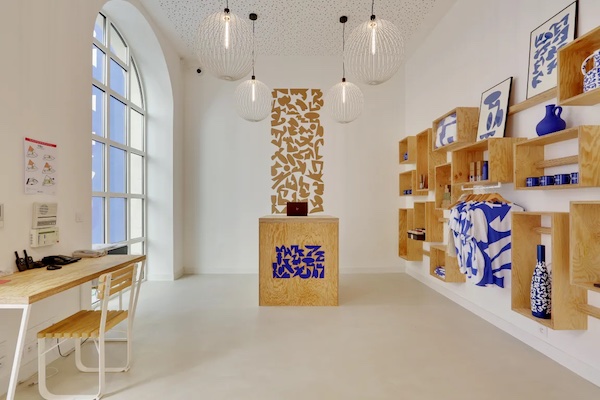 The People Hostel
This brand-new hostel is just a few minutes from the major train station, the Vieux Port, and the Panier district, which is where everything happens. It's inexpensive, conveniently located, and well-equipped. The People Hostel, labeled as Europe's first "gallery hostel," is unquestionably a haven for art lovers. The People Hostel Marseille also functions as an art gallery, where you can view a variety of works created by local artists! Murals by graffiti artist GREM adorn the walls, which contrast nicely with the minimalist Scandinavian-style furniture. This place is a winner for families and couples in the budget as they have different types of rooms available.
Features:
This is a huge hostel with 208 beds distributed across 5 levels.
The basement is a designated space for local and international artists to perform and be promoted.
After you've had your fill of wonderful art, proceed to the restaurant bar and indulge in delicious cocktails and delicacies.
The dorm rooms are genuine show-stoppers.
Take a look at the incredible privacy-focused capsule bunks! They're built of solid wood and have a privacy curtain, a shelf, a lamp, and charging outlets.
The team is available 24 hours a day, 7 days a week to check you in and assist you.
Hostel details
Address:
12 rue Jean Trinquet, Marseille, France.
Guest rating:
4.5 out of 5.
Price per night:
from $21.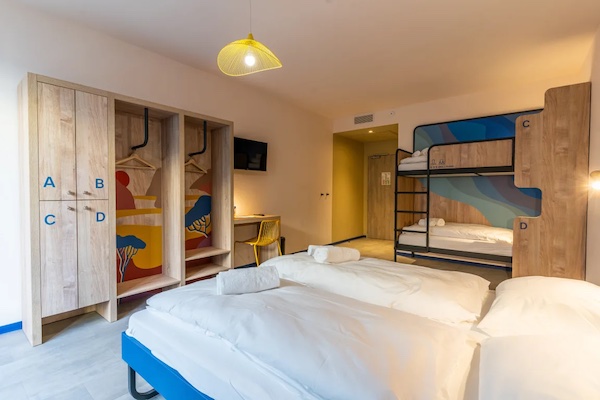 Meininger Marseille Centre La Joliette
The Mediterranean shore is home to Meininger Marseille Centre La Joliette. It's in the La Joliette neighborhood, just north of the city's Old Port, making it ideal for travelers looking for convenient, modern, and pleasant lodging at an affordable price. The hotel is 300 meters from the La Joliette metro station, while the main station Marseille Saint-Charles is a 10-minute walk or 5-minute metro ride away. All main transit hubs, including the Marseille Provence Airport, are easily accessible from the central position. The couples who have chosen Marseille as the destination to make memories, need to check out this hostel. The spectacular views from this hostel add to a fair share of your 'memories' album.
Features:
Meininger has a bar, a shared lounge, and beautiful city views.
The hostel has a 24-hour front desk for solving your problems.
This hostel also has a communal kitchen for the delicious food they serve you. Every day, the accommodation serves a continental breakfast.
Moreover, they also arrange tours for visitors, so in case you are looking for guidance on where to visit. This is the place you need to check out!
Every room in this hostel has a closet, a flat-screen TV, a private bathroom, bed linens, and towels.
All rooms of the Meininger Marseille Centre la Joliette have a seating area.
Hostel details
Address:
25/27 Rue de Forbin, Marseille, France.
Guest rating:
4.7 out of 5.
Price per night:
from $16.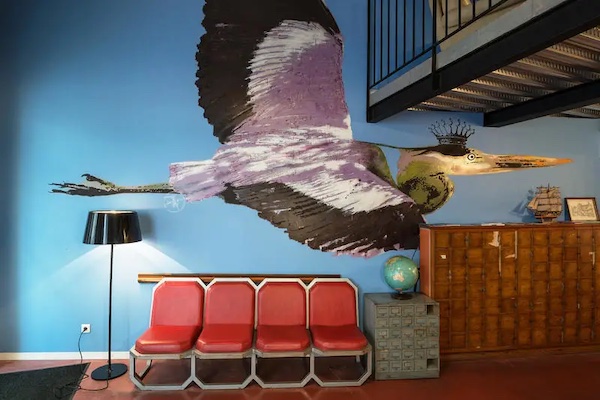 Vertigo Vieux Hostel
Hostel Vertigo Vieux is located in the middle of the city, close to tourist attractions, vibrant nightlife, and shops. Vertigo Vieux Port, a popular and frequently visited hostel in Marseille, is a favorite among travelers for its central location. The gorgeous Calanques National Park, however, is only thirty minutes away, where you may experience one of Provence's great treasures. Vertigo is the best location to take in all that Marseille has to offer in this regard. The entire hostel has been hand-crafted by local artists, and it exudes a great deal of charm. Combined with a welcoming ambiance, this is Marseille's greatest overall hostel.
Features:
The atmosphere is warm and inviting, and the staff is excellent.
Because the kitchen and dining area are connected, it's a terrific location to hang out and meet new people.
In addition, the rooms are really spacious and pleasant.
Each space is distinct in nature of shape, size, and decor. While the beds are simple, the space between them provides plenty of privacy.
The rooms and dorms, which have been decorated by local artists, provide a one-of-a-kind experience that blends the past with modernity.
A 24-hour reception, excellent WiFi, and free luggage storage are just a few of the extra perks.
Hostel details
Address:
75 rue Sainte, Marseille, France.
Guest rating:
4.2 out of 5.
Price per night:
from $23.
About our Marseille hostel recommendations
Whether you're a solo traveler looking for a private room, or a backpacker traveling around in a group wanting to stay in a cheap and cozy dorm, above you will find the best hostels in Marseille for all your needs.
Please note, we only list hostels on our website that have an aggregated guest review rating of at least 4.0 out of 5. We aggregated all reviews from different booking sites and other unbiased review websites. Hence, you can be certain all hostels listed above offer an excellent value-for-money stay in Marseille.
Best price guarantee
For our hostel recommendations, we work together with Hostelworld and Booking. These partnerships don't have any influence on the recommendations we make or on the order in which our recommended hostels are listed. The reasons why we have chosen to partner with these companies is that they're trustworthy, offer excellent service and they both apply the best price guarantee.
This means you can claim a refund for the difference if you find your reservation cheaper on another website. It has to be for the same property, accommodation type, dates, cancellation policy and conditions, otherwise, you can't claim a refund for the difference. If you book through Booking.com, you need to contact them at least 24 hours before your check-in date. If you book through Hostelworld you must claim the refund within 24 hours after you made the booking.
Top 3 hostels in Marseille
To summarize again, based on thousands of guest reviews, these are the best hostels in Marseille:
Why you should be careful when booking the cheapest hostel available
The cheapest hostels available are typically not in a great location. If you want to go sightseeing or go for a night out in central Marseille, you probably end up having to pay for public transport or a taxi to get there. So your stay could end up being more expensive compared to a stay in a central location. For first-time travelers, we recommend staying central anyway, but also for frequent visitors, it's probably worth it to pay a bit more to stay in a central location.
Another reason why you shouldn't stay at the cheapest hostel is that the people staying at the cheapest hostels are often not the people that can afford to travel like you. Because a very cheap hostel is often cheaper than renting a flat, these places tend to attract migrant workers or local misfits. That's probably not the crowd you want to hang out with, especially if you're a solo traveler looking for friends.
The third reason why you should avoid the cheapest hostels is safety. Some of the cheapest hostels don't check IDs, don't ask for signatures, or only accept cash at check-in. The hostel won't know who is actually staying there.
Lastly, the service at these hostels isn't great. For instance, if you choose to store your luggage, your bags will be unattended in a public space. It won't be recorded anywhere or tagged and stored in a locked room.
So, it's probably worth it to spend a bit more on your hostel stay in Marseille.
And finally, a tip: always read the latest reviews of the hostel! All places have good and bad reviews, but the most recent reviews matter the most.
More Marseille tips
Get to know the city even better and check out our other articles about Marseille: