If you've been anywhere in Asia, you'll be familiar with the busy atmosphere and an endless number of things to do. Beijing, being China's capital city, is no different.
A trip to Beijing wouldn't be complete without heading to the Great Wall of China! You can also check out where the 2008 summer Olympics were held, wander through the Forbidden City, go shopping or try some of the most unusual street food you can get your hands on! Don't forget to visit the Temple of Heaven or watch a Beijing Opera performance to fully embrace the culture and your time in the city.
Now that you're ready to explore Beijing, next up is finding the right accommodation. Browse through the 6 best hostels in Beijing and you'll be jumping at your next chance to see China for yourself and experience its beauty.
365 Inn
Make your way to the Chaoyang neighborhood of Beijing to find 365 Inn! The area is home to many markets, shops and even a man-made beach at Chaoyang Park. It's close to all of the best sights that Beijing has to offer and has an on-site restaurant with delicious Western and local dishes to choose from.
You can reach 365 Inn quite easily by local transportation or airport transfers are also available for your convenience! It's easy to make new friends at this hostel to join you in adventuring around Beijing during the day. It also has a fun atmosphere if you're after a party at night!
Hostel details
Address:
No. 55 Da Zha Lan West Street, Xuan Wu District, Beijing, China.
Guest rating:
4.5 out of 5.
Price per night:
from $14.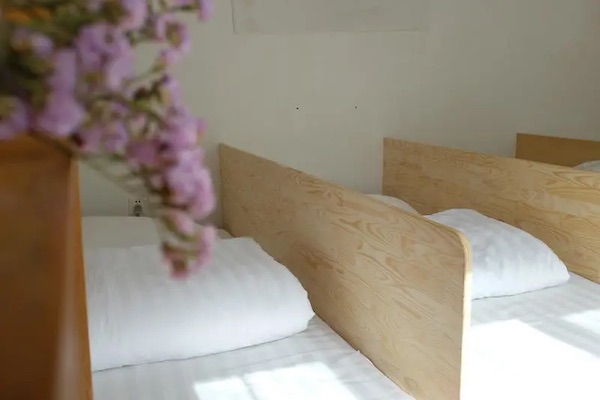 Chinese Box Courtyard Hostel
This next Beijing hostel is in the Xicheng District, surrounded by many landmarks, restaurants, cafés and more. Chinese Box Courtyard Hostel is the best option for budget backpackers as they serve free dinners three times a week, free breakfast every day and tea ceremonies and calligraphy classes on weekends!
When you're ready to explore the city on your own, bike rentals are free as well. With so many free activities to choose from, you're bound to meet other travelers to share your experiences with.
Hostel details
Address:
No.52 Xi Si Bei 2 Tiao Hutong, Xicheng District, Beijing, China.
Guest rating:
4.6 out of 5.
Price per night:
from $15.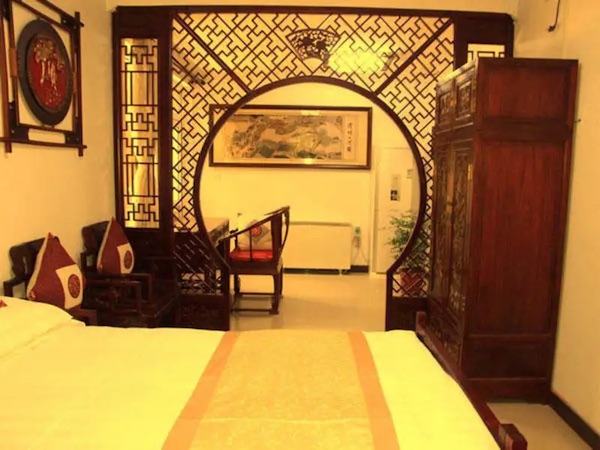 Courtyard View Hostel
Courtyard View Hostel is in the Dongcheng District of Beijing which is near the Forbidden City palace and museum, among other tourist hotspots. Getting to the hostel is easy, as it's in a central location and close to public transport options.
It's elegantly decorated with wooden decor, Chinese art and antique furniture. The rooms have a beautiful courtyard view that will transport you from the busy city to a quiet and zen atmosphere. Learn how to make dumplings with Chinese dumpling-making lessons, enjoy a free Hutong tour, or practice your Chinese with Chinese and Mahjong lessons at the hostel.
Hostel details
Address:
No.1, Xigongjie Hutong, Gulou Dongdajie Street, Dongcheng District, Beijing, China.
Guest rating:
4.7 out of 5.
Price per night:
from $24.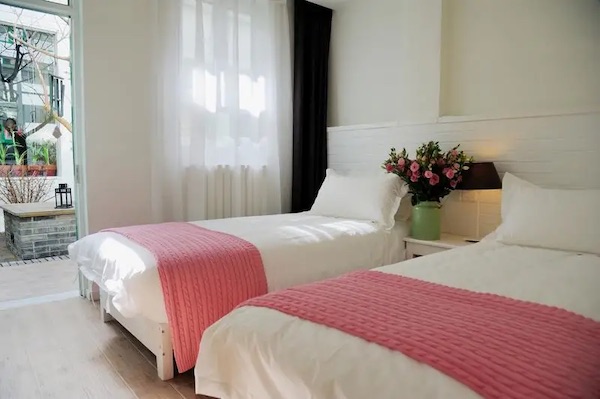 Peking Station Hostel
The Peking Station Hostel is also within the Dongcheng District of Beijing and provides you with some serenity while being right in the center of the city. Stop by the hostel lounge to share a drink with new friends and discuss your plans for the next few days in Beijing.
The building itself is full of character and is even home to small parts of the original city walls from the Ming Dynasty! With that being said, the interior is bright, modern and cozy, offering travelers a truly unique place to stay while experiencing all that Beijing has to offer.
Hostel details
Address:
Between Suzhou Hutong Building 2 and Building 3, Dongcheng District, Beijing, China.
Guest rating:
4.8 out of 5.
Price per night:
from $17.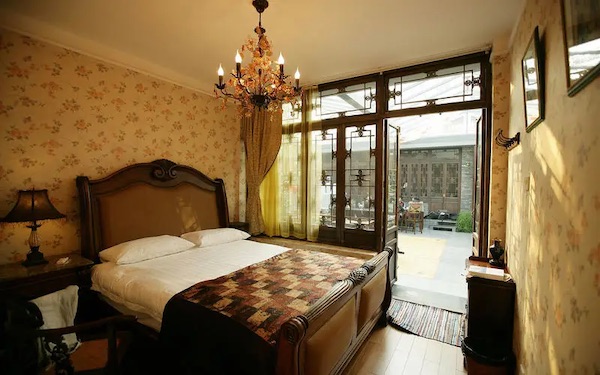 Kelly's Courtyard
If you find yourself in the Xicheng District of Beijing, Kelly's Courtyard is another great spot to stay. The hostel can be found in a traditional Hutong (alley) and is the perfect mix of traditional and modern. The owner, Kelly, is an artist and interior designer show is passionate about providing travelers with a unique experience of Beijing!
There's a beautiful rooftop where you can enjoy the sunshine on a warm day, and each room comes equipped with air-conditioning and heating to keep you comfortable no matter what time of year you're visiting Beijing.
Hostel details
Address:
No. 25, Xiaoyuan Hutong of Bingmasi Hutong, Xidan North Street, Xicheng District, Beijing, China.
Guest rating:
4.7 out of 5.
Price per night:
from $30.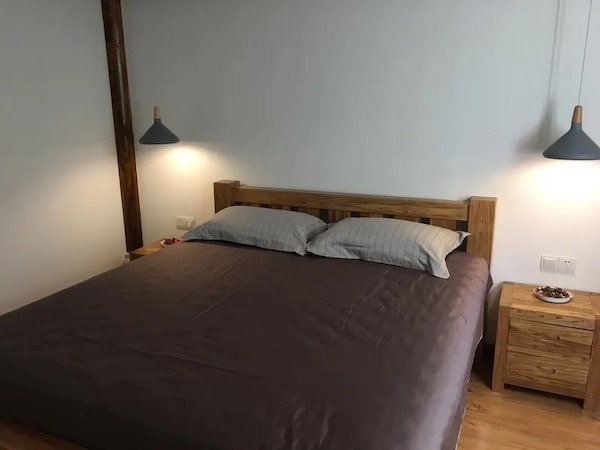 Beijing Downtown Travelotel
Last but not least is Beijing Downtown Travelotel which is in the Dongchen District. The hostel provides affordable pricing on tours to the Great Wall of China and can assist you in booking any and all transportation while venturing through Beijing and the rest of the country.
The rooms are simple, yet modern and have everything you may need for your stay. The hostel is newly renovated and always kept clean, so you can relax and make yourself at home. Enjoy free breakfast each and every morning before you head out for the day and discover Beijing's hidden gems!
Hostel details
Address:
No. 85, Nanluogu Alley, Dongcheng District, Beijing, China.
Guest rating:
4.7 out of 5.
Price per night:
from $11.
About our Beijing hostel recommendations
Whether you're a solo traveler looking for a private room, or a backpacker traveling around in a group wanting to stay in a cheap and cozy dorm, above you will find the best hostels in Beijing for all your needs.
Please note, we only list hostels on our website that have an aggregated guest review rating of at least 4.0 out of 5. We aggregated all reviews from different booking sites and other unbiased review websites. Hence, you can be certain all hostels listed above offer an excellent value-for-money stay in Beijing.
Best price guarantee
For our hostel recommendations, we work together with Hostelworld and Booking. These partnerships don't have any influence on the recommendations we make or on the order in which our recommended hostels are listed. The reasons why we have chosen to partner with these companies is that they're trustworthy, offer excellent service and they both apply the best price guarantee. This means you can claim a refund for the difference if you find your reservation cheaper on another website. It has to be for the same property, accommodation type, dates, cancellation policy and conditions, otherwise, you can't claim the refund for the difference. If you book through Booking.com then all you need to do is contact them at least 24 hours before your check-in date. If you book through Hostelworld you must claim the refund within 24 hours after you made the booking.
Top 6 hostels in Beijing
To summarize again, based on thousands of guest reviews, these are the best hostels in Beijing:
Why you should be careful when booking the cheapest hostel available
The cheapest hostels available are typically not in a great location. If you want to go sightseeing or go for a night out in central Beijing, you probably end up having to pay for public transport or a taxi to get there. So your stay could end up being more expensive compared to a stay in a central location. For first-time travelers, we recommend staying central anyway, but also for frequent visitors, it's probably worth it to pay a bit more to stay in a central location.
Another reason why you shouldn't stay at the cheapest hostel is that the people staying at the cheapest hostels are often not the people that can afford to travel like you. Because a very cheap hostel is often cheaper than renting a flat, these places tend to attract migrant workers or local misfits. That's probably not the crowd you want to hang out with, especially if you're a solo traveler looking for friends.
The third reason why you should avoid the cheapest hostels is safety. Some of the cheapest hostels don't check IDs, don't ask for signatures, or only accept cash at check-in. The hostel won't know who is actually staying there.
Lastly, the service at these hostels isn't great. For instance, if you choose to store your luggage, your bags will be unattended in a public space. It won't be recorded anywhere or tagged and stored in a locked room.
So, it's probably worth it to spend a bit more on your hostel stay in Beijing.
And finally, a tip: always read the latest reviews of the hostel! All places have good and bad reviews, but the most recent reviews matter the most.
More Beijing tips
Check out our other articles about Beijing:
Best boutique hotels in Beijing