Melbourne has been named the "Most Livable City in the World" for seven consecutive years. This Australian city, located in the south of the continent within the state of Victoria, is truly beloved by residents and visitors alike. It's not only one of the most forward-thinking cities when it comes to sustainability, but it is also easily walkable, allowing guests to enjoy a fully eco-friendly experience.
While Melbourne is recognized as the cultural hub of Australia, offering everything from good food, fashion, and art, its sustainable initiatives definitely make it a world-class city of its own. One of the city's most impressive achievements is that it set the goal to produce zero net emissions by 2020, and they achieved it! This accomplishment was only made possible by the city's ambitious goals to invest in renewable energy, develop eco-friendly buildings, create urban forests, and to reduce waste.
Melbourne was founded in 1842 after reaching its peak during the height of the gold rush. However, it has surely come a long way since then. Though many opulent and historical buildings still stand, Melbourne has made significant strides in improving the environmentally-friendly atmosphere of the city. That also means biking or riding clean transit lines to one of Melbourne's most notable attractions, the National Gallery of Victoria, an absolute breeze.
For such a forward-thinking city, you're probably thinking that there must be a ton of sustainable hotels to choose from, and you're right! That's why we put together this list, to help travelers like you find the best of the best when it comes to sustainable hotels.
Read on to learn our picks for the top five sustainable hotels in Melbourne.
Alto Hotel on Bourke
Alto Hotel is located just north of the Yarra River in the Docklands district. It is surrounded by several tram stops, making it especially easy to get around Melbourne. However, there are also a ton of great attractions within walking distance of the hotel as well. Nearby, you'll find Marvel Stadium, Melbourne's home soccer and rugby field. If you're interested in grabbing some incredible cuisine, you'll be within walking distance of Chinatown Melbourne.
When it comes to lodging, guests often remark how clean and homely Alto Hotel feels. The hotel is designed in the style of apartment living with hotel accommodations and award-winning hospitality. They also offer free WiFi and unlimited espresso coffee to guests who book directly through their site. You can also check out their A-Lounge restaurant downstairs, which serves organic foods in the morning, and functions as a library with a fireplace in the evenings.
What makes Alto Hotel sustainable
With regard to its sustainability practices, you'll be pleased to learn that Alto Hotel was actually the first hotel in Australia to receive the coveted EarthCheck Gold Certification. Since then, the hotel has also been given several additional sustainability rewards due to the fact that its operations are entirely carbon-neutral. 100% of their energy is generated from renewable sources and 95% of the hotel's lighting is energy efficient. Alto Hotel also has a rooftop beehive, sources food from local suppliers, and works hard to recycle or compost any waste leftover by guests and by the hotel's operations.
Hotel details
Address: 
636 Bourke Street, 3000 Melbourne, Australia.
Guest rating:
4.2 out of 5
Price per night:
From $105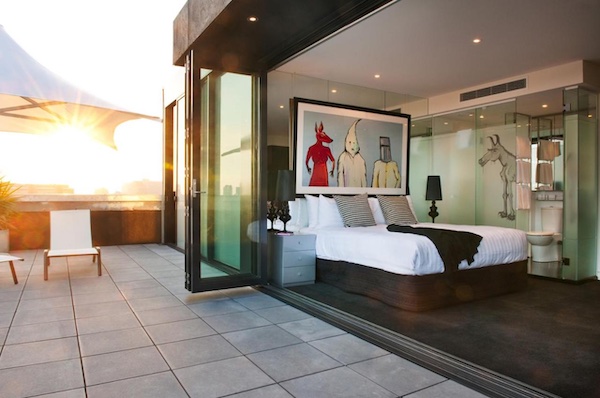 Art Series The Cullen
Slightly further south, to the east of Port Phillip Bay in the Prahran district, you'll find The Cullen. Just a short tram ride away, guests can enjoy Luna Park, a theme park with dozens of exciting rides located directly on the waterfront. You'll also be close by to the Labassa Mansion, a Victorian-era home built in the mid-1800s with a rich and unique history. Guests can enjoy a historical tour through the mansion, or simply enjoy the architecture from the outdoors.
The Cullen itself is truly a one-of-a-kind hotel, featuring artwork from Adam Cullen, one of Melbourne's most famous artists who became popular in the grunge scene. The hotel was dedicated to the unique work produced by Adam Cullen. Although he passed away in 2012, three years after the hotel's founding, his spirit lives on through his artwork still adorning many of the walls. Among other great attractions in the hotel, they also have one of Prahran's hottest restaurants, the HuTong Dumpling Bar, located downstairs.
What makes The Cullen sustainable
As for The Cullen's eco-friendly practices, they also go the extra mile. They have removed all single-use plastics from the hotel, use water-efficient utilities, and have energy-efficient lighting throughout the hotel. The hotel windows are also double-glazed to help hold in the temperature and each of the rooms has keycard-controlled lighting. If you'd like to help preserve water, you can also opt-out of daily towel changes and opt out of daily room cleanings.
Hotel details
Address: 
164 Commercial Road, Prahran, Prahran, 3181 Melbourne, Australia.
Guest rating:
4.4 out of 5
Price per night:
From $130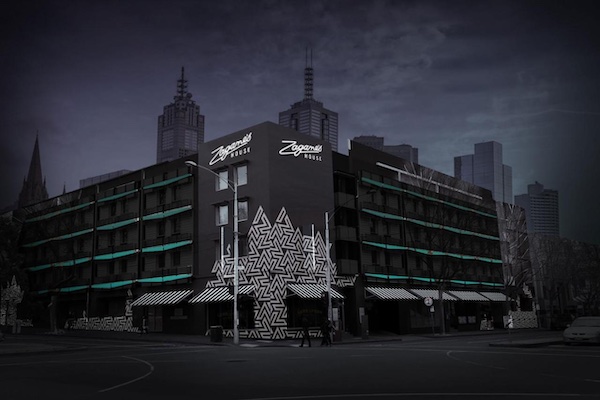 Zagame's House
Zagame's House is located in Carlton, close to the heart of downtown Melbourne. The closest attraction is the Royal Exhibition Building, a 19th-century exhibition center, topped with a dome, and set amid landscaped gardens. Just north of the exhibition center, in the same park, is the Melbourne Museum, featuring historical artifacts from Melbourne and greater Australia. Just south of the hotel, you'll also be able to enjoy Chinatown Melbourne.
Zagame's House is an art deco hotel with a wine bar in the lobby. Each guestroom is chic and refined, with flat-screen TVs, Wi-Fi and safes, in addition to a mini fridge and a coffee maker. This 97-room hotel showcases the best of modern interior design, luxurious amenities, and sustainable architecture. Founded by hotelier brothers, Victor and Robert Zagame, the entire experience of your stay is meant to impress, from the menu of the 1851 restaurant to the art on the walls, all of it will leave you awe-inspired.
What makes Zagame's House sustainable
The hotel is focusing on several different practices for sustainability, from water conservation, energy efficiency, food production, and waste reduction, all the way to educating guests on how they can make an impact in an eco-friendly way. The hotel regularly welcomes feedback from guests to learn how they can improve further in their mission to provide a truly enjoyable, and eco-friendly experience. Despite its location in a historical building, Zagame's House is making strides to create a sustainable and enriching stay for visitors.
Hotel details
Address: 
66 Lygon Street, Carlton, 3053 Melbourne, Australia.
Guest rating:
4.6 out of 5
Price per night:
From $150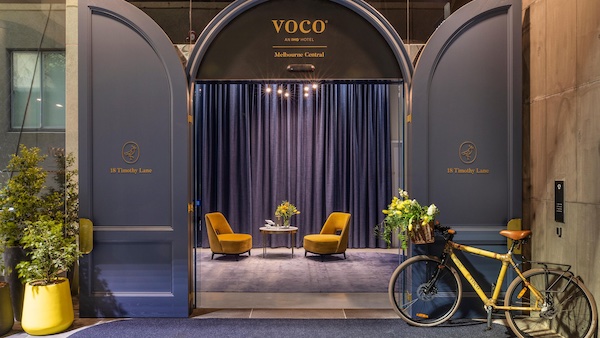 Voco Melbourne Central
Similarly located near the heart of downtown Melbourne, Voco Melbourne Central is sure to delight you during your stay. The hotel is a short walk or tram ride away from the Bourke Street Mall, Melbourne Central Station, and the Emporium. There is also the Melbourne Museum, St. Patrick's Cathedral, and several additional garden parks close by. If you're looking to explore a little further out, you'll also be excited to learn that the nearest tram stop is within a three-minute walk.
The hotel itself has some truly spectacular views, incredibly comfortable bedding, upscale amenities, fast and free Wi-Fi, and windows that open to fresh air overlooking the city. The guest rooms and suites are each decorated with cool blues and plush whites. There is also an outdoor pool to enjoy, a full-access fitness center, and a business center for larger events. For breakfast, lunch, or dinner, be sure that you don't miss out on the Blacksmith Brasserie and Bar.
What makes Voco Central sustainable
The hotel also has removed all single-use plastics, has water-efficient utilities, and takes additional efforts to reduce food waste produced by the restaurant. They also seek to source food ingredients from local providers, have energy-efficient lighting throughout the hotel, and have keycard motion-activated electricity. While Voco Melbourne Central seeks to make its own operations as sustainable as possible, they also invest a percentage of its revenue back into community projects focused on sustainability. All of this and more makes Voco Melbourne Central a great option for its location as well as its eco-friendly atmosphere.
Hotel details
Address: 
18 Timothy Ln, Melbourne VIC 3000, Australia.
Guest rating:
4.3 out of 5
Price per night:
From $172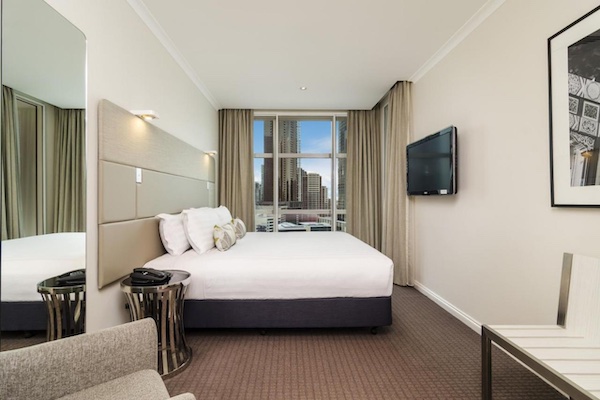 Clarion Suites Gateway
On the north bank of the Yarra River, you'll find the beautiful Clarion Suites Gateway. This majestic hotel is within walking distance of the National Gallery of Victoria, the Melbourne Aquarium, the Crown Melbourne Casino, and the Alexandra Gardens. A little further to the south is the Shrine of Remembrance, a World War I memorial, and the Royal Botanic Gardens. This hotel's central location makes it a great option for those looking to have close access to many of Melbourne's best attractions.
The warm and clean environment of the Clarion Suites Gateway is sure to make your stay comfortable and enjoyable. Many of the guestrooms have amazing views of the city as well as the Yarra River. With 120 apartment-style suites with full kitchens, laundry facilities, broadband Internet and other conveniences, the Clarion Suites Gateway goes above and beyond to make guests feel at home during their visit.
What makes Clarion Suites sustainable
When it comes to sustainability practices, the hotel focuses on conserving natural resources through better management of energy usage, water usage, and waste production. They also provide regular training and encouragement to employees to work in an environmentally-friendly manner. Some of their sustainable initiatives include adding energy-saving light bulbs in all guest rooms, dual-flush toilets, and recycling various materials. Clarion Suites Gateway has also been recognized as an AAA Tourism Eco-Friendly Star Accredited Hotel.
Hotel details
Address: 
1 William Street, 3000 Melbourne, Australia.
Guest rating:
4.3 out of 5
Price per night:
From $145
How we select the best eco-friendly hotels in Melbourne
We are a travel research company. We check a lot of details and guest reviews before making a selection. First, we check which hotels follow eco-travel principles. Are they recycling their waste? Do they work with local communities? Are they using renewable energy? Are they not using single-using plastics?
Secondly, we check guest reviews across multiple websites and only list hotels with an aggregated review rating of at least 4 out of 5. So you can be confident you will stay at an excellent eco-friendly hotel in Melbourne.
Sustainable travel is the key to enjoying a responsible and meaningful trip. You can make a difference in the environment and the communities you visit with the right sustainable travel tips. From packing light to choosing eco-friendly transportation and accommodations, there are plenty of ways to reduce your environmental impact.
More Melbourne guides
Get to know the city even better by reading our other articles about Melbourne: