In every corner of the world, there are unique cultures and powerhouses in the international space. These are societies that are constantly advancing, innovating, providing awesome sites, and much more. Australia is absolutely one of those main countries that have global influence.
Within Australia, there are a few cities that stand out, but Melbourne is near the top in terms of culture, influence and importance. This is the capital of the state of Victoria in the south and has tons of visitors every year. If you had to pick just one city to experience, it would be Sydney in the north and Melbourne in the south.
However, Australia is not known to be a cheap place to visit. So, you may need to cut down on certain expenses to experience it all.
So, here are the three best cheap hotels in Melbourne!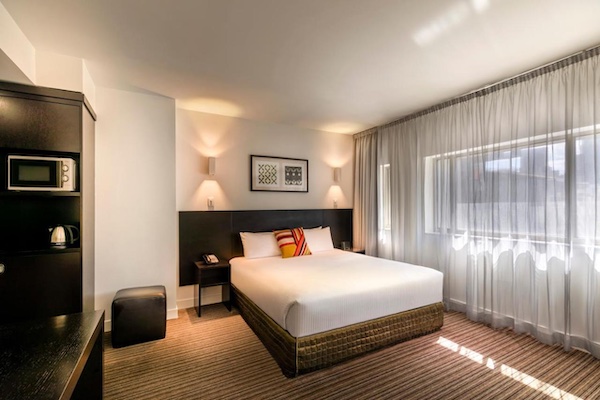 Causeway 353 Hotel
If you still want a bit of luxury and modernity without having to spend too much money, Causeway 353 Hotel is a great choice. This is a budget hotel that does not feel like one. With the sleek decor and nice amenities, it feels like an upper-end hotel without the price tag of one.
The rooms are pretty deluxe despite the low price. In fact, even the most basic of rooms are considered "deluxe" and have nice amenities. If the budget allows, you can spring for a premier room or suite for extra room and added value.
Some of the amenities included in addition to the rooms are free internet, access to a restaurant, fitness center, and much more. So, the added value is there in addition to everything else we have discussed.
The location is also really important to consider. You are within walking distance from a number of great hotspots. The Capitol Theatre, Bourke Street Mall, and a number of other places are all within a quarter-mile of your room. This shows how dense the area surrounding the hotel is. If you fancy some of the other hotspots, there is a train station within walking distance.
Hotel details
Address: 
353 Little Collins Street, 3000 Melbourne, Australia.
Guest rating:
4.2 out of 5
Price per night:
From $73
View Melbourne
Outfitted with some really awesome amenities, View Melbourne is definitely a great option when on a budget. Like the Causeway, this is a cheap hotel that does not feel like one. Even just looking at it, it feels like a luxurious spot.
A part of that luxurious feel comes with features and amenities. One of the most unique aspects is the rooftop spa and sauna. This is an area that does not sit anywhere else, so this is some added value to take advantage of.
Some of the other amenities include a cafe, free Wi-Fi, laundry services, and much more. Although the price is not too high, you will still have access to great perks.
When it comes to the rooms, there is plenty of room to save money or upgrade when you can. The most basic room is known as the best value room. As the name implies, you can save the most money with this. If you would like some more room, there are city view rooms with balconies and suites.
The location is nothing spectacular, but it is not a snooze either. You can connect with the rest of the city via train or taxi very simply.
Hotel details
Address: 
562 St Kilda Rd, 3004 Melbourne, Australia.
Guest rating:
4.4 out of 5
Price per night:
From $75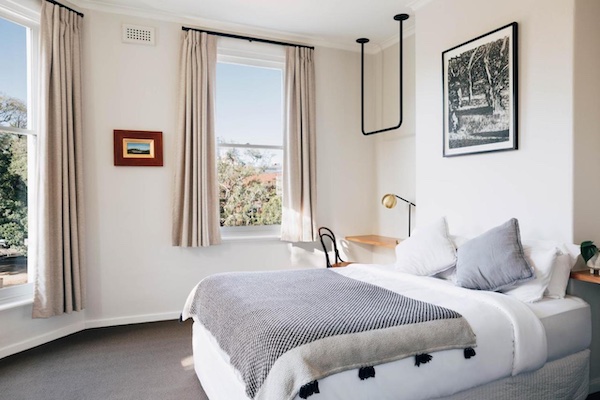 Naughtons Hotel
Finally, there is the Naughtons Hotel. This is a spot right in the heart of the city. If you are coming here for the first time, you will want to stay in a central location. This is the perfect way to experience all you want. You are within walking distance of the University of Melbourne, La Mana Theatre, Princes Park, and much more. So, this is the spot to be in if you do not have your own transportation or want to worry about that factor.
The rooms are about as basic as they get. However, this is not a bad thing. There are no bells and whistles, but this is why the price can stay down. If you are good with clean, simple rooms, look no further. There are just standard rooms and no suite options. If you want to upgrade to something nicer or bigger, you may need to go with a different option.
Naughtons Hotel is a traditional-looking building and has simple rooms that will get the job done. If you just need something to serve as a home base when exploring Melbourne, this is the perfect spot.
Hotel details
Address: 
43 Royal Parade, 3052 Melbourne, Australia.
Guest rating:
4.5 out of 5
Price per night:
From $85
About our budget hotel recommendations in Melbourne
We are a travel research company. Our team helps you discover the best cheap hotels in Melbourne by researching the internet for you. We have also visited some of these places. Hence, it's not just our opinion, it's the opinion of thousands of travelers who have been there before you. We make it easy for you to find out about the best budget hotels in the city.
Please note, we only list hotels that have an aggregated guest review rating of at least 4.0 out of 5. We aggregate all reviews from different booking sites and other unbiased review websites. Any hotel listed here should have a price of $100 or less per night. Hence, you can be certain all hotels listed above offer you a great and affordable stay in Melbourne.
Lowest price guarantee
We partner with Booking.com and Hotels.com. Both booking websites offer the lowest price guarantee, so you can be certain you will always get the best deal for the hotels above. If you have seen a better price elsewhere, all you need to do is contact the booking website and they will refund you the difference immediately. You can price match right up until the day before check-in.
We also recommend you read our guide about how to save money on hotel bookings. It's a list of tips about when you should book a hotel, what tools you can use, and other things you can do to find your preferred hotel at an affordable price.
Top 3 budget hotels in Melbourne
Let's summarize this affordable travel guide. Based on thousands of guest reviews, these are the best budget hotels in Melbourne:
More Melbourne guides
Get to know the city even better by reading our other articles about Melbourne:
Best boutique hotels in Melbourne
Best luxury hotels in Melbourne