The largest city in Switzerland, Zurich is also the most cosmopolitan. It's known as the city of museums, as it houses over 30 of them. The city has a rich history; you can see traces of Romans everywhere. There are so many interesting things to do in Zurich that you will have a hard time choosing where to go. From hidden gardens and cobbled lanes to fountains and castle ruins, there is much more to see in Zurich than meets the eye.
From saving money to meeting new people, there are many benefits to staying in a hostel. Because hostels offer shared rooms and fewer amenities than hotels, it is easy to find budget-friendly accommodations, even in the expensive city of Zurich.
Hostels often provide shared spaces and common areas, giving you ample opportunities to make new friends during your travels. Not only this, but typical hostel customers include solo backpackers, young people, and digital nomads, meaning that the type of people you encounter will likely be open to making new connections and exploring the area with you.
Even though hostels are generally cheaper than hotels, this doesn't mean you will have to compromise on quality or cleanliness. Many of Zurich's hostels are modern, clean, and provide perks like complimentary breakfast and housekeeping. To explore Zurich on the cheap, a hostel should be your first option.
Oldtown Hostel Otter
While this was once known as Hotel Otter, it changed in 2016 to the Oldtown Hostel Otter. Traditional hotel rooms are still an option on the top floors, but the lower floors have been converted into dormitory-style rooms. This hostel houses 45 beds total, with ten dorm-like rooms and five private rooms. In the hostel section, room options include two or six beds, with lockers included. There are also double rooms and corner twin rooms with a shared bathroom. Twin rooms are available with a private bathroom. All accommodations are clean, bright, and functional. Currently, breakfast is not included in your stay. However, coffee and tea are still complimentary.
This hostel is situated in the prime Old Town location, only 200 meters from Lake Zurich. From Oldtown Hostel Otter, you can reach the art museum and the opera house in under a five-minute walk. The hostel itself is situated above the trendy Wueste Bar, so cocktails, wine, and beer are within easy access. Cafe Odeon, a beautiful and historic coffee house, is also within arms' reach. If you enjoy dorm life, meeting new people, and staying close to all the main attractions, Oldtown Hostel Otter is the perfect option.
Hostel details
Address:
Oberdorfstrasse 7, Zurich, Switzerland.
Guest rating:
4.5 out of 5.
Price per night:
from $57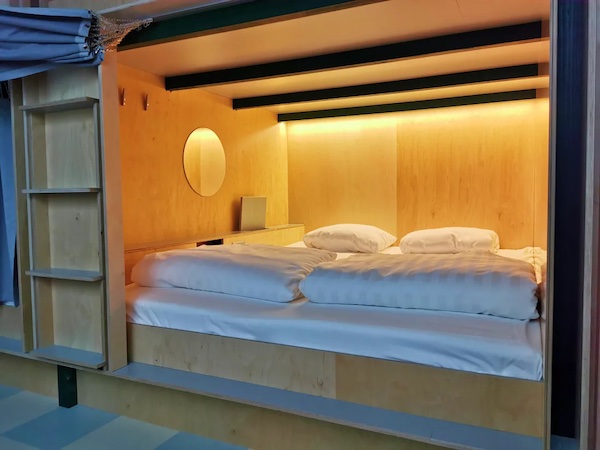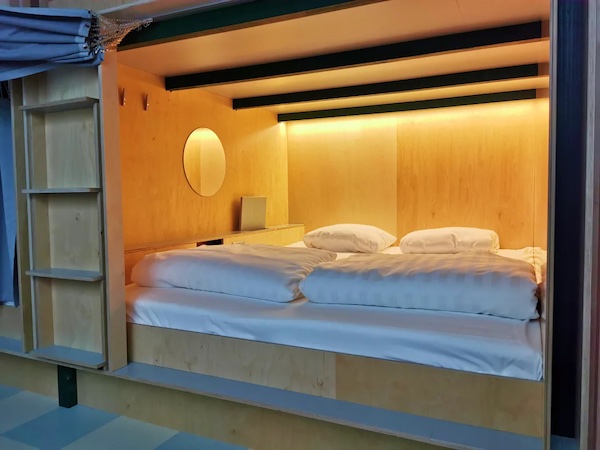 Green Marmot Capsule Hostel
Green Marmot Capsule Hostel is the first of its kind in Zurich's Old Town. Based on an innovative Japanese concept, this hostel provides capsule accommodations for travelers who will only use the hostel for sleeping and showering. Capsule hostels are also an excellent option for visitors with their budget and sustainability in mind. Pods are modern, clean, comfortable, and simplistic, featuring a thick mattress and linens made of Egyptian cotton. Towels, coffee, and Wi-Fi will also be included in your stay. Green Marmot Capsule Hostel provides single and double bed capsules for solo travelers or couples.
With an ideal setting in the city center of Zurich, this hostel is only a short walk from the Grossmunster, the opera house, public transportation, tons of shopping, and a variety of cafés and restaurants. If you're in the mood for pizza, Molino Select is less than a block away. Bang Song Thai, an Asian restaurant, is also located in the neighborhood. For an eco-friendly and budget-conscious stay, without compromising on comfort and location, you won't regret booking a capsule at Green Marmot Capsule Hostel.
Hostel details
Address:
Schifflände 26, Zurich, Switzerland.
Guest rating:
4.2 out of 5.
Price per night:
from $53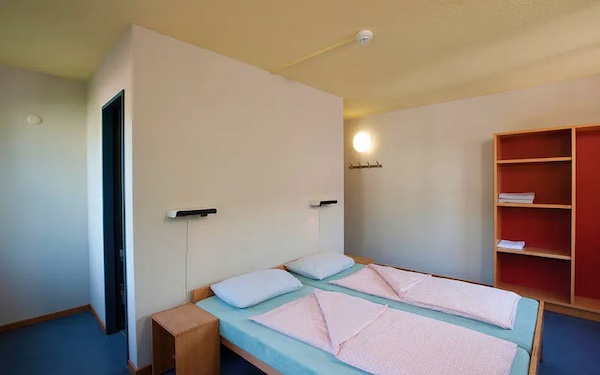 Zurich Youth Hostel
Situated on the grounds that formerly held a school cabin-turned hostel, the Zurich Youth Hostel has been renovated to feature contemporary design and comfortable accommodations. Located in a baby-pink building, the Zurich Youth Hostel is hard to miss. This hostel has 280 beds total, featuring double and single rooms, with the option of a private bathroom or a bathroom sink. Private rooms accommodate one to four guests. Shared spaces provide 4 or 6 beds, with bathrooms in the room or shared outside the room.
An authentic Swiss breakfast is included during your stay, along with coffee, tea, and Wi-Fi. You can get to know other travelers while playing foosball or billiards, housed in the common area. The sunny courtyard makes for a great place to unwind after a day at the lake. The hostel also offers an onsite restaurant, bar, and meeting room for events or conferences.
Located close to the lake, parks, the zoo, and public transportation, Zurich Youth Hostel boasts an excellent location for exploring the area. This hostel is functional for groups of all different kinds; whether you are a backpacker, traveling with family, or vacationing with a group, accommodations at Zurich Youth Hostel are suited for anyone.
Hostel details
Address:
Mutschellenstr. 114, Zurich, Switzerland.
Guest rating:
4.4 out of 5.
Price per night:
from $43
About our Zurich hostel recommendations
Are you a solo traveler looking for a private room? Or a backpacker traveling around in a group wanting to stay in a cheap and cozy dorm? Above you will find the best hostels in Zurich for all your needs.
Please note, we only list hostels that have an aggregated guest review rating of at least 4.0 out of 5. We aggregate all reviews from different booking sites and other unbiased review websites. Hence, you can be certain all hostels listed above offer an excellent value-for-money stay in Zurich.
Best price guarantee
For our hostel recommendations, we work together with Hostelworld and Booking. These partnerships don't have any influence on the recommendations we make or on the order in which our recommended hostels are listed. The reasons why we have chosen to partner with these companies is that they're trustworthy, offer excellent service and they both apply the best price guarantee. This means you can claim a refund for the difference if you find your reservation cheaper on another website. It has to be for the same property, accommodation type, dates, cancellation policy and conditions, otherwise, you can't claim the refund for the difference. If you book through Booking.com then all you need to do is contact them at least 24 hours before your check-in date. If you book through Hostelworld you must claim the refund within 24 hours after you made the booking.
Top 3 hostels in Zurich
To summarize again, based on thousands of guest reviews, these are the best hostels in Zurich:
Why you should be careful when booking the cheapest hostel available
The cheapest hostels available are typically not in a great location. If you want to go sightseeing or go for a night out in central Zurich, you probably end up having to pay for public transport or a taxi to get there. So your stay could end up being more expensive compared to a stay in a central location. For first-time travelers, we recommend staying central anyway, but also for frequent visitors, it's probably worth it to pay a bit more to stay in a central location.
Another reason why you shouldn't stay at the cheapest hostel is that the people staying at the cheapest hostels are often not the people that can afford to travel like you. Because a very cheap hostel is often cheaper than renting a flat, these places tend to attract migrant workers or local misfits. That's probably not the crowd you want to hang out with, especially if you're a solo traveler looking for friends.
The third reason why you should avoid the cheapest hostels is safety. Some of the cheapest hostels don't check IDs, don't ask for signatures, or only accept cash at check-in. The hostel won't know who is actually staying there.
Lastly, the service at these hostels isn't great. For instance, if you choose to store your luggage, your bags will be unattended in a public space. It won't be recorded anywhere or tagged and stored in a locked room.
So, it's probably worth it to spend a bit more on your hostel stay in Zurich.
And finally, a tip: always read the latest reviews of the hostel! All places have good and bad reviews, but the most recent reviews matter the most.
More Zurich recommendations
Check out our other articles about Zurich: