If you are planning a trip to Switzerland, you have come to the right place. As Switzerland's largest city, Zurich is a must-see stop while you're here. With an abundance of culture, history, parks, food, and outdoor recreation, Zurich is a destination for every kind of traveler.
Located on the northwestern point of Lake Zurich, with the snowy Alps in the distance, this area is ideal for those who love to take in natural scenery and outdoor activities.
Swimming on the lake, or biking in one of the many parks, are just a few options for nature-lovers. If you are looking for more of a cosmopolitan vibe, Zurich abounds in lively bars, fabulous restaurants, and bustling nightlife.
Zurich's many neighborhoods boast exquisite architecture, medieval-style streets, and impressive design. Different corners of the city offer various activities; ancient cathedrals, art galleries, coffee shops, and museums abound.
Luxurious hotels, fine dining, and designer shops dot the streets of upscale neighborhoods. Whether you want a dose of the outdoors, a taste of urban charm, stunning views, or old-world alleyways, you will never run out of things to do or sights to see in the gorgeous city of Zurich.
Read on to discover the five best areas to stay in the captivating city of Zurich.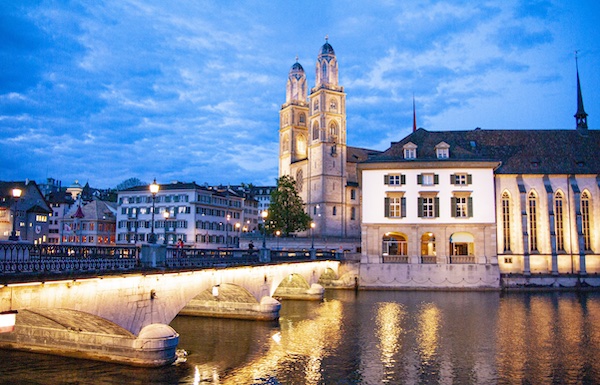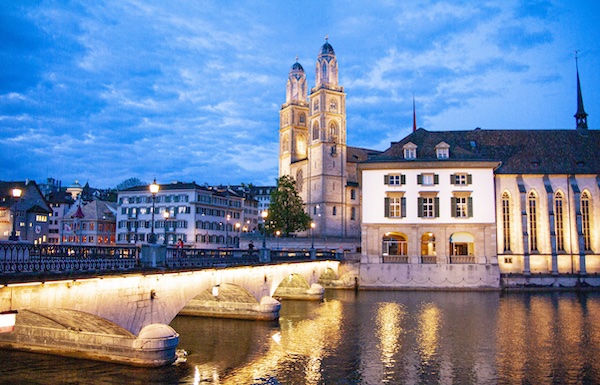 Altstadt
As you meander down cobblestoned alleyways and charming paths, Zurich's city center will make you feel as though you have transported back in time. Starting in the Altstadt, or Old Town, you can experience Zurich's beautiful architecture, quaint cafes, charming shops, and narrow streets.
The Altstadt's main promenade is called the Niederdorf, filled with local businesses and pedestrians. In the summer, outdoor markets with local goods and fresh produce fill the streets.
For a dose of history and culture, check out this area's many historic churches, such as Fraumunster, built in the 9th century, or Grossmunster, completed in the 1200s. While in the city center, the Lindt Chocolate Factory is a must-see, especially for chocolate connoisseurs.
In the evening, you can enjoy live music and street performers throughout this neighborhood. River cruises are also available, displaying picturesque nighttime scenes of the city and stars.
Outside of the Old Town, the city center is the heart of Zurich's commerce and banking, and also serves as the financial hub for all of Switzerland.
With tons to do and explore, Zurich's city center is the top neighborhood to stay. However, it is also the most expensive. For more affordable options, you may want to find another neighborhood away from this tourist area.
Best place to stay in Zurich Altstadt
Widder Hotel. Address: Rennweg 7, 1. Zurich Old Town – City Center, 8001 Zurich, Switzerland.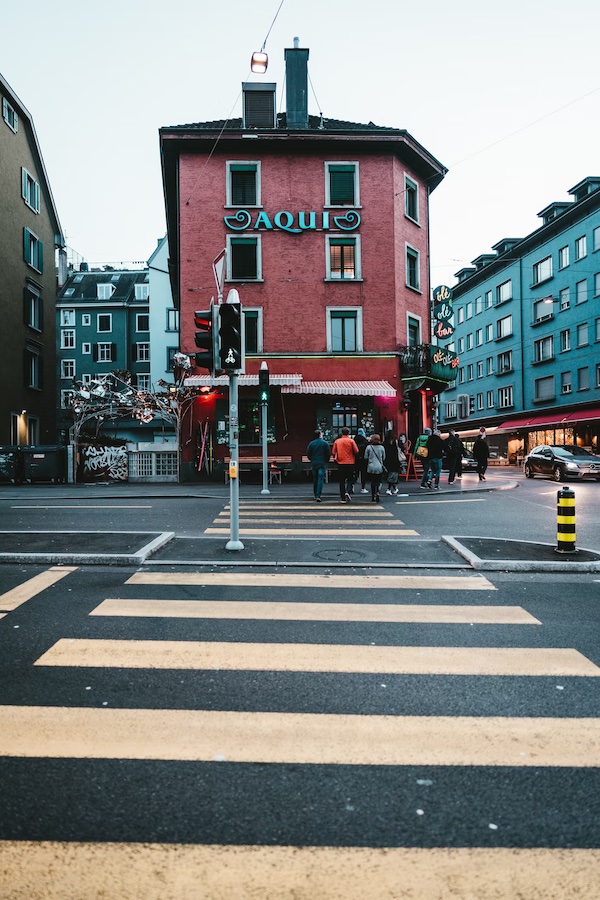 Langstrasse
Langstrasse might have been previously known as Zurich's redlight district, but in recent years has transformed into a bustling and hip neighborhood, home to the best nightlife in the city.
Whether you want a laid-back sports bar, a handcrafted cocktail, live music, or a club with all-night dancing, Langstrasse offers entertainment for everyone. If all of that partying makes you hungry, this neighborhood has an abundance of 24-hour shops and restaurants.
During the day, Langstrasse is one of Zurich's many gems, boasting a variety of culinary experiences and boutique shops. Within the last decade, young entrepreneurs have made great efforts to transform the businesses of Langstrasse into sought-after attractions.
Stop into Tenz for fantastic Asian food and freshly-made momos, or eat at Cinque for upscale Italian cuisine. If you're a meat lover, grab dinner at Metzg, a cozy spot with a butcher counter, specializing in dishes made from sausage, beef, and ribs. Take a stroll to Kasernenareal, the town square, for live music and events.
Because of all the bars, clubs, and nightlife, this may not be the best option for families with children who are visiting Zurich. However, there are several hostels and hotels at many different price points throughout this neighborhood.
Best place to stay in Langstrasse
25Hours Hotel Langstrasse. Address: Langstrasse 150, Aussersihl, 8004 Zurich, Switzerland.
Zurich West
While Zurich West used to be the center for shipbuilding, it has been transformed into one of the trendiest neighborhoods in Europe.
With fantastic architecture, art, food, design, and shopping, this neighborhood offers so much. As a former industrial area, railway arches, high-rise steel buildings, and old warehouses give Zurich West an unpolished charm.
This neighborhood is also home to Prime Tower, one of the highest buildings in Switzerland. Beneath the urban architecture, you will find many trendy boutiques and designer brands, making this an excellent area for people who love to shop.
Because Zurich West is the city's certified cultural district, there is no shortage of art galleries, vibrant restaurants, and museums. Kunsthalle Zurich, a premier art museum, is located in Zurich West, hosting a rotation of impressive art during any time of the year.
Another art attraction is the Lowenbrau Complex, a former brewery rehabbed into an art center. If you still haven't seen enough art, check out Bob van Orsouw and Galerie Francesca Pia, two other Zurich West art galleries.
Head to Frau Gerold's Garden for outdoor eats, serving homestyle cuisine in a lovely urban garden setting.
Best place to stay in Zurich West
25Hours Hotel Zurich West. Address: Pfingstweidstrasse 102, Escher Wyss, 8005 Zurich, Switzerland.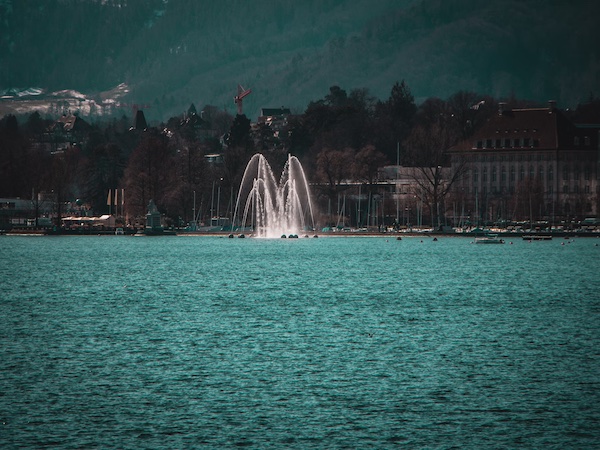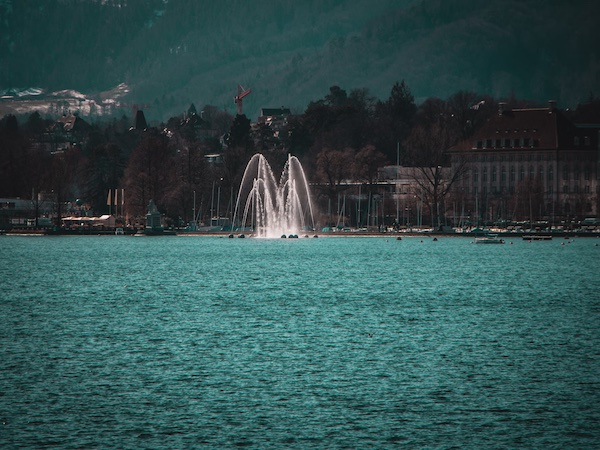 Enge
As an oasis from the chaos of the city center, Enge is filled with swimming opportunities, lovely parks, and beautiful gardens. Due to its prime lakeside location, Enge is a popular destination for swimmers and water-lovers in the summer.
Several historical villas with attached gardens are found throughout this neighborhood, making it a fantastic place for history buffs. One example is Villa Schonberg, an impressive and stately home that houses the Rietberg Museum.
Rieterpark, the largest manicured park in Zurich, provides panoramic views of the city and the distant Alps. For extra relaxation, you'll want to check out Seebad Enge, an outdoor bath with an attached bar. In the summer, this is an ideal spot for swimming; in the winter, enjoy the heat in the sauna.
Strandbad Mythenquai, another public bath, dates back to 1922. Today, you can still savor this area's large sandy beach, grassy area, and sparkling waters. Dive off of one of the three diving platforms, play a game of table tennis, and grab lunch at the healthy restaurant on the grounds.
Enge also has several options for dining, nightlife, and shopping. From stately mansions to the serenity of the lake, there is something in Enge for everyone.
Best place to stay in Enge
B2 Boutique Hotel. Address: Brandschenkenstrasse 152, Enge, 8002 Zurich, Switzerland.
Riesbach
With an abundance of green space and easy access to Lake Zurich, Riesbach is ideal for those who love the outdoors. Also known as District 8, located in the southeast area of Zurich, this neighborhood is a primarily residential area.
As you enjoy Riesbach's many activities, you will see families, kids, and ex-pats enjoying the leafy sidewalks of this area. Even though this is a residential neighborhood, it is still possible to find excellent hotels and hostels at every price point.
Home to the lakeshore parks, Zurich's Chinese Garden, and Zurichorn Park, outdoor activities abound in Riesbach. Seefeld's lakeshore parks offer a beautiful walking area and many lively dining options.
The Chinese Garden is also a must-see; Asian architecture, lush greenery, and a picturesque pond are just a few reasons to check it out. Pavillon Le Corbusier, an art museum in Riesbach, is an ideal place to spend the day marveling at sculptures, paintings, and architecture.
While you are in the area, you can also explore the Muhlebach Quarter, home to The Swiss Heritage Center, housed in the elegant Villa Patumbah. From cultural activities to outdoor recreation, you won't regret staying in Riesbach.
Best place to stay in Riesbach
Signau House & Garden Boutique Hotel. Address: 6 Signaustrasse, Seefeld, 8008 Zurich, Switzerland.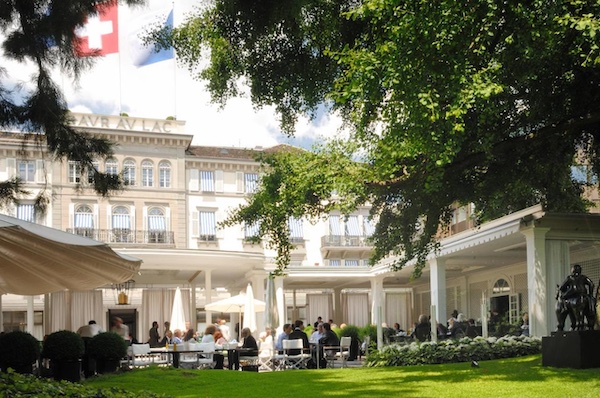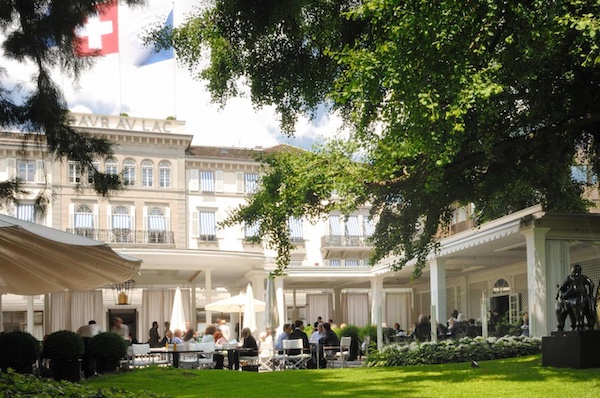 Where travel critics stay in Zurich
Want to know where travel critics from publishers like The New York Times, Frommer's, Fodor's and Lonely Planet stay in Zurich? Check out our overview of all recommended hotels, hostels and B&Bs in Zurich.
Budget
"Crawling distance from the pubs and clubs of sleazy-cool Langstrasse, Pension Für Dich is a popular cafe and concert venue with an 18-room pension. Most rooms have parquet floors, vintage furniture and flamboyant wallpapers." — New York Times.
Address: Stauffacherstrasse 141, Aussersihl, 8004 Zürich, Switzerland.
Mid-range
"Located in the heart of the cobblestone streets of Old Town, this boutique hotel smartly blends its 15th-century history with modern minimalism. The rooms vary in size and are individually decorated, but all are done in a pared-down style with lots of white linen and pale wood." — Fodor's.
Address: Marktgasse 17, City Centre, 8001 Zürich, Switzerland.
Luxury
"Most of the rooms have been given contemporary twists – oversized photographs and original art works, swirly carpets and padded leather headboards for the beds – though there are still a few classic suites left, wonderfully chintzy and stripy, and largely unmodernised." — CN Traveler.
Address: Talstrasse 1, 8024 Zurich, Switzerland.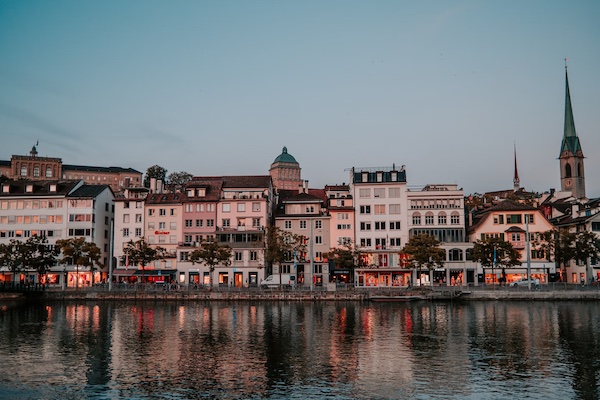 FAQ: Zurich hotel tips
Looking for the best budget, boutique, or luxury hotel in Zurich? Or maybe you're a backpacker looking for an excellent hostel? Want to know which Zurich hotel serves a great breakfast? Here are the answers to all those and other questions about where to stay in Zurich.
What is the best affordable hotel in Zurich?
Zürich is very expensive but If you're looking for an affordable hotel, then book Hotel Marta. It's an excellent budget hotel offering great value for money. It's in a good location, it's been recommended by travel experts and the hotel has excellent customer reviews. Also check out our list of the best cheap hotels in Zurich.
What is the best boutique hotel in Zurich?
You like some luxury but don't like the famous chain hotels. If you're looking for the best boutique hotel in Zürich, you should check out B2 Boutique Hotel. It's a very cool hotel that has been highly recommended by travelers and experts. For more cool hotels, check out our list of the best boutique hotels in Zurich.
What is the best luxury hotel in Zurich?
If money isn't a problem and you're looking for a luxury hotel in Zürich, then go for Baur au Lac. The hotel offers excellent service, it's in a top location, it has been rated very highly by previous guests and renowned travel critics have recommended it. For more 5-star hotels, check out our list of the best luxury hotels in Zurich.
What is the best hostel in Zurich?
Looking for a good and affordable private room or cozy dorm in Zürich? Check out Old Town Hostel Otter. The hostel has been highly rated by backpackers. Also check out our shortlist of the best hostels in Zurich, it's based on thousands of reviews from backpackers.
How much does it cost to stay in a Zurich hotel?
For a 3-star hotel, you have to pay around $180 per night and for a 4-star hotel, you would be looking at $250 per night. If you're after a luxury 5-star Zürich hotel then you can expect to pay around $550 per night.
Which Zurich hotel offers great breakfast?
Let's start the day with some good food. The B2 Boutique Hotel is an excellent option if you're looking for a Zürich hotel offering a great breakfast. Recent guests have given great ratings for the breakfast service at this hotel.
What is the best Zurich hotel for couples?
If you're looking for a romantic hotel in Zürich, then check out Widder Hotel. The hotel has great reviews by couples and has been recommended by leading travel experts.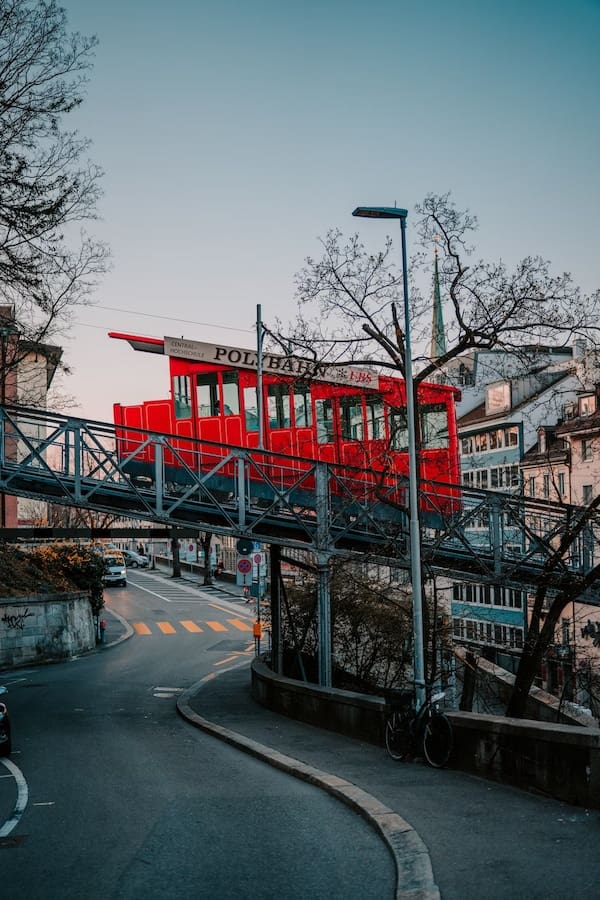 Best time to visit Zurich
The best time to visit Zurich is during the summer months, from June to August. During this time, the city experiences pleasant weather, with average temperatures ranging from 15 °C to 25 °C (59 – 77 °F).
This is an ideal climate for sightseeing and outdoor activities such as hiking, biking, and boating. The warm weather also brings numerous festivals and events to the city that showcase local culture and cuisine.
However, if you are a winter sports enthusiast or enjoy a winter wonderland setting, visiting Zurich between December and February can be an equally rewarding experience.
During these months, the city transforms into a snowy paradise with opportunities for skiing, ice skating, and other winter activities in the nearby Alps. The Christmas period also brings festive decorations and markets to the city which add to its charm.
Best things to do in Zurich
There are a lot of things to do in Zurich and surrounding areas, including day trips, attractions, museums, sightseeing tours and many other activities. Here's our list of 3 things you should definitely do when you're in Zurich:
Zürich: 4-Hour City Tour by Ferry, Cable Car and Coach
Get to know Zürich and its surroundings on a 4-hour extended city tour. Visit the Old Town with its churches, walk along the beautiful River Limmat, then ride on the aerial cable car for a breathtaking view over Lake Zürich and the snow-covered Alps! Price: $65. More info.
Mount Titlis and Lucerne Day Tour from Zurich
Experience Mount Titlis' dramatic summit on a full-day excursion from Zurich. First, explore Old Town Lucerne on a short orientation drive through the city and then explore independently. Travel to Engelberg, a resort cradled by the Swiss Alps, and ascend to the summit of Mount Titlis for breathtaking Alpine vistas. Price: $186. More info.
Zurich Old Town Walking Tour: 2-Hours
The most popular 2-hour guided walking tour through Zurich's historic old town offers fascinating insights into the city's colorful history. Price: $27. More info.
Deciding where to stay in Zurich
As a closing note, let's summarize this travel guide. We covered the best areas of Zurich so you can decide which part of town you want to stay in.
Top 5 areas to stay in Zurich
Altstadt
Zurich West
Enge
Langestrasse
Riesbach
As you have seen in this article, there are a lot of things to explore, and deciding where to stay in Zurich is important. Whether you stay in City Center, Zurich West, Enge, Langestrasse or Riesbach, all those neighborhoods are great areas for your stay.
The atmosphere of the area, whether you travel for leisure or business, whether you travel with your family or friends, and proximity to the attractions you prefer to visit should probably be the deciding factors. Either way, you'll have a great time in Zurich!
More Zurich tips
Check out our other guides about the best places to stay in Zurich: