Switzerland is known as one of the top luxury travel destinations globally. As the largest city in Switzerland, this makes Zurich the pinnacle of luxury. From designer shopping to gourmet chocolates, a variety of extravagant experiences await.
When visiting the most luxurious city in the world, why not stay in a luxury hotel for the full experience? Lakeside palaces, designer hotels, and historic stays are just a few of the luxury accommodation options in Zurich. After a day of exploring the Old Town, browsing through local shops, and touring museums, there's no better place to relax than in the spaces of a luxury hotel.
Top-rated spas, culinary delights, and top-notch hospitality make Zurich's high-end hotels like no other. These hotels often have an abundance of activities, such as golf, tennis, and pristine swimming pools, so you could probably get away with staying at the hotel for most of your visit. Whether you want a relaxing getaway or an oasis after a day of exploring, Zurich's luxury hotels are a viable option.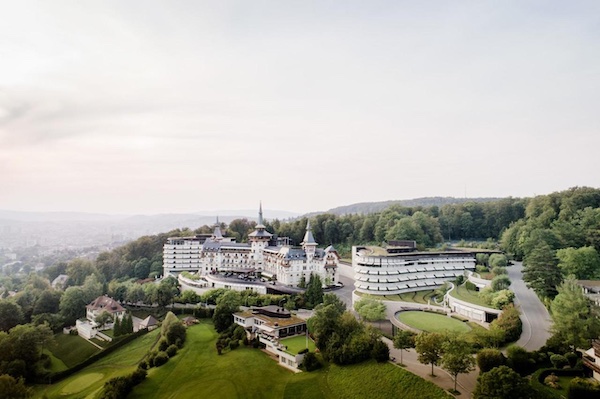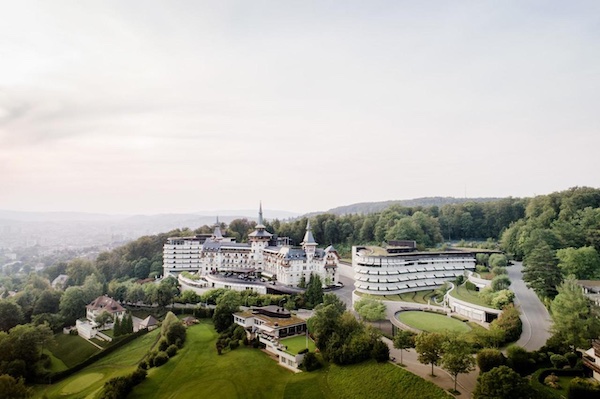 The Dolder Grand
Located near Zurich's city center, yet still nestled amongst the rolling hills of Switzerland, The Dolder Grand provides a luxury travel experience like no other. This property has a history of attracting high-profile characters, like Winston Churchill and Sofia Loren, but for a good reason. Thoughtfully architected and carefully decorated, with no detail going unnoticed, The Dolder Grand has an atmosphere of timeless luxury.
Guest rooms provide marble bathrooms, fine linens, lake and mountain views, and stunning decor. Some upgraded rooms even include butler service, saunas, and terraces. Featuring rooms with high ceilings, luxury window treatments, floor-to-ceiling windows, cozy fireplaces, and plush furniture, guests will feel pampered and comfortable.
The two restaurants on the premises serve breakfast and international cuisine, and the seasonal dining terrace boasts captivating views of the nearby surroundings. You can find massage treatments, saunas, and a jacuzzi at the onsite spa. Tennis, golfing, two pools, and a fitness center are included in your stay. With so many activities set to the backdrop of elegance, you won't want to step foot off this resort.
Hotel details
Address: 
Kurhausstrasse 65, Zürichberg, 8032 Zurich, Switzerland.
Guest rating:
4.6 out of 5
Price per night:
From $530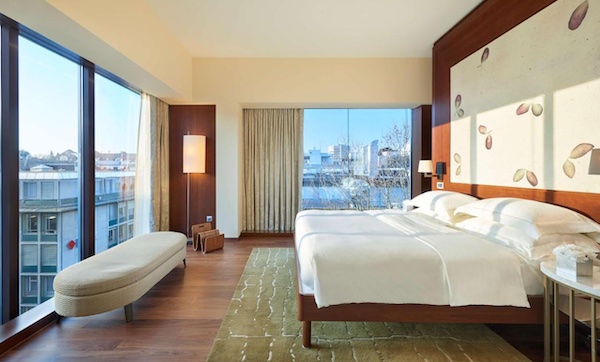 Park Hyatt Zurich
Just off the Bahnhofstrasse, the Park Hyatt Zurich provides an ideal location near an abundance of shopping, attractions, and dining. Like most chains, Park Hyatt's atmosphere caters to everyone. With a color palette of earthy neutral tones and simple, but elegant, decor, this property feels like contemporary luxury. Furniture made of hardwood, crisp white linens, classic patterned rugs, and warm, but trendy lighting, fill the many rooms of this hotel, creating a sense of cohesion. Suites provide lovely city views through the floor-to-ceiling windows, along with bathrooms with soaking tubs.
The Park Hyatt offers several culinary indulgences; you can choose between Swiss cuisine at Parkhaus, burgers at The Lobby Lounge, signature cocktails at ONYX Bar, bistro-style eats at Cafe Z, or the convenience of room service. When you get tired of sightseeing, come back to the hotel spa, Club Olympus, for a relaxing massage or spa treatment. For a luxury hotel experience that is just a short walk from the finest shopping center in Zurich, Park Hyatt Zurich is the ideal location.
Hotel details
Address: 
Beethovenstrasse 21, Enge, 8002 Zurich, Switzerland.
Guest rating:
4.5 out of 5
Price per night:
From $490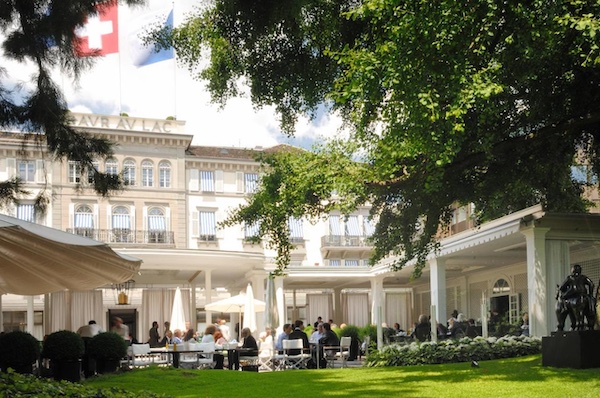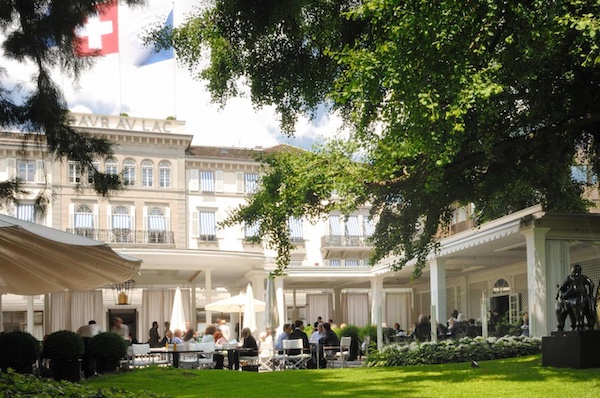 Baur au Lac
Baur au Lac, a 19th-century palace hotel, overlooks the Schanzengraben Canal. Established in 1844, this historic hotel provides elegant and modern amenities. Posh guest rooms boast stunning marble bathrooms, lots of space, flat-screen TVs, and iPod docking stereos. Plush furniture, luxurious linens, crown molding, and chandeliers give this hotel an atmosphere of sophisticated elegance. Located in its own park, this hotel is home to manicured lawns, green space, lakeside scenery, and views of the snow-capped Alps. The abundance of banquet rooms and outdoor space makes Baur au Lac ideal for weddings, parties, and events.
There are four top-notch restaurants to choose from at Baur au Lac: Restaurant Pavillon, Baur's, Le Hall, and Baur au Lac Terrace. Pavillon, featuring a seven-course tasting menu, has received two Michelin stars. Chef Laurent Eperon creates modern and artistic interpretations of traditional Haute classics.
Hotel details
Address: 
Talstrasse 1, 8024 Zurich, Switzerland.
Guest rating:
4.6 out of 5
Price per night:
From $650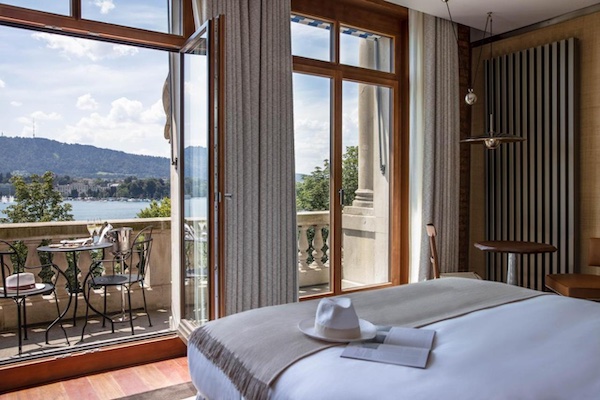 La Réserve Eden au Lac Zurich
Designer Philippe Starck created La Reserve Eden Au Lac with an imaginary yacht club in mind, and it's safe to say that he succeeded. In his words, his inspiration was "like dancing rock and roll with the Queen of England." A perfect combination of edgy design and dignified luxury touches mean that this hotel is a favorite for all types of travelers. Occasional blue and white accents, next to an earth-tone palette of wood, leather, and metal materials, create an elegant and nautical atmosphere.
The design elements, while beautiful, don't distract from the remarkably high-end comforts. Two dining options are offered on the property. The hotel restaurant, Eden Kitchen and Bar, serves Mediterranean-inspired plates, while the rooftop bar, La Muna, offers cuisine with a Peruvian-Japanese fusion. Breakfast is included during your stay, along with access to the onsite cigar lounge and 24-hour fitness center. The cigar lounge, decorated with plush furniture and a taste of masculinity, is the perfect place to unwind for those who love whiskey and cigars.
This lakeside palace hotel is in a prime location. Only a five-minute stroll from the opera house, Lake Zurich, and Bellevue Square, the city is at your fingertips. La Reserve Eden Au Lac will create a homey and unique environment, close to everything you need for your next Zurich getaway.
Hotel details
Address: 
Utoquai 45, Seefeld, 8008 Zurich, Switzerland.
Guest rating:
4.5 out of 5
Price per night:
From $510
About our luxury hotel recommendations in Zurich
We are a travel research company. Our team helps you discover the best luxury hotels in Zurich by researching the internet for you. We have also visited some of these places. Hence, it's not just our opinion, it's the opinion of many travelers who have been there before you. We make it easy for you to find out about the most luxurious and exclusive 5-star hotels in the city.
Please note, we only list hotels that have an aggregated guest review rating of at least 4.0 out of 5. We aggregate all reviews from different booking sites and other unbiased review websites. Hence, you can be certain all hotels listed above offer you a great stay in Zurich.
Best price guarantee
We partner with Hotels.com and Booking.com to make sure you get the best price for your stay in Zurich! Both sites offer price matching. That means you pay the lowest prices for your stay. If you find a cheaper offer on another website for the same luxury hotel in Zurich at least 24 hours before check-in, contact them to claim a refund of the difference!
Top 4 luxury hotels in Zurich
Now that you've gone over this guide, let's summarize it. We got to know what the best 5-star hotels in Zurich are thanks to thousands of guest reviews and tips from travel experts:
More Zurich guides
If you like the advice we've given you above, make sure to check out some of our other articles about Zurich:
Best boutique hotels in Zurich