Stockholm is the vibrant capital city of Sweden, spanning over fourteen islands. There are historical districts with colorful buildings and charming cobblestone streets nestled amongst waterways and canals in this beautiful city.
Visitors love how easy it is to get around Stockholm. Many of the major sights are within walking distance of each other or easily accessible by public transportation. The city has diverse districts to explore – from charming old towns to elegant corners and creative havens.
Its fascinating must-see cultural sights include the Royal Palace, famous museums, and the Royal Djurgården (the world's first urban national park). Stockholm is an aesthetically pleasing city, with its renowned Scandinavian design woven into cafés, restaurants, hotels, and shops. This city is a magnificent place to visit that anyone can enjoy.
If you want to travel to Stockholm, there are many options for accommodations. Here are the five best hostels to stay at: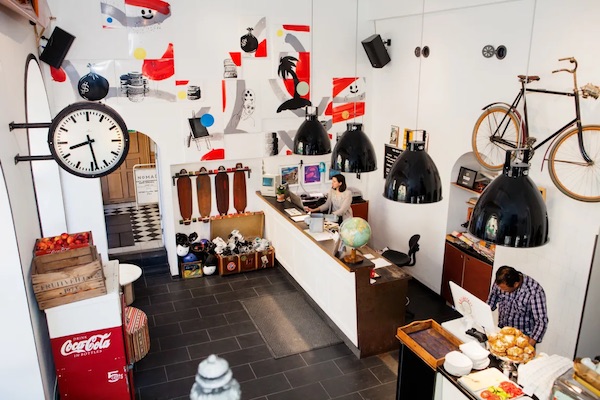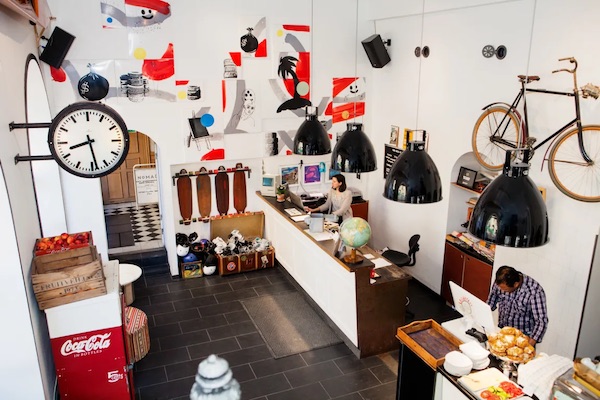 City Backpackers Hostel
If you love to shop, the City Backpackers Hostel is only five minutes from Drottninggatan, the main shopping street. Located in the Norrmalm district, you can reach Stockholm's top spots within 20 minutes, including the Gamla Stan (Old Town) and the Citerminalen central station.
The hostel is in a beautiful 19th-century historic building. Guests can choose between dorm rooms and apartments with an onsite kitchen and bathroom. The hostel offers free ice skates and sleds along with a sauna for entertainment and relaxation. You can take guided bike riding tours and kayaking trips to the Viking saunas. If you're there on a Thursday, the hostel hosts a trivia night.
Guests love City Backpacker's fantastic atmosphere, secure building, and free dinner.
Hostel details
Address:
Upplandsgatan 2a, 11123, Stockholm, Sweden.
Guest rating:
4.7 out of 5.
Price per night:
from $23.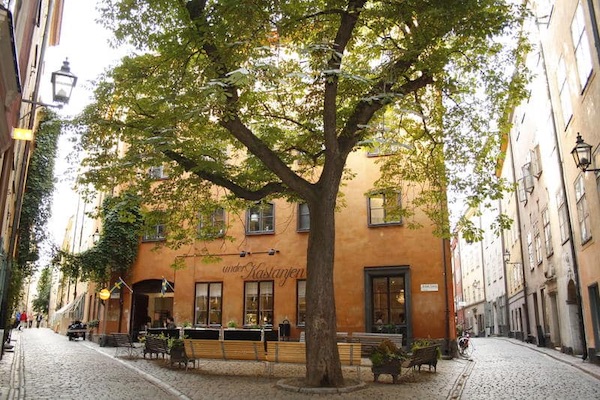 Castanea Old Town Hostel
Located in the Gamla Stan (Old Town) district, the Castanea Hostel has cobblestone streets and delicious eateries right around the corner. Within a five-minute walk, you can find Stockholm Palace and Stortoget, the main square.
You can find the hostel housed in an 18th-century historical building. There is an assortment of dorms and private rooms where guests can stay. Each room has a stunning view of the picturesque streets or gardens.
Their facilities have a communal kitchen with wooden dining tables to prepare dinner and socialize. If you want to explore the city, the hostel has bikes available to rent and free city maps.
Castanea Old Town has high ratings because of its friendly staff, clean facilities, and central location.
Hostel details
Address:
Kindstugatan 1, Old Town, Stockholm, Sweden.
Guest rating:
4.8 out of 5.
Price per night:
from $25.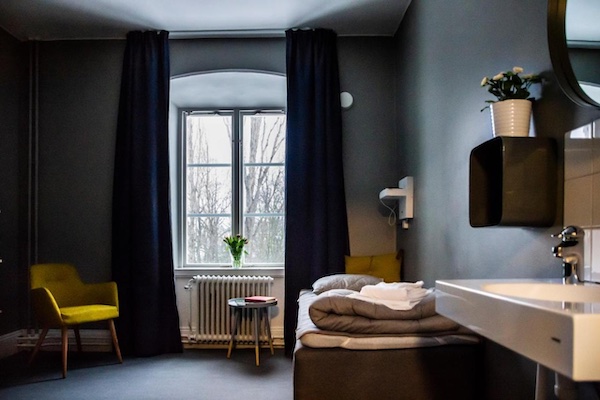 STF AF Chapman/Skeppsholmen
This perfectly located hostel has incredible views of the Old Town and Royal Palace. It is minutes away from the metro and ferries you can take to explore the entire city or other islands in the archipelago. The ferry can take you to places like the ABBA Museum and  Grӧna Lund Amusement Park.
Guests can either have a nautical experience aboard the AF Chapman or stay at a craftsmen's building called across from it called Hantverkshuset. Onsite, you can find Café Skeppsholmen and Bar and Byssa, both owned by the hostel. At Hantverkshuset, there is a delicious continental breakfast that has vegan and vegetarian options available.
Visitors love the hostel's intriguing facilities, spotless rooms, and tranquil atmosphere.
Hostel details
Address:
Flaggmansvägen 8, Stockholm, Sweden.
Guest rating:
4.5 out of 5.
Price per night:
from $23.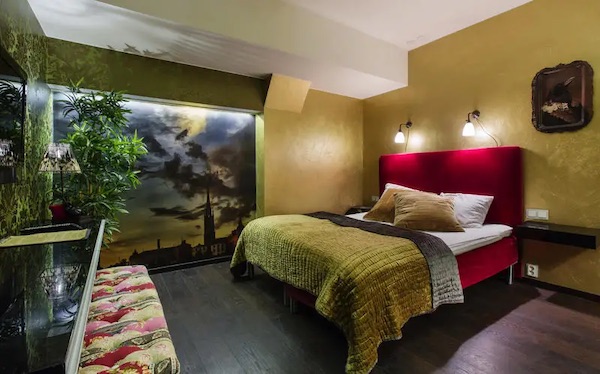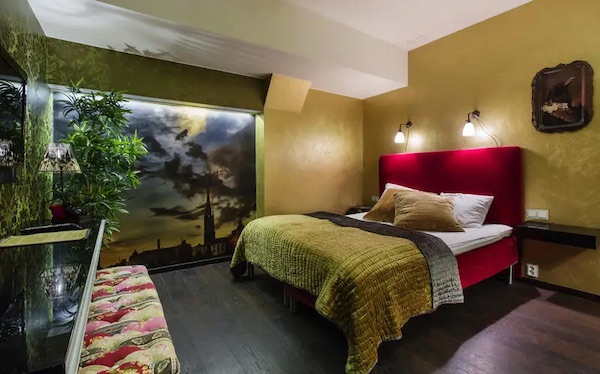 Skanstulls Hostel
Skanstulls Hostel has a central location in the vibrant Sofo, Sodermalm neighborhood. Guests find Sofo's galleries, bars, eclectic boutiques, restaurants, and music events very entertaining. You only need to walk a short distance to reach The Globe, Royal Castle, and the Old City.
If you want to save money, there are larger dorms with twelve beds, or if you prefer privacy, there are individual rooms. There are plenty of WCs separated by gender, and there is an accessible WC and shower. Book lovers can find works in various languages at their library. The hostel offers laundry facilities for guests for a nominal fee.
This hostel's popularity comes from its thoughtful amenities, clean rooms, and helpful staff.
Hostel details
Address:
Ringvagen 135, Stockholm, Sweden.
Guest rating:
4.8 out of 5.
Price per night:
from $23.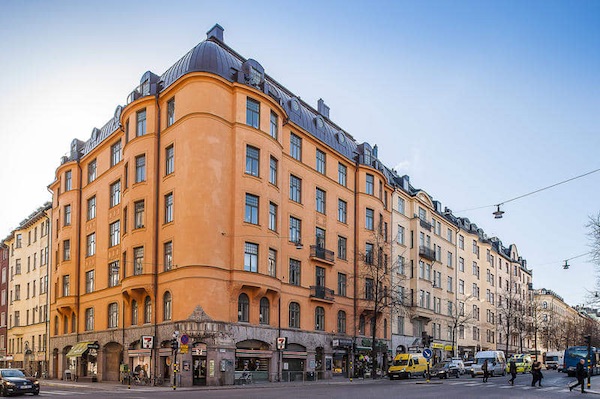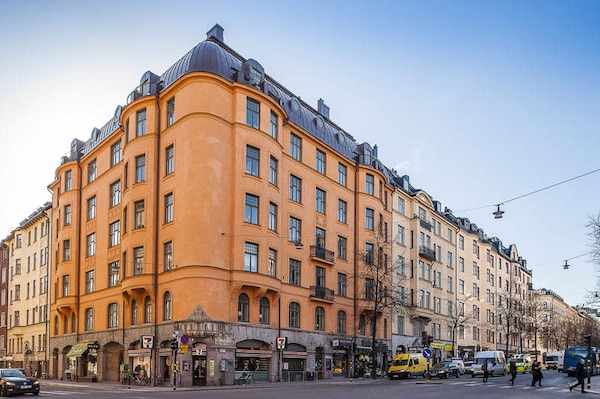 City Hostel Central Train Station
This hostel is just a quarter-mile from the Stockholm Central Station, making it easy to move around the city. You can find busses, trains, and the metro near the hostel that you can take to explore the city.
City Hostel has 79 beds that are suitable for guests of all ages. The hostel has a refreshingly laid-back and international atmosphere. There are both dorm and private rooms available, equipped with reading lights and security lockers. If you want to cook something, the kitchen has a stove, microwave, fridge, kettle, and toaster for guests to use.  Desktop computers and a TV are in the common area.
City Hostel has excellent reviews because of its cleanliness, comfortable facilities, and easy airport access.
Hostel details
Address:
Fleminggatan 19, Stockholm, Sweden.
Guest rating:
4.4 out of 5.
Price per night:
from $29.
About our Stockholm hostel recommendations
Are you a solo traveler looking for a private room? Or a backpacker traveling around in a group wanting to stay in a cheap and cozy dorm? Above you will find the best hostels in Stockholm for all your needs.
Please note, we only list hostels that have an aggregated guest review rating of at least 4.0 out of 5. We aggregate all reviews from different booking sites and other unbiased review websites. Hence, you can be certain all hostels listed above offer an excellent value-for-money stay in Stockholm.
Best price guarantee
For our hostel recommendations, we work together with Hostelworld and Booking. These partnerships don't have any influence on the recommendations we make or on the order in which our recommended hostels are listed. The reasons why we have chosen to partner with these companies is that they're trustworthy, offer excellent service and they both apply the best price guarantee. This means you can claim a refund for the difference if you find your reservation cheaper on another website. It has to be for the same property, accommodation type, dates, cancellation policy and conditions, otherwise, you can't claim the refund for the difference. If you book through Booking.com then all you need to do is contact them at least 24 hours before your check-in date. If you book through Hostelworld you must claim the refund within 24 hours after you made the booking.
Top 5 hostels in Stockholm
To summarize again, based on thousands of guest reviews, these are the best hostels in Stockholm:
Why you should be careful when booking the cheapest hostel available
The cheapest hostels available are typically not in a great location. If you want to go sightseeing or go for a night out in central Stockholm, you probably end up having to pay for public transport or a taxi to get there. So your stay could end up being more expensive compared to a stay in a central location. For first-time travelers, we recommend staying central anyway, but also for frequent visitors, it's probably worth it to pay a bit more to stay in a central location.
Another reason why you shouldn't stay at the cheapest hostel is that the people staying at the cheapest hostels are often not the people that can afford to travel like you. Because a very cheap hostel is often cheaper than renting a flat, these places tend to attract migrant workers or local misfits. That's probably not the crowd you want to hang out with, especially if you're a solo traveler looking for friends.
The third reason why you should avoid the cheapest hostels is safety. Some of the cheapest hostels don't check IDs, don't ask for signatures, or only accept cash at check-in. The hostel won't know who is actually staying there.
Lastly, the service at these hostels isn't great. For instance, if you choose to store your luggage, your bags will be unattended in a public space. It won't be recorded anywhere or tagged and stored in a locked room.
So, it's probably worth it to spend a bit more on your hostel stay in Stockholm.
And finally, a tip: always read the latest reviews of the hostel! All places have good and bad reviews, but the most recent reviews matter the most.
More Stockholm tips
Get to know the city even better and check out our other articles about Stockholm:
Best cheap hotels in Stockholm
Best boutique hotels in Stockholm
Best luxury hotels in Stockholm