Stockholm is a stunning city and deserves a spot on any traveler's bucket list. The stunning city has incredible museums, loads of delicious restaurants, jaw-dropping nature views, and sophisticated charm. Stockholm is one of the greenest cities in the world, clean, and easy to explore; our favorite kind of city!
Sweden is by far one of the most sustainable countries in the world and is improving more and more each day. It was the first country to initiate a carbon tax, and the majority of the city is heated by district heat, reducing carbon dioxide emissions even more. Sweden has the highest reusable energy usage and some of the best education programs on sustainability and eco-friendliness.
The hotel and tourism have kept up with the trend of sustainability, and have increased their actions to protect the environment. To help make your stay even more sustainable, consider staying somewhere that cares about the environment as much as we do.
Here are the top 5 best sustainable hotels in Stockholm.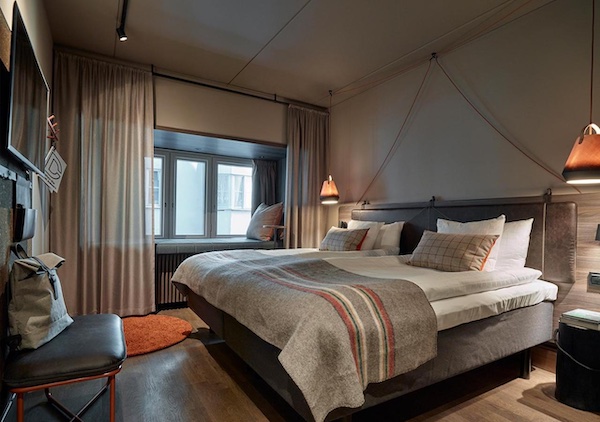 Downtown Camper by Scandic
Downtown Camper by Scandic is the perfect place for intrepid urban travelers. From campfires to international meals, and wellness areas, it's the ideal place to socialize and relax with like-minded travelers. Downtown Camper is the ultimate place to base yourself for a real immersion in Stockholm.
Located in the vibrant core of downtown Stockholm, Downtown Camper by Scandic offers the best of the city right at your fingertips, surrounded by restaurants, shops, parks, and access to attractions and sights. The hotel offers daily activities, like movie nights, yoga, and sports sessions. The onsite bar serves a campfire-style dinner with international comfort food to share with friends and supplies immaculate city views. Rooms are comfy and cozy with a television, mini fridge, free wifi, and private bathrooms with free toiletries.
What makes Downtown Camper by Scandic sustainable
Downtown Camper by Scandic is sustainable by being labeled as an Eco-hotel. They are constantly doing things to improve their 'greenness' and sustainability. The hotel focuses on overall wellness, and water efficiency, is cleaned with eco-friendly products and detergents, and all of the meat that is served in the hotel is carbon neutral.
Hotel details
Address: 
Brunkebergstorg 9, Norrmalm, 103 27 Stockholm, Sweden.
Guest rating:
4.4 out of 5
Price per night:
From $110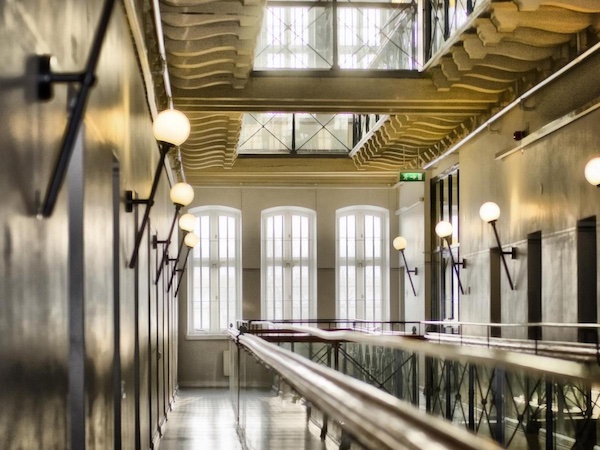 Långholmen Hotell
Långholmen Hotell is a boutique hotel in Stockholm with a whole lot to offer. The hotel is full of rich history marked by the old prison which was closed down in 1975, and is close to nature but still in the heart of the city. Renovated cells offer all amenities you could think of, plus a captivating charm.
Located on the verdant island of Langjolmen, this old prison is secluded enough for peace and serenity, but still close enough to the downtown hustle and bustle. Sitting in a relaxing park, it is surrounded by walking and biking trails, bars, and restaurants on lining streets. A Swedish restaurant serving traditional meals is on-site, in addition to an atrium gallery dating back to the 1860s, and a prison museum. Best of all, there is a beach 350 feet away. The building retains many authentic features and designs, will all rooms being uniquely designed and furnished, with free wifi, television, workspace, and private bathrooms.
What makes Långholmen Hotell sustainable
The Långholmen Hotell is sustainable by making its guests feel environmentally conscious and enforcing eco-friendly practices throughout the hotel. They focus on minimizing food waste, by selling leftover meals at a significantly discounted price at the end of each day. Additionally, the hotel's carbon offset helps control paper consumption and heating.
Hotel details
Address: 
Långholmsmuren, 20, Södermalm, 102 72 Stockholm, Sweden.
Guest rating:
4.3 out of 5
Price per night:
From $65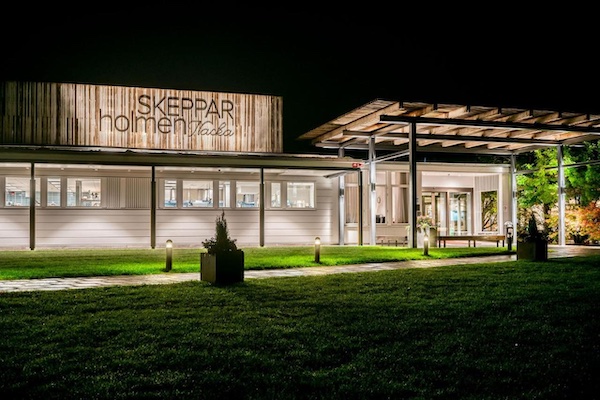 Skepparholmen
Skepparholmen is a spa and conference hotel just 20 minutes from the exciting city of Stockholm. With beautiful scenery and incredible views over the Stockholm archipelago, Skepparholmen makes you long to return.  With our beautiful spa, upgraded meeting facilities, and our focus on health & exercise, they aim to inspire you and give you new energy.
Located just 20 minutes outside the city, Skepparholmen is a serene and relaxing home away from home with jaw-dropping Baltic Sea views on one side, and views of Lake Kvarnsjon on the other. The city center is easily accessible by bus, car or boat, to get the full enjoyment of your Stockholm experience. The hotel features a waterfront restaurant with panoramic views and a 3-course meal, a modern-day spa, and an incredible atmosphere. All rooms in the hotel have access to free wifi, beautiful wood flooring and furnishings, a private bathroom with a shower, a balcony, and views to die for.
What makes Skeppatholmen sustainable
Skepparholmen focuses on long-term eco-friendliness. Skepparholmen was the first hotel in Sweden to ever get sustainability certified according to ISO 20121. To reduce environmental impact, the hotel works according to the environmental management system ISO 14001, has a KRAV-labeled restaurant, and is eco-labeled by SVANEN. Additionally, the hotel chooses to work only with suppliers that have an environmentally aware profile.
Hotel details
Address: 
Franckes Väg, 132 39 Nacka, Sweden.
Guest rating:
4.0 out of 5
Price per night:
From $125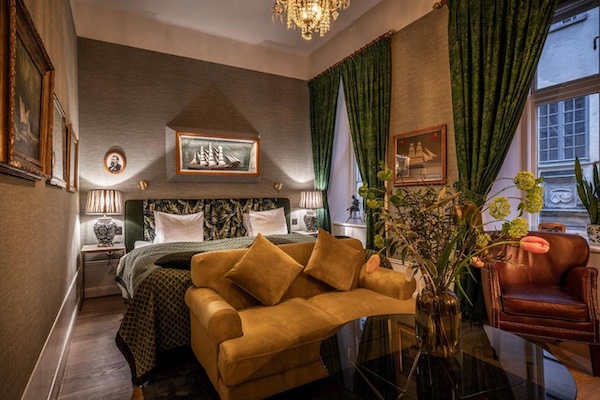 Victory Hotel
Victory Hotel is a luxurious boutique hotel in the center of Stockholm. Inspired by antique collectors, its design is unlike any other hotel and blends right into the picturesque Old Town. Relax and lounge in a super cozy and homey atmosphere, and have all the best of Stockholm right outside the front door.
Located in the Old Town of Stockholm, the hotel is conveniently located with all the best aspects of the city close by. Shops and restaurants line the streets, and the Gamla Stan Metro station is right around the corner. The hotel features a sauna, plunge pool, lounge bar, wine bar, and Djuret Swedish restaurants. Rooms all come with a unique naval theme, with free wifi, private bathrooms, heated floors, and television.
What makes Victory Hotel sustainable
Victory Hotel is sustainable by being a part of the Travel Sustainable Program. The hotel goes to great length to be environmentally friendly in as many aspects as possible, and are certified by Nordic Swan Ecolabel. They focus on waste management and recycling, reducing food waste, eliminating all single-use plastic products, using LED lighting throughout the building, using water-efficient toilets and showers, and supporting local vendors and suppliers.
Hotel details
Address: 
Lilla Nygatan 5, Gamla Stan, 11128 Stockholm, Sweden.
Guest rating:
4.5 out of 5
Price per night:
From $142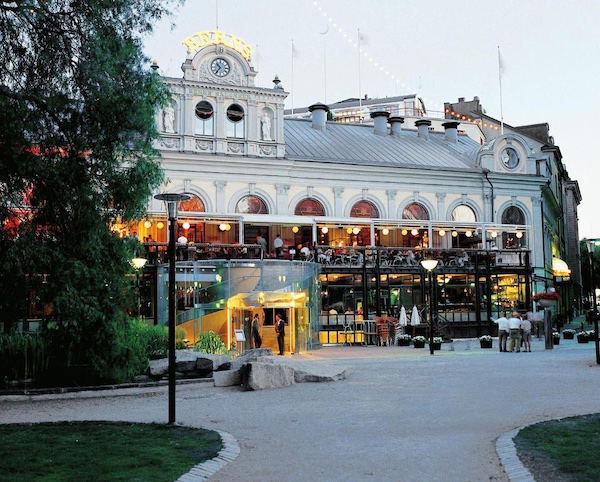 Berns Hotel
Berns Hotel is a luxurious hotel in Stockholm overlooking Berzelii Park and the Baltic Sea. With multiple awards and an intimate boutique hotel feeling, Berns is not just a place to sleep. The hotel invites all guests to be seduced by Berns's buzz and vibrating atmosphere, each and every stay.
Located in the heart of downtown Stockholm, in the center of the vibrant shopping and restaurant district. Being known as the house of entertainment since 1863, there is no lack of things to do, see, and enjoy during your stay at Berns Hotel. The hotel features 2 restaurants and a dining hall, several bars, a lobby gift shop, and an outdoor gym. Rooms come with all amenities needed, including a large private bathroom, luxurious beds, workspace, free wifi, and a stylish design.
What makes Berns Hotel sustainable
Berns Hotel is sustainable by taking a stand to strive to be eco-friendly as much as possible and working on long-term sustainability procedures. They strive to be sustainable in every aspect but focus closely on these 4 aspects; sustainable food and food waste, waste and source sorting, energy and transport, and a conscious eco-friendly choice of suppliers.
Hotel details
Address: 
Näckströmsgatan 8, Norrmalm, 111 47 Stockholm, Sweden.
Guest rating:
4.2 out of 5
Price per night:
From $149
We hope you decide to stay sustainably during your next visit to Stockholm and refer back to this list of the 5 best eco-friendly hotels in the city!
How we select the best eco-friendly hotels in Stockholm
We are a travel research company. We check a lot of details and guest reviews before making a selection. First, we check which hotels follow eco-travel principles. Are they recycling their waste? Do they work with local communities? Are they using renewable energy? Are they not using single-using plastics?
Secondly, we check guest reviews across multiple websites and only list hotels with an aggregated review rating of at least 4 out of 5. So you can be confident you will stay at an excellent eco-friendly hotel in Stockholm.
More and more people recognize the importance of sustainable travel. Not only is it better for the environment and our planet, but it also often leads to more meaningful experiences. If you're interested in learning more about eco-tourism, here are some eco-friendly travel tips to get you started.
More Stockholm tips
Get to know the city even better and check out our other articles about Stockholm: