Indonesia is an interesting destination as there is a wide range of experiences to be had here. In the big cities, there are plenty of businesses. When You move out to the jungle, there are elephants and thick vegetation contrasting the blue ocean.
The biggest hotspot in the country is Bali. Bali is an incredible place that has so much to do and see. If you had to pick one place to experience Indonesia and get to know Southeast Asia, Bali is the place to do it. With plenty of cultural experiences and natural features, you can spend a good amount of time here.
Bali is also known for being super affordable. When you can save money on certain aspects of the trip, you will have more cash for fun activities.
Here are the three best cheap hotels in Bali!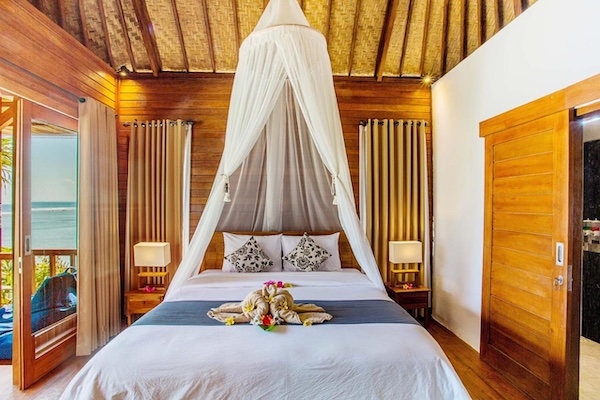 Nusa Veranda Sunset Villas & Restaurant
The first cheap hotel on our list is the Nusa Veranda Sunset Villas & Restaurant. One aspect of tourism that Bali is known for is getting really good value for lower amounts of money. This is absolutely the case with this location. You can have a seemingly luxurious experience without paying the luxury prices.
Although this specific location is not offering giant villas with many rooms privately for you, you can get an area all to yourself for up to five people at once. You can get a simple standard room or upgrade to the family room if you need some extra space and a better view. Each room is super nice and provides great value itself.
On the property, the amenities reign and are what really bring value. There is a restaurant, outdoor swimming pool, a bar, and much more around the property. Plus, you will have beach access super easily in addition to the pool.
Overall, the Nusa Veranda Sunset Villas will provide you with incredible value at a low price. If you want a proper Bali experience without bankrupting your vacation fund on a hotel, this should be a top option for you.
Hotel details
Address: 
Jl Ceningan Kawan Ceningan Island, 80771 Nusa Lembongan, Indonesia.
Guest rating:
4.8 out of 5
Price per night:
From $18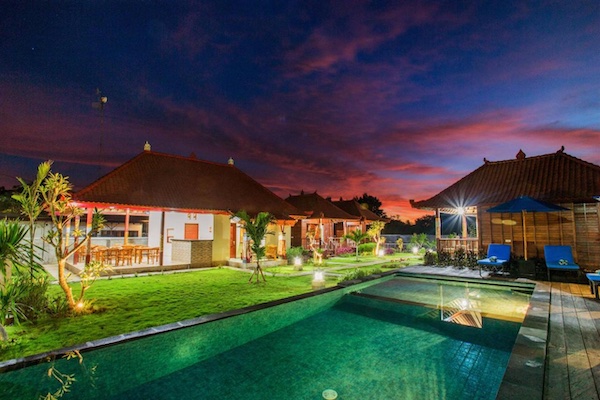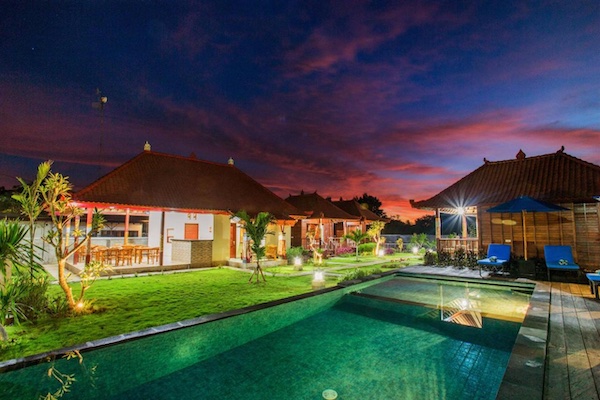 The Parnas
If you want super-easy access to a beach while staying in a hotel that can save you money, The Parnas is the place to be. This is a very simple location that brings really good value to your wallet.
It is so simple, in fact, there is only one room type available for booking. When you take away the fancy accommodations, you can truly save some money. The deluxe double room is great for two people and the simplicity will help you enjoy other aspects of the property.
Right outside those rooms are the amenities featured. Firstly, you are steps away from Mushroom Bay Beach. This is a gorgeous coastline that has tons of swimming and snorkeling opportunities. Even if you want to just chill in the sand and enjoy the weather, this provides a really good opportunity.
On the property, there is a gorgeous outdoor swimming pool, garden, and terrace area. So, there is a lot of value-added to the cost of your room. You will be close to a number of other beaches and the famous Blue Lagoon. Whether it be with a quick walk or taxi ride, you can get to the hotspots super easily from The Parnas.
Hotel details
Address: 
Lembongan klungkung regency, bali, indonesia, 80771 Nusa Lembongan, Indonesia.
Guest rating:
4.8 out of 5
Price per night:
From $25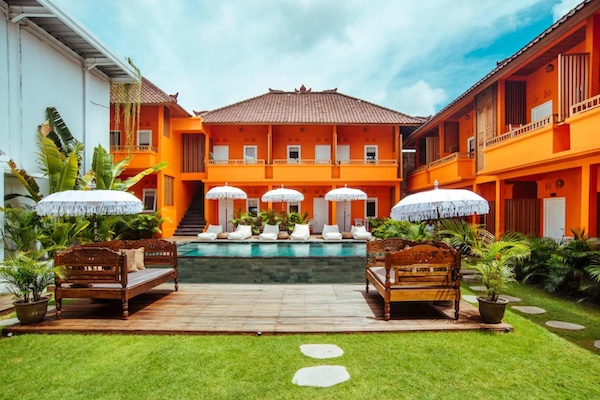 The Room Padang-Padang
We will round out our list of the best cheap hotels with The Room Padang-Padang. This is another one of those locations that exemplify the quality of service you get on a budget in Bali. Although you are saving money, it really doesn't feel like you are sacrificing a whole lot.
Although you are close to a number of great beaches, including super quick access to Padang Padang Beach, you are a bit away from the other hotspots. So, you will have to rent a moped or take a taxi ride, which won't cost a ton of money.
The true value comes right on-site rather than on the outside. There is a great pool and garden to provide some things to do and places to relax. There is also a tour company and concierge service on-site. So, you can easily book trips and experiences to have great excursions elsewhere in Indonesia.
The rooms are simple, yet inviting. If the basic room is not quite enough for you, the best answer is to upgrade to a terraced room. When you can have that extra touch, your stay will be taken up a notch.
Hotel details
Address: 
JL. Labuhansait Pecatu No. 73 Padang-Padang, 80364 Uluwatu, Indonesia.
Guest rating:
4.8 out of 5
Price per night:
From $25
About our budget hotel recommendations in Bali
We are a travel research company. Our team helps you discover the best cheap hotels in Bali by researching the internet for you. We have also visited some of these places. Hence, it's not just our opinion, it's the opinion of thousands of travelers who have been there before you. We make it easy for you to find out about the best budget hotels on the island.
Please note, we only list hotels that have an aggregated guest review rating of at least 4.0 out of 5. We aggregate all reviews from different booking sites and other unbiased review websites. Any hotel listed here should have a price of $100 or less per night. Hence, you can be certain all hotels listed above offer you a great and affordable stay in Bali.
Lowest price guarantee
We partner with Booking.com and Hotels.com. Both booking websites offer the lowest price guarantee so you can be certain you will always get the best deal for the hotels above. If you have seen a better price elsewhere, all you need to do is contact the booking website and they will refund you the difference immediately. You can price match right up until the day before check-in.
We also recommend you read our guide about how to save money on hotel bookings. It's a list of tips about when you should book a hotel, what tools you can use, and other things you can do to find your preferred hotel at an affordable price.
Top 3 budget hotels in Bali
Let's summarize this affordable travel guide. Based on thousands of guest reviews, these are the best budget hotels in Bali:
More Bali guides
Get to know the island even better by reading our other articles about Bali: