Indonesia has over 17,000 islands but Bali is the brightest of them all. Nearly 6.3 million people visited Bali in 2019. Many of these people explored the beaches, secluded towns, resorts, and rainforests that make up the popular tourist island.
Bali is a tropical destination with idyllic beaches, a vibrant culture, and amazing landmarks unique to the country. Bali is an ideal travel spot and one you shouldn't miss. If you need more convincing or to decide on where to base your accommodation, check out these places below.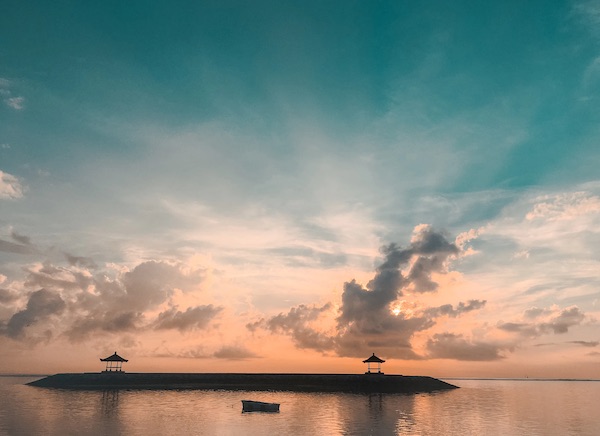 Sanur
Sanur is an ideal place to stay for families and first-time visitors to the tropical island. Situated on the southeast part of the island, Sanur is a quaint seaside town with lush beaches, colorful fishing vessels, and paved cycling paths. The area is less in your face than other parts of Bali.
The beach in Sanur is a glorious five-kilometer stretch with white, sugary sand. Sanur's beach experiences smaller waves compared to other beaches on Bali. For this reason, families with small children prefer to spend a day at the beaches in Sanur.
Cycling around the seaside town is a popular activity for tourists. You can explore the area on two wheels and take in the glorious Bali weather as the wind blows through your hair. Snorkeling and diving just offshore is a popular watersport. Unlike other parts of the island, the surf is not as good for catching waves.
Culture vultures love Sanur as the local culture can be seen far more than in other touristy parts of the island. Residents have ceremonies on the streets and beaches in Sanur, adhering to their local customs. Sanur has fewer nightclubs, bars, restaurants and other destinations for tourists. The resorts and accommodation offer a quieter stay. You may have fewer options for nights out, but you will enjoy the slower pace of life compared to other parts of Bali.
Best place to stay in Sanur
The Alantara Sanur. Address: Jl Tirta Ening, No. 12, 80228 Sanur, Indonesia.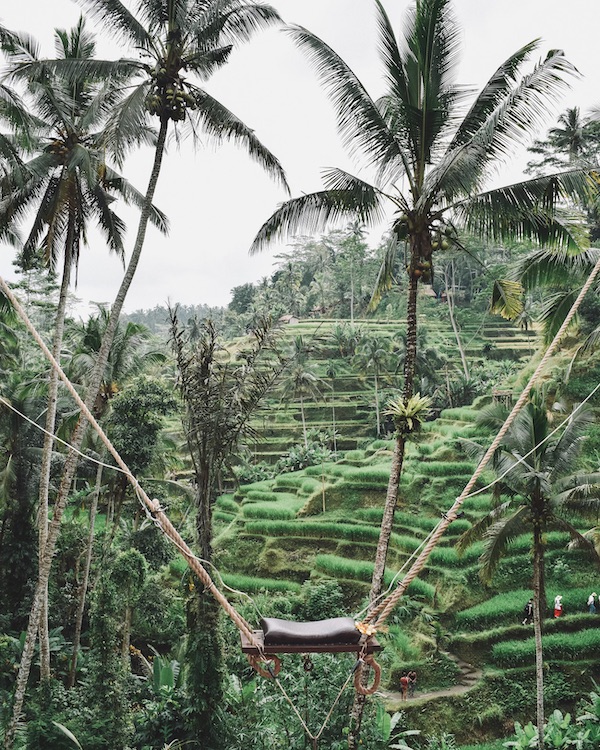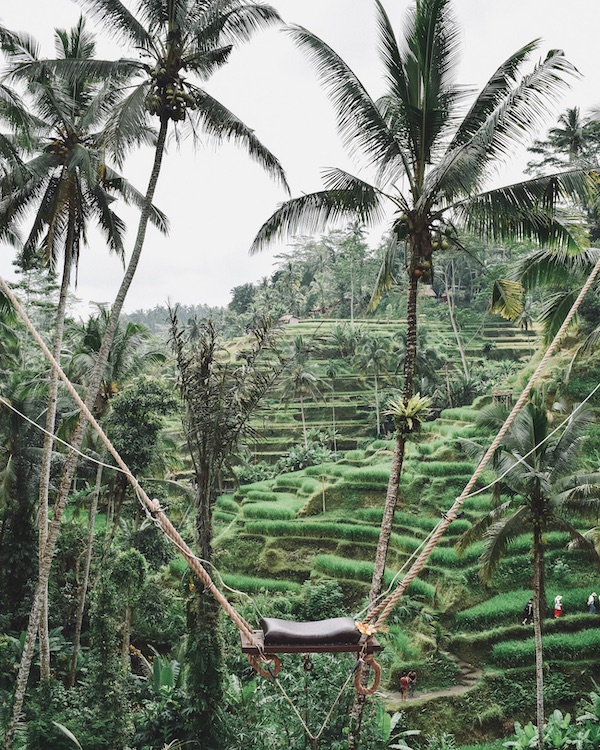 Ubud
Ubud is situated in the Bali uplands. Rather than sand, beaches, and waves, you are surrounded by rice paddies, Hindu temples, and rainforests. Ubud is a glorious difference compared to other areas of Bali such as Sanur.
The small town is known as a center for traditional craftworks. It is a great spot to stay or visit to get souvenirs to take back home. As you enter Ubud, you will see small art galleries and shops lining the streets. Many display famous Balinese sculptures, statues and paintings.
Ubud is Bali's zen capital. If you want a relaxing experience filled with contemplation, meditation, and yoga, Ubud is the ideal place to go. It is a spiritual place to spend a Bali holiday. Ubud appeals to a lot of people for its bohemian atmosphere. It is away from the beach and is so different, compared to Sanur, you will feel like you have traveled to a different country.
The lush rainforest is a beautiful backdrop to a stay. You can listen to the rainfall on the trees and drift to sleep in your cozy accommodation. The area is surrounded by temples and shrines that can be reached on day trips. But why would you? Ubud has everything a health-concise trip can want from healthy restaurants to yoga studios to alternative medicine.
Best place to stay in Ubud
Resort Capella Ubud. Address: Jl. Raya Dalem, Banjar Triwangsa Desa Keliki, Kecamatan Tegallalang, 80561 Ubud, Indonesia.
Cheaper alternative:
Resort Como Uma Ubud. Address: Jl. Raya Sanggingan, Banjar Lungsiakan, Kedewatan, Kec. Ubud, Kabupaten Gianyar, Bali 80571, Indonesia.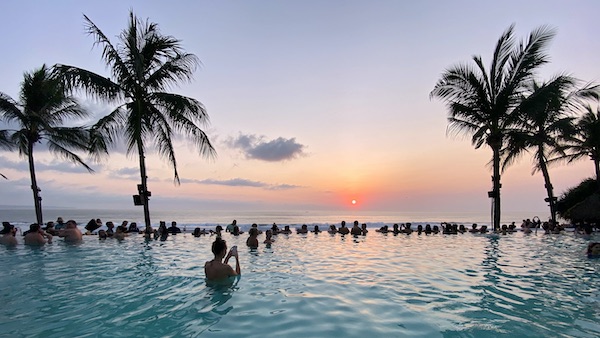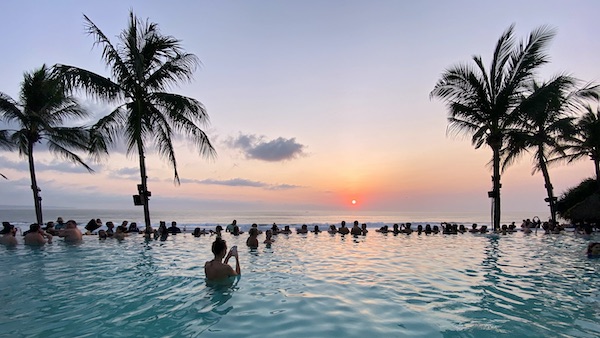 Seminyak
If basing your stay in a quiet seaside town sounds boring and you are not into the bohemian lifestyle offered by Ubud, then you might book your accommodation in Seminyak. The beach resort is situated in the southern portion of Bali. The look and feel of Seminyak compared to Sanur and Ubud are completely different.
Seminyak offers sleek restaurants and bars that invite patrons inside for long nights out. Luxury hotels and villas make up the area with top-rated restaurants scattered amongst them. Seminyak Beach is the ideal place to see the sunset over Bali. Crowds line up in the evening to watch the sun go down before heading out for a night out on the town.
Travelers seeking an upscale, trendy night out in Bali head for Seminyak. Thanks to the number of properties in the area, you can base your stay in the resort town to experience everything it has to offer, 24/7. Beach clubs are open every day and you can soak your toes in the sand while drinking cool beverages at the end of the day. Seminyak offers a tropical beach resort holiday, so be warned that the area does get busy and noisy.
Best place to stay in Seminyak
Katamama Seminyak. Address: Jl. Petitenget No.51B, Kerobokan Kelod, Kec. Kuta Utara, Kabupaten Badung, Bali 80361, Indonesia.

Kuta
When you fly into Bali, you will find yourself close to Kuta, which makes it a great place to begin your Indonesian holiday. Kuta is a lively area and the center to much of Bali's tourism due to its proximity to the airport. There is a lot to see and do in Kuta. Shopping is a popular pastime for tourists as is going out to the clubs and bars after dark.
Kuta ranks high on the list of Bali's best spots for nightlife. It plays host to internationally known DJs at multi-storey nightclubs. The bars in Kuta are in constant competition to get foreign tourists in the door. You can get great deals on food and drink if you shop around.
The resort town is famous as Bali's first. It has a part atmosphere as many travelers do not go any further than the resort town once arriving. If you like water sports, Kuta gets great waves, so grab your surfboard to hang 10.
Best place to stay in Kuta
Amnaya Resort Kuta. Address: Jl. Kartika Plaza, Gang Puspa Ayu No. 99, 80361 Kuta, Indonesia.

Nusa Dua
Nusa Dua's beaches are arguably the best in all of Bali. The beaches of Nusa Dua are popular with families, who descend on the upscale resort area. The resorts offer kids clubs allowing parents to enjoy their own Balinese holiday.
The area has gated complexes offering four- and five-star accommodation. Facilities around Nusa Dua are fantastic with cafes, restaurants, and bars all around town. Nusa Dua's amenities are not too close in proximity. Therefore, you may need to drive or use the resort town's free shuttle buses.
Nusa Dua is a secluded, quiet, and relaxing area. The beaches around the area are less crowded than other parts of Bali. The area is upscale so prices for accommodation are more expensive. You can reach cheaper dining options around Nusa Dua if you want a lower-priced, more authentic feel.
Best place to stay in Nusa Dua
Marriott's Bali Nusa Dua Gardens. Address: Kawasan Pariwisata Lot SW1, 80363 Nusa Dua, Indonesia.

Where travel critics stay in Bali
Want to know where travel critics from publishers like The New York Times, Frommer's, Fodor's and Lonely Planet stay in Bali? Check out our overview of all recommended hotels, hostels and B&Bs in Bali.
Budget
"Cepik Villa is a friendly, idyllic hideaway in lost-in-time Sidemen, with impossibly good service and luxurious rooms overlooking postcard-perfect rice paddies." — New York Times.
Address: Banjar Tebola Sidemen, Kabupaten Karangasem, Bali 80864, Indonesia.
Mid-range
"There's one big plus point about staying at The Colony Hotel: no children under the age of 16 allowed. Not to be overlooked are the 20 rooms done up in a pretty but minimalist decor." — CNN.
Address: Jalan Laksmana No.22, Seminyak, Kuta, Kabupaten Badung, Bali 80361, Indonesia.
Luxury
"The open-air lobby overlooks the wind-latticed surf, while winding stone switchbacks lead past rows of white stone villas with carved wooden doors to a wide infinity pool that stretches to, well, the infinite horizon." — CN Traveler.
Address: Jalan Goa Lempeh, 80361 Uluwatu, Indonesia.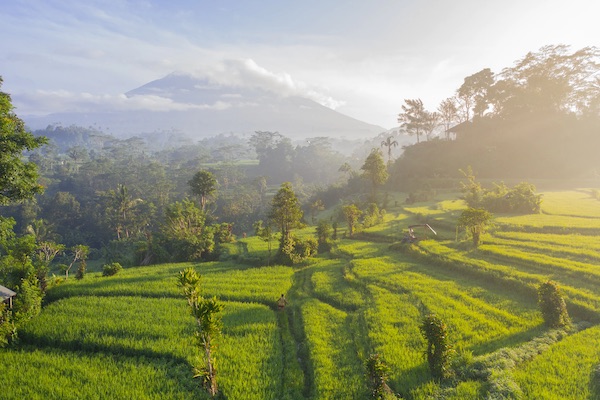 FAQ: Bali hotel tips
Looking for the best budget, boutique, or luxury hotel in Bali? Or maybe you're a backpacker looking for an excellent hostel? Want to know which Bali hotel serves a great breakfast? Here are the answers to all those and other questions about where to stay in Bali.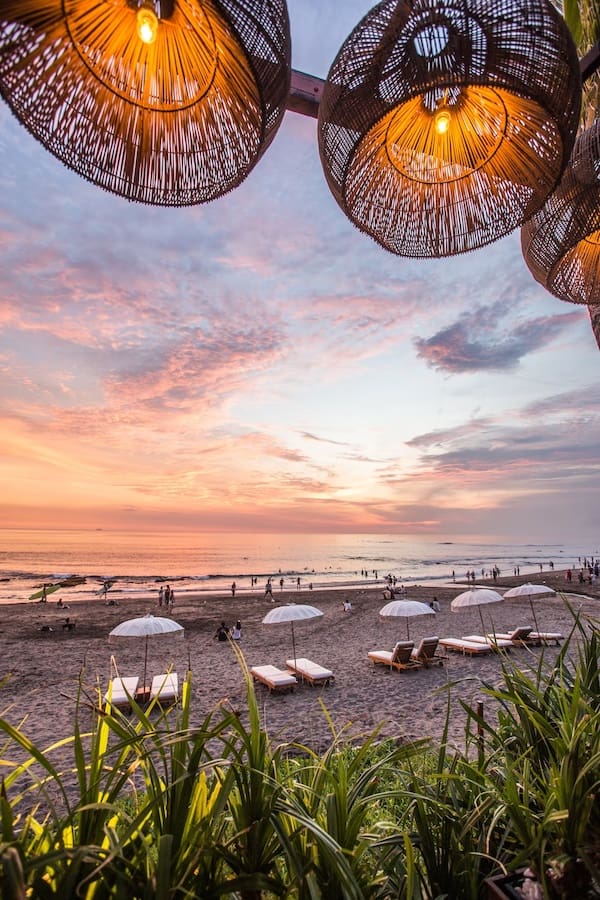 Best time to visit Bali
The best time to visit Bali is during the dry season from April to October. During this time, the islands are blessed with sunshine, blue skies and cool breezes, making it an ideal time for sightseeing, beach activities and exploration.
The rainy season runs from November to March, and it can be quite humid during this time. It's still a great time to visit, as the rains usually arrive in the late afternoon and the temperatures are still balmy, so you can still enjoy the beaches and tourist attractions.
The most popular months are July and August when the weather is the most settled and the sea is the calmest. It's also the busiest time of year, so you'll need to book your accommodation and flights well in advance. You'll also need to be prepared for higher prices during these months.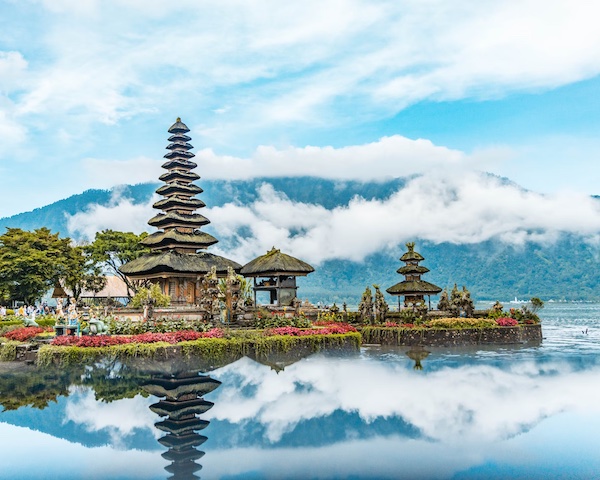 Best things to do in Bali
There are a lot of things to do in Bali and surrounding areas, including day trips, attractions, museums, sightseeing tours and many other activities. Here's our list of 3 things you should definitely do when you're in Bali:
Best of Ubud Tour with Jungle Swing
Discover Ubud's natural wonders, UNESCO-listed rice terraces, and sacred temples at your own pace on this private full-day tour. Visit the Ubud Monkey Forest, trek to the Tegalalang rice terraces, and tour a coffee plantation, then soar through the trees on a jungle swing. Price: $61. More info.
Bali: Full-Day Instagram Highlights Tour
Discover Bali on a customizable day trip to its most recognizable locations. From the Gate of Heaven to rural Ubud's rice fields, experience firsthand photos you've seen already on Instagram. Price: $71. More info.
Best of Ubud: Waterfall, Rice Terraces & Monkey Forest
Discover the center of tradition and art in Bali on a private tour of Ubud. Experience its spiritual heritage with a visit to Batuan Temple. Go to Ubud Monkey Forest, enjoy lunch overlooking a lush green landscape near Tegalalang Rice Terraces and more. Price: $50. More info.
Deciding where to stay in Bali
As a closing note, let's summarize this travel guide. We covered the best areas of Bali so you can decide which part of the island you want to stay in.
Top 5 areas to stay in Bali
Nusa Dua
Kuta
Ubud
Seminyak
Sanur
As you have seen in this article, there are a lot of things to explore, and deciding where to stay in Bali is important. Whether you stay in Nusa Dua, Kuta, Ubud, Seminyak or Sanur, all those neighborhoods are in good locations.
The atmosphere of the area, whether you travel for leisure or business, whether you travel with your family or friends, and proximity to the attractions you prefer to visit should probably be the deciding factors. Whatever your preference is, you'll have a great time in Bali.
Check out our other guides about the best places to stay in Bali: