Oh, Boston. Boston is the capital of Massachusetts and is deemed one of the most historic cities in the entire country. There is so much to do and see in Boston, so spending a few days here will be action-packed and very rewarding.
Despite not being all that big in terms of area, there is a lot packed into the dense neighborhoods and districts. So, there are some better areas to stay in order to maximize your experience.
In those areas, there are boutique hotels. This version of accommodation brings smaller, more relaxing experiences. They also give a level of customer service that the big chains simply cannot mirror. So, there is no better way to explore Boston than in these types of accommodation.
Here are five of the best boutique hotels in Boston!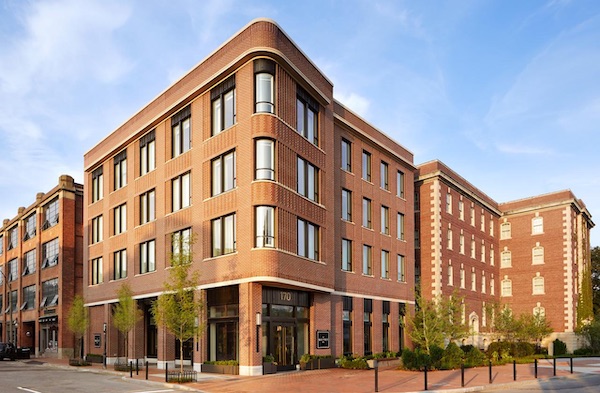 The Whitney Hotel
Once you enter the city, you can feel the vibe and culture in the architecture alone. The best part of visiting any city is embracing all of the local perks and atmospheres. The Whitney Hotel perfectly embodies the cobblestone roads and rows of local houses. The gorgeous, red brick exterior seamlessly integrates you into Boston.
With about 65 rooms, this is a moderately-sized boutique hotel that should be at the top of your list of options. One of the coolest perks is that a couple of the rooms have an incredible view of the Charles River. Not all of the options will have this, but if you can get lucky, this is a cool feature.
Hotel details
Address: 
170 Charles Street, Beacon Hill, Boston, MA 02114, United States of America.
Guest rating:
4.6 out of 5
Price per night:
From $220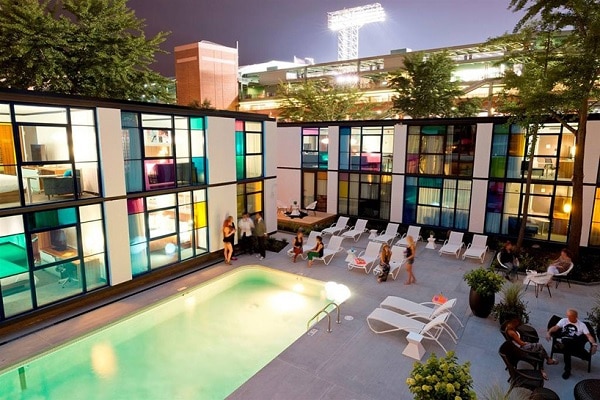 The Verb Hotel
If you want a more lively atmosphere that pushes the envelope for Bostonian design, The Verb Hotel is a fantastic option. From the moment you step into the building, the pop of many colors and wild scenery will add a bit of flair to your stay.
There are 94 total rooms, so it is on the larger end of the boutique spectrum. This is a good perk to consider because it will be a bit easier to get a room and not be on a waitlist for too long.
The biggest perk of staying at the Verb Hotel is its short walking distance from the historic Fenway Park. Not only is it a short walk, but the towering lights are seen right across the street. Even if you do not like baseball, Fenway is a must-see attraction.
Hotel details
Address: 
1271 Boylston St, Boston, MA 02215, USA.
Guest rating:
4.5 out of 5
Price per night:
From $84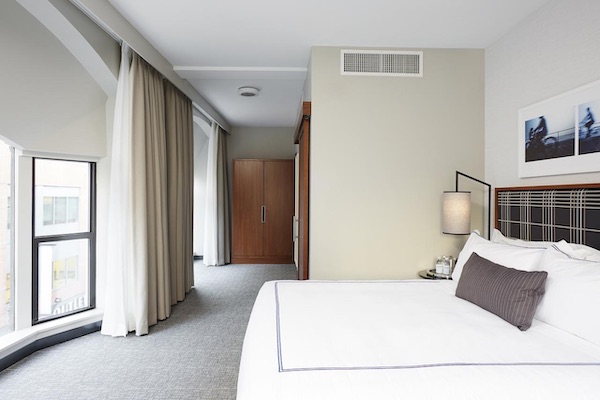 Godfrey Hotel
One of the largest boutique hotels on our list is the Godfrey Hotel. With over 200 rooms, this accommodation is verging on big. However, this does mean avoiding it. In fact, this hotel is over 100 years old and takes you back in time.
What makes the Godfrey Hotel so interesting is the mix of classic, old decor with modern upgrades that elevate your stay. For example, as soon as you walk in, the main lobby will have you thinking about the early 1900s. But, the key to your room is found on your smartphone. So, this juxtaposition is an interesting twist that is worth checking out.
Hotel details
Address: 
505 Washington Street, Theater District, Boston, MA 02111, United States of America.
Guest rating:
4.5 out of 5
Price per night:
From $120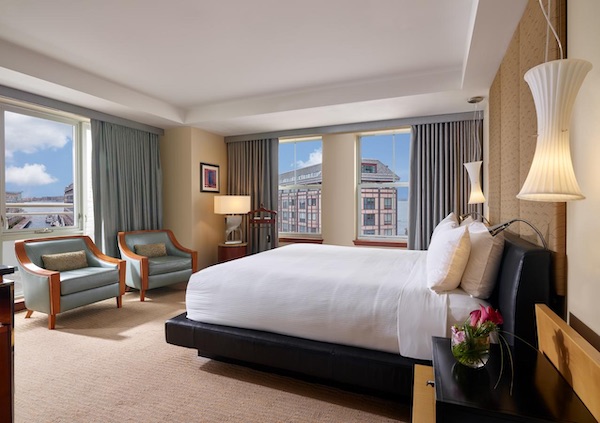 Battery Wharf Hotel
If you want to be situated among New England's elite, the Battery Wharf Hotel is the place to be. This is an upscale establishment that sits on the Boston Harbor. In fact, you can get to and from Logan Airport by water taxi. The Battery Wharf has its own service to do so. This is a super unique area that is definitely worth checking out.
People stay at the Battery Wharf Hotel for its elite location, along with the great customer service. In addition to being on the Boston Harbor, there is Boston's strong Italian presence right to the north. So, you are surrounded by excellent food, historical focal points, and so much more.
Hotel details
Address: 
3 Battery Wharf, Waterfront, Boston, MA 02109, United States of America.
Guest rating:
4.2 out of 5
Price per night:
From $150
Kimpton Nine Zero Hotel
As you probably already know, Boston's colonial feel and architecture shine through right away. With that, there are establishments like Kimpton Nine Zero that contrast that vibe with modern, contemporary design.
This is a super-stylish hotel that hosts just under 200 rooms. So, it should not be too much of a challenge to secure a room on daily short notice. One of the big perks of our final selection for this list is the array of room options that you can choose from. Many boutique hotels have regular rooms and suites, and maybe a few other options. This one has a ton of options including a regular room, deluxe room, hub suite, corner skyline, and many more.
Hotel details
Address: 
90 Tremont St, Boston, MA 02108, USA.
Guest rating:
4.5 out of 5
Price per night:
From $134
About our boutique hotel recommendations in Boston
We are a travel research company. We help you discover the best boutique hotels in Boston by researching the internet for you. It's not just our opinion, it's the opinion of many travelers who have been there before you. We make it easy for you to find out about cool design hotels and unique design hotels in the city. Some of them might be so romantic you might not want to leave your room.
Please note, we only list hotels that have an aggregated guest review rating of at least 4.0 out of 5. We aggregate all reviews from different booking sites and other unbiased review websites. Hence, you can be certain all hotels listed above offer you a great stay in Boston.
Best price guarantee
We partner with Booking.com and Hotels.com to provide you with the lowest price guarantee on your stay in Boston! Both those websites offer price matching. That ensures that you are paying the lowest price available online. If you find a cheaper offer on another website for the same cool hotel in Boston at least 24 hours before check-in, contact them to claim a refund of the difference!
Top 5 boutique hotels in Boston
Before you go, let's summarize this guide. Based on thousands of guest reviews and tips from travel experts, these are the best boutique hotels in Boston:
More Boston tips
If you like our guide above, you should also check out our other articles about Boston: