Las Vegas is one of the best cities in the world for a vibrant nightlife and flashy entertainment. Due to its millions of lights, it's known as the brightest city on Earth. There is something for all types of travelers from upscale casinos, amazing museums, unique attractions, interactive shows, and world-renowned restaurants and hotels.
Over the past few decades, the city has done its best to promote a sustainable future and an eco-friendly atmosphere. It is the first large city to run on 100% renewable energy, and generate solar power in 40 different locations across the city. Due to the high impact of tourism, many industries in this sector have stepped up their game to promote eco-friendliness as well, including multiple hotel companies.
The flashy city of Las Vegas is home to over half of 20 of the largest hotels in the world, offering more than 150,000 rooms and accommodations for visitors. There is no shortage of sustainable and eco-friendly options for environmentally conscious travelers. During your stay in Las Vegas, consider these 5 outstanding sustainable hotels within the city.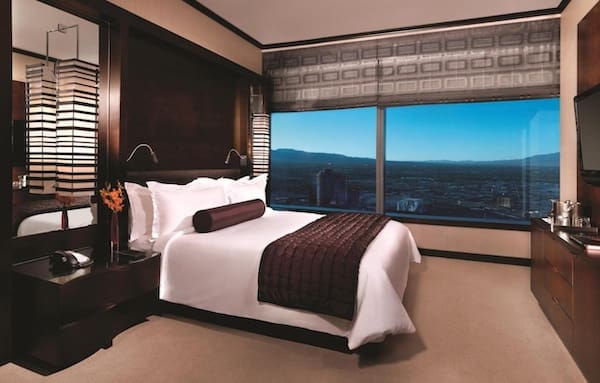 Vdara Hotel & Spa
Vdara Hotel & Spa allows visitors to 'do' Vegas in style and on their own choices. The hotel provides freedom, privacy, and sustainability just steps away from all the actions of the city. Vdara provides a wide variety of entertainment, dining, and room options to really immerse yourself in the upscale side of Las Vegas.
Located in the heart of downtown, the hotel is within walking distance of various attractions and entertainment opportunities. Restaurants, casinos, bars, and nightclubs line the street with loud music, flashy lights, and some of the most unique people in the country. Rooms range from small studio styles to luxury premier suites. They aim to optimize physical and mental well-being, and provide you with everything needed for a happy and healthy stay, with private bathrooms, televisions, seating areas, wifi, optional mini bar and butler services, and immaculate views of the city skyline.
What makes Vdara Hotel & Spa sustainable
Vdara Hotel & Spa is sustainable by combining an eco-friendly quality of life blended with community outreach and sustainable design. The hotel has earned 5 Green Keys, 6 distinct Leadership in Energy and Environmental Design certifications, and was awarded Platinum by TripAdvisor's GreenLeaders program. 93% of waste is reused or recycled, and are able to save over 30% on energy sources.
Hotel details
Address: 
2600 West Harmon Avenue, Las Vegas Strip, Las Vegas, NV 89158, United States of America.
Guest rating:
4.3 out of 5
Price per night:
From $140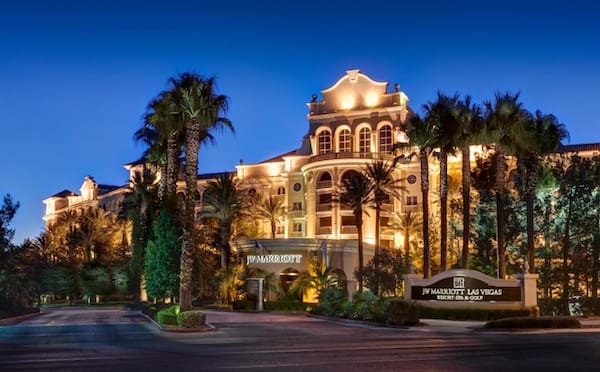 JW Marriot Resort
JW Marriot Resort offers visitors of Las Vegas a quiet escape away from the hustle and bustle, but still close enough to indulge in all the action. With luxury amenities, relaxing and recharge opportunities, and a commitment to a clean environment, JW Mariott is the perfect location to call home base for a luxurious Vegas experience.
Located west of the city center, surrounded by prestigious golf courses and an immaculate landscape, the hotel is a prime location for a blend of peace and party. The arts district is just 8 miles from downtown, still providing a slur of cares and bars for visitors to enjoy. JW Marriott has everything needed to feel like royalty such as a pool, outdoor lounge area, fitness center, onsite spa, hot tub and sauna, steam room, sun deck, bike rentals, a coffee shop, multiple bars, and a complimentary breakfast. Rooms are soundproof with a private bathroom with amenities, televisions, a seating area, a workspace, a mini fridge, and optional room service.
What makes JW Marriot sustainable
JW Marriot is sustainable by aiming to nurture, sustain, empower, and welcome all guests to an eco-friendly environment. They take pride in having a global responsibility to sustain the environment and have various resources and programs to reduce waste, sustain energy, protect the environment, and promote sustainability practices in all areas.
Hotel details
Address: 
221 N Rampart Blvd, Summerlin, Las Vegas, NV 89145, United States of America.
Guest rating:
4.2 out of 5
Price per night:
From $250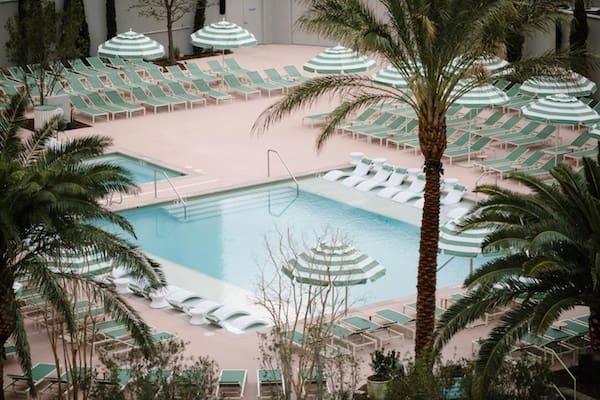 Park MGM Hotel
Park MGM Hotel in an experience in the heart of the Las Vegas strip. It offers various social areas for gatherings before big nights out, as well as a peaceful place to relax and play in the middle of Sin City. Eco-friendly travelers will be happy to know that the hotel is committed to protecting the planet and promoting overall well-being.
Located downtown, just steps away from the T-Mobile arena, the Park MGM Hotel is the ideal place to rest and unwind after a night out on the town. It allows the easiest access to step foot inside the exciting world of Vegas. The hotel offers everything the city does, from bars to restaurants, lounge areas, fabulous pools, rooftop terraces, spa services, restaurants, and some of the most prime hospitality in the city. Guests can relax in various rooms from transitional studios to luxurious spacious suites. They feature a private bathroom with amenities, lounge or work areas, fabulous city views, televisions with cable, wifi, a mini fridge, and optional butler and wake-up services.
What makes Park MGM Hotel sustainable
Park MGM Hotel is sustainable by being committed to environmental responsibility and programs which reduce the carbon footprint and promote eco-friendliness. They are a leader in health and well-being promoting overall wellness, in addition to sustaining programs that aim to reduce Climate Change, Energy, Water, Materials & Waste. Park MGM has a Green Key certification, in addition to a Leadership in Energy and Environmental Design certification.
Hotel details
Address: 
3770 Las Vegas Boulevard South, The Strip, Las Vegas, NV 89109, United States of America.
Guest rating:
4.1 out of 5
Price per night:
From $115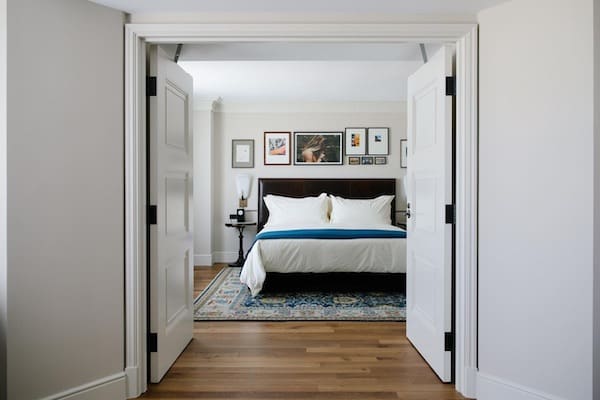 NoMad Las Vegas
NoMad is a luxury hotel and casino in downtown Las Vegas. Blending a mix of glamour and fun, with a European aesthetic, it allows for a playful spirit and an adrenaline-filled weekend. Step inside a world full of pampering, excitement, and some of the brightest lights in Vegas.
Located in the heart of Las Vegas, NoMad brings a beautiful hint of architecture to the city. The rooms were all designed by a French architect, mixing a French and New York-style interior. All rooms have custom furnishings and artwork, hardwood floors, a stocked mini-bar, and prime suites that include bathtubs, dining areas, walk-in showers, and stocked amenities. Not only is NoMad a hotel, but a location in itself, featuring onsite restaurants and bars, a vibrant casino, pool and lounge areas, spa services, and special entertainment opportunities.
What makes Nomad sustainable
NoMad is sustainable by focusing on what matters, embracing humanity, and protecting the planet. They have eco-friendly programs put in place to do their most to protect the environment. The hotel features a reduction of emissions, use of energy management, water conservation systems, and a design to have a high degree of environmental impact.
Hotel details
Address: 
3772 South Las Vegas Boulevard, Las Vegas Strip, Las Vegas, NV 89109, United States of America.
Guest rating:
4.5 out of 5
Price per night:
From $140
Encore at Wynn
Book an escape into the inspiring world of Encore and experience Vegas in style. With a prime Strip location, 5-star amenities, and immaculate services, Encore is a repertoire of accommodations and leisure. An unforgettable stay awaits visitors of Encore Las Vegas.
Located right on the Vegas strip, Encore is a prime location full of an immersive Vegas experience. Not only does it offer convenience, but luxury accommodation options, spa and massage services, mouth-watering restaurants, and 5-star hospitality. Suites at the Encore feature floor-to-ceiling windows for a pristine city view. They come equipped with 2 televisions with a seating area, private stocked bathrooms, a workspace with office equipment, a minibar, and room service. Encore has a wide range of onsite entertainment, such as restaurants, nightclubs, full bars, and an outdoor pool and lounge area.
What makes Encore sustainable
Encore is sustainable by promoting its own eco-friendly program, Goldleaf, housing scientific solutions to a wide range of environmental and climate challenges. They have reduced their water consumption by more than 16%, receive energy from renewable resources, and in 2021 were able to recycle or reuse over 4,000 tons of waste. The hotel also promotes and Human Trafficking Prevention Program, and 3 phase Diversity and Inclusion program on-site.
Hotel details
Address: 
3121 Las Vegas Boulevard, The Strip, Las Vegas, NV 89109, United States of America.
Guest rating:
4.5 out of 5
Price per night:
From $135
How we select the best eco-friendly hotels in Las Vegas
We are a travel research company. We check a lot of details and guest reviews before making a selection. First, we check which hotels follow eco-travel principles. Are they recycling their waste? Do they work with local communities? Are they using renewable energy? Are they not using single-using plastics?
Secondly, we check guest reviews across multiple websites and only list hotels with an aggregated review rating of at least 4 out of 5. So you can be confident you will stay at an excellent eco-friendly hotel in Las Vegas.
Sustainable travel is the key to enjoying a responsible and meaningful trip. You can make a difference in the environment and the communities you visit with the right sustainable travel tips. From packing light to choosing eco-friendly transportation and accommodations, there are plenty of ways to reduce your environmental impact.
More Las Vegas guides
Get to know the city even better by reading our other articles about Las Vegas: