Oh, Boston. There is a fairly short list of cities that are must-visit in terms of tourism and business. Boston, Massachusetts is one of these cities. There is so much history ingrained in the city, so there are an immense amount of things to do and see. So, you can spend days in Boston and still not see everything that you want to.
One of the big caveats to staying in a bigger city like Boston is the price that comes along with it. It is usually not the most affordable experience, so there are certain steps that you may need to take to save some money. This could include enjoying free attractions, cutting down on food costs, and many other tactics.
One great way to save money is staying in a hostel. Hostels are communal accommodations that give you the pure basics in order to save some money.
Here are three of the best hostels located in Boston!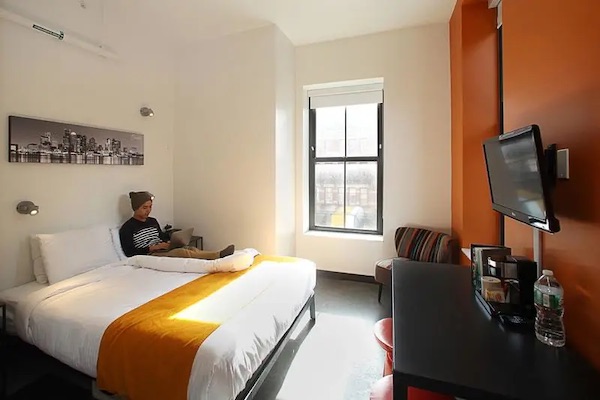 HI Boston
To kickstart our list, we have the HI Boston. HI stands for Hostelling International, and this specific location is set in Boston's Chinatown. This Chinatown isn't super big and is still well connected to the other areas that you may want to visit, which is a huge perk.
So, one of the best perks to staying in this hostel is the physical location. Being a 10-minute walk from downtown and right by a great subway system, outside access could not be easier for this value.
The hostel itself is very modern and inviting. Since it opened in 2012, you are not staying in an old and outdated location that will harbor a miserable experience. The rooms are dorm-style and do offer a considerable amount of privacy, especially for hostels.
This is a highly-rated location that a lot of people find to be at the top of the hostel options in the entire area. There is free linen and towels included, so you do not have to worry about bringing your own. Some of the other amenities included are access to refrigeration, a business center, laundry facilities, and more!
Hostel details
Address: 
19 Stuart St., Boston, MA, USA.
Guest rating:
4.7 out of 5.
Price per night:
from $29.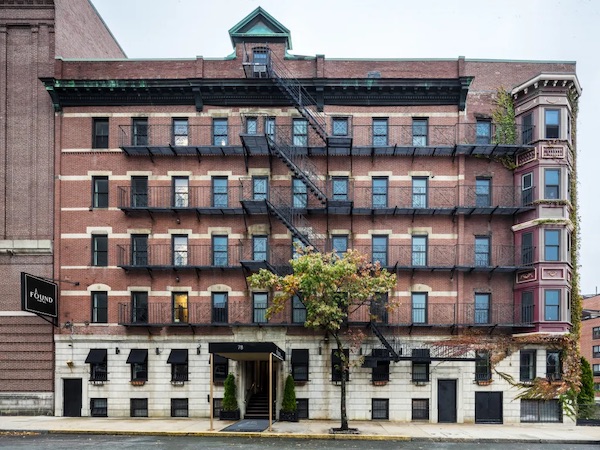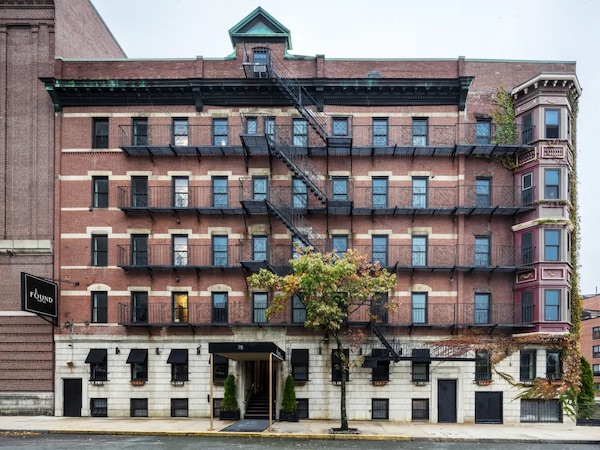 Found Boston Common
Boston is known for being quite old and historical, especially in certain parts. So, picking a hostel that will fit that historical mold can be quite worthwhile. So, staying at the Found Boston Common can help you take advantage of those really unique opportunities.
Built in 1877, the building is full of character. In fact, the Found Boston Common is one of the oldest running hostels in the area. So, you know that you can get an inclusive, quality stay with a twinge of history.
The big perk of this option is the value. This is known in the hostel space as one of the best options in terms of getting a great stay for an affordable cost. When the rates are so cost-effective, you will have plenty of cash to experience other hotspots.
The other best feature is the physical location. You will be just a couple of blocks away from the Boston Common, many theaters, and a ton of other cool spots. Being able to quickly walk to the hotspots of Boston should be greatly taken into consideration.
Hostel details
Address: 
78 Charles Street South, Boston, USA.
Guest rating:
4.8 out of 5.
Price per night:
from $60.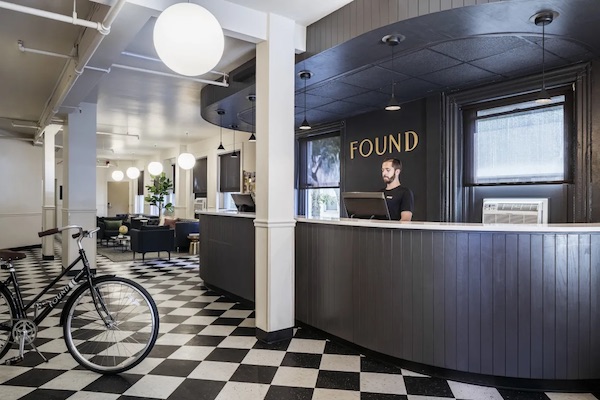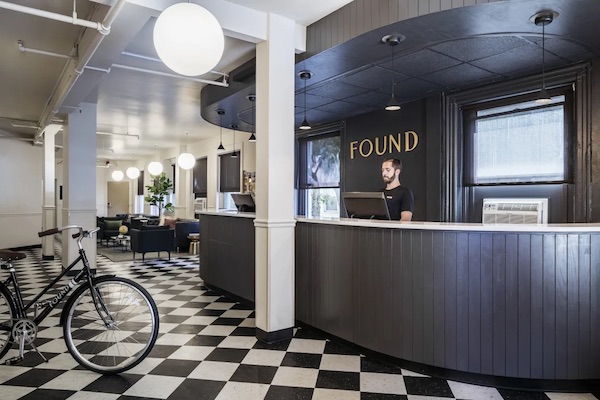 Boston Fenway Inn by Found
Hostels are in the hospitality industry to supply travelers with a more affordable way to keep it simple while still seeing the world. They are known to house backpackers, students, and wanderers who want to save some money. This is exemplified in the best way possible at the Boston Fenway Inn.
By this, we mean that this is a modern, boutique establishment that still brings great value to each visitor. It gets its name from being in the Back Bay neighborhood, which butts up against Fenway Park, home of the Boston Red Sox.
Even if you are not a baseball fan, this is a historical landmark and definitely worth checking out. Also, the location plays a nice role because it is just 20-minutes by car from the Boston Logan International Airport. If you are coming by plane, the location can be accessed easily.
Although breakfast is not included with your stay, there are a number of great amenities to take into consideration. There are laundry facilities, free internet access, a game room, housekeeping, and plenty of others. Some hostels really focus on providing the bare minimum, but the Boston Fenway Inn keeps the costs low while still giving you a quality product.
Hostel details
Address: 
12 Hemenway, Boston, MA, USA.
Guest rating:
4.0 out of 5.
Price per night:
from $32.
About our Boston hostel recommendations
Are you a solo traveler looking for a private room? Or a backpacker traveling around in a group wanting to stay in a cheap and cozy dorm? Above you will find the best hostels in Boston for all your needs.
Please note, we only list hostels that have an aggregated guest review rating of at least 4.0 out of 5. We aggregate all reviews from different booking sites and other unbiased review websites. Hence, you can be certain all hostels listed above offer an excellent value-for-money stay in Boston.
Best price guarantee
For our hostel recommendations, we work together with Booking.com and Hostelworld. These partnerships don't have any influence on the recommendations we make or on the order in which our recommended hostels are listed. The reasons why we have chosen to partner with these companies is that they're trustworthy, offer excellent service and they both apply the best price guarantee. This means you can claim a refund for the difference if you find your reservation cheaper on another website. It has to be for the same property, accommodation type, dates, cancellation policy and conditions, otherwise, you can't claim the refund for the difference. If you book through Booking.com then all you need to do is contact them at least 24 hours before your check-in date. If you book through Hostelworld you must claim the refund within 24 hours after you made the booking.
Top 3 hostels in Boston
To summarize again, based on thousands of guest reviews, these are the best hostels in Boston:
Why you should be careful when booking the cheapest hostel available
The cheapest hostels available are typically not in a great location. If you want to go sightseeing or go for a night out in central Boston, you probably end up having to pay for public transport or a taxi to get there. So your stay could end up being more expensive compared to a stay in a central location. For first-time travelers, we recommend staying central anyway, but also for frequent visitors, it's probably worth it to pay a bit more to stay in a central location.
Another reason why you shouldn't stay at the cheapest hostel is that the people staying at the cheapest hostels are often not the people that can afford to travel like you. Because a very cheap hostel is often cheaper than renting a flat, these places tend to attract migrant workers or local misfits. That's probably not the crowd you want to hang out with, especially if you're a solo traveler looking for friends.
The third reason why you should avoid the cheapest hostels is safety. Some of the cheapest hostels don't check IDs, don't ask for signatures, or only accept cash at check-in. The hostel won't know who is actually staying there.
Lastly, the service at these hostels isn't great. For instance, if you choose to store your luggage, your bags will be unattended in a public space. It won't be recorded anywhere or tagged and stored in a locked room.
Get to know the city better and check out our other articles about Boston:
Best boutique hotels in Boston