One of the most historical cities in all of the United States is Boston, Massachusetts. This city is rich in tradition, passion, and has ton to offer for its visitors. All of this considered, Boston is a must-stop city when exploring the American Northeast.
Yes, Boston is known as a serious sports town, but there is so much more to it. You just have to find it. If going to a Red Sox game and seeing historic Fenway Park is at the top of your bucket list, look no further. But, the best part of Boston is that sports do not make up its entire identity.
This city is hundreds of years old and still holds a lot of that charm. It can be seen through the architecture and historic landmarks that are littered throughout Boston. Now, it is up to you to find them. Thankfully, we have curated a list of the best neighborhoods in the entire city. Here are five fantastic areas to stay in while visiting Boston!

North End
To start off the list, we will talk about the North End. This is the first on the list because it is one of the most historical neighborhoods in all of Boston. More specifically, a lot of the American Revolution's history has roots in Boston.
To kick off your historical stay, be sure to check out the Freedom Trail. This is a super well-known hiking trail that takes you on a historical tour of Boston. You will start at Boston Common and make your way through some fascinating stops including the Charlestown Navy Yard, Paul Revere's House and the site of the Boston Massacre.
Along your hike, you will also see some beautiful architecture as some of Boston's oldest houses and compounds.
Once you have seen a lot of the historical landmarks, indulge in some incredible Italian food as this neighborhood has deep Italian roots. Grab a cannoli during the day and sit down at a fine-dining spot in the evening to make the most of your time in the North End.
Best place to stay in North End
Boston Yacht Haven Inn. Address: 87 Commercial Wharf, Waterfront, Boston, MA 02110, United States of America.

Back Bay
If being right in the middle of the action is important to you, Back Bay is probably the best option. However, staying at this great location does not come without a cost. This is also one of the most expensive areas in Boston to stay. Even if you can't afford to stay here, it is worth visiting just to explore and admire the luxurious buildings and structures.
This is also the best place to do some shopping in the city. More specifically, Newbury Street runs right through Back Bay and has some of the best shops and cafes in New England. In the summer, this is also a great place to eat outside as a lot of the restaurants have open concepts to really enjoy the Boston weather.
Once you are done spending money, enjoying some of the public parks is a fantastic way to spend part of your day. Esplanade is one of these public areas that are perfect for relaxing with a coffee or packing a lunch. Overall, Back Bay as a ton to offer to its visitors no matter what you are looking to do.
Best place to stay in Back Bay
Hotel The Lenox. Address: 61 Exeter Street, Back Bay, Boston, MA 02116, United States of America.

South End
Now, the South End has a very specific appeal that will captivate a lot of people. This is where Boston's main food scene is located. Some of the city's best restaurants are located in the South End. The best part is there are all different types of food options here. There are exclusive, fine-dining options and cheap food trucks all in the same area. You will truly experience a diversity in options while here.
Another big appeal to the South End isn't for everyone but it is important to consider. This is not a touristy area at all. Since there are really no big tourist attractions, most visitors don't even consider going to the South End. This can be a good and bad thing. It is good if you want to avoid the traffic and get a more authentic Boston experience. However, you will have to leave the neighborhood to see any of the big sites. So, make sure what is most important to you and keep the South End in mind.
Best place to stay in South End
Hotel Residence Inn. Address: 2001 Washington Street, South End, Boston, 02119, United States of America.
Fenway
Now, we have to talk about the sports culture at least once on this list. With a number of professional sports teams, Boston has a vibrant culture full of sports fanatics. A fantastic way to experience a sector of that culture is by staying in the Fenway neighborhood during baseball season. Even if you can't make it in the summer, Fenway Park does tours year-round, so you can still experience history no matter the time of year.
Along with Fenway Park, this neighborhood is full of some of the country's best sports bars. This allows you to engage in the festivities and have fun without actually having to attend a game.
There is also a really big college scene that brings youth and culture in itself. Northeastern University, Simmons College, and Boston University are just a couple of the various colleges in this area. This brings another lively, interesting perspective to the city.
Best place to stay in Fenway
The Verb Hotel. Address: 1271 Boylston St, Boston, MA 02215, USA.

Brookline
Finally, there is Brookline. This is a fantastic place to stay if you don't want a big city feel and want a more inclusive experience. Technically speaking, Brookline is its own city, but Boston completely surrounds it, so it usually gets roped in with the rest.
This is one of the cheaper areas to stay, so if saving money is a big part of how you can afford to vacation, this is a great option. A great game plan is to stay here to save some money then use the subway system to get to other Bostonian neighborhoods.
While staying in Brookline, be sure to visit Coolidge Corner. This is a complex that has tons of attractions like a theater, bakery, and tons of shopping opportunities.
Best place to stay in Brookline
Homewood Suites by Hilton. Address: 111 Boylston Street, Brookline, 02445, United States of America.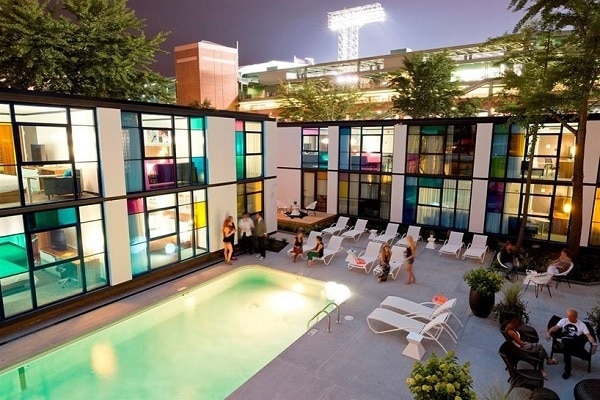 Where travel critics stay in Boston
Want to know where travel critics from publishers like The New York Times, Frommer's, Fodor's and Lonely Planet stay in Boston? Check out our overview of all recommended hotels, hostels and B&Bs in Boston.
Budget
Hostelling International Boston. Address: 19 Stuart St, Boston, MA 02116, USA.
Mid-range
Kimpton Nine Zero Hotel. Address: 90 Tremont St, Boston, MA 02108, USA.
Luxury
Harbor Hotel Boston. Address: 70 Rowes Wharf, Boston, MA 02110, USA.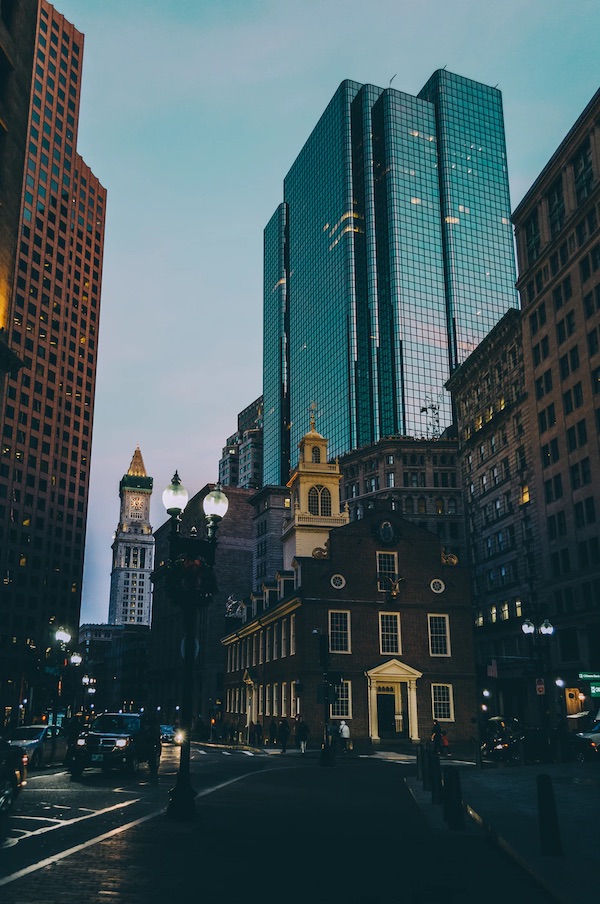 Best things to do in Boston
There are a lot of things to do in Boston and surrounding areas, including day trips, attractions, museums, sightseeing tours and many other activities. Here's our list of 3 things you should definitely do when you're in Boston:
Whale Watching Cruise from Boston
Join this 3-hour cruise for the opportunity to spot whales off the coast of Boston. See these magnificent creatures close-up from the deck of your ship. Spot Humpback and Finback whales and see White Sided Dolphins frolicking in the waters. Price: $58. More info.
Boston Classic: Duck Boat Sightseeing Tour
Hop into a duck boat—renovated World War II amphibious vehicle—for a comprehensive tour of Boston. Pass Boston Common, Quincy Market, and the Celtics' home turf at TD Garden. Price: $53. More info.
Boston Hop-On Hop-Off Trolley Tour with 18 Stops
Explore the best that Boston has to offer on this hop-on hop-off tour of the city. See Boston's top attractions—like the USS 'Constitution' and the Boston Tea Party Ships and Museum, to name a few—on the loop. Price: $47. More info.