Boston is undoubtedly one of the most historical cities in the United States. It is loaded with beautiful architecture, a unique culture, delicious food, and interesting history, and is known as the Cradle of Modern America. With freedom and history to be felt and found around every corner, Boston and its ideas have made a huge impact on the country, and the world, impacting people everywhere.
Sustainability is big in Boston, and it trusts highly that eco-friendly practices will lead to economic gains in the future. The buildings within the city are serving as an innovative model for reducing carbon emissions and adapting to the inevitable effects of climate change. The city ranks 4th in most sustainable cities in the country, thanks to its increased efficiency, reduction of carbon, and newly improved real estate development requirements.
Do your part to protect your environment and promote sustainability by choosing to stay somewhere eco-friendly. To help you narrow down your options, here are 5 of the best sustainable hotels in Boston.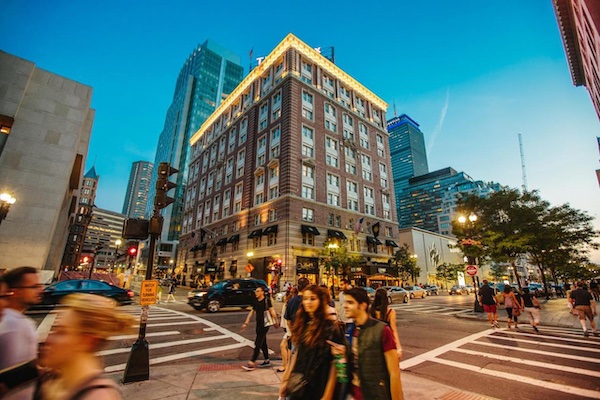 The Lenox Hotel
The Lenox Hotel welcomes each and every guest with a smile as soon as you step through its doors. If it's adventure and experience in the heart of the hippest Boston neighborhood you're looking for, your search is over. And if the walls could talk, they would tell you not only of our celebrated past but also of the personalized service we offer. Come and relax your head in a friendly environment with an ideal location.
Located in the Historical Center of Boston in the Back Bay area, the Lenox Hotel is in a prime location to explore the city. It is within walking distance of the John Hancock Tower, Fenway Park, and Newbury street, lined with shops and restaurants. The hotel features a high-class gym, an award-winning restaurant, and a beautifully furnished design. Rooms included a small mini fridge, television, private bathrooms with bath robes, and free wifi.
What makes Lenox Hotel sustainable?
The Lenox Hotel is sustainable because they strive to maintain and improve upon ways to reduce our impact on the environment. They've implemented everything from being Boston's first privately owned, curb-side, GE Electric Vehicle Charging Station to installing low-flow toilets, shower heads, and aerators in all rooms. Additionally, the hotel takes a comprehensive yet holistic approach to sustainability to create the best possible work and stay environment
Hotel details
Address: 
61 Exeter Street, Back Bay, Boston, MA 02116, United States of America.
Guest rating:
4.6 out of 5
Price per night:
From $210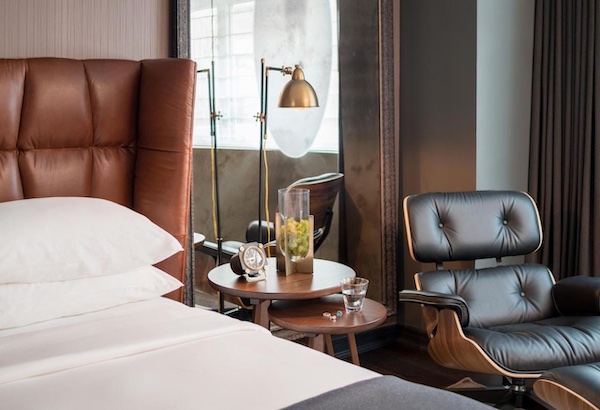 Kimpton Nine Zero Hotel
Kimpton Nine Zero Hotel is a luxurious and elegant hotel in the heart of Boston with an authentic feel and an alluring atmosphere. The hotel embodies the duality of Boston's identity as a city with a rich history and an exciting future as a premier destination for luxury travelers. Kimpton Nine Zero Hotel takes a modern-day look at luxury and sits in a prime location in the center of all the action.
Located Downtown, it's just one block away from Boston Commons Park and the Park Street T Station. It is opposite the Granary Burial Grounds and a short walk away from the Quincy Market. The hotel's aesthetic is a masterwork of approachable elegance, where sleek textures – polished wood, marble, metal, and stone – are complemented by sumptuous textiles. It features in-room spa services, an on-site gym, a social club, and a cocktail bar. Rooms are classy and seductive, with all amenities you may need including free wifi, television, a stocked mini-bar, an iPod dock, and private bathrooms with toiletries.
What makes Kimpton Nine Zero Hotel sustainable?
Kimpton Nine Zero Hotel is sustainable, being ranked the second-greenest hotel in the city, and has eco-friendliness embedded into their practice. Guests can rest easy at Kimpton Nine Zero knowing that with each stay, they are continuing to find ways to reduce each carbon footprint in the local community and beyond. They have implemented practices and products revolving around light and water efficiency, clean air, and a huge promotion in reusing and recycling.
Hotel details
Address: 
90 Tremont St, Boston, MA 02108, USA .
Guest rating:
4.5 out of 5
Price per night:
From $134
Seaport Hotel
Seaport Hotel is an award-winning hotel offering an authentic New England feel on the historic waterfront.  The hotel welcomes all guests with hospitality and is pleased to be an AAA 4 Diamond hotel. Overlooking Boston Harbor and backed by beautiful city views, Seaport is the ideal location, with easy access to the financial district, and the best Boston attractions.
Located in the heart of the Seaport District, the hotel is just steps away from the Silver Line Bus Station, and dozens of restaurants, shops, and landmarks, including the Boston Exhibition and Convention Center. The Seaport Hotel features the Wave Health and Wellness Club, including an indoor pool, gym classes, cardio equipment, and bicycle rentals. Additionally, on-site Tamp Restaurant, with exotic drinks and panoramic waterfront views. Rooms come equipped with free wifi, a television, a seeker, private bathrooms, and gorgeous city views.
What makes Seaport Hotel sustainable?
The Seaport Hotel is sustainable by being a part of the Green Hotels Association and Boston Green Tourism. It was named one of the greenest hotels in North America and boasts a groundbreaking environmental program dedicated to sustainability and conservation. They are highly promotive of overall wellness and provide free bicycles and a smoke-free environment. They have a smart roofing system, and composting system, and reduce heat while conserving energy.
Hotel details
Address: 
1 Seaport Lane, Waterfront, Boston, MA 02210, United States of America.
Guest rating:
4.5 out of 5
Price per night:
From $160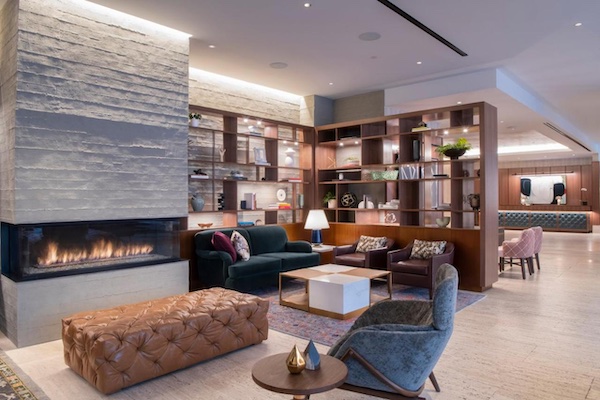 The Colonnade
The Colonnade is the contemporary luxury Boston hotel of choice for the modern traveler. With a hospitable environment, gorgeous garden views, immaculate design, and an ideal location, The Colonnade is the perfect example of a home-away-from-home. Experience a new kind of hotel in Boston, MA, imbued with New England hospitality, East Coast charm, and accessible luxury; only at The Colonnade.
Located in the iconic Back Bay neighborhood, The Colonnade is nestled at the intersection of a quaint residential community and Boston's main shopping districts in Copley Square and Newbury Street. It has prime access to the Boston Symphony, Hynes Convention Center, Northeastern University, and nearby transit.
Guests are greeted by a variety of luxurious amenities you're unlikely to find at other hotels in the area, such as a fully-equipped fitness center, a renowned rooftop pool, and an idyllic escape from the city alongside sweeping views of the Boston skyline. Rooms are stocked with free wifi, a coffee machine, a television, dimmable lights, a workspace, and a private bathroom. Room service and breakfast services are available as well upon request.
What makes The Colonnade sustainable?
The Colonnade is sustainable by being committed to environmental consciousness and green thinking. The hotel employs sustainable practices and procedures that make it the most earth-friendly and green hotel in Boston. They use chemical-free cleaning products and have energy-efficient windows, lighting, and appliances for extensive recycling initiatives. Eco-conscious guests can rest assured that everything about The Colonnade was designed with the environment in mind.
Hotel details
Address: 
120 Huntington Avenue, Back Bay, Boston, MA 02116, United States of America.
Guest rating:
4.3 out of 5
Price per night:
From $190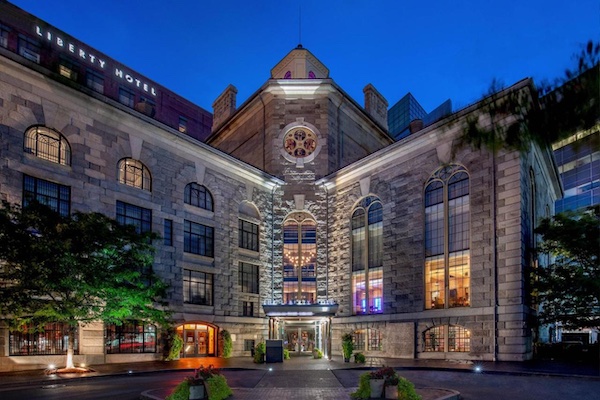 The Liberty Hotel
The Liberty Hotel is a luxurious boutique hotel with unique historical charm in Boston's beloved Beacon Hill. With a unique blend of history, high-style luxury, and homegrown warmth, The Liberty Hotel is the ideal place for a "Quintessentially Boston" experience. Guests can take in sweeping views of the city skyline and Charles River, from the imaginative transformation of the storied Charles Street Jail, an architectural gem built in 1851, which is now known as  'The Liberty.'
Located in the heart of the charming neighborhood of Beacon Hill overlooking the Charles River, it is centrally located just steps away from shopping, dining, Boston Common, and much, much more. It features 5 very distinct bars and restaurants, perfect for gathering, business, and enjoying the best of Boston over an extensive wine list. The hotel has free bicycle rentals and yoga classes to promote overall health and wellness. Rooms feature a modern and sophisticated design, with a television, free wifi, a private bathroom with toiletries, and a seating area.
What makes The Liberty Hotel sustainable?
The Liberty Hotel is sustainable by continuing to take actionable steps towards sustainability and being a leader in environmental best practices. They strive in every aspect to be as sustainable as possible in areas such as energy and carbon, water conservation, food waste, biodiversity, climate change, health and safety, and staff and guests' overall well-being. Additionally, The Liberty team shares positivity by organizing and participating in various volunteering events are the city each quarter.
Hotel details
Address: 
215 Charles Street, West End, Boston, MA 02114, United States of America.
Guest rating:
4.1 out of 5
Price per night:
From $265
We hope you have enjoyed this list of the best sustainable hotels in Boston, and that you do your best to protect the environment by staying eco-friendly the next time you visit!
How we select the best eco-friendly hotels in Boston
We are a travel research company. We check a lot of details and guest reviews before making a selection. First, we check which hotels follow eco-travel principles. Are they recycling their waste? Do they work with local communities? Are they using renewable energy? Are they not using single-using plastics?
Secondly, we check guest reviews across multiple websites and only list hotels with an aggregated review rating of at least 4 out of 5. So you can be confident you will stay at an excellent eco-friendly hotel in Boston.
More and more people recognize the importance of sustainable travel. Not only is it better for the environment and our planet, but it also often leads to more meaningful experiences. If you're interested in learning more about eco-tourism, here are some eco-friendly travel tips to get you started.
More Boston tips
Get to know the city better and check out our other articles about Boston: