Bali is one of the most popular travel destinations in the world and is a favorite among backpackers and luxury holidaymakers alike – and for good reason! There is so much variety to be found in Bali that it caters to everyone.
Surrounded by water means that the island is blessed with some great beaches and is a surfer's paradise. Bali is also known for its focus on health and wellbeing, which can be as simple as an hour session practicing yoga, all the way to a week-long wellness retreat.
You can also find an adrenaline-pumping adventure in Bali, and you can expect to find a large variety of water sports, ATV driving, and giant swings that let you fly amongst the treetops. The laid-back atmosphere coupled with the endless number of things to do make Bali a great destination to explore for a week or a month!
There is also a wide variety of hostels to choose from so here are the top five hostels in Bali to narrow down your search.
The Farm
This hostel was established in 2015 and within that time has grown from offering 22 beds to 80 beds made up of 6 mixed dorms and 5 female forms. Each bed has power outlets, and free wi-fi and breakfast is included in your stay.
The hostel is well equipped with not one but two pools, multiple common areas, and a restaurant café. It's not only the inside of The Farm that is great, but its location is fantastic also.
Located in the laid-back area of Canggu the hostel is surrounded by many restaurants serving delicious fresh cuisine, as well as being within close proximity to the beach.
Hostel details
Address: 
Jl. Pantai Batu Bolong #29H, Canggu, Indonesia.
Guest rating:
4.7 out of 5.
Price per night:
from $12.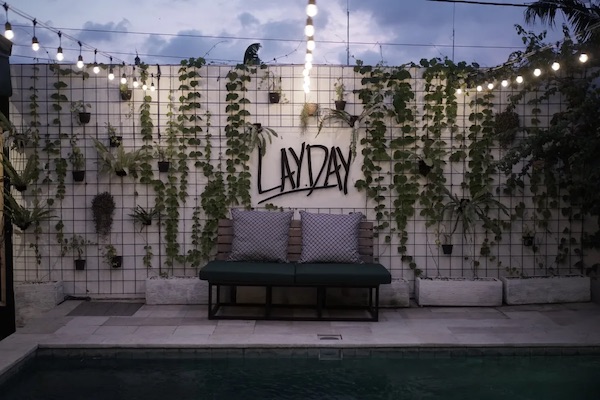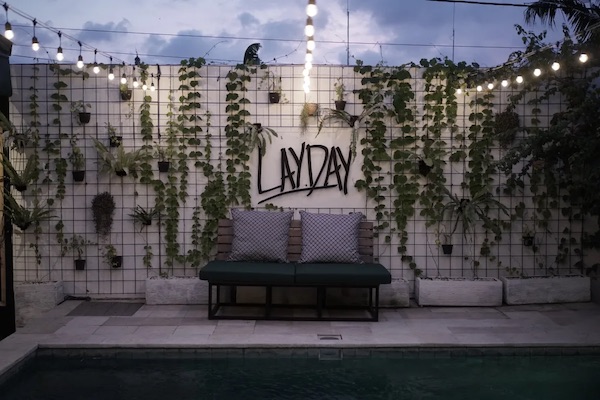 Lay Day Surf Hostel
If you love the beach, surfing, as well as partying, then Lay Day Surf Hostel is perfect for you! Located in the heart of Canggu there's always something going on at this hostel, which includes nightly parties around one of their four pools.
If you need some time to relax after a big night, there are multiple chill-out zones with comfy beanbags where you can soak up the sun. You can choose to book either a dorm room or one of the private villas that include their own private pool.
Wi-Fi is included for free and if you need a handy way to get around the island, this hostel offers both regular bikes and motorbikes for hire.
Hostel details
Address: J
alan Batu Mejan 14B, Padang Linjong, Canggu, Indonesia.
Guest rating:
4.7 out of 5.
Price per night:
from $10.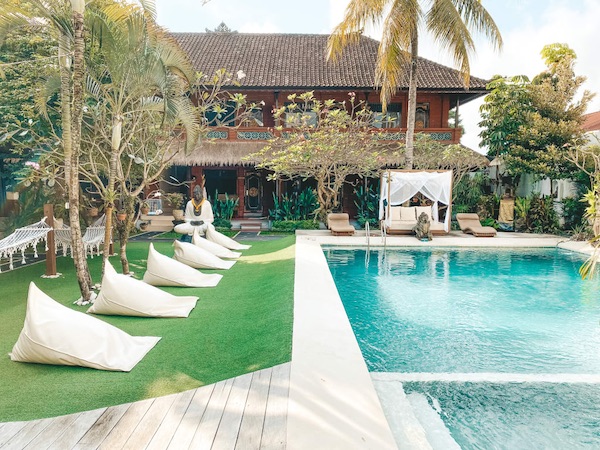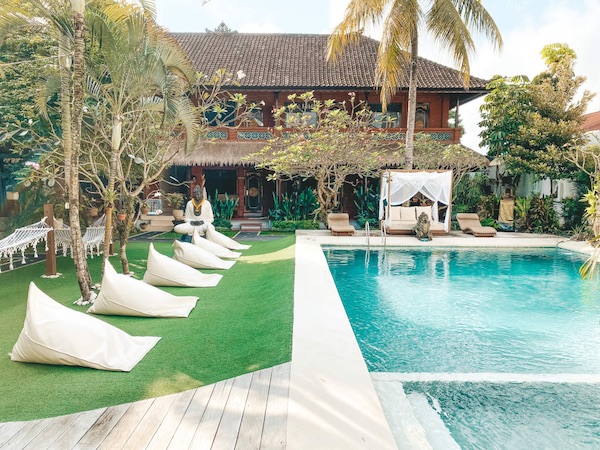 Puri Garden Hotel and Hostel
Staying at Puri Garden is like a little slice of luxury, but still within a hostel price range. This Ubud hostel won the Hoscar award for the best hostel in Indonesia for 2020 and it's easy to see why. The first thing you'll notice about Puri Garden is its huge swimming pool area which includes a relaxing garden and comfortable hammocks.
There are lots of amenities and activities that are included for no extra cost during your stay. Examples are complimentary breakfast at Ubudian Café, free yoga classes, and barbeque nights including live music and traditional dancers.
Accommodation options include private rooms and mixed or female-only dorm rooms. In the dorm rooms, there are privacy curtains around each bed. Free wi-fi is included and you can get handy tips about things to do from the 24-hour reception desk.
Hostel details
Address: 
Jalan Pengosekan, Ubud, Indonesia.
Guest rating:
4.7 out of 5.
Price per night:
from $21.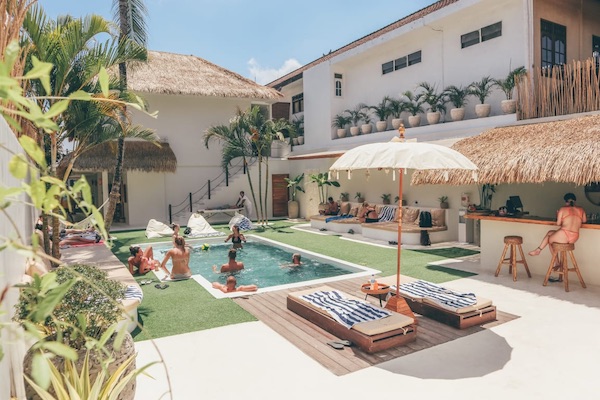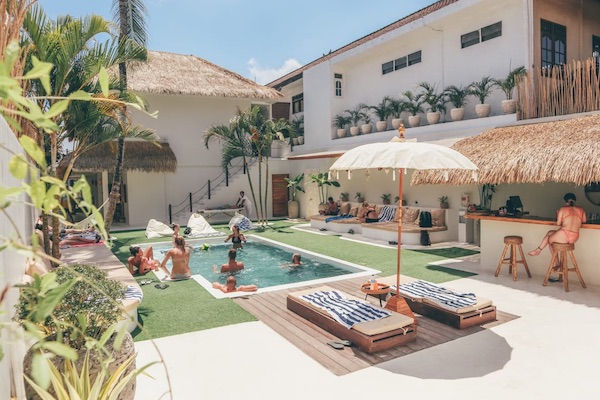 Kuna Bali
This gem of a hostel is located in a peaceful and quiet street just behind the Monkey Forest and is only a few steps away from the main action in the center of Ubud. Once you step outside you will find a wide variety of shops, cafes, and restaurants to explore.
This beautiful hostel is truly Instagramable, with a boho-chic style featuring white concrete, natural wood, and lush green gardens. Kuna Bali offers either mixed or female-only dorm rooms and comes with a whole host of free inclusions such as free wi-fi, relaxing massages, and delicious breakfast.
The hostel also offers airport transfers and fully organized day trips for a small additional fee.
Hostel details
Address: 
Jalan Nyuh Bojog 12, Ubud, Indonesia.
Guest rating:
4.7 out of 5.
Price per night:
from $18.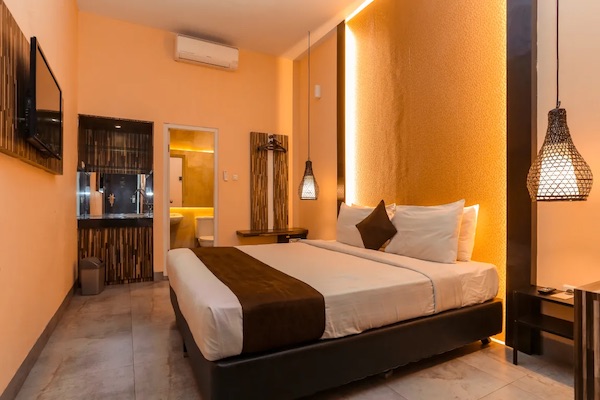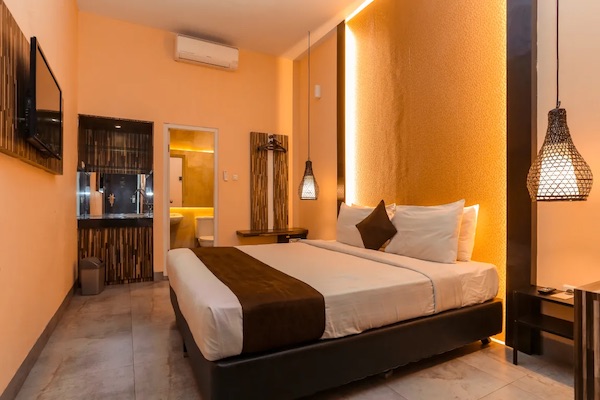 Capsule Hotel Bali
If you've come to Bali to party and have a great time while meeting lots of people, then this Seminyak hostel is for you. A party hostel in every sense, Capsule Hotel Bali has a party going on every night. Plus, certain nights have different themed events with some favorites being the Tropicola Mansion Party, Capsule Hotel Pool Party, and Omnia Day Club Bus Party.
Although this hostel is all about partying, you'll still need somewhere to rest and recover from all the late nights. Accommodation options at Capsule Hotel are quite varied and differ between each floor.
On the second floor, you will find capsule-style dorm rooms, the third floor features Japanese style dorm rooms, and on the third floor, there are deluxe private rooms. Free wi-fi is provided as reception is available 24 hours a day.
Capsule hotel is located within a 5-minute walk to the infamous La Favela night club, a short walk away from bars, restaurants, and shops, and 20 minutes from the beach.
Hostel details
Address:
Jl. Beraban No 20, Banjar Taman Seminyak, North Kuta, Bali, Seminyak, Indonesia.
Guest rating:
4.6 out of 5.
Price per night:
from $20.
About our Bali hostel recommendations
Are you a solo traveler looking for a private room? Or a backpacker traveling around in a group wanting to stay in a cheap and cozy dorm? Above you will find the best hostels in Bali for all your needs.
Please note, we only list hostels that have an aggregated guest review rating of at least 4.0 out of 5. We aggregate all reviews from different booking sites and other unbiased review websites. Hence, you can be certain all hostels listed above offer an excellent value-for-money stay in Bali.
Best price guarantee
For our hostel recommendations, we work together with Hostelworld and Booking. These partnerships don't have any influence on the recommendations we make or on the order in which our recommended hostels are listed. The reasons why we have chosen to partner with these companies is that they're trustworthy, offer excellent service and they both apply the best price guarantee. This means you can claim a refund for the difference if you find your reservation cheaper on another website. It has to be for the same property, accommodation type, dates, cancellation policy and conditions, otherwise, you can't claim the refund for the difference. If you book through Booking.com then all you need to do is contact them at least 24 hours before your check-in date. If you book through Hostelworld you must claim the refund within 24 hours after you made the booking.
Top 5 hostels in Bali
To summarize again, based on thousands of guest reviews, these are the best hostels in Bali:
Why you should be careful when booking the cheapest hostel available
The cheapest hostels available are typically not in a great location. If you want to go sightseeing or go for a night out in a city in Bali, you probably end up having to pay for public transport or a taxi to get there. So your stay could end up being more expensive compared to a stay in a central location. For first-time travelers, we recommend staying central anyway, but also for frequent visitors, it's probably worth it to pay a bit more to stay in a central location.
Another reason why you shouldn't stay at the cheapest hostel is that the people staying at the cheapest hostels are often not the people that can afford to travel like you. Because a very cheap hostel is often cheaper than renting a flat, these places tend to attract migrant workers or local misfits. That's probably not the crowd you want to hang out with, especially if you're a solo traveler looking for friends.
The third reason why you should avoid the cheapest hostels is safety. Some of the cheapest hostels don't check IDs, don't ask for signatures, or only accept cash at check-in. The hostel won't know who is actually staying there.
Lastly, the service at these hostels isn't great. For instance, if you choose to store your luggage, your bags will be unattended in a public space. It won't be recorded anywhere or tagged and stored in a locked room.
Get to know the island even better and check out our other articles about Bali: