Bali is one of the most visited islands in the world, and for a good reason. It boasts spectacular scenery in every direction, from luscious mountain ranges, breathtaking rice fields, dazzling coastal beaches, and sacred rivers and waterfalls.
The green island is exploding with culture and tradition and is home to some of the most friendly and welcoming people in the world. Bali is a proud promoter of ecotourism, has spread the practice through the island, and values the culture and nature as well.
Indonesia is one of the world leaders, with Bali having a key role in ecotourism due to the island's large number of natural sites and indigenous cultures. To reduce the impacts of mass tourism, Bali implemented sustainability standards and traditional green practices. Much of the island promotes the use of natural and organic products and services in response to ecotourism, especially in the hotel industry.
Natural practices and sustainability are part of what Bali is all about. During your next visit to the island of the gods, reduce your environmental footprint and be aware of your practices. Here are 5 of the best sustainable and eco-friendly hotels in Bali, Indonesia.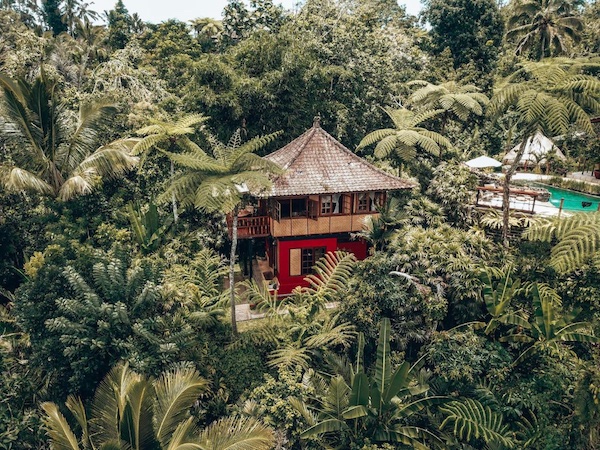 Sarinbuana Eco Lodge
The Sarinbuana Eco Lodge is a haven for outdoor lovers and a perfect place to recharge, revive, and get back into nature. Each bungalow is situated for privacy with incredible views of nature, with an incredible Balinese backdrop. Sarinbuana Eco Lodge is a perfect place if you are looking to support businesses that work in harmony with nature.
The hotel is situated on the remote slopes of Mount Batukaru, only 15 minutes walk to the beautiful rainforest and 90 minutes from Canggu and Ubud. The property features an onsite restaurant Permaculture garden to table meals, all homemade with a focus on healthy local Balinese food with many vegan options. The hotel offers a wide range of indoor and outdoor activities to choose from or arrange in other places as well. The bungalows are to experience a private space in nature, where you can sleep with windows open. There is no AC & only clean mountain water to shower, brush your teeth & drink
What makes Srinbuanu eco Lodge sustainable
The Sarinbuana Eco Lodge is sustainable by being innovative, adaptive, and responsible. They use all-natural products, reduce water consumption, use LED lighting, skylights, and glass tiles for natural lights, and protect soil erosion and loss within the gardens. Additionally, the facility honors the community by promoting and providing natural products and displays in a sustainable Balinese traditional culture.
Hotel details
Address: 
Jalan Arjuna, BR Biyahan, Wanagiri, 82162 Blimbing, Indonesia.
Guest rating:
4.4 out of 5
Price per night:
From $105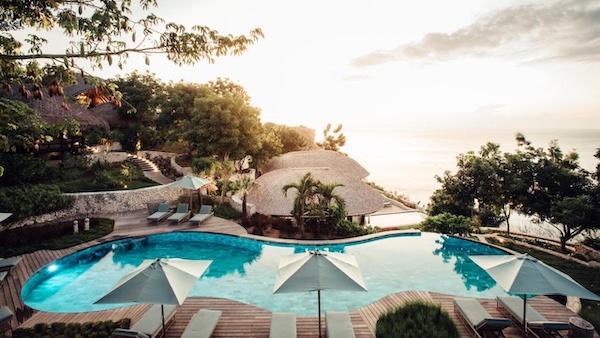 Suarga Padang Padang
Suarga Padang Padnag invites today's "Rough Luxury Travelers" to discover a new perspective on sumptuous travel and experience a relaxing escape in Bali. It is consciously designed to blend modern luxury with a minimal impact on the environment; the sustainable boutique resort features 36 rooms, pavilions, and villas as well as a season-driven signature restaurant that showcases captivating ocean views.
This hotel is located on the prime surf coast of Uluwatu in the southern peninsula and near the famous Uluwatu Temple. It's an ideal spot for surfing, cycling, exploring, and swimming, and the airport is only 12 miles away. The CHSE-certified hotel feature 2 outdoor pools, majestic ocean views, and a contemporary-style onsite restaurant. Rooms are equipped with a/c units, private bathrooms, a seating area, and a balcony/terrace.
What makes Suarga Padang Padang sustainable
Suarga Padang Padang is sustainable by being a part of the Forest Stewardship Council. It is made of mostly recuperated wood and bamboo. It promotes natural airflow, renewable energy, and low-consumption technology that is applied to different aspects throughout the facility, such as lighting, air, and technical equipment.
Hotel details
Address: 
Labuan Sait Rd. Br. Dinas Labuan Sait, Pecatu, Kuta Selatan, 80361 Uluwatu, Indonesia.
Guest rating:
4.1 out of 5
Price per night:
From $150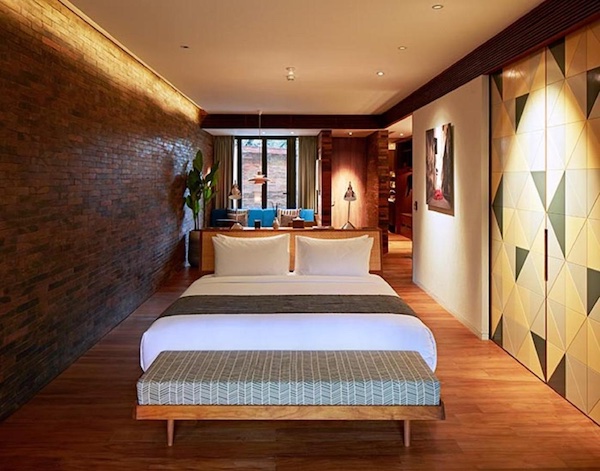 Potato Head Studios
Potato Head Studios is a beachfront resort in the action-packed center of the island. Indulge in luxury amenities and services with a warm and welcoming atmosphere in the heart of Bali. Potato Head Studio promotes overall well-being, sustainability, relaxation, and health and wellness every step of the way.
Located in the bustling village of Seminyak, the hotel is in a prime location to enjoy fabulous beaches and exciting nightlife. It is within walking distance of tons of shopping opportunities and various restaurants and cafes. It features a beach club, restaurant, wellness gym, spa services, sanctuary, yoga classes, and sunset park. Rooms come in the styles of suites and studios, beautifully eco-friendly and wooden designed with a balcony or terrace, television, Wi-Fi, and private bathroom.
What makes Potato Head Studios sustainable
Potato Head Studios is sustainable by being a member of the Travel Sustainable Program. They go to great lengths to make all visitors comfortable by knowing their stay is eco-friendly every step of the way. The hotel has eliminated the use of all single-use plastic, promotes recycling, has water-efficient toilets and showers, locally and organically sourced food products, LED lighting, and invests a large percentage of revenue back into the community for environmentally friendly projects.
Hotel details
Address: 
Jl. Petitenget Seminyak, Kec. Kuta Utara, Kabupaten Badung, Bali 80361 No.51B, 80361 Seminyak, Indonesia.
Guest rating:
4.7 out of 5
Price per night:
From $135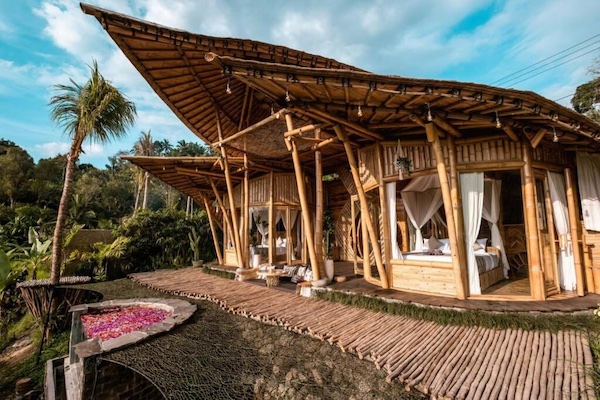 Camaya Bali Butterfly
Camaya Bali Butterfly is the perfect definition of peaceful luxury in Bali. Sitting in the midst of the iconic rice terraces, Camaya's bamboo huts offer incredible views, peace and tranquility, and a chance to really experience the serene side of Bali. It is an ideal location to unwind and revive, away from the city and soaked with nature and quietness.
Camaya Bali is a 90-minute drive from Ubud. We are located in Selat, Karangasem Regency, about 20 minutes from Sidemen. Camaya Bali is made up of five individual houses, each entirely unique with a design of its own, immersed right in the middle of nature. Free daily breakfast is included, and activities and tours can be arranged with the help of hotel staff. Perfect for escaping the crowds of the cities, each hut is unique, with different amenities, such as huge seating areas, open-air balconies, terraces, private pools, whirl tubs, private bathrooms, and more.
What makes Camaya Bali sustainable
Camaya Bali is sustainable by being situated in the middle of nature, and each house is created with all-natural products and bamboo. They promote natural lighting and airflow, renewable energy resources, reduction of food waste, and use of no single-use plastic products. They promote eco-friendliness by encouraging full immersion into nature and the outside world.
Hotel details
Address: 
Camaya Bali, 80862 Selat, Indonesia.
Guest rating:
4.2 out of 5
Price per night:
From $300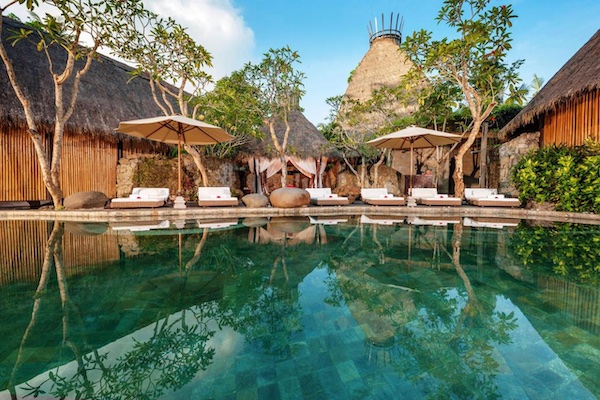 Fivelements Retreat
Fivelements Retreat Bali is an award-winning eco-conscious wellness retreat deeply rooted in the ancient traditions of Bali, making it a peaceful sanctuary to embrace authentic Balinese Healing. The retreat creates a space for Life Transformation and Love in Action, ideal for a life-changing adventure to the Island of the Gods. The staff is warm and friendly, welcoming you to embark on a path of serenity and inner journey, with a safe place to rest your head at night.
Situated just southwest of Ubud, the retreat is perfectly placed to experience the true magic of Bali. Surrounded by scenic landscapes of mountains, rice fields, and temples, adventure seekers will enjoy the convenience, and those looking to relax with be situated just fine. The property feature a wide range of spa and massage treatments, in addition to traditional holistic and Balinese healing procedures, and an organic traditional onsite restaurant. Bamboo-style suits are equipped with private bathrooms and pools, seating areas, gorgeous views, and internet access.
What makes Fivelements Retreat sustainable
Fivelements Retreat is sustainable because it takes a hint from the Balinese concept of Tri Hita Karana, and has organized an eco-friendly approach into "3 pillars of Wellness": Personal, Social, and Net Positive. They believe that a clean mind, clean speech, and clean action are keys to approaching life in a balanced manner. Maintaining personal health, including mental, spiritual, and physical aspects, is the first step towards supporting positive action in the world. They then apply this to Site Sensitivity and Natural Habitat, including water, energy, material, waste, and indoor environmental quality.
Hotel details
Address: 
Banjar Adat Baturning, Mambal, Bali, 80352 Ubud, Indonesia.
Guest rating:
4.5 out of 5
Price per night:
From $210
We hope you choose to be eco-friendly during your next visit to Bali and that this guide has inspired you to book sustainable travel from here on out!
How we select the best eco-friendly hotels in Bali
We are a travel research company. We check a lot of details and guest reviews before making a selection. First, we check which hotels follow eco-travel principles. Are they recycling their waste? Do they work with local communities? Are they using renewable energy? Are they not using single-using plastics?
Secondly, we check guest reviews across multiple websites and only list hotels with an aggregated review rating of at least 4 out of 5. So you can be confident you will stay at an excellent eco-friendly hotel in Bali.
Sustainable travel is the key to enjoying a responsible and meaningful trip. You can make a difference in the environment and the communities you visit with the right sustainable travel tips. From packing light to choosing eco-friendly transportation and accommodations, there are plenty of ways to reduce your environmental impact.
More Bali recommendations
We hope you enjoy the advice we've given to you above. If so, be sure to check out some of our other articles about Bali: