Located in the heart of Belgium, Brussels is the largest city in the country. Serving as the capital city for the country, it is also often considered to be the "Capital of Europe" because the headquarters of the European Union can be found here. Brussels leads peace talks throughout Europe while also offering a unique glimpse into the cultural heritage of the country.
Attracting visitors from all around the world, Brussels offers incredible views of late medieval architecture, immersive world-class art museums, and exceptional cuisine you won't find anywhere else in Europe. Often famed for its chocolate production, you can also find Belgian waffles throughout the town, some coated in a delicious assortment of fruits and handmade cocoa. Brussels also has several famous breweries, such as Stella Artois, and Belgian beer is often regarded as some of the best in the world.
Fortunately, like many European cities, Brussels is very forward thinking in terms of creating a sustainable and environmentally friendly atmosphere. Visitors can take electric bike rides throughout the city, much of the city's energy runs on renewable resources, and food ingredients are often locally sourced from sustainable suppliers. If you're interested in visiting the city in an eco-friendly way, you'll also be excited to learn that there are plenty of environmentally conscious hotels to choose from as well.
That's why we put together this list of the five best sustainable hotels in Brussels. While there were dozens to choose from, we did the heavy lifting by picking the best of the best, factoring in sustainability practices, overall comfort levels, and proximity to nearby attractions. If you'd like to learn more, read on to discover the best eco-friendly hotels in Brussels.
Hotel Agora
This centrally located hotel is one of the closest you'll get to the heart of downtown Brussels. Hotel Agora is found between the historical Brussels City Museum, the Brussels Comics Museum, and the Mont des Arts courtyard. There are several additional attractions in the area too, each of which are within walking distance. As an added bonus, on your walk, you'll be able to take in the views of multiple Gothic-era buildings too.
The hotel opened its doors in early 2016 and has been serving guests ever since. The majestic atmosphere feels both old-worldly and elegant at the same time, featuring hardwood decorations and plush red and gold linens. The rooms offer private fireplaces, grand-sized bathrooms, large flatscreen TVs, free WiFi, and spectacular views of the city. They were also featured as a top location in TripAdvisor's 2020 edition of Travelers' Choice hotels.
What makes Hotel Agora sustainable
Regarding its sustainability practices, Hotel Agora has several ongoing initiatives. First, they use rainwater, filtered for flushing toilets, and water-saving devices in the showers. The shower water is also heated using solar tubes situated under the daylight. They also use 100% ecological shampoo and soap in the bathrooms. For the decorations, Hotel Agora uses all-natural wood sourced from ecologically managed forests and the tiles used are made from 40% recycled materials. They sort their paper, plastic, and food waste for proper recycling or composting. Finally, you'll also find that the entire hotel is equipped with 100% low-voltage LED lighting.
Hotel details
Address: 
Rue des Eperonniers 3, 1000 Brussels, Belgium.
Guest rating:
4.3 out of 5
Price per night:
From $110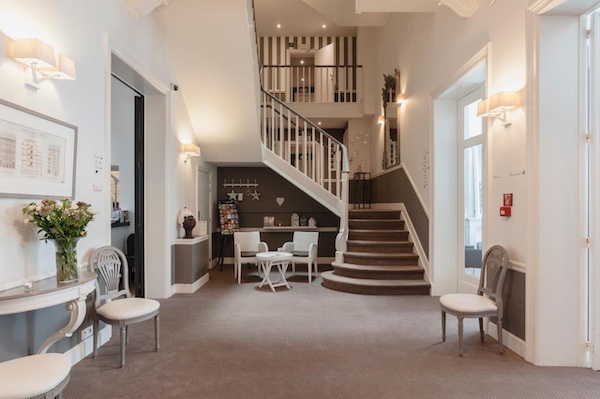 Made in Louise
Made in Louise is located just southeast of the city center, in the Art Nouveau district. Nearby you'll find the La Patinoire Royale and Pascal Polar Gallery art galleries, as well as the Halle Gate museum. Made in Louise is situated in an ideal location. It only takes 10 minutes to walk to the Metro Louise transit station and it's only a 15-minute walk from the European Parliament. There are several restaurants nearby too, so you can enjoy Brussels' finest cuisine easily.
The hotel offers the charm of a 20th-century Brussels townhouse but is equipped with modern-day amenities. With 48 comfortable rooms to choose from, each offering high-speed WiFi, contemporary decorative styles, and warm atmospheres, you'll be transported to simpler times. Relax in a king-sized bed, in a comfy armchair beside the fireplace, or in a tree-covered courtyard outside. The hotel also offers a billiards table or giant chess pieces for fun and games with family or friends.
What makes Made in Louise sustainable
When it comes to sustainability, the hotel strives to perfect its efforts as well. They control their consumption of electricity and water through energy-efficient utilities. Made in Louise uses a cogeneration unit that produces electricity with an engine powered by natural gas. Therefore, they heat the entire hotel and water utilities with natural resources. They also source their hotel products locally and strive to control their production of waste material. Their various ecological and environmental approaches enabled them to obtain the Green Key label in July 2020, an award that recognizes sustainability achievements in the international tourism sector.
Hotel details
Address: 
Rue Veydt 40, Elsene / Ixelles, 1050 Brussels, Belgium.
Guest rating:
4.5 out of 5
Price per night:
From $105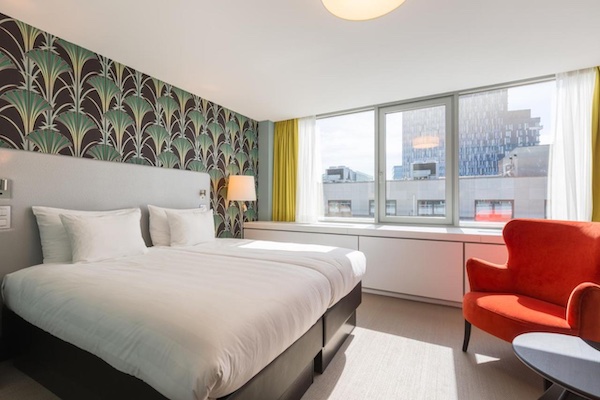 Thon Hotel EU
Just east of the city center, you'll find the Thon Hotel EU. Nearby, you'll be able to walk to the Royal Palace of Brussels, the Parliamentarian EU museum, as well as the Parc du Cinquantenaire. Thon Hotel EU's location makes it a truly ideal location for both business and leisure travel. Given its proximity to the historical center of Brussels, guests will also be able to visit many more attractions on foot or by bicycle.
Thon Hotel EU offers many types of guestrooms and suites to choose from. The more affordable classic double bedroom still offers tons of comfort, while the more expensive suites add on some additional amenities with a considerable amount of spaciousness. They also offer continental breakfast and additional dining options for lunch and dinner at The Twelve restaurant. For guests looking to continue their exercise routine, there is also a fitness center and sauna to take advantage of.
What makes Thon Hotel EU sustainable
In addition to their hotel in Brussels, Thon Hotels as a brand puts a lot of focus on sustainability and social responsibility. As a Green Key-certified hotel, Thon Hotel EU has several eco-friendly initiatives that are continuously running and improving. The food they source, for instance, is local, sustainable, and fairtrade, with a majority of the ingredients supplied by Belgian producers. They also offer 40 parking places for electric cars, vouchers for bicycle rentals throughout the city, and are within close proximity to transit stations. These are just to name a few of the numerous sustainable initiatives the hotel offers.
Hotel details
Address: 
Rue de La Loi 75, 1040 Brussels, Belgium.
Guest rating:
4.4 out of 5
Price per night:
From $125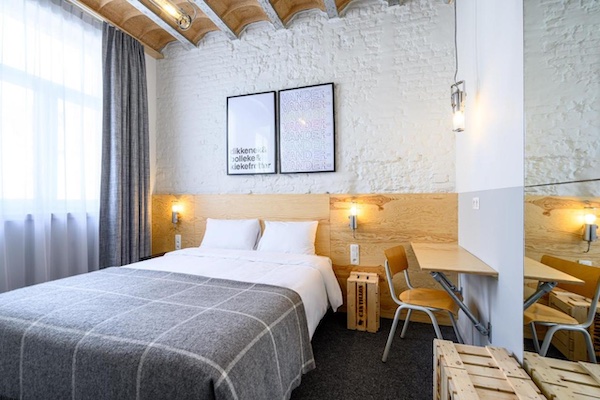 Hotel La Grande Cloche
Just slightly southwest of the city center, Hotel La Grande Cloche is another premium option for the eco-minded traveler. For starters, you'll be within close proximity to the Royal Museums of Fine Arts of Belgium, as well as the Church of Our Lady of Victories at the Sablon, a highly renown gothic cathedral. Their optimal centrally located hotel is also perfect for visiting several other attractions or sitting down for some mouth-watering Belgian delicatessens.
Hotel La Grande Cloche frames itself as a trendy and offbeat boutique hotel. Completely renovated in 2019, the hotel is also the oldest operating hotel in Brussels. Many of the guestrooms have stunning views of Rouppe Square and the splendid Avenue de Stalingrad.
Some even have their own balcony, including breathtaking vistas of the Sablon district and the tower of the Midi. For lunch or dinner, be sure to stop in at PastaMadre, the hotel's pizza and craft beer restaurant, for some satisfying fare.
What makes Hotel La Grande Cloche sustainable
As for its sustainability practices, Hotel La Grande Cloche goes above and beyond to solidify its efforts. They have removed all single-use plastics from the hotel premises, implemented water-efficient utilities, and make every possible effort to reduce their food waste. They also invest a percentage of their revenue back into community projects or sustainability projects and provide guests with information about the local environment to aid their environmental protection efforts.
Hotel details
Address: 
Place Rouppe 10, 1000 Brussels, Belgium.
Guest rating:
4.3 out of 5
Price per night:
From $88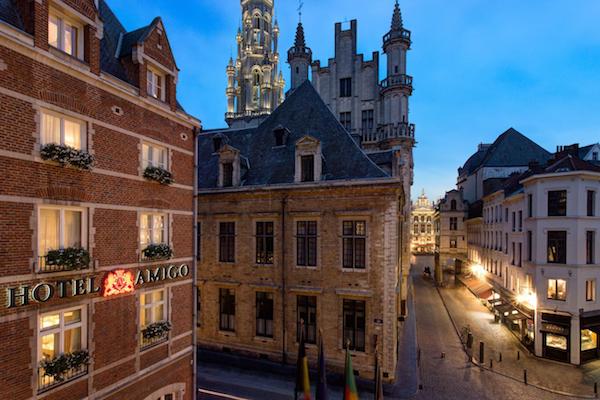 Hotel Amigo
Hotel Amigo is practically located within the heart of Brussels' city center. Here, you'll be able to step out of your hotel room and essentially find yourself in a plaza with dozens of historic museums around. If you're looking for anything closer to the center of the city, you probably won't find it. Hotel Amigo is especially ideal for those who want to be in the middle of almost all of the famous attractions.
The hotel seamlessly blends art, culture, heritage and creativity. Hotel Amigo's chic rooms and presidential suites seamlessly blend elegant design and contemporary creature comforts with fine art and superior service. Sample fine Italian cuisine highlighting the best local ingredients at Ristorante Bocconi, or sip cocktails by candlelight at the glamorous Bar A accompanied by live music. This glamorous hotel has nothing that it doesn't offer guests, making it truly one of the highest luxury sustainable hotels in the city.
What makes Hotel Amigo sustainable
Hotel Amigo is also a champion of sustainability, recognizing its responsibility to preserve Earth's greatest natural resources. In addition to monitoring and improving their energy, water, paper and food waste consumption, they strive to eliminate the use of single-use and non-recyclable plastics. They have LED lighting installed throughout the hotel, work primarily with local suppliers and producers, and separate recyclable materials for efficient disposal. This, however, is just a brief mention of all the eco-friendly practices they have currently implemented.
Hotel details
Address: 
Vruntstraat 1-3, 1000 Brussel, Belgium.
Guest rating:
4.6 out of 5
Price per night:
From $274
How we select the best eco-friendly hotels in Brussels
We are a travel research company. We check a lot of details and guest reviews before making a selection. First, we check which hotels follow eco-travel principles. Are they recycling their waste? Do they work with local communities? Are they using renewable energy? Are they not using single-using plastics?
Secondly, we check guest reviews across multiple websites and only list hotels with an aggregated review rating of at least 4 out of 5. So you can be confident you will stay at an excellent eco-friendly hotel in Brussels.
More and more people recognize the importance of sustainable travel. Not only is it better for the environment and our planet, but it also often leads to more meaningful experiences. If you're interested in learning more about eco-tourism, here are some eco-friendly travel tips to get you started.
More Brussels tips
Get to know the city even better and check out our other articles about Brussels: