Overlooking the Andes Mountains range on one side and the Pacific on the other sits the vibrant and cosmopolitan city of Santiago de Chile. The capital city attracts thousands of visitors each year, with its abundance of museums, theaters, galleries, nightlife, fine dining, and breathtaking architecture. Santiago is one of the world's most beautiful urban areas and is home to some of the largest and still active volcanoes in the world.
Chile sits in an area of the world with a drastic geographic diversity, allowing it to easily put an emphasis on and promotion of eco-friendliness and sustainability. Due to its wide range of climate conditions, natural products are used to produce renewable energy all over the country, including Santiago. Santiago is trying to lead Latin America in environmental protection, reusable sources, and eco-friendly promotional practices.
Many hotels in Santiago have stepped up their game in sustainable practices. Many modern-day travelers have become more environmentally cautious, and Santiago strives to accommodate all guests. During your visit, consider staying in one of these 5 outstanding sustainable hotels in Santiago de Chile.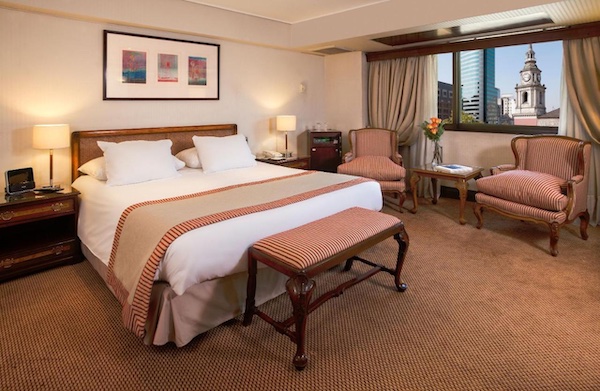 Plaza San Francisco Hotel
Plaza San Francisco Hotel features 5-star accommodations with a superb and convenient location. Intimacy, warmth, elegance, and history are blended together into an excellent mix of design, service, and relaxation. All guests receive personalized service in one of the most unique places in the city.
Located at the gateway to downtown, the hotel is in the best location in the city center. It is just moments away from world-class museums, delicious restaurants, bars, and lots of shops. The metro station is located within walking distance, able to give access to every other part of the city quickly and efficiently. Plaza San Francisco has an elegant onsite bar and restaurant, a fitness club, and conference rooms. Rooms are spacious with modern furnishing and design and are equipped with heating and air conditioning, television, private bathroom, and sitting and workstation.
What makes Plaza San Francisco Hotel sustainable
The Plaza San Francisco Hotel has been awarded multiple awards in eco-friendliness, such as Distinction in Tourism Sustainability and Seal of Energy Efficiency. The practice of sustainability through economics, energy efficiency, environmental friendliness, and socio-cultural practices. The hotel processes by seeking energy savings, incorporating good environmental and social practices in our daily operations making the welfare of the environment, and adding value to the company.
Hotel details
Address: 
A. Libertador Bernardo O´Higgins 816, Downtown Santiago, 8320000 Santiago, Chile.
Guest rating:
4.5 out of 5
Price per night:
From $100
Carménère Eco Hotel
Carménère Eco Hotel is an award-winning boutique hotel that provides all guests with modern comforts and rustic charm. With a perfect blend of intricate design and promotion of Chilean culture, it's the perfect oasis to call home base while visiting Santiago. There is a winery setting in every inch of the facility, as well as friendly and personalized staff members assisting every step of the way.
Located in Providencia, it is within walking distance of various restaurants, shops, and several famous landmarks, as well as other charming neighborhoods such as Italia and Bellavista. All guests are invited to a complimentary glass of Carménère Chilean Wine on arrival, with access to an underground wine cellar and private garden. Rooms feature a winery design, with private bathrooms, blackout curtains, television, and complimentary amenities. Guests are served free daily breakfast each morning, buffet style for convenience.
What makes Carménère Eco Hotel sustainable
Carménère Eco Hotel practices sustainability by using cutting-edge practices of renewable energy technology and eco practices.​​​ They have been solar-powered since 2015, collets rainwater, have an on-site organic garden, recycle all waste products and use biodegradable products. Everything for the facility is purchased through small local businesses, handcrafters, and sustainable suppliers to promote eco-friendliness throughout the entire facility.
Hotel details
Address: 
Maria Luisa Santander 0292, Santiago, Región Metropolitana, Chile.
Guest rating:
4.6 out of 5
Price per night:
From $105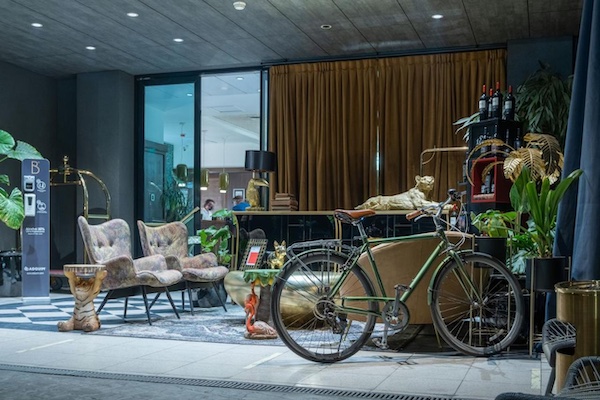 Eco Hotel Bidasoa
Hotel Bidasao is one of the best premier boutique hotels in Santiago de Chile. With comfort and sustainability in mind, it is an ideal place in Santiago to relax and unwind after a long day of exploring, meetings, and traveling. Complimentary welcome drinks are provided to all guests, offering a friendly and homey atmosphere.
Located in Vitacura, it is a 10-minute walk from the Parque Arauco Shopping Center, great for those who love to shop and thrift through souvenirs. Restaurants and bars surrounded the hotel, with easy access to other various sights. The hotel features an onsite bar and restaurant with a terrace, swimming pool and free wifi throughout the entire property. Rooms feature private bathrooms, cable television, a/c and heating, and private balconies.
What makes Hotel Bidasoa sustainable
Hotel Bidasoa is sustainable by offering guests a 1000% green experience. They offer guests an eco-friendly stay in a relaxing hideaway in the city, and practices daily sustainability through the use of renewable energies, which engages recycling and construction. The hotel always uses local products, cleaning is 100% green, and there are electric car stations available for guests.
Hotel details
Address: 
Av. Vitacura, 4873, Vitacura, 7630290 Santiago, Chile.
Guest rating:
4.6 out of 5
Price per night:
From $135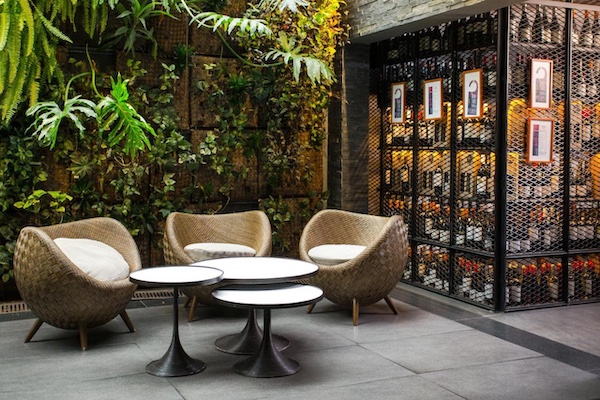 DoubleTree Hilton Vitacura
DoubleTree Hilton Vitacura is a 5-star luxury hotel in downtown Santiago. It is an ideal location for nature lovers, with access to many lakes and vineyards, and business travelers, near many embassies and convention centers. Relax and unwind in a luxurious, welcoming, and serene setting in the middle of the bustling city.
Located in the neighborhood of Vitacura, DoubleTree Hilton, it sits just moments away from South America's largest mall, Costanera Center, and a 64-story tall skyscraper. It is within walking distance of various restaurants, nightlife and casinos, and the Museo Bellas Artes. The hotel features an on-site bar and restaurant, a fitness center, lounge areas, a business center, and daily breakfast served buffet style. Rooms feature private bathrooms with toiletries, televisions, a safe, and room service upon request.
What makes Double Tree Hilton Santiago sustainable
The Double Tree Holton Santiago is sustainable by being part of the Travel Sustainable program, taking significant steps to be environmentally friendly. Single-use plastic items have been eliminated from the property, makes great efforts to reduce food waste, use water-efficient showers, use motion-controlled keycards, provide on-site green spaces, and promote local artists and wildlife.
Hotel details
Address: 
Avenida Vitacura 2727, Las Condes, 8320000 Santiago, Chile.
Guest rating:
4.5 out of 5
Price per night:
From $86
Hotel Magnolia
Hotel Magnolia sits in the heart of Santiago and is a historical 1920 landmark with a design appearing more like the 1500s. Contemporary and modern design flourishes through the walls and rooms of the hotel, with sleek lines and a warm and welcoming atmosphere. Being more than just rooms, it offers some of the best rooftop views in the city.
The hotel is located in the El Centro district, just steps away from the Lastarria neighborhood. It is within walking distance of Santa Lucia Hill, Chile's National Museum of Fine Arts, and the Bellas Artes subway station, for easy city access. The hotel is a designed hotel with high comfort, featuring an on-site bar and restaurant, rooftop terrace, bar, fitness center, massage service, and a library full of books. Rooms are equipped with heating and a/c, flat screen television, private bathroom, mini bar, coffee maker, and in-room service if requested.
What makes Hotel Magnolia sustainable
Hotel Magnolia is sustainable by being part of the Travel Sustainability programs. They go to great lengths to stay environmentally friendly by eliminating single-use plastic products, water-efficient toilets, and showers, offering organic food products and reduction of food waste, using LED lighting throughout the facility as well as 100% renewable energy.
Hotel details
Address: 
Huérfanos 539, Santiago de Chile, Santiago, Región Metropolitana, Chile.
Guest rating:
4.6 out of 5
Price per night:
From $158
How we select the best eco-friendly hotels in Santiago de Chile
We are a travel research company. We check a lot of details and guest reviews before making a selection. First, we check which hotels follow eco-travel principles. Are they recycling their waste? Do they work with local communities? Are they using renewable energy? Are they not using single-using plastics?
Secondly, we check guest reviews across multiple websites and only list hotels with an aggregated review rating of at least 4 out of 5. So you can be confident you will stay at an excellent eco-friendly hotel in Santiago.
Sustainable travel is the key to enjoying a responsible and meaningful trip. You can make a difference in the environment and the communities you visit with the right sustainable travel tips. From packing light to choosing eco-friendly transportation and accommodations, there are plenty of ways to reduce your environmental impact.
More Santiago tips
Get to know the city even better and check out our other articles about Santiago de Chile:
Best hotels in Santiago de Chile
Cheap hotels in Santiago de Chile
Where to stay in Santiago de Chile
Boutique hotels in Santiago de Chile
Luxury hotels in Santiago de Chile