Do you fancy strolling sandy beaches or skiing the slopes of the Andes? No other city in the world offers you this opportunity, but one, Santiago de Chile. Santiago not only allows you to spend a day at the beach and snowy slopes, but you can do it all in the same 24-hour period.
Santiago is a gem, but one that is less visited than its South American neighbors. In 2019, Santiago received just 4.32 million tourists. If you want a low-key holiday in which you are not fighting other tourists to get around the city, then Santiago is an ideal vacation destination.
The city is rife with European, colonial-era architecture. It is filled with classy shops, cafes, and vibrant bars. Parks are abundant, giving you the chance to exercise or just chill out after a day of exploration.
If Santiago de Chile sounds like the ideal place to spend a holiday, you won't want to miss any of these areas. So, book your stay today.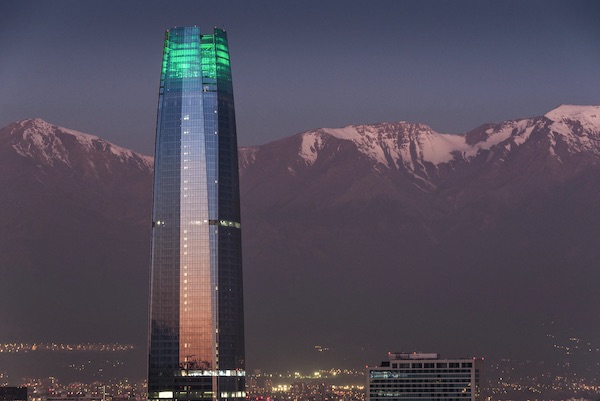 Providencia
Providencia is labeled as the hippest place to stay in Santiago. It is the ideal place if food is your thing. The middle-class area of the city is flush with entertainment options and restaurants. After enjoying the food options of Providencia, you can cycle, walk, or jog around Cerro San Cristobal. The hill provides views of the city, making it possible to watch incredible sunsets at the end of the day.
Families have plenty of entertainment options to choose from in Providencia. Cinemas, shopping, and the 62-story tall Gran Torre Santiago, which is part of the Costanera Complex. Gran Torre Santiago has an observation deck on the 61st and 62nd floor. You can enjoy panoramic views of the city.
Providencia's location offers a variety of accommodation possibilities. The good news is Providencia is near downtown Santiago, but it has less traffic than the central part of the capital. Don't miss Sculpture Park near the Mapocho River or the Torre Telefonica Chile. The latter is a building that resembles a 1990s-era telephone.
Best place to stay in Providencia
Meridiano Sur Petit Hotel. Sta Beatriz 256, Providencia, Región Metropolitana, Chile.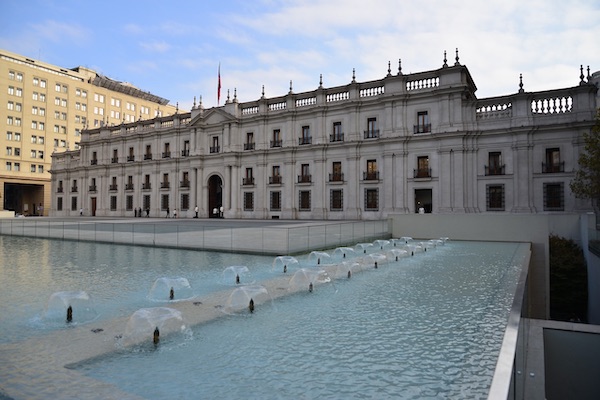 Santiago Centro
Santiago Centro is the city center and offers up an abundant amount of history. Compared to Providencia, Santiago Centro is a little busier with people – locals and tourists alike. History buffs will love exploring the area's colonial-era buildings. Exploring the neighborhood gives you the chance to spot the unique, historic buildings.
Some of the must-see attractions include the Colonial Museum, National Historical Museum, Museum of Pre-Columbian Art, and the Palacio de la Moneda. The Colonial Museum is ideal for anyone that wants to see the impact of European settlement on the South American nation.
History buffs shouldn't miss the Cerro Santa Lucia. Santiago was founded on the very same hill in 1541. Like in Providencia, Santiago Centro is flush with foodie hangouts. Although Chile is a South American country that gets less attention than Argentina and Brazil, it is a great destination with its very own culture, foods, and history. In many ways, it is a less-visited country in South America, making it even more desirable to visit than other nations on the continent.
Best place to stay in Santiago Centro
Hotel Panamericano. Address: Teatinos 320 , Downtown Santiago, 4323315 Santiago, Chile.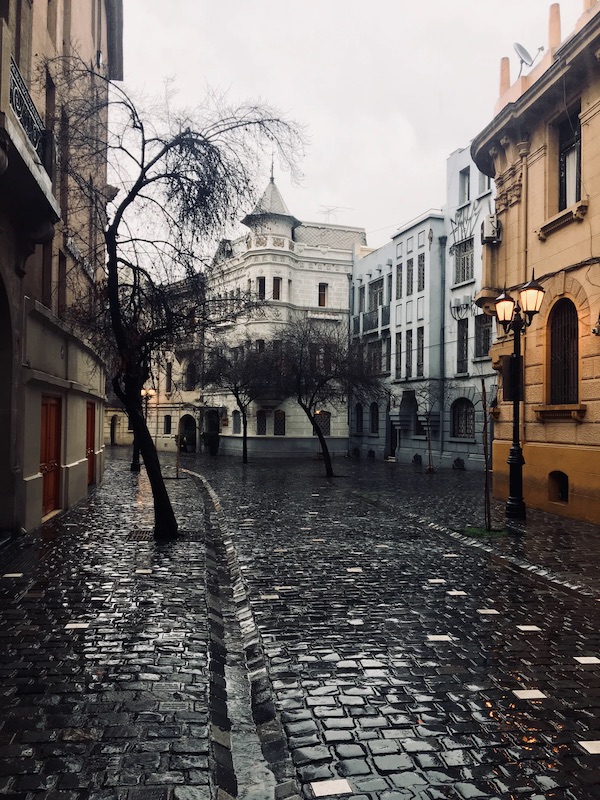 Lastarria
Lastarria is an area of Santiago de Chile within an area. The neighborhood is situated in the Santiago Centro area and known as a bohemian spot of the capital. The architecture was inspired by Europe. It feels less South American and far more like Spain, France, Italy, and the other European nations that influenced the capital.
The area is home to El Biográfo, which is a cinema dedicated to independent films, a wholly unique place to visit. The Museum of Fine Art and the Cultural Center of Gabriel Mistral are also located in Lastarria. Staying in Lastarria means you can reach other parts of Santiago rather easily. The metro is a quick way to get around Santiago and the Lastarria station is at your doorstep when staying in the area.
Lastarria is a cool place to stay in. However, the area is not a "mainstream" place to visit or rent accommodation. Compared to other parts of the city, it isn't a tourist section of Santiago. Regardless, of being less touristy, it is an ideal place to base your visit to Santiago.
Best place to stay in Lastarria
Hotel Cumbres Lastarria. Address: José Victorino Lastarria 299, Santiago, Región Metropolitana, Chile.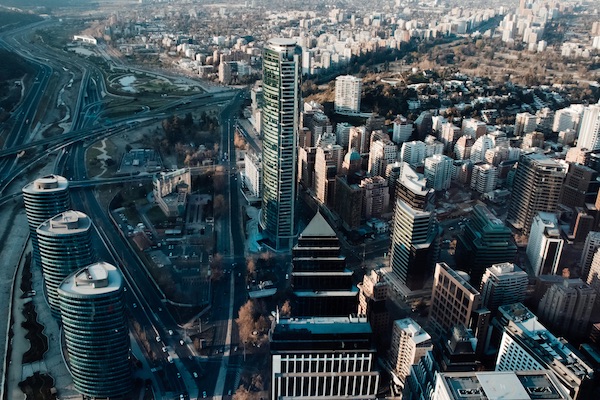 Las Condes
Families have some great options for accommodation and attractions when visiting Santiago. Perhaps the best family choice is Las Condes, an exclusive neighborhood with high-end accommodation. You will also find luxury shopping, restaurants, and leisure locations. If shopping is your vice, then you can shop until you drop at the stores around Las Condes.
If you fancy a ski holiday in Chile, Las Condes provides easy access to the Andes. Access to the rest of the city is possible via the metro system, so you won't have any problems reaching the history of Santiago Centro.
There are parks available for fitness fanatics. Parque Bicentenario is one of the most popular spots for locals to get exercise or relax on a sunny day. For more outdoor fun, walk around the open-air museum of La Pastora.
Best place to stay in Las Condes
Novotel Santiago Las Condes. Address: Alonso de Córdova, 5199, Las Condes, 7560873 Santiago, Chile.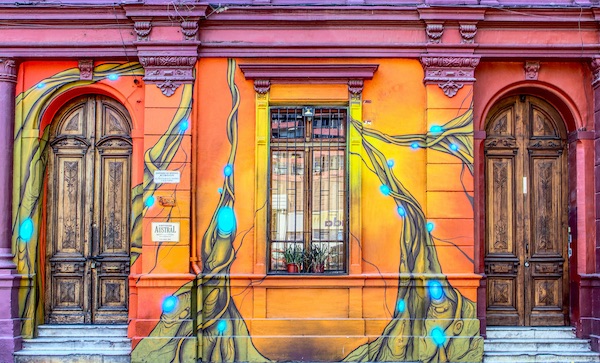 Bellavista
Nightlife is on the menu in Bellavista. If late nights out at clubs, pubs, and bars are your thing, then book accommodation in Bellavista. The area has a young atmosphere and going out during the night allows you to experience the vibrant neighborhood.
You have a variety of restaurants as well in Bellavista. Foodies can enjoy local cuisine along with international fare in the neighborhood. Bellavista is a location for the city's LGBT community and has a bar dedicated to the community.
Art galleries, museums, and theaters can also be found in the artsy, bohemian neighborhood. It is a great spot for culture vultures who want to get to know the people. Like the other areas in the city, Bellavista is well-connected to the other popular parts of Santiago.
You can reach the popular Cerro San Cristobal, the Chilean National Zoo, and a large park to explore. The 4.8-hectare zoo is home to thousands of animals with some of those being endangered species. No matter which area you choose in Santiago, it is a great tourist attraction for families.
Best place to stay in Bellavista
Tinto Boutique Hotel. Address: Calle, Antonia López de Bello 040, Santiago, Providencia, Región Metropolitana, Chile.

Where travel critics stay in Santiago de Chile
Want to know where travel critics from publishers like The New York Times, Frommer's, Fodor's and Lonely Planet stay in Santiago de Chile? Check out our overview of all recommended hotels, hostels and B&Bs in Santiago de Chile.
Budget
"A great choice for those looking for the social life of a hostel without having to share a room. This long-running guesthouse in a mock-Tudor mansion has bright rooms." — Lonely Planet.
Address: Vicuña Mackenna 47, Santiago, Providencia, Región Metropolitana, Chile.
Mid-range
"This 42-room property opened in October 2016 to rave reviews. It ingeniously intertwines old and new as chequered tiles, marble staircases and reconstructed stained-glass windows appear alongside ultramodern light fixtures, geometric furnishings and vertigo-inducing glass floors." — The Guardian.
Address: Huérfanos 539, Santiago de Chile, Santiago, Región Metropolitana, Chile.
Luxury
"A boutique bolthole in the heart of Santiago's hippest district. Singular Santiago is a clubbable mix of cozy interior design topped off with a show-stopping rooftop pool and bar. This is the super-stylish city sibling of the wild and remote Singular Patagonia." — Telegraph.
Address: Merced 294, Santiago, Región Metropolitana, Chile.
Best things to do in Santiago de Chile
There are a lot of things to do in Santiago de Chile and surrounding areas, including day trips, attractions, museums, sightseeing tours and many other activities. Here's our list of 3 things you should definitely do when you're in Santiago de Chile:
Full-Day Tour of Valparaiso Port and Viña del Mar from Santiago
Revel in the vibrant color and culture of Valparaiso Port and Viña del Mar on a full-day tour of the coastal cities from Santiago. Price: $99. More info.
Welcome to Santiago: Private Tour with a Local
Get a welcome to Santiago from a friendly and passionate local and discover the city like a resident. Learn the secrets about where to buy groceries, how to get around and much more. Price: $30. More info.
Full-Day Wine Tour from Santiago with Sommelier Guide
Visit the Maipo Valley Wine Region with a certified sommelier on a full-day wine tasting tour from Santiago. You'll stop at three or four wineries for tastings, sampling locally-produced bottles as you learn about Chile's winemaking heritage. Price: $170. More info.
More things to do in Santiago de Chile
Deciding where to stay in Santiago de Chile
As you can see, there are a lot of things to explore, and deciding where to stay in Santiago de Chile is important. Whether you stay in Centro, Lastarria, Bellavista, Las Condes or Providencia, all those neighborhoods are in good locations.
The atmosphere of the area, whether you travel for leisure or business, whether you travel with your family or friends, and proximity to the attractions you prefer to visit should probably be the deciding factors. Whatever your preference is, you'll have a great stay in Santiago de Chile.
Check out our other articles about Santiago de Chile:
Best hotels in Santiago de Chile
Best hostels in Santiago de Chile
Best boutique hotels in Santiago de Chile