São Paulo, Brazil is a vibrant city full of life and entertainment. From the historic city center to the modern districts, this is one of the best places to experience the rich Latin American culture.
One of the best ways to experience this city is to stay in one of San Paulo's many hostels. Hostels offer a great way to save money so you can afford to spend on experiences, excursions, and cuisine. You can find hostels with a range of amenities in almost all areas of San Paulo, from basic rooms to more private options.
Additionally, hostels are a fantastic outlet for meeting other like-minded travelers since they often have shared spaces, special events, and guided tours.
Whether you are looking to explore the city or stay for an extended period of time, the hostels in São Paulo offer the perfect combination of comfort, convenience, and affordability.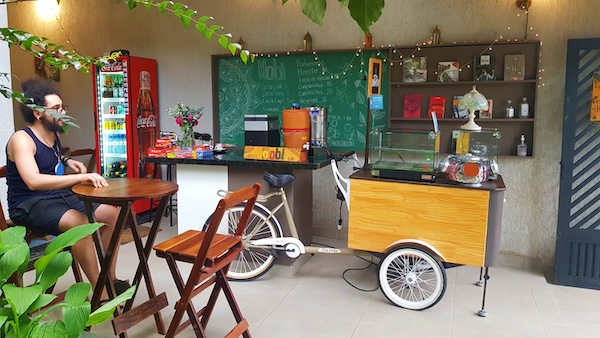 Hobi Hostel
Hobi Hostel in São Paulo is one of the city's most popular places to stay. Located in the heart of the city center, Hobi Hostel is within walking distance of top attractions such as the São Paulo Museum of Art and Paulista Avenue.
This hostel offers private rooms, dorms, and suites, all with air conditioning, a shared kitchen, WiFi, and a private bathroom. You can also enjoy the common area with couches, TVs, games, and a pool table.
The staff at Hobi Hostel are friendly and helpful, and they organize activities such as movie nights, karaoke, and pub crawls, making it easy to meet other travelers.
Hobi Hostel has a fantastic rooftop terrace with spectacular views of the city. Here, guests can relax and enjoy the sun or have a barbecue. The hostel also has a bar and restaurant, serving traditional Brazilian food and drinks. There is also a laundry service and a 24-hour reception.
Hobi Hostel is an excellent place for travelers looking for an affordable and comfortable place to stay in São Paulo. The hostel has a fun atmosphere and friendly staff and is located in a safe and convenient neighborhood. Whether you're looking for a place to stay for a few days or a more extended stay, Hobi Hostel is an excellent choice.
Hostel details
Address:
Rua Otávio Tarquínio de Sousa, 1669, Brooklin, Sao Paulo, Brazil.
Guest rating:
4.8 out of 5.
Price per night:
from $19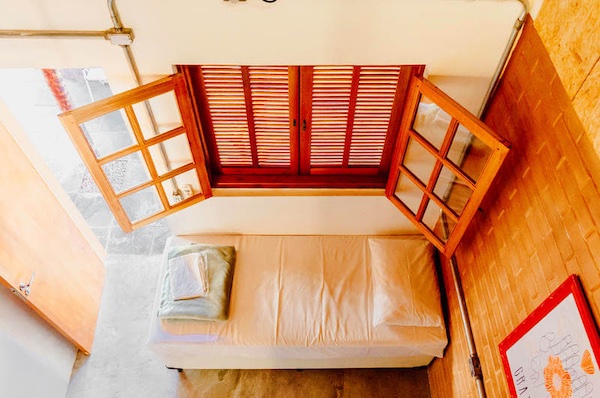 O de Casa Hostel Bar
O de Casa Hostel Bar in São Paulo, Brazil, is the perfect place for those seeking a unique cultural experience. Located in one of São Paulo's bohemian districts, Vila Madelena, this hostel is easy to get to and offers plenty of activities to explore.
The hostel itself is a cozy oasis with a quirky atmosphere. It has private and shared rooms, all with air conditioning, WiFi, and private bathrooms. The communal areas are filled with natural light and feature comfortable couches, bold colors, hammocks, and large tables perfect for socializing. There's also a pool table, ping-pong table, and board games for entertainment.
The hostel bar serves an extensive selection of drinks and snacks, including craft beers, cocktails, and caipirinhas. It also hosts regular events such as live music and movie nights.
For those wanting to explore the city, O de Casa Hostel Bar hosts several activities. It organizes walking tours of the city, visits to local markets, and bike tours. It also has regular events, like yoga classes and language exchange sessions.
O de Casa Hostel Bar's staff are friendly, knowledgeable, and always willing to help with any questions or concerns. They can recommend the best places to visit in the city and even help arrange transportation.
Whether you're just passing through or looking for an extended stay, O de Casa Hostel Bar is the perfect place for travelers wanting to experience the best of São Paulo. With its cozy atmosphere, plenty of activities, and friendly staff, you will surely have a memorable time.
O de Casa Hostel Bar was voted Best Hostel in Brazil in 2019.
Hostel details
Address:
Rua Inacio Pereira da Rocha, 385, Vila Madalena, Sao Paulo, Brazil.
Guest rating:
4.7 out of 5
Price per night:
from $20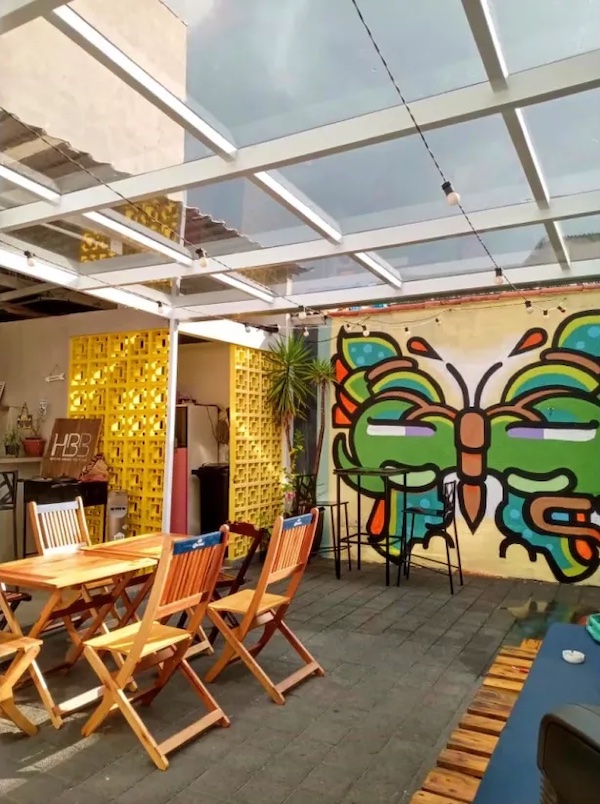 Hostel Brasil Boutique
And finally, we have Hostel Brasil Boutique. This is a unique and comfortable accommodation option for travelers. Located in Vila Madelena, the hostel is surrounded by trendy bars, top-notch restaurants, and plenty of things to do. The metro stop is less than a mile away, making it easy to get around town.
Hostel Brasil has a modern and relaxed atmosphere, with contemporary décor throughout the building. It offers a variety of rooms, including two-bed and four-bed dorms, as well as private rooms with en-suite bathrooms. The hostel also offers a shared kitchen, laundry facilities, and a lounge area. All rooms feature air-conditioning and free WiFi.
The hostel staff is knowledgeable and friendly, striving to provide a top-notch experience for their guests. They can help with anything from booking tours and transportation to providing local tips and advice. This hostel offers a range of guided and self-guided tours, allowing visitors to explore the city and its attractions.
Hostel Brasil Boutique is a great place to meet other travelers. It has a lively bar where guests can socialize and share their experiences. It also hosts regular events and activities, from movie nights and yoga classes to live music and cultural workshops.
Hostel details
Address:
Rua Fidalga, 479, Vila Madalena, Sao Paulo, Brazil.
Guest rating:
4.5 out of 5.
Price per night:
from $11
About our São Paulo hostel recommendations
Whether you're a solo traveler looking for a private room, or a backpacker traveling around in a group wanting to stay in a cheap and cozy dorm, above you will find the best hostels in São Paulo for all your needs.
Kindly note that we only list hostels on our website with an aggregated guest review rating of at least 4.0 out of 5. We aggregate all reviews from different booking sites and other unbiased review websites, so the ratings are based on thousands of guest reviews. Hence, you can be certain all hostels listed above offer a magnificent value-for-money stay in São Paulo.
Best price guarantee
For our hostel recommendations, we work together with Hostelworld and Booking. These partnerships don't have any influence on the recommendations we make or on the order in which our recommended hostels are listed. The reasons why we have chosen to partner with these companies are that they're trustworthy, offer excellent service and both apply the best price guarantee.
This means you can claim a refund for the difference if you find your reservation cheaper on another website. It has to be for the same property, accommodation type, dates, cancellation policy and conditions, otherwise, you can't claim a refund for the difference.
If you book through Booking.com then all you need to do is contact them at least 24 hours before your check-in date. If you book through Hostelworld you must claim the refund within 24 hours after you made the booking.
Top 3 hostels in São Paulo
To summarize again, based on thousands of guest reviews, these are the best hostels in São Paulo:
Why you should be careful when booking the cheapest hostel available
Booking the cheapest hostel available is not recommended for a few reasons:
The cheapest hostels available are typically not in a great location. If you want to go sightseeing or go for a night out in central São Paulo, you probably end up having to pay for public transport or a taxi to get there. So your stay could end up being more expensive compared to a stay in a central location. For first-time travelers, we recommend staying central anyway, but also for frequent visitors, it's probably worth it to pay a bit more to stay in a central location.
Another reason why you shouldn't stay at the cheapest hostel is that the people staying at the cheapest hostels are often not the people that can afford to travel like you. Because a very cheap hostel is often cheaper than renting a flat, these places tend to attract migrant workers or local misfits. That's probably not the crowd you want to hang out with, especially if you're a solo traveler looking for friends.
The third reason why you should avoid the cheapest hostels is safety. Some of the cheapest hostels don't check IDs, don't ask for signatures, or only accept cash at check-in. The hostel won't know who is actually staying there.
Lastly, the service at these hostels isn't great. For instance, if you choose to store your luggage, your bags will be unattended in a public space. It won't be recorded anywhere or tagged and stored in a locked room.
So, it's probably worth it to spend a bit more on your hostel stay in São Paulo.
And finally, a tip: always read the latest reviews of the hostel! All places have good and bad reviews, but the most recent reviews matter the most.
More São Paulo tips
Get to know the city even better and check out our other articles about São Paulo: