Santiago de Chile is a South American getaway nestled between the ocean, mountains, grasslands, and desert. It is a vibrant city filled with diverse landscapes, modern architecture, and historical relics. This cosmopolitan destination mixes old with new and urban with nature.
Walking down its cobblestone streets, you'll see plenty of life. Art is everywhere – from colorful murals to world-class art museums. You can stop and dine out on the terrace at a tasty café or try some exquisite local wine.
While there are plenty of modern skyscrapers and all of the hustle and bustle you can expect in a large city, beautiful urban parks offer peace and relaxation. Get a taste of the city's history at the Plaza de Armas, the National History Museum, and the Museum of Memory and Human Rights.
If you plan on visiting this exciting destination, here are the five best boutique hotels to stay at in Santiago de Chile.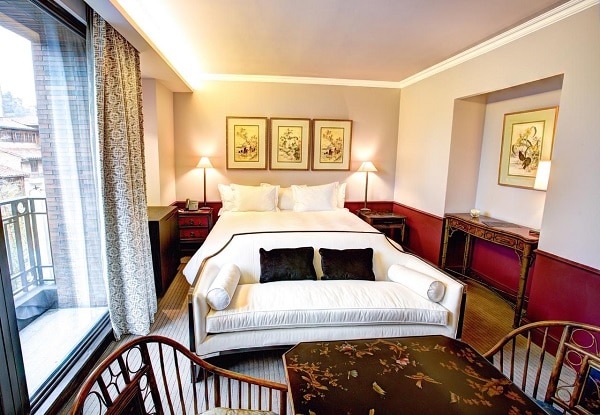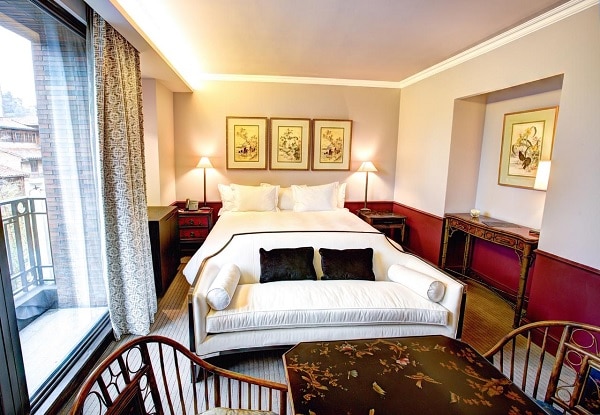 The Singular Santiago
The Singular Santiago is an elegant Chilean getaway tucked into the city's artistic Lastarria neighborhood. Its central location is ideal for exploring artisan restaurants, music halls, and galleries.
Staying at the Singular Santiago is a luxurious experience. Onsite, there is a wellness spa and poolside to help you relax after a long day of exploration. The Singular Restaurant on the property will nourish you with a French spin on local ingredients. After eating a memorable meal, you can wash it down with a drink at Bar Merced 294 or the rooftop bar with spectacular mountain views. At the day's end, retire in one of their 64 uniquely designed rooms.
Guests loved the hotel's peaceful ambiance, old-world glamour, and spacious rooms.
Hotel details
Address: 
Merced 294, Santiago, Región Metropolitana, Chile.
Guest rating:
4.6 out of 5
Price per night:
From $90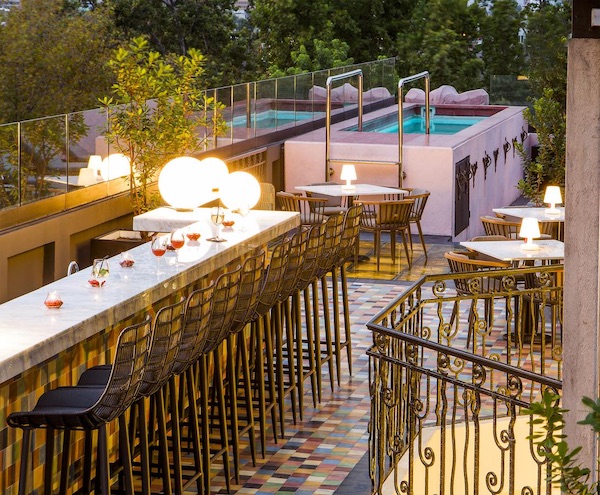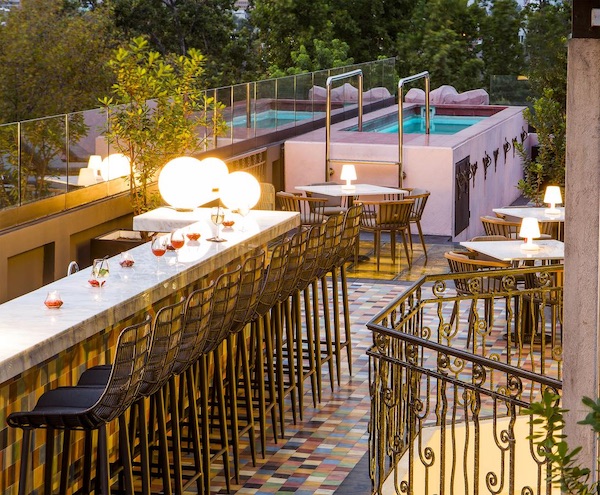 Luciano K
Luciano Kulczewski is one of Chile's most beloved architects. A hotel that bears his name is bound to be an architectural marvel. The Luciano K Hotel, perched in the trendy Lastarria neighborhood, lives up to its iconic name, providing an unforgettable experience to its guests.
Its historic appeal begins the moment you walk into the lobby. Whimsically designed spaces highlight geometric patterns, wide passageways, and luminous lanterns. Its rooms are contemporary but have subtle details such as stained glass panels, velvet armchairs, and parquet floors that acknowledge its historical setting. Step outside your room for a delicious meal at the restaurant or delicious Pisco Sours at the rooftop bar.
Visitors enjoyed the hotel's prime location, rooftop bar, and delicious restaurant.
Hotel details
Address: 
Merced 84, Downtown Santiago, 8000000 Santiago, Chile.
Guest rating:
4.6 out of 5
Price per night:
From $85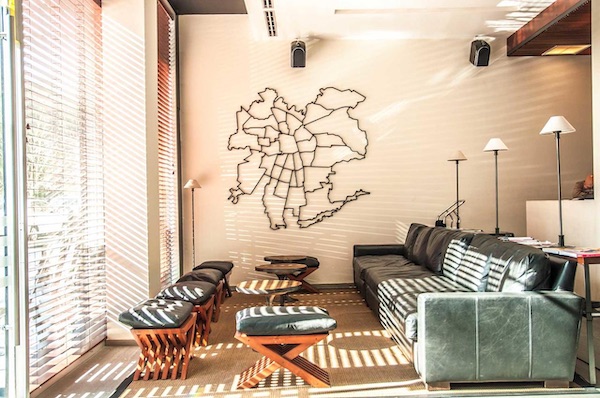 Hotel Ismael 312
Hotel Ismael was one of the first hotels constructed in Santiago's boutique hotel wave. You can find this relaxing destination in the city center just off the Parque Forestal. If you're looking for the perfect base for a Santiago adventure, this is your place.
All nine stories of this hotel have a sleek and modern aesthetic. The design is clean and unfussy, with spectacular views that highlight the hotel's central location. Hotel Ismael 312 is no all-inclusive resort, but it doesn't pretend to be. It has all of the necessary amenities guests could want, such as a pool, bar, and rooftop deck. However, the main draw is its prime location.
People raved about the welcoming staff, excellent locale, and comfortable rooms.
Hotel details
Address: 
Ismael Valdes Vergara 312, Downtown Santiago, 8320089 Santiago, Chile.
Guest rating:
4.6 out of 5
Price per night:
From $99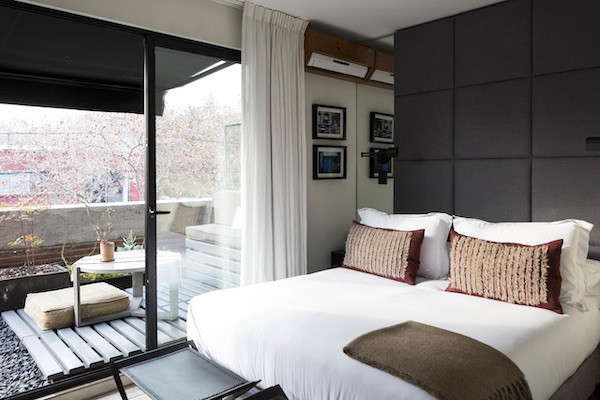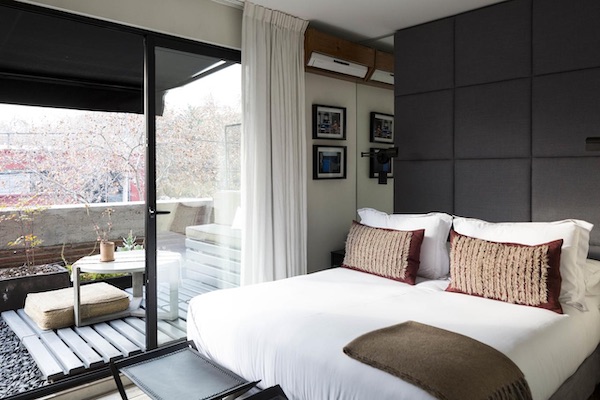 Maison Italia 1029
You can find the tiny Maison Italia 1029 Hotel in Santiago's hip and creative Barrio Italia neighborhood. Its five rooms are within an early 20th-century house designed by Horacio Werth. Two local women, Camila and Marion de Prada, founded this stylish getaway.
While not much remains of the original house other than the façade, its zen atmosphere is a breath of fresh air within the bustling city. Its interior is sleek, modern, and tranquil, making it the perfect urban retreat. While the aesthetic is calming, the hotel isn't a library. Its owners intended for it to be a social setting where guests and locals can gather and meet each other.
Guests loved its delicious breakfasts, fresh design, and vibrant neighborhood.
Hotel details
Address: 
1029 Avenida Italia, Providencia, 7501295 Santiago, Chile.
Guest rating:
4.6 out of 5
Price per night:
From $115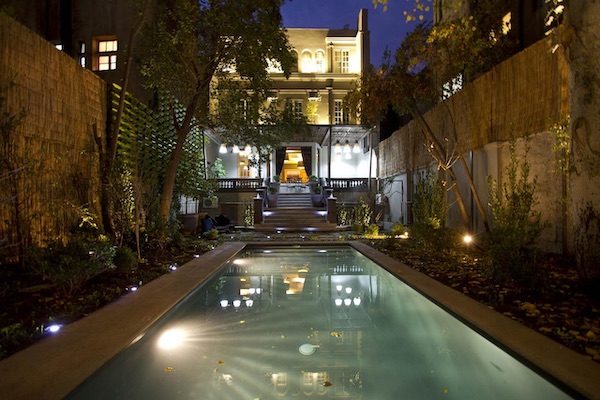 Casa Bueras Boutique Hotel
Casa Bueras has everything that you could ever want in a boutique hotel and more. It is a luxurious retreat housed within a 1927 mansion in the trendy Lastarria neighborhood. With a beautiful garden, swimming pool, and spa treatments available, this hotel is more than just a place to rest your head.
Everywhere in the renovated mansion has a touch of elegance, from the marble staircase to the wall moldings. Rooms are by no means minimalistic, with intricate details, parquet floors, and plush rugs. What makes this hotel stand out is its service, with a tour desk to help procure ski resort passes, show tickets, and Spanish classes.
Its best features include the excellent location, helpful staff, and beautiful grounds.
Hotel details
Address: 
Coronel Santiago Bueras 188, Downtown Santiago, 8320135 Santiago, Chile.
Guest rating:
4.6 out of 5
Price per night:
From $90
About our boutique hotel recommendations in Santiago de Chile
We are a travel research company. We help you discover the best boutique hotels in Santiago de Chile by researching the internet for you. It's not just our opinion, it's the opinion of many travelers who have been there before you. We make it easy for you to find out about cool design hotels and unique design hotels in the city. Some of them might be so romantic you might not want to leave your room.
Please note, we only list hotels that have an aggregated guest review rating of at least 4.0 out of 5. We aggregate all reviews from different booking sites and other unbiased review websites. Hence, you can be certain all hotels listed above offer you a great stay in Santiago de Chile.
Best price guarantee
We partner with Booking.com and Hotels.com to provide you with the lowest price guarantee on your stay in Santiago de Chile! Both those websites offer price matching. That ensures that you are paying the lowest price available online. If you find a cheaper offer on another website for the same cool hotel in Santiago de Chile at least 24 hours before check-in, contact them to claim a refund of the difference!
Top 5 boutique hotels in Santiago de Chile
Before you go, let's summarize this guide. Based on thousands of guest reviews and tips from travel experts, these are the best boutique hotels in Santiago de Chile:
More Santiago de Chile tips
If you like our guide above, you should also check out our other articles about Santiago de Chile:
Best hotels in Santiago de Chile
Best cheap hotels in Santiago de Chile
Where to stay in Santiago de Chile
Best hostels in Santiago de Chile
Best luxury hotels in Santiago de Chile