The historic city of Valencia, located on the eastern coast of Spain, is a captivating city where contemporary culture meets rich heritage to create an intriguing destination. Many visitors are drawn to the beautiful coastal city of Valencia, which boasts stunning golden beaches, impressive historical monuments, and iconic modern architecture.
With a notable history dating back over 2000 years, Valencia has a rich culture that is prominent throughout the city. Its cobbled streets open up onto bustling plazas and grand historic mansions house luxurious boutique hotels, remarkable restaurants, and sophisticated art galleries.
This vast city, which comprises 19 districts, is an astounding metropolis that expertly combines heritage and modernity. The futuristic architecture of the City of Arts and Sciences is a wondrous complex that is home to an opera house, a planetarium, the largest aquarium in Europe, and a cutting-edge science museum.
With its blend of old-world charm and contemporary culture, Valencia is a destination that is rich and diverse. However, with a wide selection of areas to choose from, choosing just one place to stay during your visit is challenging.
In this article, we will discuss the most popular districts of Valencia and what makes them special. From the historic old town to the bustling modern Quatre Carreres, we will delve into the five best areas to stay in Valencia.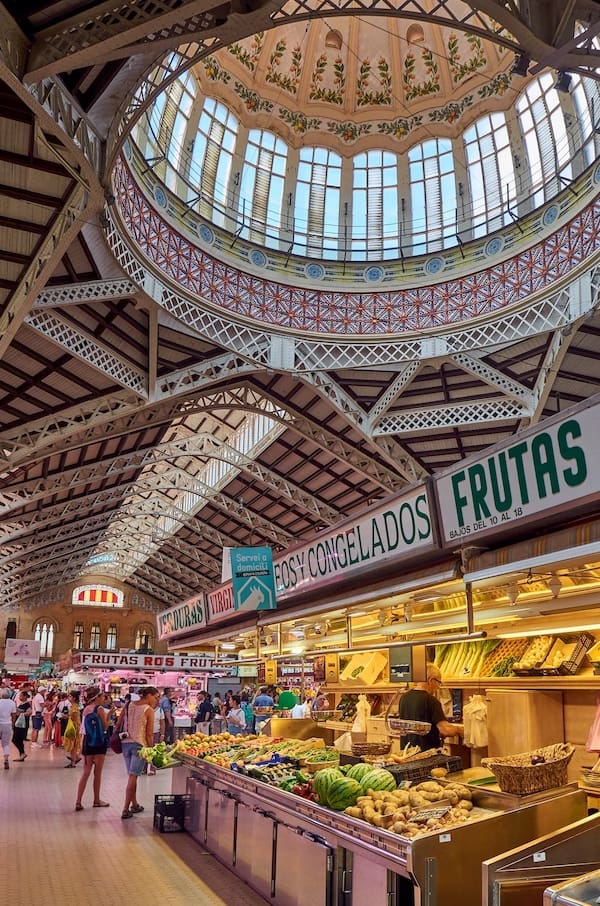 Ciutat Vella
The Ciutat Vella is one of Valencia's most popular areas due to its long history, central location, and many impressive cultural sites. The stunning old town is one of the oldest historic areas in Europe, dating back over 2000 years.
For people new to visiting Valencia, the Ciutat Vella is the ideal place to stay to explore the city's many iconic monuments and cultural delights. The old town area is a beautiful place to explore with narrow streets leading to stunning architectural delights, an array of impressive restaurants, and cozy cafes.
Many travelers come to the old town for the impressive architecture and ancient historical landmarks. The Cathedral of Valencia is an impressive monument, built between the 13th and 15th century with a stunning display of Gothic, Baroque, and Romanesque architecture.
Other notable landmarks located within the old town of Valencia include the Palace of the Marqués de Dos Aguas, a grand stately mansion located in the center of the old town, and Mercado Central, a public market known for its remarkable domed ceiling and Art Nouveau-style.
The old town area is a lively and exciting place to explore and understand Valencia's rich culture. The old town is an intriguing place to discover historic gems and also the perfect place to enjoy a drink at one of the city's many excellent bars, under the twinkling city lights.
Best place to stay in Ciutat Vella
Hotel Vincci Mercat. Address: Linterna, 31, Ciutat Vella, 46001 Valencia, Spain.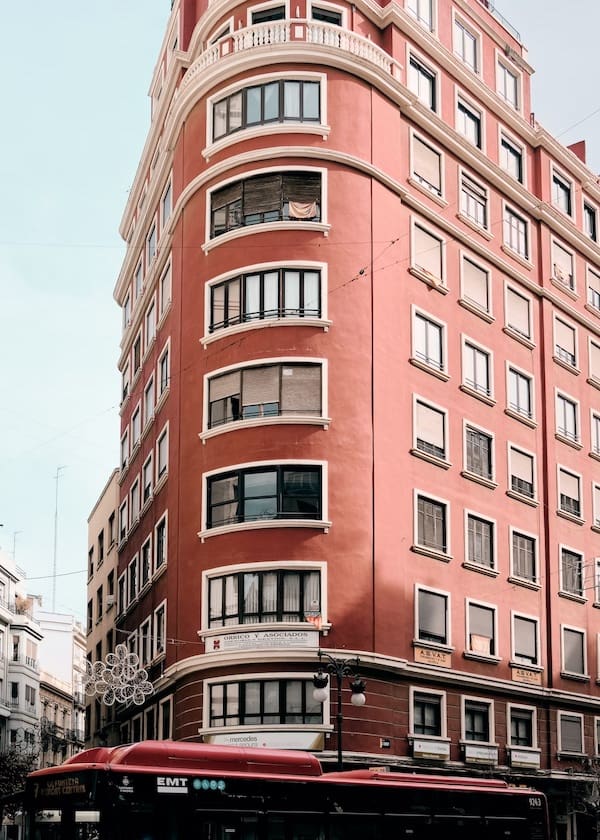 Russafa
The area of Russafa, also spelled as Ruzafa, is a bustling and vibrant area of Valencia located to the south of the city center. It is a trendy and energetic district with a blend of rustic charm, and artistic influence competing with the city's modern stores and boutiques.
Historically Russafa was a rural area lined with gardens and orchards, however, over time it has transformed into a residential area with a strong arty culture.
Within its historic narrow streets, it is a popular destination for people to come together to enjoy an energetic night out with many bars playing live music, and lively nightclubs to be found here.
The Russafa district is also known for its excellent gastronomic delights and is home to many of the city's finest restaurants, cafes, and tapas bars. The Mercado de Ruzafa is also located here and is an impressive indoor market area selling a vast range of fresh produce, seafood, and artisanal products.
Throughout the year, Russafa hosts various cultural events and festivals that celebrate the neighborhood's lively spirit. The Russafa Escènica theater festival, Russafa Cultura Viva, and Russafa Book Week are a few examples of magnificent events that unite the community and attract visitors from far and wide.
Best place to stay in Russafa
YOURS Boutique Stay. Address: 19 Carrer de Cuba, Eixample, 46004 Valencia, Spain.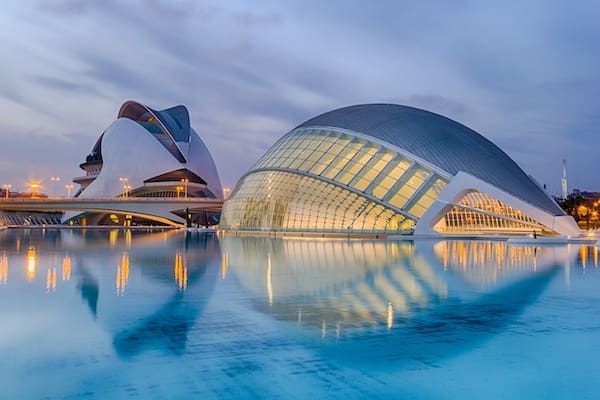 Quatre Carreres
The Quatre Carreres district is one of Valencia's largest areas and is split into seven separate neighborhoods, Mont-Olivet, En Corts, Malilla, Fonteta de Sant Lluís, Na Rovella, La Punta and the Ciutat de les Arts i les Ciències (City of Arts and Sciences).
The City of Arts and Sciences area of Valencia is popular due to its collection of famous cultural and scientific buildings.
The dramatic modern buildings, developed by Valencian architect Santiago Calatrava, draw many people to this area to visit attractions such as the expansive L'Oceanogràfic aquarium, the Science Museum, and the Palau de les Arts Reina Sofia Opera house, known for its excellent performing arts.
Beyond the impressive architectural and cultural treasures, the Quatre Carreres district has a lively atmosphere and is an attractive place to stay in the city, due to its close proximity to the city center.
The Quatre Carreres is also connected to the stunning Turia Riverbed Gardens, an expansive yet inspiring 9 km stretch of parkland where you can take scenic strolls, exercise, or enjoy a picnic.
While visiting the Quatre Carreres area you could also explore the many historic churches of the district. Quatre Carreres has a rich cultural heritage and you can join tours to visit and learn more about the many outstanding 19th Century churches in the area.
Best place to stay in Quatre Carreres
Arena Zone Hotel. Address: Antonio Ferrandis 18, Quatre Carreres, 46013 Valencia, Spain.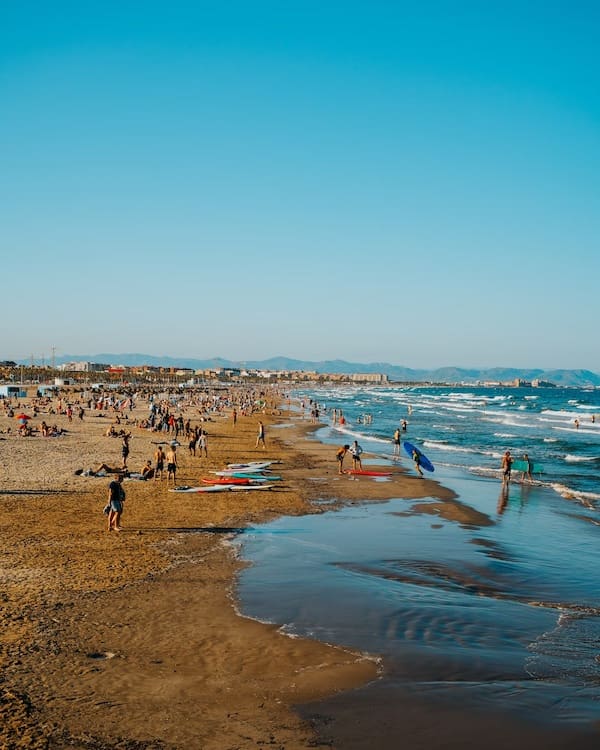 EL Cabanyal & La Malvarrosa
The Cabanyal district of Valencia is known as the beach district of the city, with stunning stretches of golden sand beaches, and a lively beachfront area.
The Valencia Marina is a popular place for travelers and Valencians alike, with wide-open spaces to walk or ride bicycles, and restaurants serving traditional Spanish cuisine.
If you are looking for a place to sample the famous Valencian paella dish, there is no better place than at one of the wonderful marina or beachfront restaurants.
The El Cabanyal district is popular with visitors looking to combine a beach stay while still being close enough to visit Valencia's superb cultural sights. The city center of Valencia can be accessed by public transport and tourists can easily catch a bus, tram, or metro into the old town area.
The El Cabanyal area is also a delightful place to explore with interesting modernist buildings and a quieter, less touristy atmosphere.
The La Malvarrosa beach is the perfect place to escape the busy city center and relax. With fine golden sand and beautiful views across the Mediterranean Sea, it is the ideal place to spend the day enjoying the glorious Spanish weather and offers many activities for people to enjoy, from diving to volleyball.
Best place to stay in El Cabanyal
Hotel Neptuno. Address: Paseo de Neptuno, 2, Poblats Maritims, 46011 Valencia, Spain.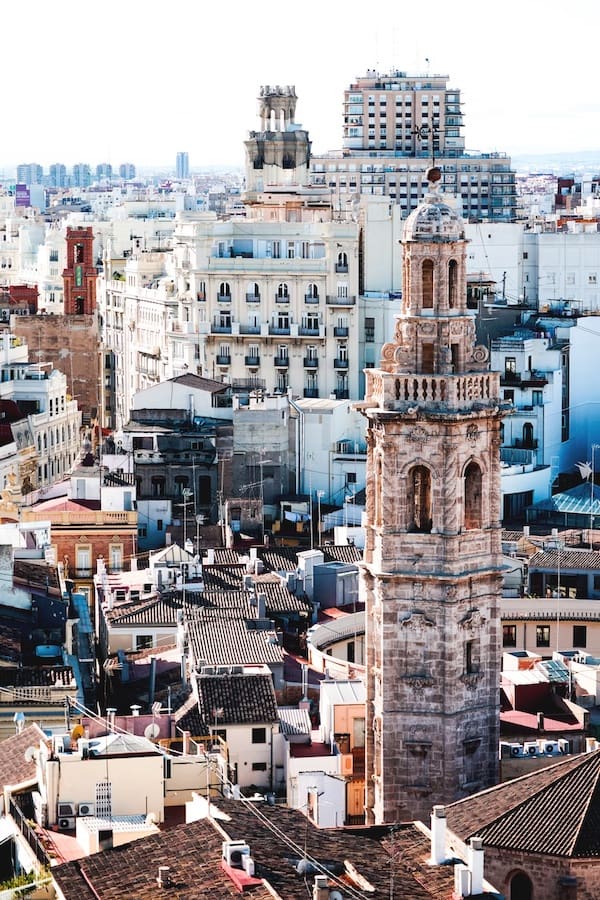 Extramurs
The name Extramurs translates to "beyond the walls" and alludes to the history of this area, situated outside the ancient walls of the city of Valencia.
This western district is now a bustling hub of rich history, and architectural beauty, with a contemporary atmosphere that creates an enticing destination for both locals and tourists.
Due to the area's historical past, and its expansion during the medieval period, there is a diverse mix of architectural styles, to be found in Extramurs. Walking through the streets, visitors are greeted with historic buildings, quaint squares, and charming alleys that preserve the essence of old Valencia.
Extramurs is largely residential and offers Valencians a quiet retreat from the busy city center. There is a calm and relaxed feeling to the district, yet there is still plenty to see and do. Extramurs is home to the IVAM (Institut Valencià d'Art Modern), a contemporary art museum famed for its impressive collection of modern artworks.
The Jardí Botànic, Valencia's Botanical Garden is also located here and is a beautiful place to visit with over 3,000 species of trees and plants. The Jardi del Turia is also connected to this district, offering a quiet sanctuary within nature from the urban buzz of the city.
Extramurs, with its blend of historical significance, beautiful garden areas, and contemporary attractions, offers an intriguing place for those visiting Valencia. It is also excellently located for visiting the old town area, making it an ideal place for people looking for an arty and interesting area to stay.
Best place to stay in Extramurs
L&H Gran Vía Valencia. Address: 63 Gran Via de Ferran el Catòlic, Extramurs, 46008 Valencia.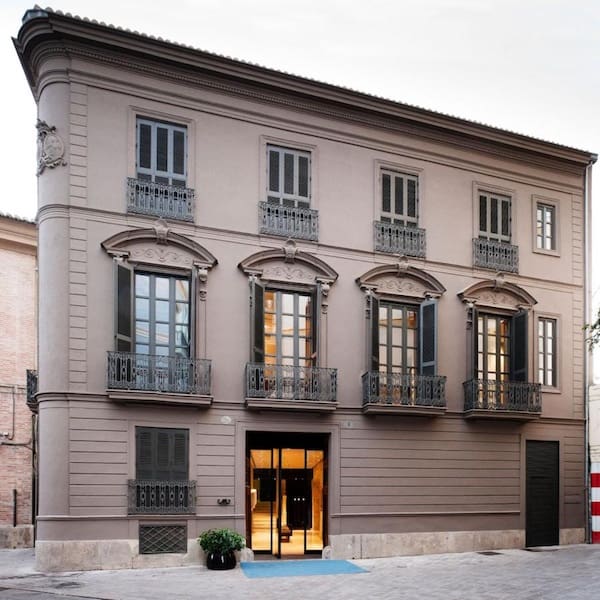 Where travel critics stay in Valencia
Curious to discover the accommodation choices of travel experts from renowned publishers such as The New York Times, Frommer's, Fodor's and Lonely Planet when they are in Valencia? Delve into our comprehensive guide showcasing all highly recommended hotels in Valencia. This includes everything from hostels to B&Bs that these critics prefer during their stay.
Budget
"This friendly, family-run, 18-room spot occupies a renovated 18th-century posada (where wealthier merchants bringing produce to market would spend the night) and has cosy, good-sized rooms, many with balconies." – Lonely Planet.
Address: En Bou, 2, Ciutat Vella, 46001 Valencia, Spain.
Mid-range
"This welcoming boutique hotel on a narrow pedestrianised street in Valencia's Ciutat Vella (historic centre) lures those looking for a hip base with its rooftop pool, spacious contemporary rooms and inventive dining. As the name implies, you're within striking distance of the wonderful Mercat Central market hall." – Telegraph.
Address: Carrer del Músic Peydró, 9, 46001, Valencia, Spain.
Luxury
"Near the city's grand cathedral, the 26-room Caro Hotel occupies a 19th-century palace with notable architectural details from Gothic arches to an original Roman mosaic. Elegant, minimalist interiors by Francesc Rifé are heavy on polished marble and modern furnishings." – New York Times.
Address: Almirante, 14, Ciutat Vella, 46003 Valencia, Spain.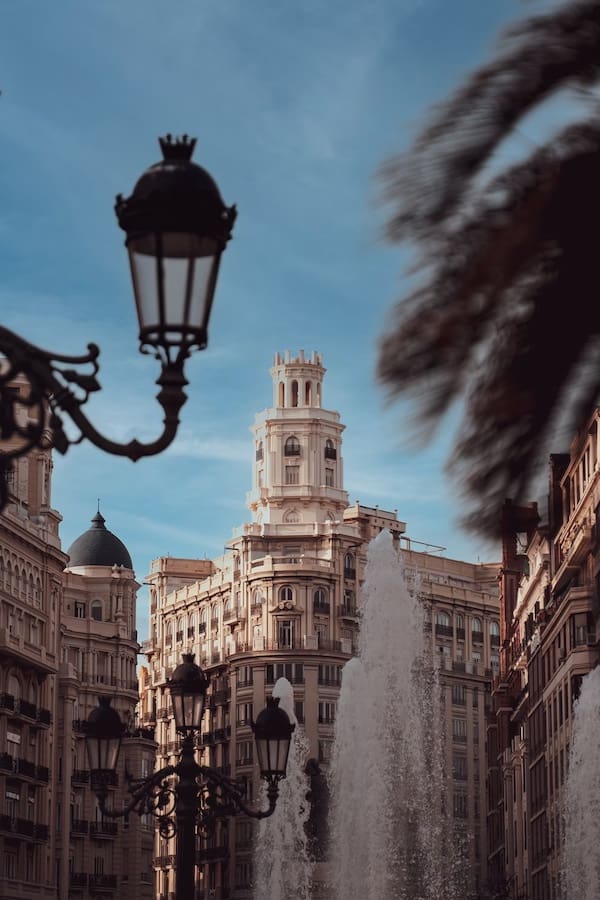 FAQ: Valencia hotel tips
Looking for the best budget, boutique, or luxury hotel in Valencia? Or maybe you're a backpacker looking for an excellent hostel? Want to know which Valencia hotel serves a great breakfast? Here are the answers to all those and other questions about where to stay in Valencia.
How much does it cost to stay in a hotel in Valencia?
For 3-star hotels, the average rate is around $120 per night. If you're looking for a 4-star hotel, then the rates are around $160 per night. The average rate for a 5-star hotel in Valencia is around $280 per night.
What is the best affordable hotel in Valencia?
If you are on the hunt for an affordable hotel, then you should consider reserving Hotel 19-30. It is a great option for those on a budget, as it provides good value for your money. Additionally, the hotel is in a suitable location, and professional travelers have given it their approval. Moreover, the guests who have stayed at the hotel have shared positive reviews. We also have a list of the top-rated budget hotels in Valencia.
What is the best boutique hotel in Valencia?
If you fancy a bit of extravagance but prefer to stay away from the well-known chain hotels, then Helen Berger is an excellent option for you. This hotel has been very well-reviewed by travelers and experts alike. For more information on other cool hotels, take a look at our list of the top boutique hotels in Valencia.
What is the best luxury hotel in Valencia?
If cost is not an issue, Hotel Palacio Vallier is a great option for those seeking a luxurious hotel in Valencia. This establishment offers exceptional customer service, is in an ideal location, and has garnered high reviews from customers and travel experts alike. To discover more 5-star hotels, take a look at our selection of the top luxury hotels in Valencia.
What is the best hostel in Valencia?
If you're searching for a well-priced private room or comfy dorm in Valencia, Cantagua Hostel is worth a look. The hostel has been highly praised by backpackers. Additionally, we have compiled a shortlist of the finest hostels in Valencia based on thousands of reviews from backpackers.
Which Valencia hotel offers the best views?
If you're looking for a room with a view, then check out MYR Palacio Vallier. This hotel offers magnificent views of the city.
Which hotel in Valencia is the best option for a family stay?
If you and your family are considering a holiday getaway to Valencia, travelers who have gone there with their families have had excellent feedback about Suites Puerto Valencia.
Which Valencia hotel serves a delicious breakfast?
To begin the day on a positive note, the Only YOU Hotel Valencia is a great choice if you're seeking accommodations in Valencia with a fantastic morning meal. Those who have recently stayed there have provided magnificent reviews about the breakfast provided at the hotel.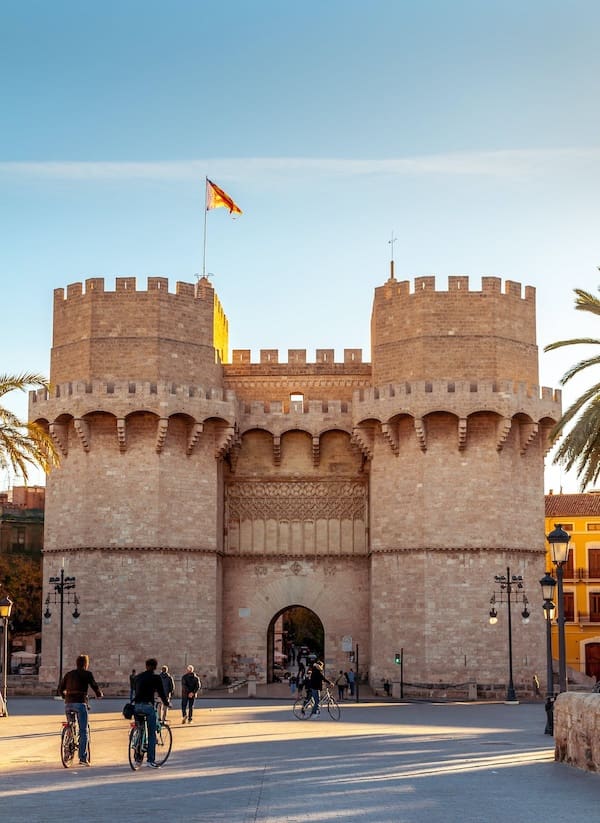 Best time to visit Valencia
The best time to visit Valencia is during the mild and sunny months of April through June. Imagine strolling through the ancient city streets, soaking in the rich history and culture, under the gentle warmth of the spring sun. It's an experience you wouldn't want to miss!
The weather during these months is just perfect. Not too hot, not too cold, just right for exploring the city's many sights without breaking a sweat!
Another great time to visit Valencia is during Las Fallas Festival in March.
This vibrant festival fills the city with an electric atmosphere, with grand parades, fireworks lighting up the night sky, and the air filled with the scent of paella being cooked on every corner. It's a true Valencian experience that's sure to leave an indelible imprint on your heart!
If you're a beach lover, then July through September are your months! Valencia's splendid beaches are at their prime during these balmy summer months. But be ready for some heat as temperatures can climb high!
Whether you want to bask in the sun on a sandy beach or enjoy a refreshing swim in the crystal-clear waters of the Mediterranean Sea, Valencia has got you covered.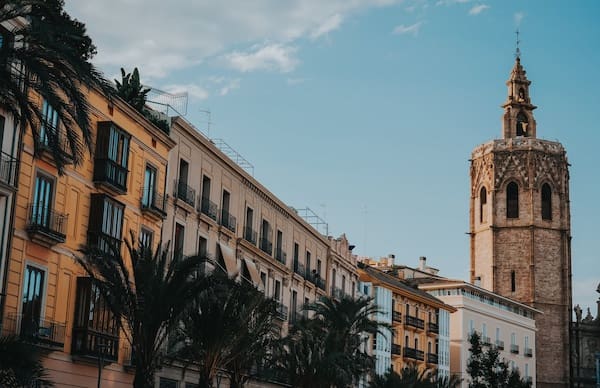 Best things to do in Valencia
There are many things to do in Valencia and surrounding areas, including day trips, attractions, museums, sightseeing tours and many other activities. Here's our list of 3 things you should definitely do when you're in Valencia:
Oceanografic, Hemisferic, and Science Museum Combo
Discover the City of Arts and Sciences in Valencia in its entirety with this ticket to the Principe Felipe Science Museum, the L'Oceanogràfic aquarium, and a film at the Hemisferic IMAX theater. Price: $47. More info.
Valencia Old Town Tour with Wine & Tapas in 11th Century Historic Monument
This half-day Valencia walking tour showcases the city's cultural delights and delectable bites. Alongside your guide, explore Valencia's Old Town, and tick off highlights such as the Central Market (Mercado Central), town squares, and the Church of San Nicolas. Then feast on a 10-course tapas tasting featuring regional wines. Price: $82. More info.
From Valencia: Caves of San José Guided Excursion
Discover the Caves of San José on a half-day trip from Valencia. Explore the underground cave system by boat and also on foot with roundtrip transportation, entry tickets, and a guide included. Price: $70. More info.
Deciding where to stay in Valencia
As a closing note, let's summarize this travel guide. We covered the best areas of Valencia so you can decide which part of town you want to stay in.
Top 5 areas to stay in Valencia
Ciutat Vella
Extramurs
Russafa
EL Cabanyal & La Malvarrosa
Quatre Carreres
As you have seen in this article, there are plenty of things to explore, and deciding where to stay in Valencia is important. Whether you stay in Ciutat Vella, Extramurs, Russafa, EL Cabanyal & La Malvarrosa or Quatre Carreres, all those neighborhoods are great areas for your stay.
When deliberating your stay in Valencia, several factors may come into play. The ambiance of the area, whether your journey to this magnificent city is prompted by business or pleasure, and who you're traveling with family or friends. Also important is how close you'll be to the attractions that spark your interest.
Regardless of these variables, one thing remains certain – a fantastic time awaits you during your stay in Valencia!
More Valencia tips
Get to know the city even better by reading our other articles about Valencia: