The stunning city of Valencia, located on Spain's eastern coast, attracts many visitors thanks to its impressive cultural sites, historic architecture, and its many wonderful museums and galleries.
For travelers looking for a luxurious yet central stay within the city, there are many delightful boutique hotels available that offer elegant interiors and modern amenities.
For visitors who seek out unique places to stay or accommodation that offers exceptional services, staying at a beautiful boutique hotel is an excellent choice. With so many options available within Valencia we have chosen the five best boutique hotels the city has to offer.
From stunning period properties decorated with an eclectic style to high-level customer service and impeccable amenities, the following three boutique hotels have something to suit everyone's needs.
From hotels offering rooftop pools, to those with a chic design aesthetic we have found three boutique hotels that will delight those looking to combine sophistication with a central city location.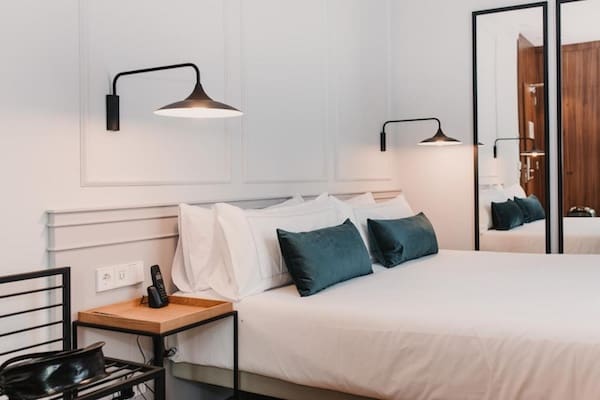 Helen Berger Boutique Hotel
Excellently positioned amidst the city's most captivating attractions, Helen Berger is a chic and sophisticated hotel in the heart of Valencia.
This luxurious hotel is the ideal location for travelers looking for a stylish stay whilst being close to the city's many well-known historical and cultural landmarks, bustling markets, and charming cafes.
The Helen Berger Hotel has been carefully designed and has a timeless style that combines rustic charm with contemporary modern design. It is situated on one of the best-known streets in the "La Seu" district and is neighbors with the historic University of Valencia.
Guest rooms at Helen Berger are light and airy with elegant decor. Rich fabrics, natural wood flooring, and monochrome details create a feeling of luxury in each room. Air conditioning, fine bed linen, flat-screen TVs, and a private bathroom are all included in every room to ensure guests feel comfortable.
Along with its exceptional location, Helen Berger has an excellent 24-hour Mediterranean kitchen serving an extensive locally sourced menu, and a contemporary bar serving delicious drinks.
The staff at Helen Berger are professional and offer guests a warm welcome, and are on hand to help guests navigate the beautiful city of Valencia and offer a personalized concierge service.
Helen Berger is the ideal choice for travelers looking for a modern and chic stay in the city of Valencia, while being close to many of the popular sights and iconic landmarks.
Hotel details
Address:
Carrer de les Comèdies 22 – 24, Ciutat Vella, 46003 Valencia, Spain.
Guest rating:
4.6 out of 5
Price per night:
From $160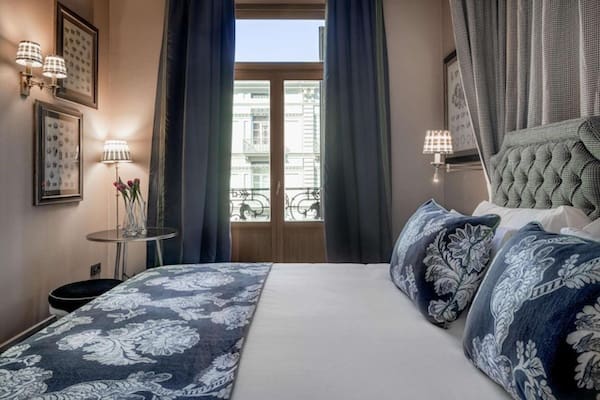 NH Collection Valencia Colón
The impressive NH Collection Valencia Colón is perfectly located on Carrer Colón in the center of the city's historical district and close to the financial quarter of Valencia.
This intriguing hotel is a beautiful boutique accommodation that is set amongst exclusive Spanish stores and within walking distance of the Valencia Cathedral and Marqués de Dos Aguas Palace.
The hotel has an alluring and unique decor with sumptuous bold wallpapers combined with an eclectic array of furnishings, interesting art, and quirky details.
The hotel was decorated by designer Lorenzo Castillo and showcases his vibrant sense of style throughout the hotel. From the monochrome lobby area to the glitzy dining area, the NH Collection Valencia Colón has a maximalist design that is both comforting and luxurious.
Guest rooms each have an individual design and although they mirror the eclectic theme of the hotel, they are calmer and more refined. Rooms are decorated with soothing palettes, plush bedding, and luxury fabrics.
Guests can choose from cozy double bedrooms or larger more spacious rooms, each including Nespresso coffee machines, smart TVs, and ensuite bathrooms.
NH Collection Valencia Colón offers guests an excellent buffet breakfast that includes an impressive selection of pastries, fresh fruit, and eggs cooked to taste.
Guests looking to unwind with a drink after a long day sightseeing can head to either the Kamikaze Piano Club, with a British-styled interior, or the Kamikaze Terrace Sky Bar located on the hotel's rooftop with views across the city.
NH Collection Valencia Colón is an interesting and unique place to stay in Valencia if you are looking for a hotel that combines bold style, and luxury settings with a convenient city location.
Hotel details
Address:
C/ Colón, 32, Eixample, 46004 Valencia, Spain.
Guest rating:
4.4 out of 5
Price per night:
From $145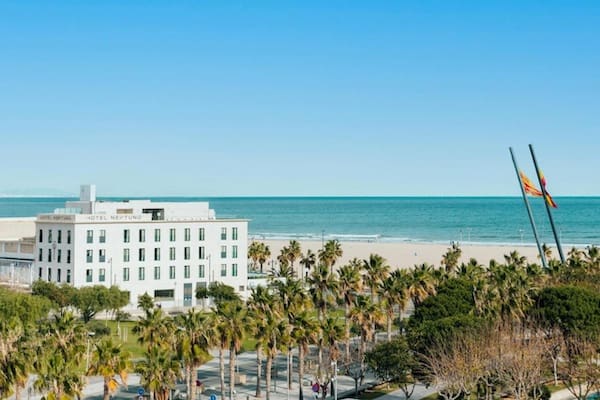 Hotel Neptuno
Situated along the sun-kissed shore of Valencia's impressive Malvarrosa Beach, Hotel Neptuno is a luxurious seafront retreat. For travelers looking to take advantage of Valencia's beautiful coastline, while being close to the city's urban attractions, Hotel Neptuno is the ideal choice.
Overlooking the golden sands, Hotel Neptuno exudes coastal sophistication and an enviable beachfront location. The hotel lobby is stylish with contemporary furniture and large bold prints greeting guests upon their arrival.
Guest rooms and suites at Hotel Neptune are spacious and well-designed with patterned wallpapers and deluxe fabrics. Rooms are tastefully decorated with a coastal theme and include plush bedding, interesting artwork, and plenty of natural light.
Guests can choose from a variety of room types, some of which offer private balconies with stunning sea views, creating a relaxing place to soak up views across the Mediterranean Sea.
The Tridente restaurant offers guests excellent Valencian cuisine and a buffet breakfast every day. The Lounge Bar terrace is a low-key place to enjoy cocktails overlooking the sea or guests can also enjoy the rooftop Solarium area.
Hotel details
Address:
Paseo de Neptuno, 2, Poblats Maritims, 46011 Valencia, Spain.
Guest rating:
4.2 out of 5
Price per night:
From $99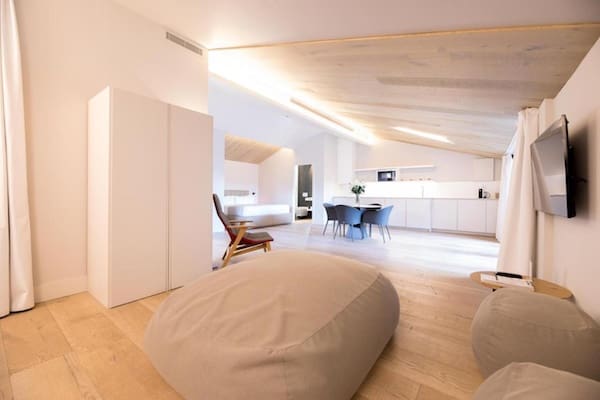 MYR Plaza Mercado & Spa
Situated within the lively heart and soul of the city's old town, the MYR Plaza Mercado Spa Hotel is the ideal place to stay if you want a hotel that offers modern luxury and a central location. The hotel is perfectly located to explore Valencia's iconic cultural sights such as the Cathedral of Valencia or the impressive Turia Park.
The guest rooms at the Plaza Mercado and Spa are spacious with modern amenities and large double beds. Natural light streams through the large floor-to-ceiling windows and each room has been decorated with a chic yet minimal design.
All rooms have air conditioning, smart TVs, and a small kitchenette, allowing guests the option to create their own meals and snacks during their stay. Larger rooms and suites have the added luxury of outdoor spaces such as balconies and the penthouse suite includes a terrace area overlooking the Santa Catalina Church.
Hotel Plaza Mercado and Spa, as the name suggests, has a luxurious spa and offers guests an excellent range of treatments and massages. The spa includes a Turkish Hammam, an intimate pool, and a jacuzzi, which are the ideal places to unwind after a long day of sightseeing before retiring to the comfort of your room.
With an enviable central location, the Hotel Plaza Mercado and Spa is the ideal stay for anyone looking to visit the city of Valencia to explore its many impressive cultural heritage sites, museums, and art galleries.
Hotel details
Address:
Plaza Del Mercado 45, Ciutat Vella, 46001 Valencia, Spain.
Guest rating:
4.5 out of 5
Price per night:
From $125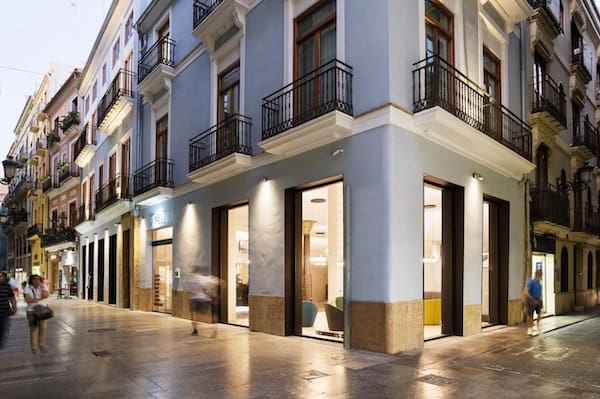 One Shot Mercat 09
Located within the bustling streets of Valencia's historic Old Town district, the One Shot Mercat 09 hotel is the ideal destination that puts guests within easy reach of the city's most iconic cultural treasures.
With renowned attractions like the UNESCO World Heritage Silk Exchange and the vibrant Plaza del Ayuntamiento just a stone's throw away, this hotel is an excellent option for those seeking proximity to the city's vibrant cultural scene.
The hotel's interior seamlessly blends classic elements with a modern touch, creating a welcoming atmosphere that is refined yet comforting.
The lobby welcomes visitors with warm, soft lighting, and fresh flowers, providing an immediate sense of calm upon arrival. The hotel is small and intimate with only 22 guest rooms, which are spacious with high ceilings and fitted with contemporary designer furniture.
The One Shot Mercat 09 combines the city's rich heritage with a contemporary dwelling. Its magnificent location and thoughtful facilities make this boutique hotel an outstanding destination for travelers seeking to explore Valencia's cultural gems and Spanish cuisine.
Hotel details
Address:
Carrer del Músic Peydró, 9, 46001, Valencia, Spain.
Guest rating:
4.2 out of 5
Price per night:
From $93
About our boutique hotel tips in Valencia
Our company specializes in travel research, aiding you in uncovering the top boutique hotels Valencia has to offer. Our recommendations are not solely based on our perspectives. Instead, they echo the views of numerous travelers who have experienced these places firsthand.
We simplify your search process by identifying trendy and artistically designed hotels around the city. Certain accommodations may be so inviting and passionate that you'll find it hard to step out of your room.
Please keep in mind that we only feature hotels with a consolidated guest review rating of 4.0 or higher out of 5 on our list. These scores are accumulated from various booking websites along with other impartial review platforms.
Consequently, rest assured knowing all the listed hotels above promise an excellent stay while you're exploring Valencia.
Best price guarantee
Get the best deals and prices for your stay in Valencia with Booking.com and Hotels.com! They offer price matching, guaranteeing you'll get the lowest online price. If you find a cheaper offer on another website for the same hotel room at least 24 hours before check-in, contact them to claim a refund of the difference.
Top 5 boutique hotels in Valencia
Let's quickly summarize this guide. Based on thousands of guest reviews and tips from travel experts, these are the best boutique hotels in Valencia:
More Valencia tips
Get more great insights like the guide above! Take a look at these other articles about Valencia: