One city in the United States that has seen a resurgence in culture and vibrance is Austin, Texas. Austin is a fantastic city that offers a lot to every visitor. There is fantastic food, history, and social sites to check out.
Whether you are in Austin for business or pleasure, there is a lot packed into this progressive and growing city. So, there is a little bit for everyone at any time. Are you traveling with your family? Well, there are plenty of family-friendly options. Are you a bachelor looking for a good time? You are taken care of.
No matter what your wants and needs are, Austin can give you a great time. One of the best ways to take advantage of these attractions is by staying in a boutique hotel. This gives you a personable, inclusive experience that you will not forget. Here are five of the best boutique hotels in Austin, Texas!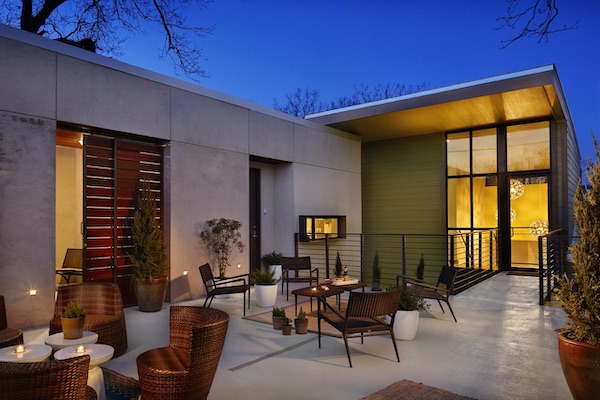 Heywood Hotel
The Heywood Hotel is first on our list and offers a really cool design to its visitors. This hotel focuses on local art and culture. Everything about the Heywood is local. This is a cool perk, so you can get to know the area you are staying in.
However, the biggest downside, which can also be an upside, is that there are only seven rooms in this entire hotel. It is a bad thing to some extent because it becomes very hard to get a room. On the other hand, if you can get one, you will have an excellent, exclusive experience.
Hotel details
Address: 
1609 East Cesar Chavez, Austin, TX 78702, United States of America.
Guest rating:
4.8 out of 5
Price per night:
From $209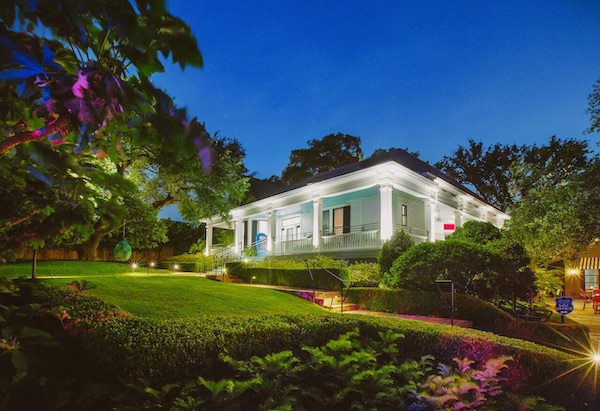 Hotel Saint Cecilia
Along the same lines as the Heywood, Hotel Saint Cecilia is inspired by music and it is shown in the decor and theme. After all, Saint Cecilia is the patron saint of music, so it is appropriately named. The mixture of art decor and rock'n'roll vibes flow throughout the halls and in the lobby.
There are 14 total rooms including five suites. So, making reservations well in advance is important. There is also a great pool, which is a perk that many boutique hotels do not offer.
When staying at Hotel Saint Cecilia, you will also be right by some of the best Italian and Mexican restaurants in this part of Austin. The cuisine is big in Austin, so exploring that side of the culture is a must.
Hotel details
Address: 
12 Academy Drive, Austin, TX 78704, United States of America.
Guest rating:
4.3 out of 5
Price per night:
From $420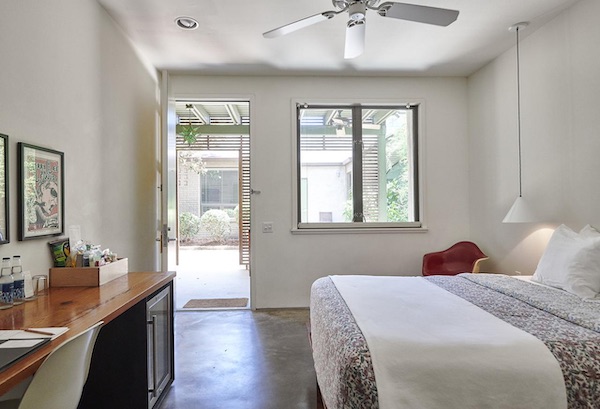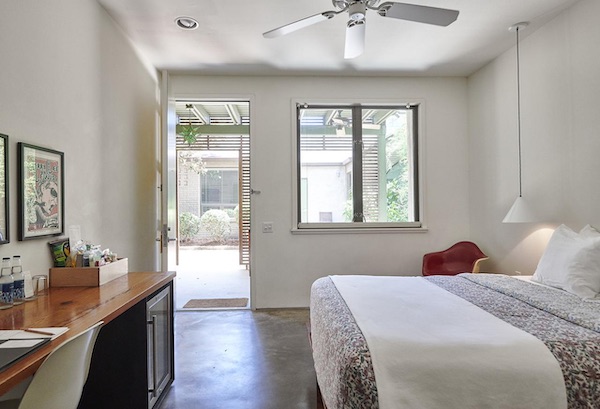 Hotel San Jose
One of the more affordable boutique hotels on this list is Hotel San Jose. This is a really artsy and innovative hotel that really hits on the young, hip crowd. Even if you do not fall into that category, it can be interesting to see this side of the culture.
One of the most unique factors of Hotel San Jose is how breakfast is served. There is no proper restaurant in this boutique hotel, so your breakfast is actually delivered right to your room in Austin's take of a Bento box! There is a bar downstairs, but the only way to get food other than breakfast is by going out into the city and finding some great spots.
Hotel details
Address: 
1316 South Congress Avenue, Austin, TX 78704, United States of America.
Guest rating:
4.5 out of 5
Price per night:
From $190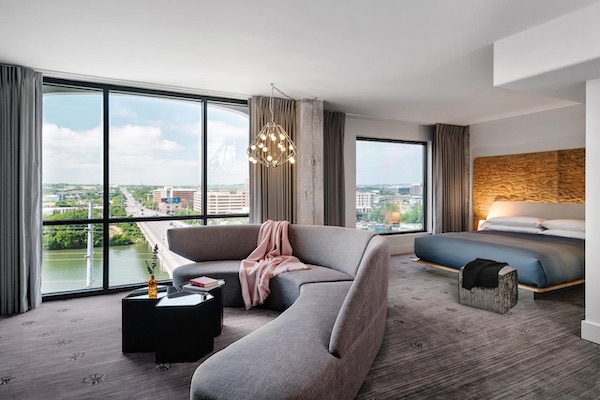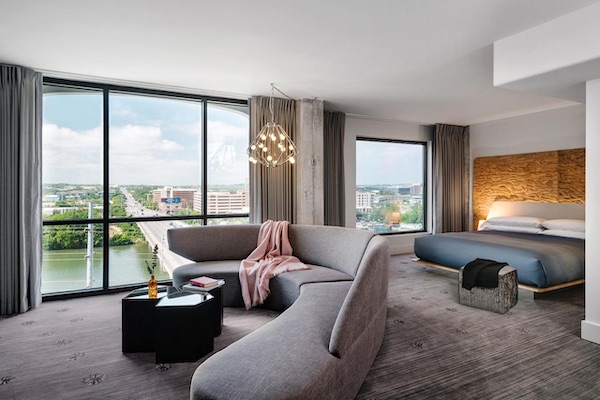 The Line Austin
The Line Austin is actually the third Line hotel in the chain, and there is a good reason why they have been so successful. Here, customer service and upscale accommodation are king. This is a super-stylish hotel that is sleek and modern in all of the right places.
One great perk of The Line is that every room in the complex will have a great view. On one side, there is downtown Austin. On the other, there are great views of the Colorado River. Either way, you will have a fantastic view to wake up to.
The Arlo Grey restaurant downstairs is run by Top Chef winner Kristen Kish and is a fantastic spot to drop in and enjoy some good food.
Hotel details
Address: 
111 East Cesar Chavez Street, Austin, TX 78701, United States of America.
Guest rating:
4.4 out of 5
Price per night:
From $145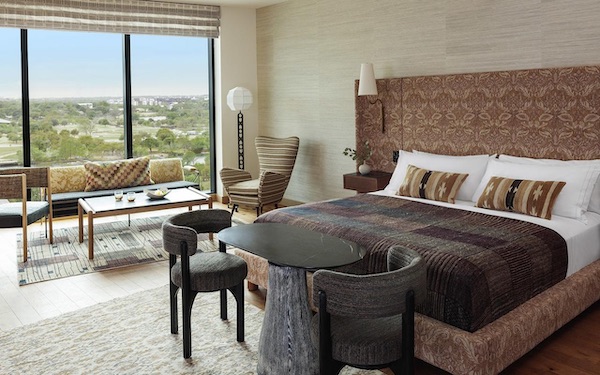 Austin Proper Hotel
Last, but certainly not least, we have the Austin Proper Hotel. Out of all of the boutique hotels on the list, this may be one of the more diverse in terms of the types of rooms available. Most only have a couple, but the Austin Proper Hotel has 11 different options for rooms and bed sizes.
Especially in recent years, Austin has transformed a lot to a more hip, vibrant city, and this is mirrored with the Austin Proper. There is a great bar downstairs, and there are some fantastic dining options right outside the doors. So, when staying here, you will be in the right of the action.
Hotel details
Address: 
600 West 2nd Street, Austin, TX 78701, United States of America.
Guest rating:
4.0 out of 5
Price per night:
From $287
About our boutique hotel recommendations in Austin
We are a travel research company. We help you discover the best boutique hotels in Austin by researching the internet for you. It's not just our opinion, it's the opinion of many travelers who have been there before you. We make it easy for you to find out about cool design hotels and unique design hotels in the city. Some of them might be so romantic you might not want to leave your room.
Please note, we only list hotels that have an aggregated guest review rating of at least 4.0 out of 5. We aggregate all reviews from different booking sites and other unbiased review websites. Hence, you can be certain all hotels listed above offer you a great stay in Austin.
Best price guarantee
We partner with Booking.com and Hotels.com to provide you with the lowest price guarantee on your stay in Austin! Both those websites offer price matching. That ensures that you are paying the lowest price available online. If you find a cheaper offer on another website for the same cool hotel in Austin at least 24 hours before check-in, contact them to claim a refund of the difference!
Top 5 boutique hotels in Austin
Before you go, let's summarize this guide. Based on thousands of guest reviews and tips from travel experts, these are the best boutique hotels in Austin:
More Austin tips
If you like our guide above, you should also check out our other articles about Austin: