A visit to Valencia, Spain's most captivating city, will transport you to a wondrous place where ancient history and modern innovation blend seamlessly. This stunning coastal city boasts international cuisine, as the home of the famous Spanish dish of paella, and has a multitude of exciting historical sites and contemporary attractions to explore.
Along with its attractive cultural sights, Valencia also has an outstanding stretch of coastline to appreciate, with fine golden sandy beaches melting into the blue Mediterranean Sea.
This city has everything you could hope for in a beautiful Spanish escape, including activities, attractions, and accommodations to suit all budgets.
The beauty of Valencia is the opportunity to enjoy the city's impressive sights and culture on a smaller budget. Valencia has a multitude of affordable things to see and do, from delicious street food to walks along La Malvarrosa beach, and a vast array of affordable accommodation options.
If you are looking to visit the city of Valencia on a budget, there are many wonderful, modern, and clean hostels on offer. In this guide, we have picked our favorite three, so you can focus on exploring everything this outstanding city has to offer.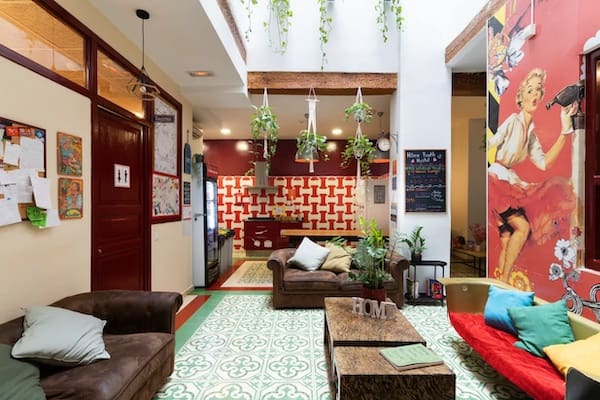 Home Youth Hostel Valencia
Located in the heart of Valencia, Home Youth Hostel is a welcoming hostel that is situated close to the city's iconic cultural sites such as the Central Market and La Lonja (Silk Market). Based in the district of El Carmen, this hostel is in a prime location for exploring the city.
The old town streets surrounding the hostel are lined with cozy cafes and lively bars, and the city's major heritage sites are within walking distance.
This bright and colorful hostel has a strong arty vibe, with vibrantly patterned flooring and bold wall art greeting guests upon their arrival. The hostel offers guests a selection of room options, including 3 or 4-bed dormitories or private rooms, with comfortable single beds in every room.
Towels are offered to all guests for a small deposit and rooms have large floor-ceiling windows with Juliet balconies, offering stunning views of the city.
This hostel is small, making it a great choice for small groups traveling together. Security lockers, washing machines, and hair dryers are available for guests to use, and the hostel also has small kitchen facilities.
Guests at Home Youth Hostel can also enjoy twenty-four-hour wifi, and luggage storage and bicycle hire are available upon request.
Hostel details
Address:
Calle la Lonja 4, Valencia, Spain.
Guest rating:
4.6 out of 5.
Price per night:
from $17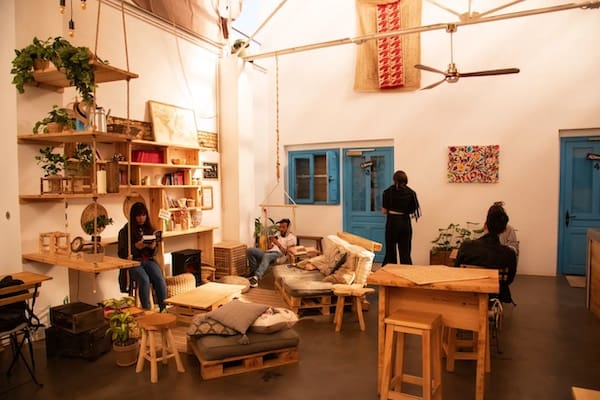 Cantagua Hostel
Situated in the Quatre Carreres district of Valencia, the Cantagua Hostel is a great base for anyone looking to be in the city center. Located within the En Corts neighborhood, guests can enjoy this lively and bustling area that is within walking distance of the City of Arts and Sciences.
This impressive modern complex is home to the Valencia Opera House, the L'Oceanogràfic Aquarium, which is the largest aquarium in Europe, and the city's Science Museum.
The Cantagua Hostel has a rustic charm with natural wood and a natural palette used throughout its interiors. Guest rooms at the hostel include four mixed-gender dorm-style rooms with cozy bunk beds, each with a privacy curtain.
Female-only rooms are also available and free wifi, bed linen, and access to a shared kitchen are included for every guest.
The hostel does not operate a curfew time, allowing guests to come and go as they wish, making this hostel a great choice for younger travelers who are looking to experience the city's energetic nightlife.
The hostel offers guests a selection of facilities to improve their stay, such as security lockers, laundry facilities, and kitchen facilities. There is also a common room and library area that offers book exchanges to help guests feel comfortable during their stay.
Hostel details
Address:
Carrer de Vicente Lleo, 28, Bajo, Valencia, Spain.
Guest rating:
4.7 out of 5.
Price per night:
from $25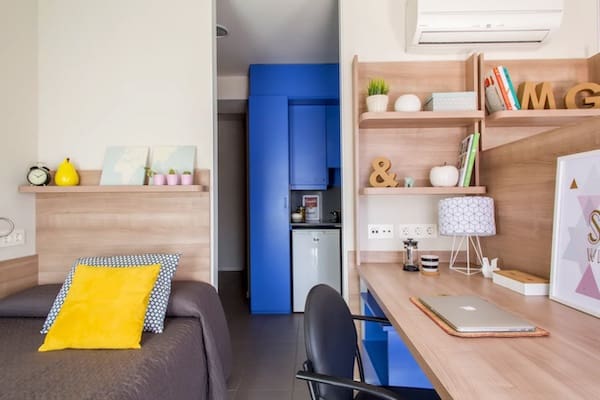 Colegio Mayor La Concepción
Located in the eastern area of Valencia, near the three major universities (Catholic University of Valencia, European University, and Ceu-Cardenal Herrera University), the Colegio Mayor La Concepción hostel is an attractive budget accommodation option.
Situated close to Valencia's attractive golden La Malvarrosa beach and the Mestalla football stadium, guests staying at the hotel can enjoy the lively beachfront areas and easily travel to the city center to visit the many excellent cultural attractions.
The Colegio Mayor La Concepción is a bright and airy hostel, with a large open terrace space, a spacious dining area, and a comfortable common room. The hostel has splendid guest facilities and offers a well-equipped gym and a games room.
Guest rooms are private and offer single or double-sized beds, a private bathroom, and a study desk area. With the universities within proximity and outstanding facilities, this hostel is open to the university community and is a great option for anyone visiting staff or students at one of the universities.
For anyone looking to stay at the Colegio Mayor La Concepción that is not associated with the university community, you will be required to show membership to any Hostel Association integrated with the International Youth Hostel Federation (IYHF).
However, these membership cards can also be issued and purchased at the hostel for a small fee.
Hostel details
Address:
Av. de Suècia, 23, Valencia, Spain.
Guest rating:
4.7 out of 5.
Price per night:
from $60
About our Valencia hostel recommendations
If you're an individual adventurer in search of a private place or a group of explorers on a budget seeking comfortable, affordable accommodation, the top hostels in Valencia to suit your requirements are listed above.
Please be aware that we only feature hostels on our site that have achieved an overall guest review rating of no less than 4.0 out of 5. These ratings are compiled from multiple booking sites and independent review platforms, meaning they reflect the views of thousands of guests.
Consequently, rest assured all aforementioned hostels guarantee excellent value for money during your stay in Valencia.
Best price guarantee
For our hostel recommendations, we work together with Hostelworld and Booking. These partnerships don't have any influence on the recommendations we make or on the order in which our recommended hostels are listed. The reasons why we have chosen to partner with these companies are that they're trustworthy, offer excellent service and both apply the best price guarantee.
This means you can claim a refund for the difference if you find your reservation cheaper on another website. It has to be for the same property, accommodation type, dates, cancellation policy and conditions, otherwise, you can't claim a refund for the difference.
If you book through Booking.com then all you need to do is contact them at least 24 hours before your check-in date. If you book through Hostelworld you must claim the refund within 24 hours after you made the booking.
Top 3 hostels in Valencia
To summarize again, based on thousands of guest reviews, these are the best hostels in Valencia:
Why you should be careful when booking the cheapest hostel available
Opting for the most budget-friendly hostel isn't always the best choice, and here's why:
Hostels with the lowest rates often fall short when it comes to location. If your plans include exploring Valencia or immersing yourself in its nightlife, you might find yourself spending extra on public transportation or a cab ride to reach your destination. In such scenarios, staying somewhere more central could be less costly eventually. We generally suggest a centrally located stay for those new to travel; however, even seasoned travelers may find value in paying slightly more for convenience.
The other factor discouraging one from choosing an extremely cheap hostel is related to its inhabitants. People residing in these places are usually not those who can afford frequent travel like you do, but rather migrant workers or locals struggling economically. Hence, they gravitate towards these budget accommodations, as they are cheaper substitutes than maintaining an apartment of their own much of the time. This demographic might not be ideal if you're a solo adventurer seeking companionship during your journey.
The third rationale for steering clear of the cheapest hostels lies in security concerns. These establishments often neglect to verify identification, fail to collect signatures, or only handle transactions in cash upon arrival. As a result, it's impossible for the hostel management to accurately know who resides within their premises.
Customer service is typically lacking at these budget accommodations. For example, should you decide to leave your luggage with them temporarily, your belongings will be left unguarded in common areas instead of being securely logged and stored away in a safe room.
So, it may make more sense to allocate slightly more financial resources toward securing better accommodation during your visit to Valencia.
As a concluding piece of advice: always prioritize reading the most recent reviews about any prospective hostel! While all places garner both praise and criticism over time, it is indeed the freshest reviews that hold significant weight when making an informed decision.
More Valencia tips
Get to know the city even better and check out our other articles about Valencia: