Located on the East coast of Spain on the Mediterranean Sea, the stunning city of Valencia attracts many people to its intriguing historical center. Amongst the city's streets, nestled between manicured gardens and fine dining restaurants, are some of the most impressive luxury hotels Valencia has to offer.
Housed within historic mansions or tucked away down quiet Spanish streets, you can find some of the most grand hotels, offering guests a deluxe retreat from the bustling city.
Whether you want to be close to the city's busy cultural sites or you are looking for a hotel where you can relax and unwind, Valencia has some of the most elegant and beautiful luxury hotels.
From grand twentieth-century mansions to contemporary hotels that offer deluxe spa facilities and private indoor swimming pools, we have selected the five best luxury hotels that Valencia has to offer.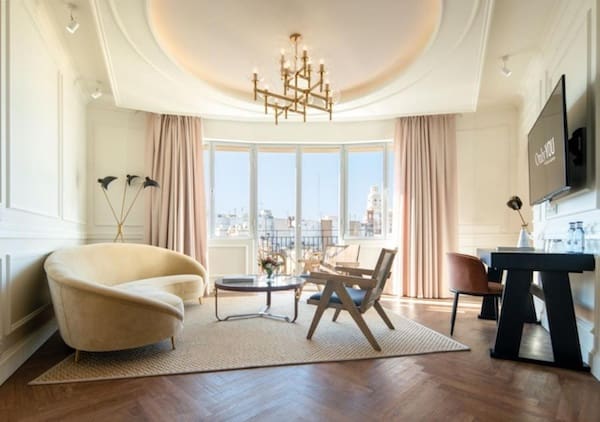 Only You Hotel Valencia
The Only You Hotel is a beautiful luxury hotel located in the center of Valencia, close to many of the city's impressive sights.
The Plaça de l'Ajuntament is located close by and is a hub for cultural events, art galleries, and festivals. The City of Arts and Sciences is also within a five-minute walk of the hotel, making Only You Hotel a popular choice for those looking to explore the city.
The hotel itself is stunning, with an inspiring entrance and lobby area. Only You Hotel has been carefully decorated with warm lighting and dark furnishings which are inviting and creates an atmosphere of sophistication.
The hotel includes a striking bar area and two restaurants, with the Salvaje restaurant on the ground floor serving Japanese fusion and El Mirador restaurant on the 9th floor serving traditional Valencian cuisine.
The guest rooms at Only You Hotel are spacious and decorated to a high standard with luxury furnishings and comfortable beds.
Each room includes coffee-making facilities, air conditioning, complimentary toiletries, and a private bathroom with a shower. Larger rooms and suites also have the added luxury of their own kitchen area.
Only You Hotel also includes a sumptuous spa and a twenty-four-hour gym for guests to enjoy during their stay. The hotel is a great option for anyone looking for a luxurious stay while discovering the sights of Valencia.
Hotel details
Address:
5 Plaça de Rodrigo Botet, Ciutat Vella, 46002 Valencia, Spain.
Guest rating:
4.6 out of 5
Price per night:
From $185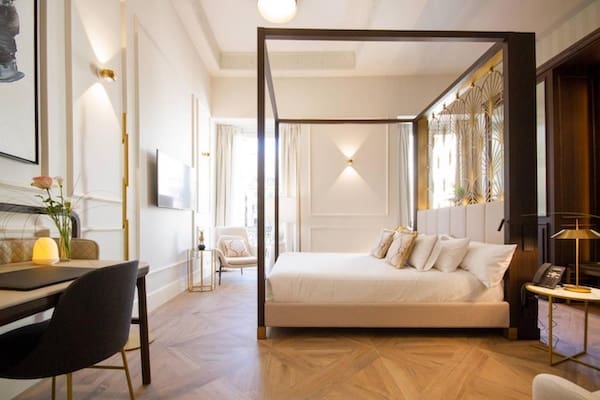 MYR Palacio Vallier
The stunning Hotel Palacio Vallier is a wonderful 5-star hotel located in Valencia's Ciutat Vella district, close to many of the city's most popular attractions, such as the Church of Saint Nicolás.
This luxurious hotel is based within a 19th Century mansion, which once used to be a perfumery, and offers guests a luxurious experience from the moment they arrive.
Hotel Palacio Vallier is home to 31 guest rooms, which have been carefully decorated to allow guests to feel at home. Rooms are light and airy with high ceilings and glamorous chandeliers. Each room has been decorated in a minimal yet sophisticated style with Art-Deco details.
Guest rooms are spacious and include all the modern facilities you would expect from a luxury hotel, such as customizable air conditioning, smart flat-screen TVs, Nespresso coffee machines, and also a pillow menu.
Guests at the hotel can dine at The Perfumery restaurant, which pays homage to the hotel's historical past, and enjoy delicious cocktails at the LLadro lounge bar. The hotel also has an attractive outdoor terrace and guests can rent bicycles to explore the city.
Hotel Palacio Vallier is an excellent choice for guests looking for an elegant retreat while staying in Valencia.
Hotel details
Address:
Plaza Manises, 7, Ciutat Vella, 46003 Valencia, Spain.
Guest rating:
4.7 out of 5
Price per night:
From $183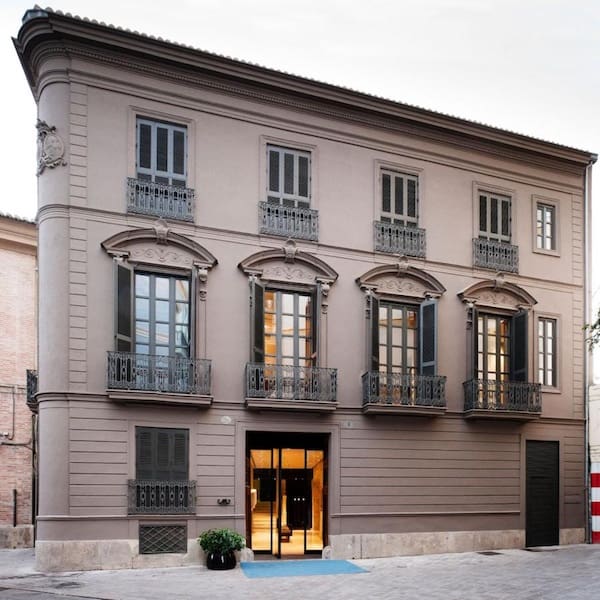 Caro Hotel
Housed in a 19th-century palace, the impressive Caro Hotel is a luxury boutique hotel nestled within the city center of Valencia, amongst its many iconic landmarks and charming streets.
Many of the city's wonderful historical sights, such as the Basilica de la Virgen and the Valencia Cathedral are located moments away from the hotel, allowing guests the ideal base to explore Valencia.
The Caro Hotel has been renovated to celebrate its stunning architectural heritage and has retained many original features. Gothic arches and Arabic stonework have been blended seamlessly with modern details such as marble bars and contemporary design to create a sophisticated and intriguing space.
The hotel restaurant, Alma del Temple, is impressive due to its serene decor and exquisite menu. The restaurant displays a 12th-century Arabic stonewall within the dining area and serves dishes with a Mediterranean twist.
Hotel Caro also has a stunning courtyard and a restful lounge area where guests can relax and unwind and includes an outstanding spa and wellness center, offering a range of treatments and therapies.
Caro Hotel offers 26 boutique hotel rooms, each with its unique charm and special decor. Many rooms feature a private terrace or balcony with attractive views across the city's dramatic skyline.
Hotel details
Address:
Almirante, 14, Ciutat Vella, 46003 Valencia, Spain.
Guest rating:
4.6 out of 5
Price per night:
From $110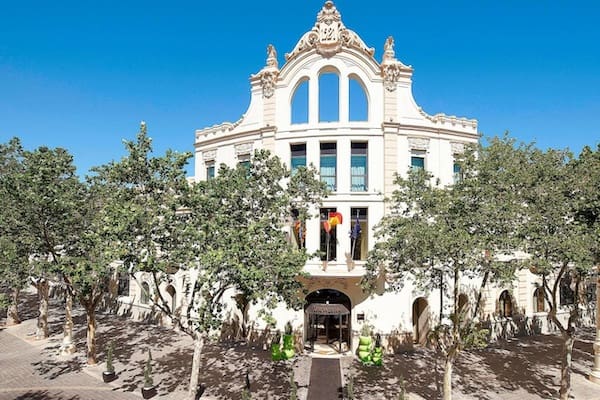 The Westin Valencia
The Westin Valencia is an atmospheric hotel, brimming with luxurious details and a glamorous attitude. The hotel is nestled within the historic Old Town district, close to popular attractions such as the pretty flower-lined Puente de las Flores bridge which takes visitors directly into the center of Valencia.
The hotel is also very close to the Aragón metro station, making the hotel an excellent starting point to explore Valencia's many wonderful sights.
This hotel is located in a twentieth-century building where beautiful chandeliers and marble flooring greet guests upon their arrival. The hotel also has a stunning manicured garden within its center and a well-equipped spa, which includes a Turkish hammam and a saltwater pool for guests to enjoy.
Guests' rooms at The Westin Valencia are spacious and the interiors have a sophisticated yet modern style with striped wallpaper and Art-Deco details. All rooms include air conditioning, a large comfortable bed with high-quality linens, coffee machines, and private marble bathrooms.
The hotel is the ultimate luxurious escape from the busy Spanish city of Valencia and includes an indoor swimming pool and state-of-the-art fitness center for guests to choose from.
Guests can also enjoy fine dining options at The Westin Valencia with Rosmarino restaurant serving breakfast and Spanish specialties in its light and airy dining area.
Spanish cuisine, snacks, and an impressive selection of drinks are also served at El Jardí Bar or guests can experience Japanese-European fusion at the Komori Restaurant.
Hotel details
Address:
Amadeo de Saboya, 16, El Pla del Real, 46010 Valencia, Spain.
Guest rating:
4.3 out of 5
Price per night:
From $210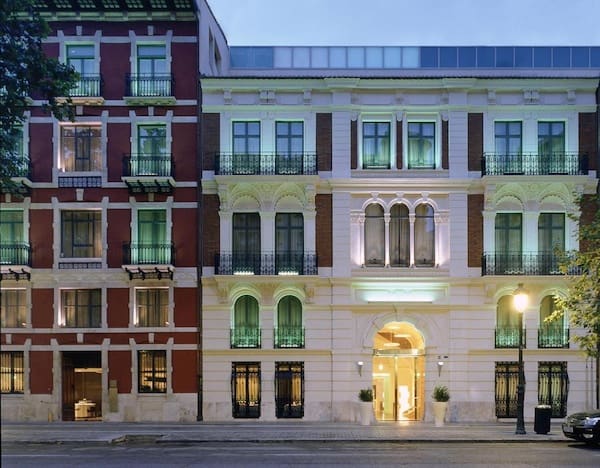 Hospes Palau De La Mar
Located in the center of Valencia, within the city's main cultural and historic area, the Hospes Palau De La Mar hotel is a stunning escape.
This impressive 5-start hotel is situated in two Valencian manor houses, which have been combined to create an elegant landmark, welcoming guests with its modern yet historic interiors.
Hospes Palau De La Mar has a privileged location, set just a short stroll away from some of Valencia's most iconic attractions. Situated on Calle Navarro Reverter, the hotel is within walking distance of the lively Colon Market, where visitors can delight in authentic Valencian gastronomy.
The stunning Turia Gardens, Spain's largest urban green space, is moments away from the hotel and offers a peaceful and revitalizing place to explore nature.
The rooms and suites at Hospes Palau De La Mar have been carefully decorated to a high standard and exude modern sophistication.
Each room is set around a central courtyard area and has modern furnishings, plush fabrics, and a simple monochrome decor that is calming after a long day exploring the city. Rooms also include air conditioning, flat-screen TVs, and a large private ensuite bathroom to ensure guests feel comfortable during their stay.
Hotel details
Address:
Avenida Navarro Reverter, 14-16, Eixample, 46004 Valencia, Spain.
Guest rating:
4.2 out of 5
Price per night:
From $145
About our luxury hotel recommendations in Valencia
We operate as a travel analysis firm. Our dedicated team endeavors to help you unearth the top-tier luxury accommodations in Valencia, rooting through online resources on your behalf. Notably, some of the places have even been visited by us.
Therefore, it's not just our perspective we're relying on. It's an amalgamation of views from various travelers who've experienced these locations before. We simplify the task of discovering information about Valencia's most prestigious and exclusive five-star lodgings.
Please be aware that our guide only includes hotels with a cumulative guest review score of at least 4 out of 5. This is calculated by aggregating reviews from diverse booking platforms and impartial review sites.
Consequently, you can rest assured that all hotels mentioned herein promise an excellent experience during your stay in Valencia.
Best price guarantee
We partner with Hotels.com and Booking.com to ensure you get the best price for your stay in Valencia! Both sites offer price matching. That means you pay the lowest prices for your stay.
If you find a cheaper offer on another website for the same luxury hotel in Valencia at least 24 hours before check-in, contact them to claim a refund of the difference!
Best 5-star hotels in Valencia
Now that you've gone over this guide, let's summarize it. We got to know what the best 5-star hotels in Valencia are thanks to thousands of guest reviews and tips from travel experts:
More Valencia guides
If you like the advice we've given you above, make sure to check out some of our other articles about Valencia: