For any world traveler, there are certain cities that stick out above the rest. Each one has various aspects and features that make them special. New York, Los Angeles, Paris, and Beijing are near the top of this list. One city that cannot be left out of that conversation is Tokyo.
As the heart of Japan and one of the most influential cities in Asia, Tokyo has an it-factor that makes it worth visiting. At its core, Tokyo is so full of character and culture. Taking in that culture is truly something special.
One of the best ways to experience Tokyo is by staying in a luxury hotel. This allows you to elevate your experience to one that cannot be forgotten.
Here are five of the best luxury hotels located in Tokyo!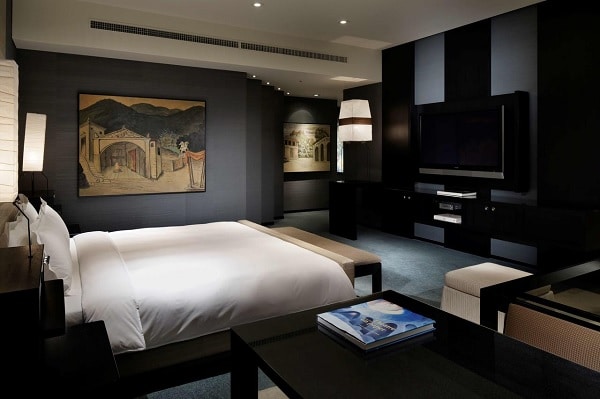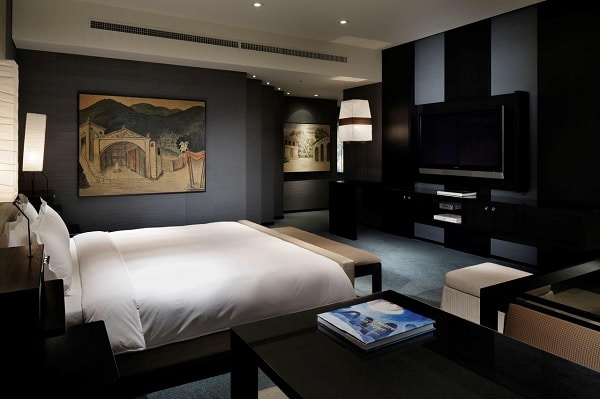 Park Hyatt Tokyo
To kick off our list, we will talk about a luxury chain that has a spot in many big cities. The Park Hyatt Tokyo can deliver a quality experience for your time in the city. This is one of the coolest spots in town because it is located near the top of a skyscraper. Between the 39th and 52nd floors of the Shinjuku Tower is where this hotel is located.
This is a super unique experience that is unrivaled in the area. Along with the views, there are some great amenities on-site to engage in. One of which is the New York Grill and Bar. This is a fantastic part of the tower that provides some of the best views that you can possibly have.
Hotel details
Address: 
3-7-1-2, Nishishinjuku, Tokyo 163-1055, Japan.
Guest rating:
4.6 out of 5
Price per night:
From $350
Palace Hotel Tokyo
Next up is the Palace Hotel Tokyo. The Imperial Palace is a hotspot for tourism and culture in Tokyo. The Palace Hotel is right by this spot, so you can have quick access with ease.
It does not take a long time in Tokyo to realize how important the food is to the culture. A lot of these luxury hotels will have their own restaurants that have a lot of pride. This location has an excellent sushi restaurant known as Sushi at the Tatsumi.
Overall, the Palace Hotel Tokyo is a spot catered to those who want to be slightly removed from some of the action but not too much. Tokyo is an incredibly busy city, so it is important where you stay.
Hotel details
Address: 
100-0005 Tokyo-to, Chiyoda-ku Marunouchi 1-1-1, Japan.
Guest rating:
4.7 out of 5
Price per night:
From $390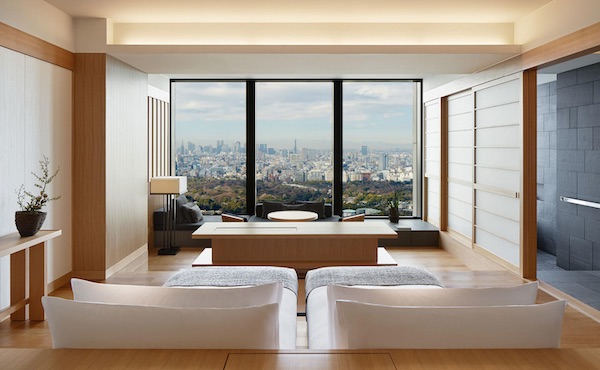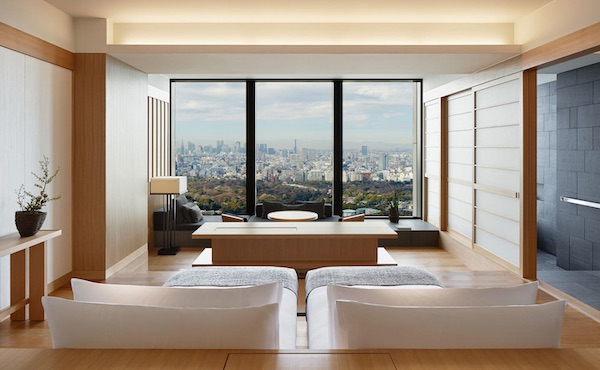 Aman Tokyo
The Aman Tokyo is the essence of luxury, and it delivers in a number of ways. First and foremost, the vibes are elegant and zen. Although not totally indulge in traditional Japanese culture, it comes pretty close. Outfitted with zen gardens and rock waterfalls, you get a relaxed vibe here.
There are also some great amenities available to you. One of the shining stars is the giant indoor pool that provides an excellent place to relax. You can also take advantage of the Aman Spa. This is where you can get world-class treatments without having to leave the hotel.
Hotel details
Address: 
The Otemachi Tower,1-5-6 Otemachi, Chiyoda-ku, Tokyo, 100-0004, Japan.
Guest rating:
4.6 out of 5
Price per night:
From $820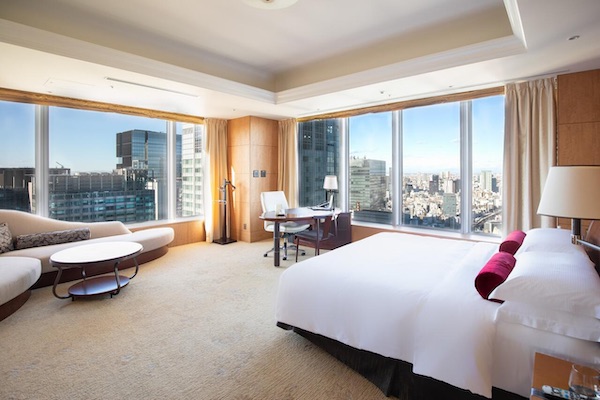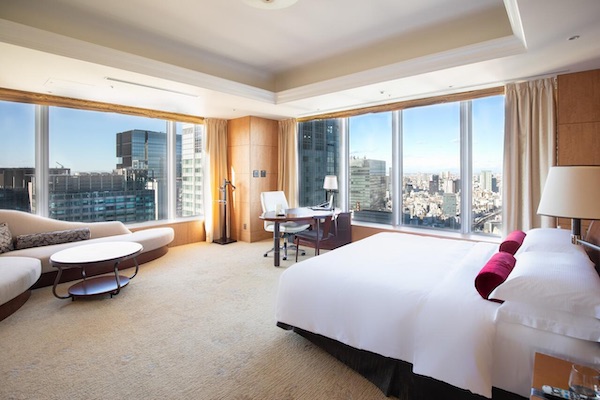 Shangri-La Tokyo
Sometimes, you want luxury that is bold, in your face, and very open about the high-end value. This is what comes with the Shangri-La Hotel Tokyo. This hotel wears luxury on its sleeve and you can tell from the moment that you walk in. Located in the Marunouchi district, this hotel takes up the top 11 floors of a towering skyscraper.
From an impressive art collection to chandeliers to everything else you may want in a luxurious spot, this five-star hotel makes sure you know the value of the location.
There is also a spa and pool, so the options for relaxation are there. There are also two restaurants on site; a traditional Japanese option and an Italian one.
Hotel details
Address: 
100-8283 Tokyo-to, Chiyoda-ku, Marunouchi Trust Tower Main, 1-8-3 Marunouchi, Japan.
Guest rating:
4.7 out of 5
Price per night:
From $385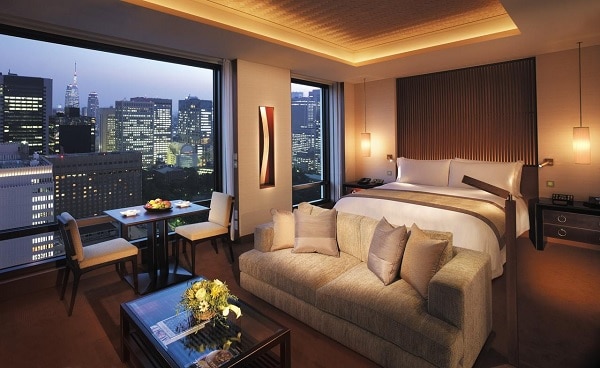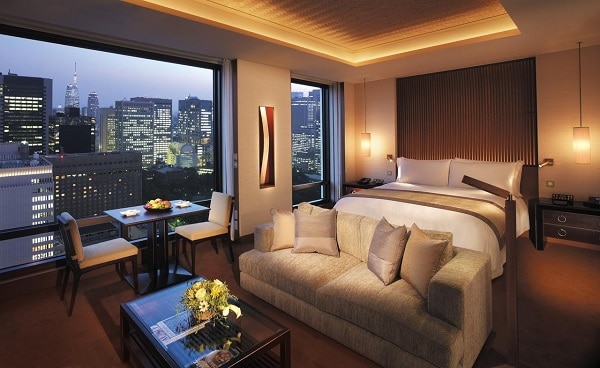 The Peninsula Tokyo
The final luxury hotel on our list is the Peninsula Tokyo. Located in Ginza, this is one of the best spots in the area. Also, Peninsula is a luxury hotel chain, so staying on premises guarantees you a good experience that is backed by their reputation.
The most unique factor of this hotel is the food and drink options that are on site. There are five restaurants at this hotel alone. You have a cafe, sushi, Chinese, steakhouse, and an international option. This is a huge selection that is not found at many other locations.
Although you will probably want to venture out and find some other food options, having some choices right in your hotel is a huge perk.
Hotel details
Address: 
1 Chome-8-1 Yurakucho, Chiyoda City, Tokyo 100-0006, Japan.
Guest rating:
4.6 out of 5
Price per night:
From $320
About our luxury hotel recommendations in Tokyo
We are a travel research company. Our team helps you discover the best luxury hotels in Tokyo by researching the internet for you. We have also visited some of these places. Hence, it's not just our opinion, it's the opinion of many travelers who have been there before you. We make it easy for you to find out about the most luxurious and exclusive 5-star hotels in the city.
Please note, we only list hotels that have an aggregated guest review rating of at least 4.0 out of 5. We aggregate all reviews from different booking sites and other unbiased review websites. Hence, you can be certain all hotels listed above offer you a great stay in Tokyo.
Best price guarantee
We partner with Hotels.com and Booking.com to make sure you get the best price for your stay in Tokyo! Both sites offer price matching. That means you pay the lowest prices for your stay. If you find a cheaper offer on another website for the same luxury hotel in Tokyo at least 24 hours before check-in, contact them to claim a refund of the difference!
Top 5 luxury hotels in Tokyo
Now that you've gone over this guide, let's summarize it. We got to know what the best 5-star hotels in Tokyo are thanks to thousands of guest reviews and tips from travel experts:
More Tokyo guides
If you like the advice we've given you above, make sure to check out some of our other articles about Tokyo: