Tokyo is one of the most fascinating cities in Asia and a hotspot for travelers, tourists, and vacationers. The city is rich in history and culture, offering experiences and memories not found anywhere else in the world. It's full of nightlife, restaurants, shopping, technology, shrines, and unique things to see and do.
The country of Japan has had sustainability embedded into its culture for centuries. The residents have been environmentally cautious and have learned to live in a society with little to no waste at all. Most of the city of Tokyo is powered by renewable energy sources like solar panels and wood biomass power. They were the first city in the region to adopt green initiatives in almost every aspect of the city.
While visiting Tokyo, accommodations will come in all shapes and sizes. Many businesses, including hotels, have made great adjustments to be as eco-friendly as possible. If you are wanting to visit the city while doing your best to keep the environment healthy, consider staying at one of these 5 sustainable hotels in Tokyo.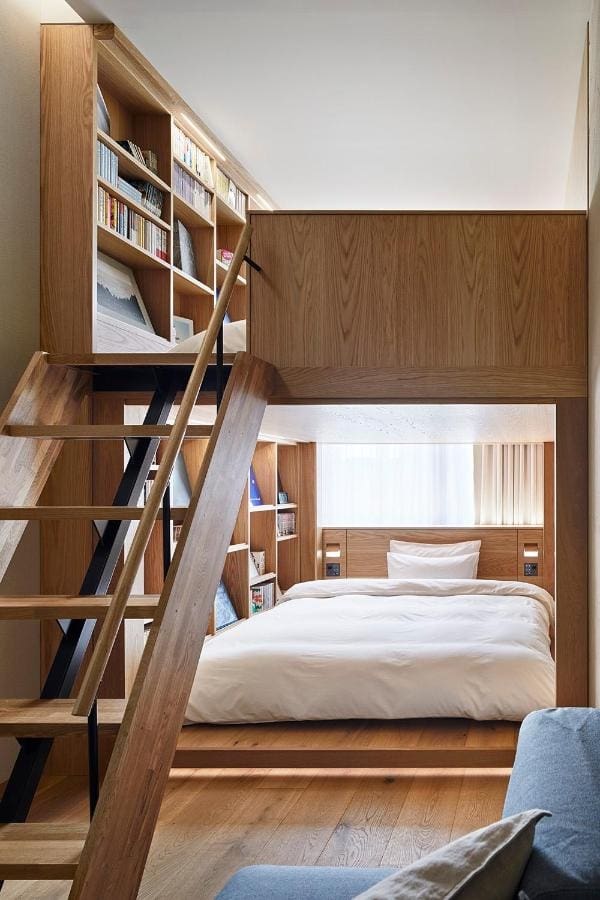 MUJI Hotel Ginza
The MUJI Hotel Ginza is the prime spot to stay in Tokyo for an unforgettable experience. The hotel provides every service and amenity you could possibly think of, and if they don't, it can be conveniently found on the surrounding streets. If you are a lover of shopping, sustainability, and unique designs, MUJI Hotel Ginza with easily reach your expectations.
Located in the Ginza District of Tokyo, MUJI Hotel Ginza is surrounded by department stores, boutique stands, and local shops. It features a weekend dinner restaurant, salon, library, diner, bakery, and exhibition galleries. All 79 rooms of the hotel offer private bathrooms with towels, beds with sleep-positive mattresses and linens, and dimmable lighting for a perfect night's rest. The hospitality at the hotel is unmatched, with the reception desk willing to help you with each and every step of your trip.
What makes MUJI Hotel Ginza sustainable
MUJI Hotel Ginza was built with a natural state of mind, using mostly wood, stone, and earth. The interior design of the hotel uses paving stones recycled from trolley ways in Tokyo that are over 100 years old, in addition to wooden material and debris recycled from an actual Japanese ship, for an intricate and unique design. Rooms keys are made out of recycled coat hangers, and the hotel uses water and energy-saving services throughout the entire facility.
Hotel details
Address: 
104-0061 Tokyo-to, 3-3-5 6F Ginza, Chuo-ku, Japan.
Guest rating:
4.3 out of 5
Price per night:
From $124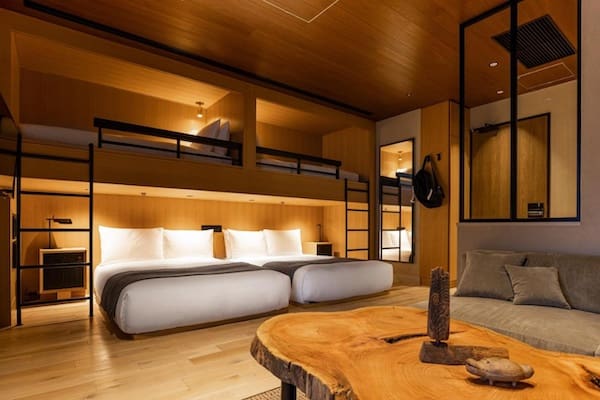 Trunk Hotel
The Trunk Hotel is one of the best eco-friendly accommodation options in Shibuya. The property has a motto of "to live true to yourself, without under pressure, but with a life-sized social purpose. The boutique hotel is for sustainable travelers living in the here and now and wanting to make an impact on others around them.
Located in the popular district of Shibuya, the hotel sits in one of the most popular areas of the city. Restaurants, shops, and cafes line the streets, as well as the infamous Onden Shrine opposite the Trunk Hotel. Rooms feature a simple and minimalistic design, with private stocked bathrooms, a mini fridge, and all other traditional hotel amenities. Trunk also owns a lounge, restaurant, cafe, store, and wedding and events facilities.
What makes Trunk Hotel sustainable
The Trunk Hotel takes great pride in embodying the concept of 'socializing,' and has even been recognized worldwide. They donate a portion of their profits each year to create social opportunities for the daily lives of guests and residents in Tokyo, as well as a determination to make people more social and energetic. The hotel provides water-saving toilets, bike rentals, and display work from local artists and designers.
Hotel details
Address: 
150-0001 Tokyo-to, 5-31 Jingumae, Shibuya-Ku, Japan.
Guest rating:
4.5 out of 5
Price per night:
From $220

The InterContinental ANA Tokyo Minato City Hotel is known for being a continuation of a journey through the majestic city of Tokyo. The entire property is rich and diverse like the city, and the peacefulness and serenity of the temples in Japan are represented through the atmosphere and interior design. Guests can be a part of the urban sophistication of Tokyo while being sustainable and environmentally friendly at the same time.
Located in the heart of Tokyo, the hotel is a prime location for visitors. It is within walking distance of the Tokyo Tower and Imperial Palace, as well as providing transportation directly to and from the airport. There are 844 rooms with televisions and desks, private bathrooms and seating areas, 22 halls, and 12 different dining options on-site. The hotel features an outdoor pool for summer use and a 24/7 health and fitness gym.
What makes InterContinental Minato City sustainable
InterContinental -ANA Tokyo Minato City is sustainable by using the IHG Green Engage System throughout the property, reducing energy, water, and waste. They were also the very first hotel in Tokyo to participate in the Evian Tree Planting Program. For every 10 liters of Evian water sold on the property, one tree will be planted.
Hotel details
Address: 
107-0052 Tokyo-to, Minato-ku, Akasaka 1-12-33, Japan.
Guest rating:
4.1 out of 5
Price per night:
From $170
The Strings
The Strings is a proud representation of the beauty and sustainability of Tokyo. The hospitality and friendliness on-site are hard to beat, pleasing and assisting guests with every aspect of their journey. If you are looking for an eco-friendly stay with magnificent skyline views, The Strings is the perfect place to be.
Located in the Konan district of Tokyo, The Strings hotel is within walking distance of various popular sights in the cities such as the famous Tsukiji Fish Market, restaurants, shops, and the Shinagawa Station. Rooms have a minimal and tasteful Japanese design, with large windows giving a skyline view of the city. They are stocked with comfy beds, private bathrooms, a sitting area, and cable television. Guests are welcome to relax onsite with in-room aromatherapy and reflexology services, as well as China Shadow Restaurant proving an interfusion flair of cuisine.
What makes The Strings sustainable
The Strings is sustainable by being a part of IHG and holding Green Hotel Certification. The calculation and reduction of the offset by carbon footprint are monitored daily, as well as other processes the hotel does to keep the environment and atmosphere as eco-friendly as possible and use reusable energy and waste reduction.
Hotel details
Address: 
108-8282 Tokyo-to, Minato-ku, Konan 2-16-1 Shinagawa East One Tower 26-32 Floor, Japan.
Guest rating:
4.4 out of 5
Price per night:
From $230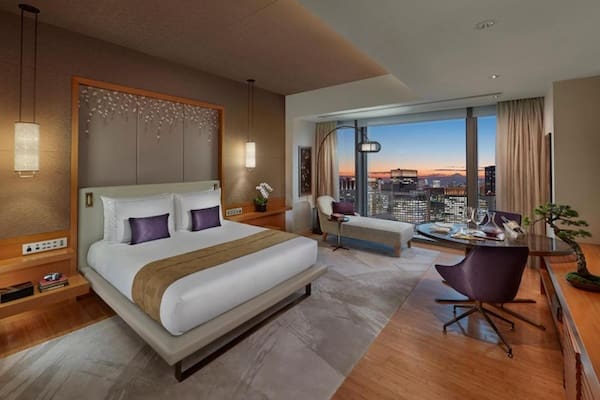 Mandarin Oriental Nihonbashi
The Mandarin Oriental Nihonbashi is a 5-star luxury and sustainable hotel in the heart of Tokyo. It's been awarded TripAdvisor's Travelers Choice Award and Certificate of Excellence. With award-winning spa services, spacious rooms, and mouthwatering restaurants, the Mandarin Oriental is more than just a hotel, it's an experience like no other.
Located in the popular and historical area of Nihonbashi, it is within walking distance of the Tokyo Stock Exchange and the JR Tokyo Station, which can take you anywhere in the city. Rooms in the Mandarin Oriental are some of the most spacious in all of the city, stocked with flat-screen televisions, private bathrooms, sofas, work areas, and other traditional amenities.
What makes Mandarin Oriental Nihonbashi sustainable
The Mandarin Oriental Mihonbashi hotel is sustainable by doing its best to eliminate single-use plastic, as well as being part of the 'Clean the World' corporation, promoting clean and sanitary hygiene. The hotel uses a green card system, allowing guests to choose the level of sustainability received, whether that be through a lower amount of towels and bed changes, or reducing waste and plastic use.
Hotel details
Address: 
103-8328 Tokyo-to, Chuo-ku Nihonbashi Muromachi 2-1-1, Japan.
Guest rating:
4.6 out of 5
Price per night:
From $430
How we select the best eco-friendly hotels in Tokyo
We are a travel research company. We check a lot of details and guest reviews before making a selection. First, we check which hotels follow eco-travel principles. Are they recycling their waste? Do they work with local communities? Are they using renewable energy? Are they not using single-using plastics?
Secondly, we check guest reviews across multiple websites and only list hotels which have an aggregated review rating of at least 4 out of 5. So you can be certain you will be staying at an excellent eco-friendly hotel in Tokyo.
Sustainable travel is becoming increasingly popular and important as we strive to reduce our carbon footprints. There are many easy ways to reduce your impact while traveling, from choosing eco-friendly accommodations to respecting the local wildlife. Here are some of the most important tips for sustainable travel.
More Tokyo recommendations
Get to know the city even better by reading our other articles about Tokyo: