The Austrian capital of Vienna is known as the City of Music, as well as the City of Dreams, and is undoubtedly one of the most beautiful cities in Europe. From its cultural history, interesting landmarks, and intense amount of green spaces, it is a privilege to witness the magic and history of Vienna.
Vienna is one of the Greenest cities in Europe. Almost half of the city is covered with parks, lawns, fields, gardens, and the Vienna Woods. Public transport in the city goes absolutely everywhere, 30% of the city's energy is done by renewable sources, and recycling and composting programs are promoted ll throughout the city.
It's not hard to stay sustainable while in Vienna, as the city offers everything needed for the eco-conscious traveler. During your next visit to the historical Austrian capital, consider staying at one of these top 5 sustainable hotels in the city.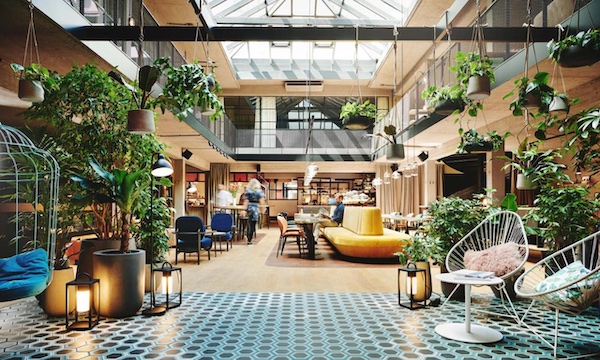 Gilbert Hotel
Gilbert Hotel makes sure that everyone is well taken care of. With a stylish and underrated charm, guests are welcome with open arms with everything needed to relax and be comfortable. Even after you check out, the hotel will follow up and ensure your next visit is even better than the first.
Located in the peaceful district of Neubau, the hotel sits within walking distance of the Natural History Museum and Leopold Museum. The Parliament of Austria and Volksgarten are also close by. The 4-star hotel can help assist guests to arrange tours and transportation around the city, provide free use of the on-site gym, sauna, and flower shop, and use e-bike rentals. Each room in the Gilbert Hotel has a private bathroom with toiletries, television, free wifi, a kettle, and a workspace.
What makes Gilbert Hotel sustainable
The Gilbert Hotel is sustainable by not just having a green thumb, but by being green to the heart. The hotel's green facade, herb garden, rooms, and areas are full of plants and encourage sustainability in every action and product used. They promote the use of regional products and suppliers, provide e-bike hire, and are introducing a green facade to provide less noise and fresh clean air.
Hotel details
Address: 
Breite Gasse 9, 07. Neubau, 1070 Vienna, Austria.
Guest rating:
4.4 out of 5
Price per night:
From $155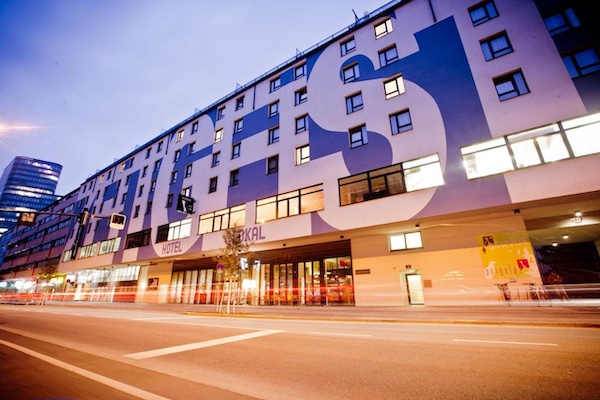 Zeitgeist Vienna
Zeitgeist Vienna is a hotel unlike any other. With modern design elements, well-planned rooms and seasonal cuisine, Zeitgeist Vienna convinces as a hotel that is constantly evolving. The hospitable employees ensure a perfect stay, just like genuine hosts with a passion.
Located just 300 meters from Vienna's main train station, Zeitgeist Vienna is in a prime location for those looking to experience the best of the city. Restaurants, shops, cafes, and historical sightseeing spots line the surrounding streets, and the train station makes traveling around easy as ever. The hotel features everything imaginable you may need for a pleasant and relaxing stay.
Free use of the fitness center and sauna promotes overall well-being, and the onsite restaurant will make sure guests never go hungry. Rooms are stocked with international sockets, iPads, a private bathroom with a walk-in shower, seating and work area, free wifi, and television, and, are pet friendly. By opting out of daily room service, guests can even save 20% on their stay.
What makes Zeitgeist Vienna sustainable
Zeitgeist Vienna is sustainable by implementing eco-friendliness into everyday life. The hotel uses green electricity and the toilet paper is free of chemicals and made of 100% recycled paper. They attach great importance to regional products and cooperation with local partners, and using natural materials over plastic is a top priority. Additionally, they save paper wherever possible and rely on digital formats instead.
Hotel details
Address: 
Sonnwendgasse 15, 10. Favoriten, 1100 Vienna, Austria.
Guest rating:
4.3 out of 5
Price per night:
From $98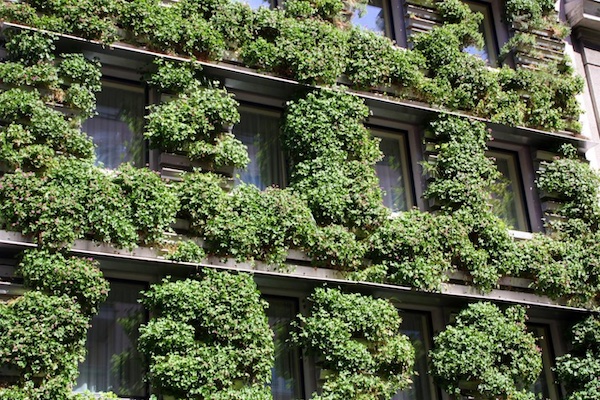 Boutique Hotel Stadthalle
Boutique Hotel Stadthalle is a place that recognizes beauty comes from within and is a pristine place to rest your head in Vienna. The art of turning old, forgotten things into something new promotes creativity, takes the pressure off our planet, and fosters a cozy ambiance. The green courtyard and the lavender roof, with all its busy bees and butterflies, create a tranquil environment, perfect for relaxing after a long day of sightseeing around the city.
Located in the neighborhood of Stadhallenbad, This boutique hotel sits in the center of all the action. It sits just a few minutes away from Westbahnhof Train Station, and the main shopping street of the city. The underground nearby can take you anywhere in the city quickly from the Beingasse stop. The hotel offers a 10% discount for those guests who arrive by train, foot, or shuttle, without causing extra pollution with a vehicle.
Additionally, a daily organic breakfast is served each morning, and the friendly staff can help arrange tours and attractions around the area and provide bicycle rentals. All rooms are light and open, with a cool modern design, and come with all the best amenities like free wifi, a private bathroom with toiletries, a seating area, and great views.
What makes Boutique Hotel Stadthalle sustainable
Boutique Hotel Stadthalle is sustainable by implementing concrete steps in accordance with the UN's Sustainable Development Goals (SDGs). The 17 goals laid out in the SDGs and their numerous targets by the UN have provided inspiration to the philosophy at the hotel and have shown a concrete path for integrating sustainable practices in everyday endeavors. At the Boutique Hotel, all 17 goals are met in all 17 rooms.
Hotel details
Address: 
Hackengasse 20, 15. Rudolfsheim-Fünfhaus, 1150 Vienna, Austria.
Guest rating:
4.5 out of 5
Price per night:
From $95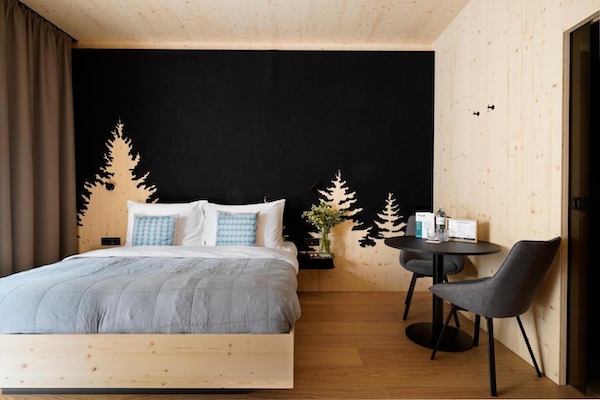 Numa The Wood
Numa The Wood is a natural gem in the cultural crown of Vienna, an urban oasis created from over 1,500 sustainably sourced spruce trees. It's a great place to base yourself while exploring Vienna, packed with a friendly and hospitable staff, a pleasant environment, and amazing views from the rooftop terrace. Numa The Wood creates stays that are unashamedly original and that match how people feel when they travel.
Located in the heart of the city in Funfhaus, Numa The Wood is in a great location for exploring downtown Vienna and experiencing all that the city can offer. Surrounding streets are lined with restaurants, shops, and boutiques, in addition to various cultural landmarks and activities. The hotel offers modern-designed studio apartments, suites, and terraces, ideal for luxurious or long-term stays in the city. All rooms come equipped with free wifi, contactless check-in, a private bathroom with toiletries, a seating area, daily breakfast, and personalized curated city guides upon request.
What makes Numa The Wood sustainable
Numa the Wood is sustainable by being a climate-friendly facility made completely of wood. In fact, 1,500 spruce trees from sustainably managed forests provided the construction materials for the hotel. Through Sustainability and efficiency, every part of every tree is used. Renewal of resources is a natural part of the process, with one to two replacement saplings planted for every tree felled.
Hotel details
Address: 
33 Mariahilfer Gürtel, 15. Rudolfsheim-Fünfhaus, 1150 Vienna, Austria.
Guest rating:
4.4 out of 5
Price per night:
From $70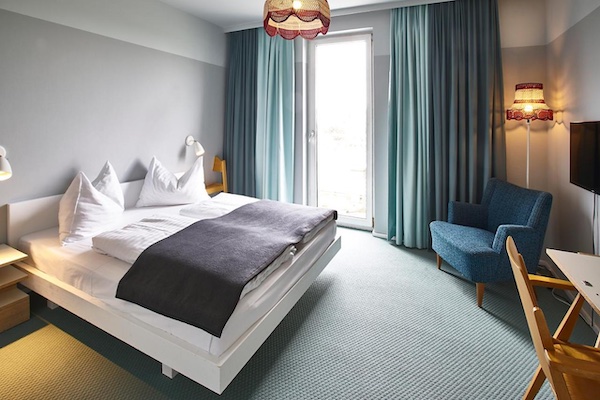 Magdas Hotel
Magdas Hotel is a place where guests can be comfortable and open-minded in the cultural hub of Vienna. The hotel focuses on people, rather than profit, and aims to make the world a better place. Magdas Hotel promotes eco-friendliness and creates purposeful jobs in the hotel industry for those in need of having had to flee their country, promising a high-quality stay each and every time.
Located in Stadtpark close to the city center, Magda Hotel is within reach of good food, good fun, and a lot of entertainment. Not too far away, those who seek art and culture can visit 'Schloss Belvedere', in addition to other popular places such as Wien Mitte and the main train station. The hotel features an on-site restaurant, in addition to upcycled rooms designed for sustainability and relaxation. Rooms come equipped with a television, free wifi, a private bathroom, and a balcony, and Apartments and suites feature extra amenities, seating areas, and kitchenettes.
What makes Magdas Hotel sustainable
Magdas Hotel is sustainable by implementing green practices and provides a fresh air experience guaranteed. The hotel has turned its parking spaces into an open green area for guests. Eco-friendliness is also implemented into the facades of the hotel. Magdas Hotel is happily looking forward to increasing air quality and an improved microclimate, which not only benefits you but also the neighborhood.
Hotel details
Address: 
Laufbergergasse 12, 02. Leopoldstadt, 1020 Vienna, Austria.
Guest rating:
4.2 out of 5
Price per night:
From $107
Whether you are coming to visit Vienna for the music, the atmosphere, or the history, sustainability is always important. We hope that you have enjoyed this guide to the best sustainable hotels in Vienna and that you choose to stay eco-consciously during your next visit.
How we select the best eco-friendly hotels in Vienna
We are a travel research company. We check a lot of details and guest reviews before making a selection. First, we check which hotels follow eco-travel principles. Are they recycling their waste? Do they work with local communities? Are they using renewable energy? Are they not using single-using plastics?
Secondly, we check guest reviews across multiple websites and only list hotels with an aggregated review rating of at least 4 out of 5. So you can be confident you will stay at an excellent eco-friendly hotel in Vienna.
More and more people recognize the importance of sustainable travel. Not only is it better for the environment and our planet, but it also often leads to more meaningful experiences. If you're interested in learning more about eco-tourism, here are some eco-friendly travel tips to get you started.
More Vienna recommendations
Get to know the city even better by reading our other articles about Vienna: