Vienna is the elegant capital city of Austria that combines imperial traditions with modern architecture. It has been a cultural hub in Europe since the late 19th century, making outstanding contributions to art, philosophy, and music.
There are so many sights to see and activities to do in Vienna. You can drink coffee at one of its many coffeehouses that are a cornerstone of Viennese culture and history. If you walk down its streets, you'll be strolling along the same passageways historical figures such as Einstein, Freud, or Beethoven once roamed. Art lovers are in heaven in Vienna, with museums that house the most significant European artists' collections. The city is well-known as the City of Music, and you can see some spectacular productions at the Vienna State Opera.
If you're planning a vacation to this historic place, here are the five best boutique hotels to stay at in Vienna.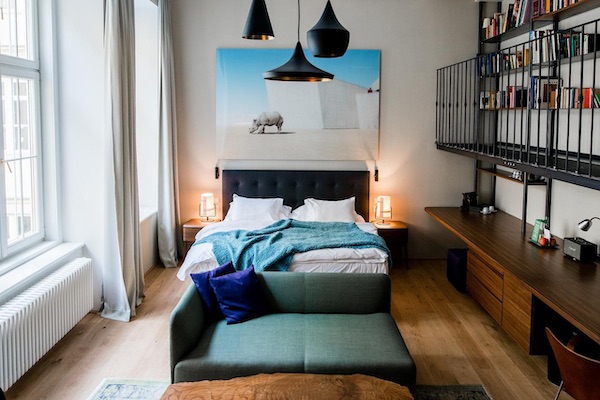 Altstadt Vienna
You will stumble upon this artistic boutique hotel just a few blocks away from Vienna's cultural center. Enter, and you'll find hundreds of art pieces that will rival any local art museum. Most of these works of art come from Austrian artists.
Spend the night here, and you'll find that each of its 45 rooms, designed by local fashion designers, architects, and creatives, embodies Altstadt's imaginative spirit. In addition to being well-designed, the hotel is Vienna's first Austrian Eco Seal-approved hotel. Plants feed on recycled water, and there are robust composting systems. All food served at the hotel is local, organic, and delicious, including coffee roasted on the same street.
Visitors love the stylish hotel, artistic touches, and tasty breakfast.
Hotel details
Address: 
Kirchengasse 41, 07. Neubau, 1070 Vienna, Austria.
Guest rating:
4.7 out of 5
Price per night:
From $155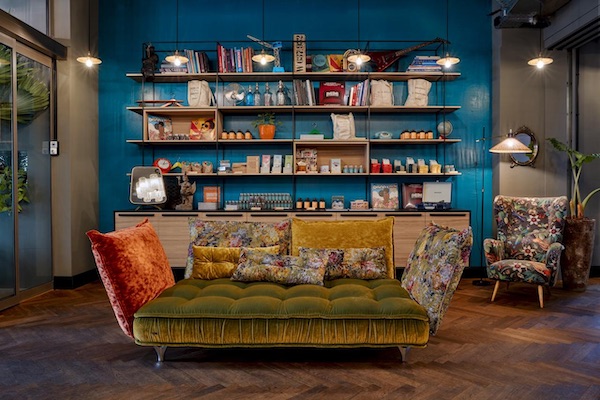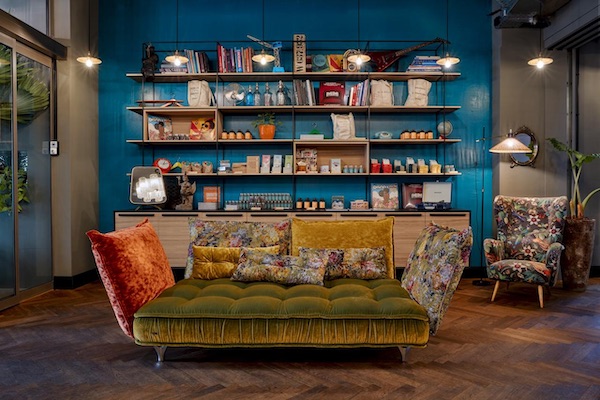 Max Brown 7th District
Max Brown 7th District Hotel can be found neatly tucked away in Vienna's trendiest neighborhood, Neubau. Some of the best coffee shops are in the area, and there is excellent street food to sample at the Naschmarkt.
Step into the property, and you'll be in for a surprise. The interior is jam-packed with colorful, eclectic furnishings and nicknacks. You'll find unique details like record players, bright blue dial-up telephones, and funky wall art in the rooms. In the hotel's restaurant, Seven North, the warm and sunny vibes continue at the Southern Mediterranean eatery spearheaded by celebrity chef Eyal Shani. Don't forget to sip some refreshing cocktails at the restaurant's bar!
Guests enjoyed the quirky design, tasty restaurant, and comfortable beds.
Hotel details
Address: 
Schottenfeldgasse 74, 07. Neubau, 1070 Vienna, Austria.
Guest rating:
4.4 out of 5
Price per night:
From $100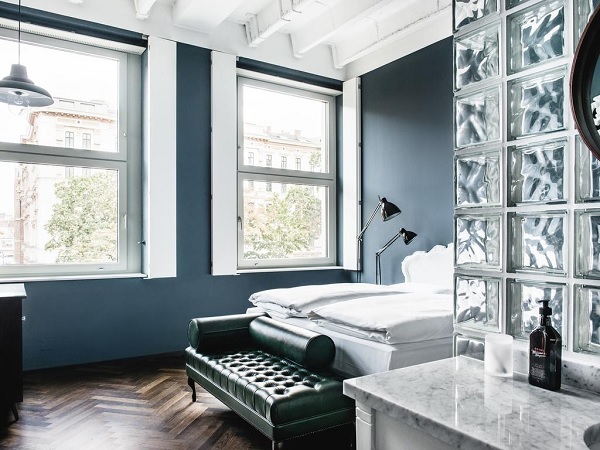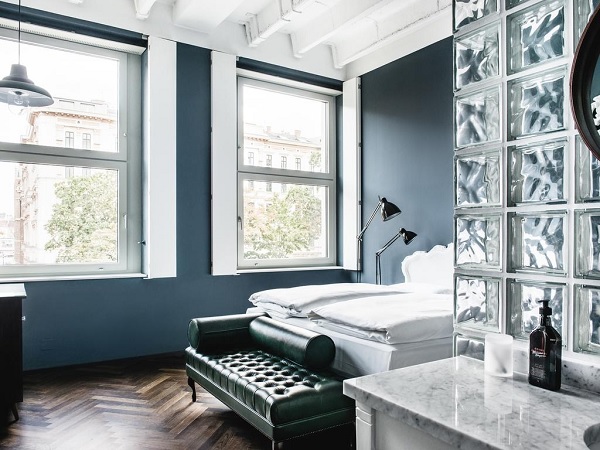 Grand Ferdinand Vienna
In a city full of lavish historic palaces stands Grand Ferdinand Vienna, a modern marvel within a sea of tradition. It is one of Vienna's newest hotels, located in one of the city's oldest neighborhoods. The hotel opted not to compete with the area's historical buildings and instead decided to carve out its own path.
Grand Ferdinand plays up its building's mid-century features while adding splashes of mod design. Rooms and suites have leather chairs, parquet floors, and vintage lamps to add to the ambiance. Suites have some extra luxurious such as mini champagne bars and personal terraces. For full-sized cocktails, head to the rooftop for some poolside drinks.
Highlights here include the creative atmosphere, central location, and delicious dining.
Hotel details
Address: 
Schubertring 10-12, 1010 Wien, Austria.
Guest rating:
4.2 out of 5
Price per night:
From $165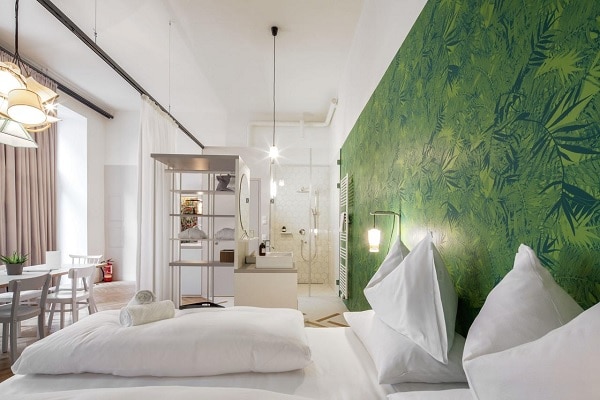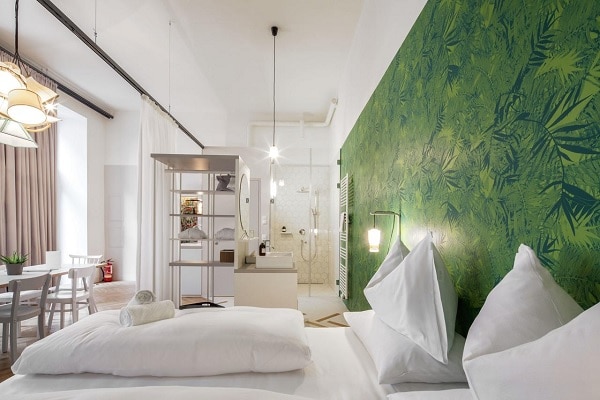 Graetzlhotel Karmelitermarkt
This accommodation offers an en experience that strays away from your typical hotel stay. It is a highly independent getaway for those who aren't looking for anything intrusive. There is no front desk check-in. Instead, you grab your key from a passcode-protected safe and head directly to your suite.
Enter into one of their seven rooms, and you'll find tastefully-designed spaces made from abandoned storefronts. Amenities are minimal here, giving you the feeling of staying at an apartment instead of being at an all-inclusive resort. However, your stay will by no means be dull, with countless attractions, eateries, and retail destinations within its lively Jewish Quarter location.
Visitors loved Graetzlhotel's unique concept, energetic neighborhood, and access to tourist attractions.
Hotel details
Address: 
Große Sperlgasse 6, 1020 Wien, Austria.
Guest rating:
4.5 out of 5
Price per night:
From $128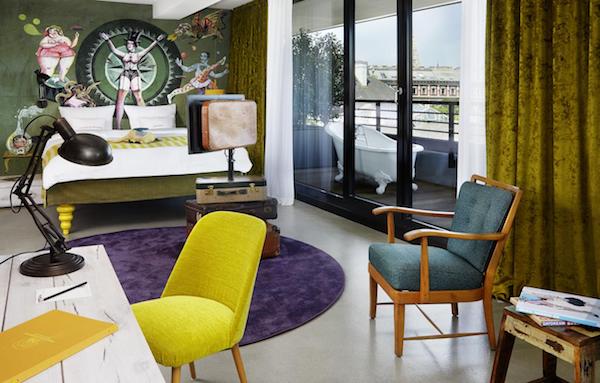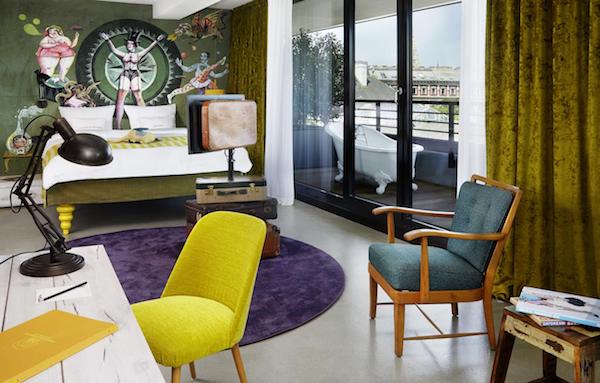 25Hours Hotel at Museumsquartier
People attracted to Vienna because of its museums and vibrant street life feel right at home at the 25Hours Hotel. It is nearby the city's museum district and Neubaugasse shopping area, just west of the city center.
The hotel's sleek exterior with a relatively muted color palette may mislead you to think the interior will be minimalistic. However, you'll be surprised to find a circus-inspired maximalist aesthetic inside. It seems that every inch of its shared spaces and guest rooms has a pop of color on it. There is more to the hotel than just its design. You can relax at the top-floor lounge or grab some food at its tasty restaurant.
Guests enjoyed the fun atmosphere, central location, and bar.
Hotel details
Address: 
Lerchenfelder Str. 1/3, 1070 Wien, Austria.
Guest rating:
4.5 out of 5
Price per night:
From $140
About our boutique hotel recommendations in Vienna
We are a travel research company. We help you discover the best boutique hotels in Vienna by researching the internet for you. It's not just our opinion, it's the opinion of many travelers who have been there before you. We make it easy for you to find out about cool design hotels and unique design hotels in the city. Some of them might be so romantic you might not want to leave your room.
Please note, we only list hotels that have an aggregated guest review rating of at least 4.0 out of 5. We aggregate all reviews from different booking sites and other unbiased review websites. Hence, you can be certain all hotels listed above offer you a great stay in Vienna.
Best price guarantee
We partner with Booking.com and Hotels.com to provide you with the lowest price guarantee on your stay in Vienna! Both those websites offer price matching. That ensures that you are paying the lowest price available online. If you find a cheaper offer on another website for the same cool hotel in Vienna at least 24 hours before check-in, contact them to claim a refund of the difference!
Top 5 boutique hotels in Vienna
Before you go, let's summarize this guide. Based on thousands of guest reviews and tips from travel experts, these are the best boutique hotels in Vienna:
More Vienna tips
If you like our guide above, you should also check out our other articles about Vienna: