Lisbon, Portugal–a city decorated with a unique blend of old-world riches and new-world charm. This seaside city on the Ibiza Peninsula attracts visitors from all over the world. Known for its idyllic architecture, its mouth-watering delicacies, and the 300 days of sunshine it receives on average. Spend a day exploring castles, riding trolleys through the streets, or simply relaxing by the ocean. Lisbon has something for everyone to enjoy.
Lisbon's incredible culture is made up of a rich diversity that spans many centuries. Once a city ruled by ancient Romans, conquered by the Moors during the middle ages, but rose to the height of its glory from the spice trade in the 15th and 16th centuries. When it comes to visiting Lisbon, expect to be treated with enticing port wines, dozens of delectable seafood dishes, more castles than you can possibly imagine, and the romantic sounds of fado, a Portuguese style of music that sings of the yearning for a sailor's return.
Lisbon is also growing and adapting to better suit its place within the world. Like many other prominent cities across the European continent, Lisbon is becoming increasingly eco-friendly and offers many sustainable hotel options for visitors. This makes the cultural charm of Lisbon even grander.
As travelers focus more on green initiatives and preserving the world at large, it's important to find accommodations that meet their expectations. Fortunately, this is having a profound impact in cities like Lisbon, and many leading hotels have made sustainability one of their top priorities in addition to serving their guests.
We've compiled a list of the top 5 sustainable hotels in Lisbon so you can book your stay in comfort and confidence.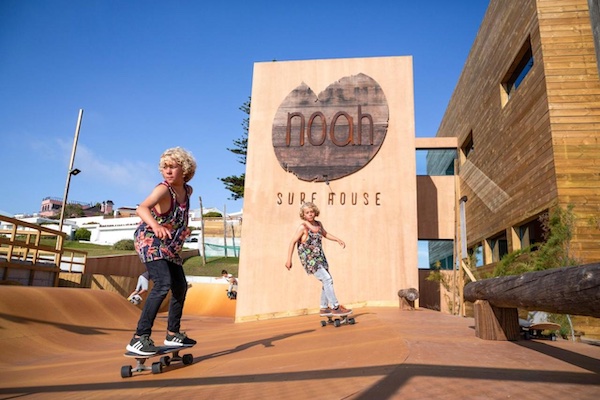 Noah Surf House
Located just a short ride north of the city of Lisbon, Noah Surf House is a relaxing seaside retreat with plenty of room to enjoy the open air. By car, Noah Surf House is about an hour's drive outside of the city near the smaller town of Silveira. Not far from this tiny resort, you'll also find world-class beaches at Praia da Mexilhoeira and Praia da Foz do Sizandro.
Noah Surf House makes up for its limited rooming options with larger-than-life opportunities. There are 8 rooms available for guests looking to enjoy private space. Alternatively, if you don't mind rooming with others, there are 13 bungalows available in a shared room, equally as ornate. The entire interior and exterior of Noah Surf House is decorated with a chic surfer vibe, perfectly enhanced by the seaside overlook it provides.
What makes Noah Surf House sustainable
When it comes to sustainability, Noah Surf House goes above and beyond, creating a truly eco-friendly environment for its guests. The rooms aren't equipped with air conditioning but instead are chilled by cool seaside air. When it gets a little too chilly, the floors are heated by aerothermal energy provided by the daytime sun. 70% of the hotel's water heating needs are generated by solar panels and rainwater is harvested and put to use in the garden and in the wash. Noah Surf House also has a composting station, has removed all disposable plastics, and even upcycles its decorations.
Hotel details
Address: 
Avenida do Atlântico, 2560-042 Santa Cruz, Portugal.
Guest rating:
4.7 out of 5
Price per night:
From $170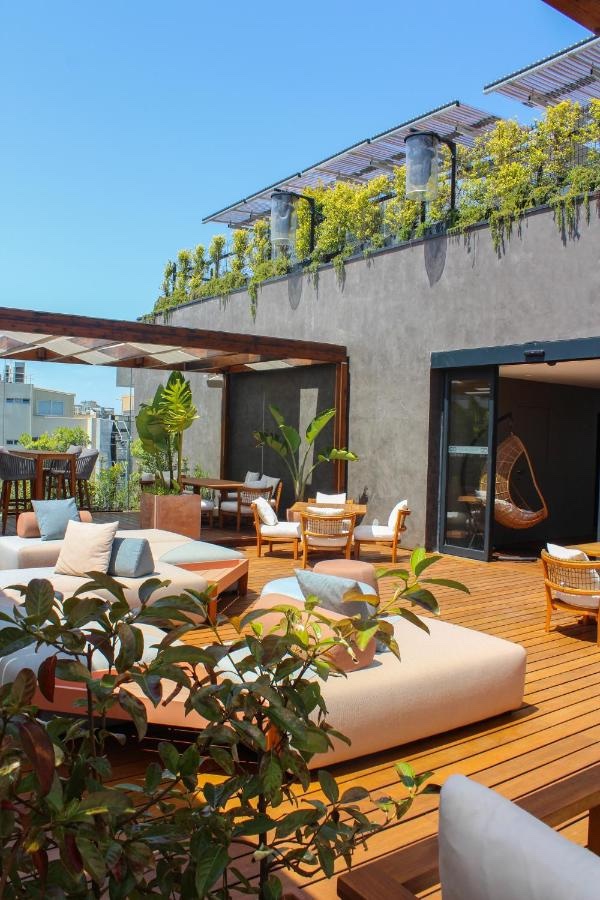 Lux Lisboa Park Hotel
Located in the heart of Lisbon, the Lux Lisboa Park Hotel brings elegance and minimalism into a 4-star luxury hotel. For those looking for a quality stay while in downtown Lisbon, this hotel is a perfect option. The hotel is just a 5-minute walk from Parque Eduardo VII and the beautiful outdoor recreation area at Parque Florestal de Monsanto.
Each room is tastefully decorated with warm tones and is soundproofed to allow guests to enjoy a quiet night's rest. A majority of the rooms include a balcony overlooking the city, but you'll also have access to comfortable air conditioning, free WiFi, and a flatscreen TV. In addition to a rooftop bar, there is also a heated pool and jacuzzi that you can take advantage of during your stay.
What makes Lux Lisboa Park Hotel sustainable
Although this hotel offers tons of luxury in the heart of Lisbon, it makes sustainability a priority as well. There is a ton of lush greenery on the rooftop terrace and natural shade provided by the pergolas. The hotel also uses LED lighting in all of the public areas and guestrooms to ensure that they are consuming as little energy as possible. The hotel's proximity to major attractions also allows guests to reduce their carbon footprint by being able to walk or take the trolley to almost every location.
Hotel details
Address: 
Rua Padre António Vieira 32 a 34, Avenidas Novas, 1070-197 Lisbon, Portugal.
Guest rating:
4.5 out of 5
Price per night:
From $170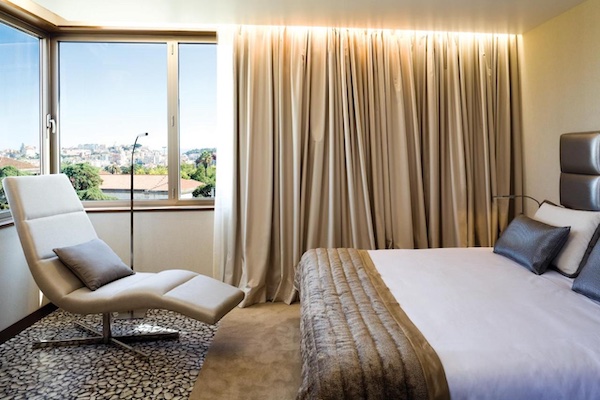 Neya Lisboa Eco Hotel
Toward the southeastern corner of Lisbon, you'll find Neya Lisboa Eco Hotel. This urban, sustainable hotel is just 20 minutes from the airport, making it easy to be reached for business trips. The hotel also rents out bicycles, creating a fun and eco-friendly way for guests to explore the city. You'll also have plenty of restaurants to choose from nearby, including several authentic Portuguese bakeries and a variety of ethnic options.
Neya Lisboa offers 76 guest rooms designed after forest, beach, and mountain landscapes. Each room There are a variety of additional accommodations that guests can take advantage of as well. The hotel has four meeting rooms, a workout area, and a spa offering multiple kinds of massages. When it comes to rest and relaxation, Neya Lisboa will help you achieve a whole new level of comfort.
What makes Neya Hotel sustainable
From the perspective of sustainability, Neya Lisboa works together with a variety of social solidarity institutions and engages in environmental causes. Since choosing to double down on eco-friendly initiatives, Neya Lisboa has made several improvements. Renewable solar energy is used instead of natural gas to heat bath water. In common areas, there are also flow reducers and sensors to prevent water waste.
The hotel also signed an electric energy supply contract to draw electricity from 100% renewable energy sources, which further reduced the hotel's carbon emissions. For this reason, Neya Lisboa was the first hotel to receive the Zero Carbon Certification in Portugal. The hotel has also removed all disposable plastics and relies heavily on locally sourced products to stimulate the local economy.
Hotel details
Address: 
Rua Dona Estefânia, 71-77, Arroios, 1150-132 Lisbon, Portugal.
Guest rating:
4.3 out of 5
Price per night:
From $114
Dare Lisbon House
Similarly located in the southeastern corner of Lisbon in the Baixa Pombalina neighborhood near the coast, Dare Lisbon House offers an unforgettable and enriching stay. Just a short walk away, you'll find the historic Arco da Rua Augusta, the Lisbon Cathedral, and the medieval ruins of the Carmo Convent. If you're looking for an easy way to explore the further reaches of the city, the Terreiro do Paço train station is also within a few minute's walk.
Dare Lisbon is entirely unique in its approach to providing guests with a comfortable stay. The artistic, contemporary, and clean design of the hotel's interior makes the space feel authentically local. With 23 guest rooms available, each structured like an apartment, Dare Lisbon prides itself on warm marble tones, vintage pieces, and Portuguese art. The guest room fridges are even stocked with natural yogurts, granola, oranges, honey, marmalades, eggs and milk, all purchased from local producers.
What makes Dare Lisbon House sustainable
When it comes to sustainability, Dare Lisbon dares to go above and beyond. The 18th-century building itself has been renovated with sustainable and locally-sourced materials, reducing the hotel's carbon footprint. Dare Lisbon also offers each room with its own glass water jug, completely removing the need for additional plastic materials. To reduce electricity consumption, the hotel also uses thermally insulated windows, LED lights, and water flow reducers.
Hotel details
Address: 
Rua dos Sapateiros 135, Santa Maria Maior, 1100-557 Lisbon, Portugal.
Guest rating:
4.7 out of 5
Price per night:
From $155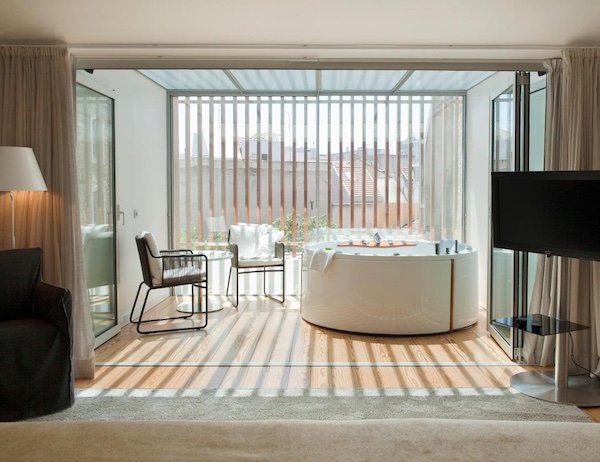 Inspira Liberdade Boutique Hotel
In the same neighborhood as the previous hotels, Inspira Liberdade is a 4-star boutique hotel and spa, offering guests a beautiful place to relax and unwind while still remaining in the heart of the city. The hotel is located within close proximity to several parks and historic monuments. In the daytime, it's easy to catch a trolley around the city to enjoy many of the scenic overlooks and various attractions.
For guests interested in total relaxation, Inspira Liberdade is a fantastic option. The hotel comes equipped with a full-service wellness center, including a sauna, Jacuzzi and steam bath, and a complete workout room. The hotel restaurant, Open Brasserie Mediterrânica, is also one of the few in Lisbon to offer a Gluten-Free Certificate while providing authentic Portuguese cuisine. For business travelers, Inspira Liberdade offers five meeting rooms and a comfortable auditorium, with high-tech, green energy solutions.
What makes Inspira Liberdade sustainable
In regard to its sustainability practices, Inspira Liberdade was awarded with the Best Luxury Eco/Green Hotel by World Luxury Hotel Awards in 2018 and 2019. The hotel runs off of 100% renewable energy and is equipped with solar heater panels, LED lighting, and cork flooring which provides natural insulation. The hotel restaurant only sources ingredients from local and organic suppliers, additionally recycling all of its food waste.
Employees of the hotel are encouraged to participate in eco-friendly programs, with a "Green Squad" team member leading each department. The hotel also sponsors biodiversity preservation initiatives and has removed all disposable plastics from its premises. Inspira Liberdade believes in the conscientious development of its practices and is always looking for additional ways to become even more eco-friendly.
Hotel details
Address: 
Rua de Santa Marta, 48, Santo Antonio, 1150-297 Lisbon, Portugal.
Guest rating:
4.4 out of 5
Price per night:
From $110
How we select the best eco-friendly hotels in Lisbon
We are a travel research company. We check a lot of details and guest reviews before making a selection. First, we check which hotels follow eco-travel principles. Are they recycling their waste? Do they work with local communities? Are they using renewable energy? Are they not using single-using plastics?
Secondly, we check guest reviews across multiple websites and only list hotels with an aggregated review rating of at least 4 out of 5. So you can be confident you will stay at an excellent eco-friendly hotel in Lisbon.
Sustainable travel is becoming increasingly popular and essential as we strive to reduce our carbon footprints. There are many easy ways to reduce your impact while traveling, from choosing eco-friendly accommodations to respecting the local wildlife. Here are some of the essential tips for sustainable travel.
More Lisbon guides
Get to know the city even better by reading our other articles about Lisbon: