Lisbon is the capital of Portugal and full of a deep-rooted culture that is just begging to be explored. Any world traveler that wants to see a wide range of perspectives and ideals should visit Portugal at some point along the journey.
Lisbon is a fantastic starting point to see more of the country or if you have very limited time. This is because a lot of Portugal's charm and history is located in this city. With a population of around 500,000, it can get quite busy in the streets and around town.
So, to help combat the hustle and bustle that can sometimes derail trips, you should consider staying in a boutique hotel. These are smaller accommodations that focus on giving you a great experience.
Here are the five best boutique hotels in all of Lisbon!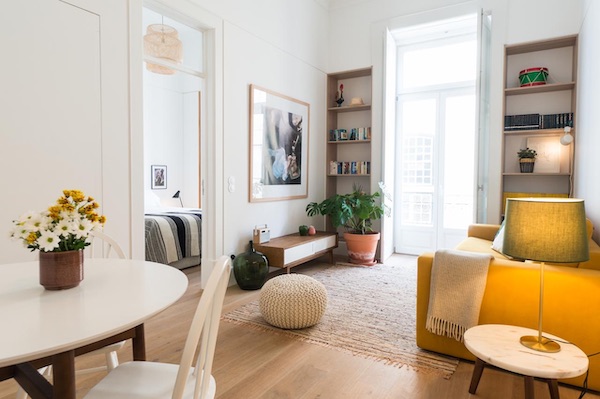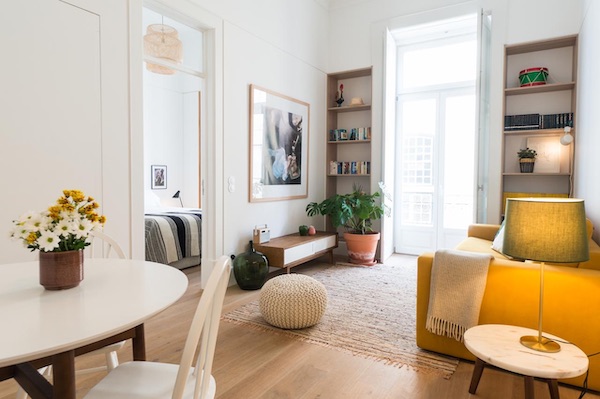 The Lisboans Apartments
If you want a pretty authentic experience in Portugal, the Lisboans is a great option to kick off this list. What separates this boutique hotel from the others is the apartment-style living situation that is different from the traditional hotel room. This gives you much more space, different features like seating areas, and incredible views.
If your budget allows, definitely splurge for the Penthouse. This is the top-most room that offers the greatest views of the city below.
Although it is not in the main building, there is a sister restaurant known as Prado that is an excellent source of cuisine. It won't take more than a few steps away from the hotel to grab a great bite to eat.
Hotel details
Address: 
Travessa Do Almada, 9, Santa Maria Maior, 1100-018 Lisbon, Portugal.
Guest rating:
4.8 out of 5
Price per night:
From $135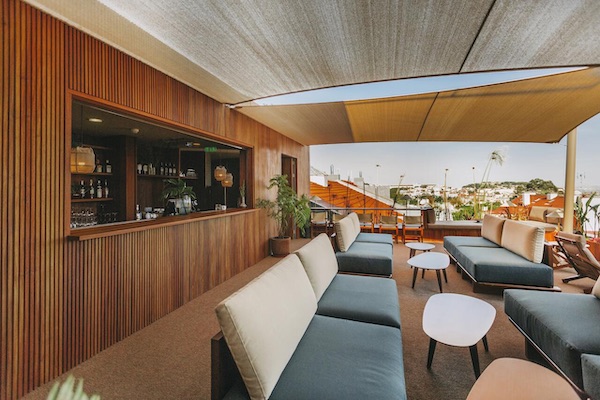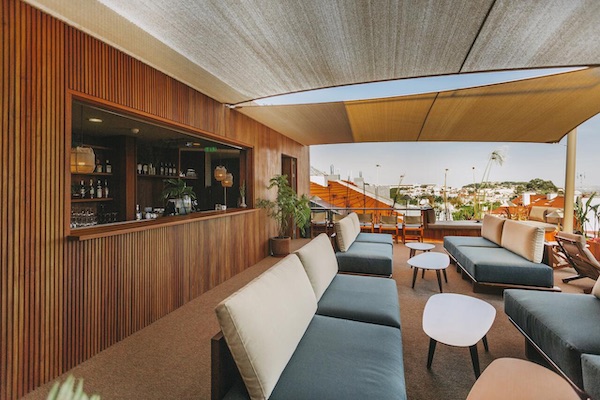 The Vintage Hotel and Spa
One hotspot of Lisbon is the very well-known Botanical Garden. A perk of staying at the Vintage Hotel and Spa is that you are within walking distance to that hotspot. You are also near some other great areas to check out, so you definitely won't be getting bored.
Another perk of the Vintage Hotel and Spa in terms of location is that it is situated on a backstreet that is quite quiet. Sometimes, staying in the heart of the action can be exhausting. So, you can escape just a touch without having to be too far from the business.
There are 56 rooms, so it is in the middle of the road in terms of size. Overall, it is a great option to keep in the back of your mind.
Hotel details
Address: 
Rua Rodrigo da Fonseca, 2, Santo Antonio, 1250-191 Lisbon, Portugal.
Guest rating:
4.5 out of 5
Price per night:
From $130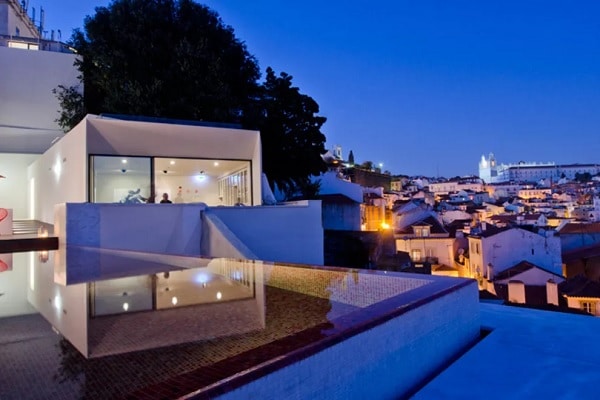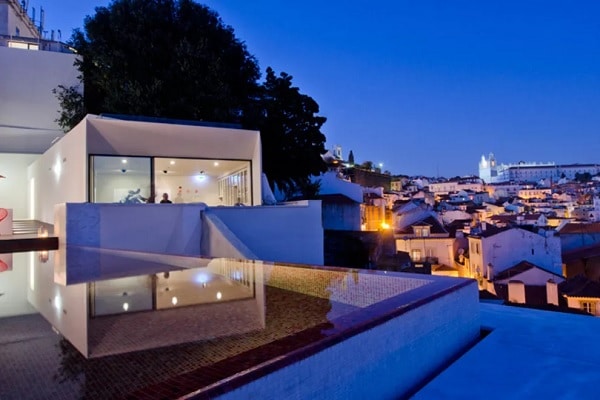 Memmo Alfama
The next highly-rated spot on our list is the Memmo Alfama. Whenever visiting a new place, there are certain spots that you have to check out. Oftentimes, they are historical or at least interesting. Two interesting locations in Lisbon are the River Tagus and the Sao Jorge Castle. Thankfully, this hotel is within walking distance to both of these spots.
This is an interesting area of history and art, so the culture runs deep. With 42 rooms, this is the perfect size in a great location. If you can be a high roller for the weekend, opt for the one suite that has incredible views and even more space.
Hotel details
Address: 
Tv. Merceeiras 27, 1100-348 Lisboa, Portugal.
Guest rating:
4.6 out of 5
Price per night:
From $118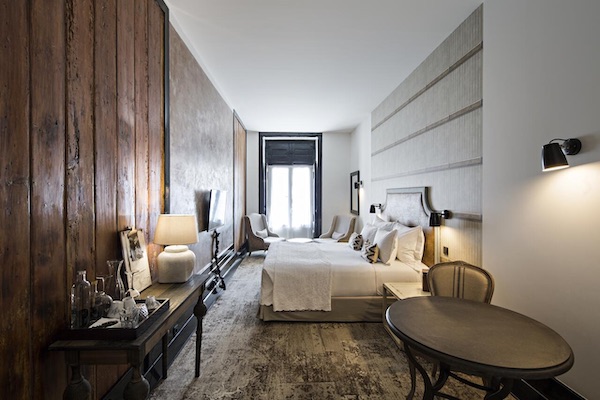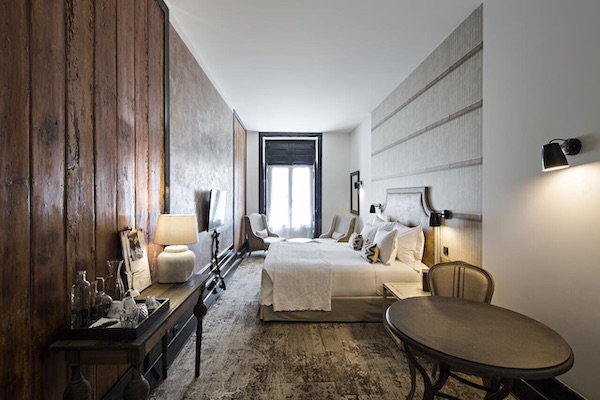 Almalusa Baixa/Chiado
One of the smaller options that we have today is the Almalusa Baixa/Chiado. This is a hotel that focuses on style and giving you some great accommodations. This is also the place to stay if you want to do a little food tour of your own. The unique location offers some incredible cuisine options within walking distance.
With 28 rooms, your satisfaction does not get overlooked as it can in the larger hotels. Overall, the Almalusa boutique hotel has a good mix of features within it as well as a cool location of outside attractions.
Hotel details
Address: 
Praça do Municipio 21, Santa Maria Maior, 1100-365 Lisbon, Portugal.
Guest rating:
4.6 out of 5
Price per night:
From $180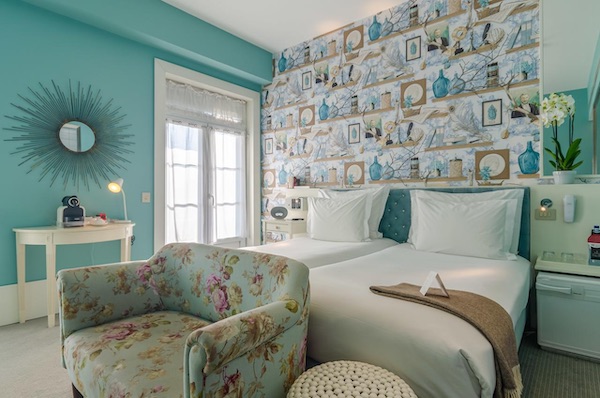 Lx Boutique Hotel
Last, but definitely not least, we have the Lx Boutique Hotel. With 61 rooms, it sits in the good medium of having updated features while still feeling very personal. The cool perk of the Lx hotel is the local artistry that defines the culture. The hotel commissioned local artists to put their influence on the rooms and vibe of the hotel.
This is a cool perk because you are visiting Lisbon to experience its culture. There is no better way to do this than to jump right into it.
Although you will also want to engage in Portuguese cuisine, sometimes you just want good food, no matter the genre. Confraria de Sushi is one of the best Japanese restaurants in all of Lisbon. Luckily for you, this restaurant is attached to the hotel. So, if you want to mix it up, stop by for some great sushi.
Hotel details
Address: 
Rua Do Alecrim, 12, Misericordia, 1200 – 017 Lisbon, Portugal.
Guest rating:
4.5 out of 5
Price per night:
From $115
About our boutique hotel recommendations in Lisbon
We are a travel research company. We help you discover the best boutique hotels in Lisbon by researching the internet for you. It's not just our opinion, it's the opinion of many travelers who have been there before you. We make it easy for you to find out about cool design hotels and unique design hotels in the city. Some of them might be so romantic you might not want to leave your room.
Please note, we only list hotels that have an aggregated guest review rating of at least 4.0 out of 5. We aggregate all reviews from different booking sites and other unbiased review websites. Hence, you can be certain all hotels listed above offer you a great stay in Lisbon.
Best price guarantee
We partner with Booking.com and Hotels.com to provide you with the lowest price guarantee on your stay in Lisbon! Both those websites offer price matching. That ensures that you are paying the lowest price available online. If you find a cheaper offer on another website for the same cool hotel in Lisbon at least 24 hours before check-in, contact them to claim a refund of the difference!
Top 5 boutique hotels in Lisbon
Before you go, let's summarize this guide. Based on thousands of guest reviews and tips from travel experts, these are the best boutique hotels in Lisbon:
More Lisbon tips
If you like our guide above, you should also check out our other articles about Lisbon: