You'll find Tel Aviv alongside the Mediterranean Coast in Israel. It is a vibrant city with remarkable contrasts. On the one hand, you'll see evidence of the city's economic and technological accomplishments embodied in its modern skyscrapers. On the other hand, you'll find ancient historical monuments and traditional marketplaces.
There's no scarcity of things to see in Tel Aviv. One main draw is the city's beaches. Some of the most famous ones include Tayalet, Bograshov, and Frishman. Shopping enthusiasts will have a blast perusing the many marketplaces.
Two outstanding ones to visit are Carmel and Sarona Markets. A trip to Tel Aviv wouldn't be complete without visiting museums such as the Ilana Goor and Tel Aviv Museum of Art. The best part is that the city has pleasant weather year-round so you can enjoy these attractions any time.
If you plan on visiting, here are the five best luxury hotels in Tel Aviv!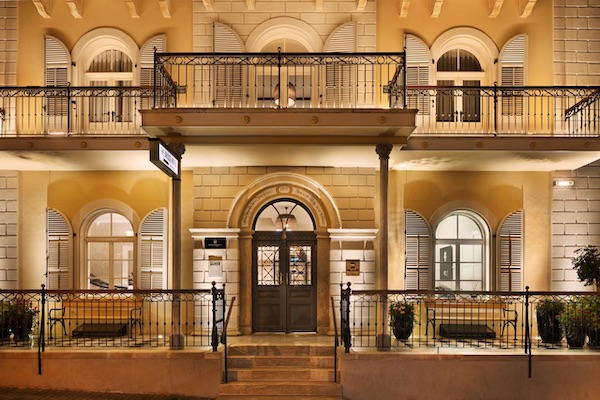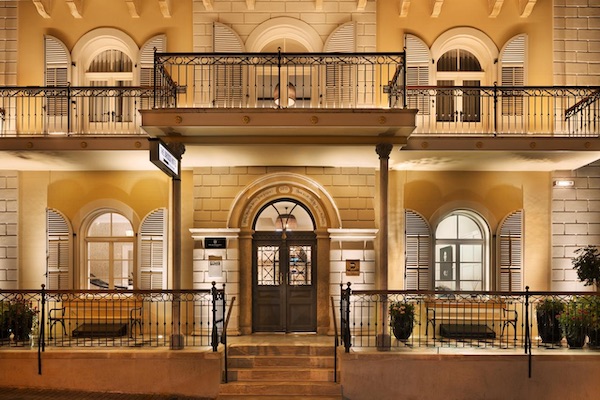 Drisco Tel Aviv
It isn't easy to blend historic charm with modernity, but Drisco Tel Aviv does it flawlessly. The hotel manages to convert its charming century-and-a-half old building into a luxurious space for guests.
Its 42 rooms and suites are far from minimalistic. They come perfectly adorned with carved headboards, intricate tilework, and ornamentation. Standard bathrooms at this hotel come appointed with marble.
The character and luxury displayed within these rooms and suites make it easy for guests to immerse themselves in their Tel Aviv experience. Downstairs, you'll find the beautifully decorated Drisco Bar and their restaurant Zeda, which serves Ottoman fare fit for royalty. Additionally, there's a gym, garden, and rooftop terrace.
Guests loved the luxurious rooms, unique charm, and personalized service.
Hotel details
Address: 
4-6 Auerbach Street, Tel Aviv, 6811911, Israel.
Guest rating:
4.6 out of 5
Price per night:
From $190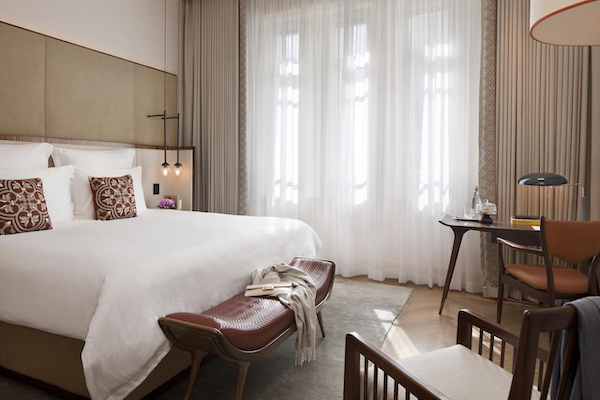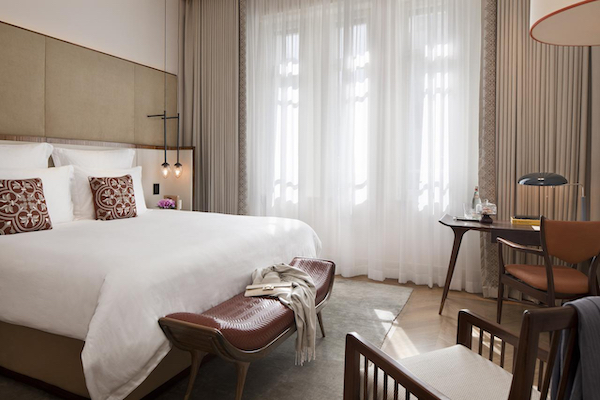 The Norman
Staying at the Norman is a unique experience that blends old-world charm and personalized experiences. This Bauhaus-inspired luxury boutique hotel will give you a taste of what life was like in the roaring 1920s.
There's nothing cookie-cutter about The Norman. You'd be hard-pressed to find two similar rooms at this hotel. Some rooms lean towards the more classic side. In contrast, others have asymmetrical couches, rainbow pillows, and a collection of small mirrors above the headboard.
You never know what color scheme or unique piece you're going to find in one of their rooms. Outside your room, you'll find a rooftop deck with stunning views, a spa, and a pool.
Visitors loved the communal atmosphere, luxurious rooms, and delicious dining.
Hotel details
Address: 
23-25 Nachmani Street, Tel Aviv, 6579441, Israel.
Guest rating:
4.6 out of 5
Price per night:
From $495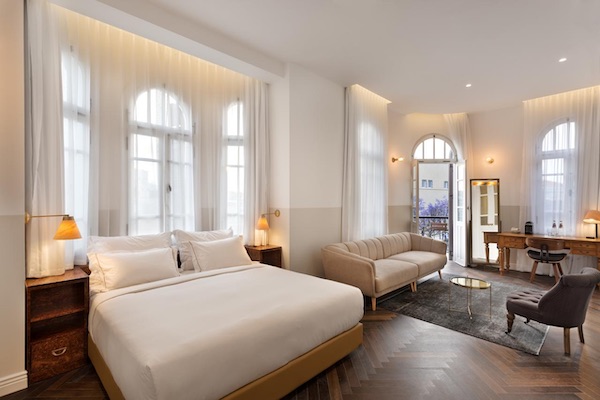 Nordoy Hotel
There is a reason why the Nordoy Hotel is one of Tel Aviv's oldest continuously running hotels. Constructed in 1925, it has almost a century of experience providing luxurious stays for guests. It's no wonder that the place has been running for so long.
The hotel has a unique design because it predates the Art Deco style that is wildly popular in Tel Aviv. Most historic hotels have small rooms, but that isn't the case here. Its décor has as many contrasts as the city itself, blending modern fixtures with antique furnishings. Each room has parquet floors and stylish beds. There are a small treatment spa and a rooftop lounge onsite.
Nordoy's highlights are its large rooms, attentive staff, and great location.
Hotel details
Address: 
27 Nachalat Benyamin, Tel Aviv, 6516204, Israel.
Guest rating:
4.6 out of 5
Price per night:
From $240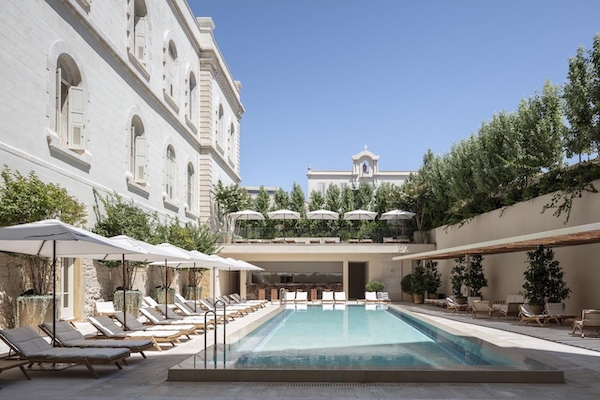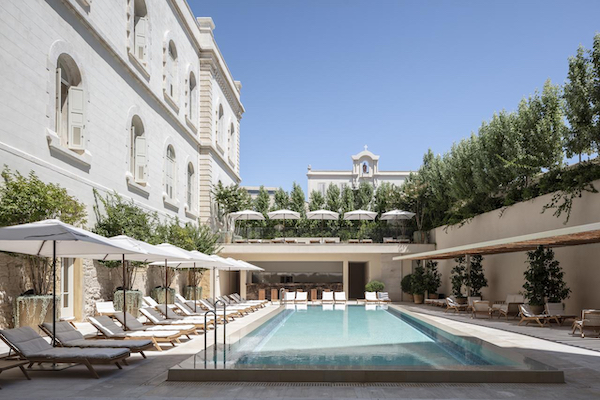 The Jaffa Hotel
If you're looking for a luxurious, breath-of-fresh-air in the middle of Tel Aviv, The Jaffa is your spot. This hotel is truly a remarkable experience. Condé Nast included this spot on their "Gold List 2021 Best hotel in the Middle East" list.
Once you step into this hotel, you'll understand why it has that designation. The hotel is a breathtaking blend of old and new. While many of the elements in its rooms and common spaces are modern, there is always a traditional touch. Walk around the property, and you'll find some fantastic amenities. Attractions include a delicious restaurant, beautiful courtyards, and a spa.
Visitors at The Jaffa enjoyed its historic charm, attention to detail, and exceptional hospitality.
Hotel details
Address: 
2 Louis Pasteur, Tel Aviv, 6803602, Israel.
Guest rating:
4.4 out of 5
Price per night:
From $420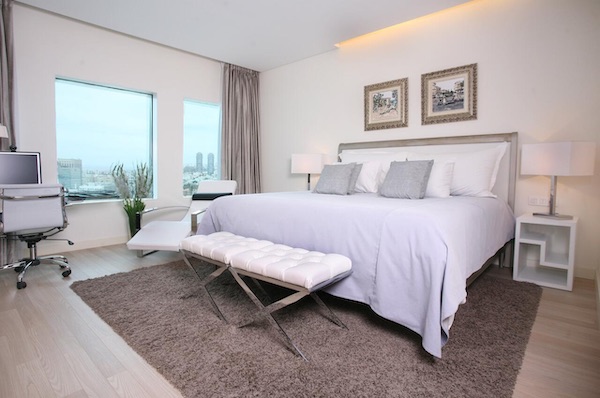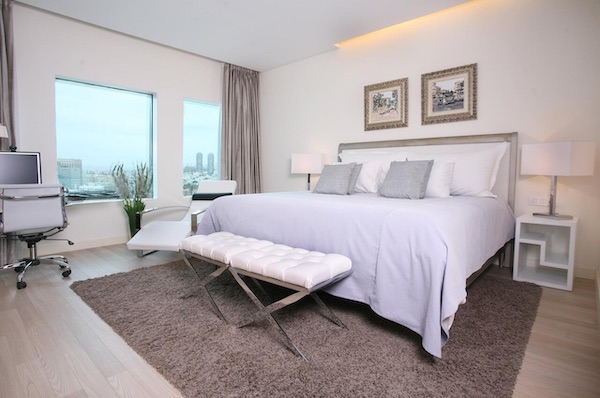 Crowne Plaza Tel Aviv City Center
The Crowne Plaza hotel chain has a worldwide reputation for outstanding experiences. The Tel Aviv City Center location is no exception. While it doesn't have the same historic charm as other hotels in the area, it makes up for it in panoramic views and proximity to the city center.
Its rooms and grounds have modern and sophisticated designs. There are no surprises here. This hotel offers the timeless, luxurious experience that makes the Crowne Plaza famous worldwide. You can find excellent amenities within the hotel, including a fitness center, spa facilities, and tasty kosher cuisine. What's unique about this hotel is its spectacular vistas, access to the Azrieli shopping center, and the Sarona center.
Guests enjoyed the restaurant, location, and staff.
Hotel details
Address: 
136 Menachem Begin Road, Tel Aviv, 67011, Israel.
Guest rating:
4.4 out of 5
Price per night:
From $180
About our luxury hotel recommendations in Tel Aviv
We are a travel research company. Our team helps you discover the best luxury hotels in Tel Aviv by researching the internet for you. We have also visited some of these places. Hence, it's not just our opinion, it's the opinion of many travelers who have been there before you. We make it easy for you to find out about the most luxurious and exclusive 5-star hotels in the city.
Please note, we only list hotels that have an aggregated guest review rating of at least 4.0 out of 5. We aggregate all reviews from different booking sites and other unbiased review websites. Hence, you can be certain all hotels listed above offer you a great stay in Tel Aviv.
Best price guarantee
We have partnered with Booking.com and Hotels.com to offer the best price for your stay in Tel Aviv! Both sites offer price matching, so you can be sure that you are getting the cheapest rates possible for a luxury hotel in Tel Aviv. If you find an even lower rate on another site at least 24 hours before check-in, contact them to claim a refund of the difference!
Top 5 luxury hotels in Tel Aviv
Having read this guide, now let's summarize what we learned. We found the best 5-star hotels in Tel Aviv thanks to reviews and tips from thousands of guests and travel experts:
More Tel Aviv recommendations
We hope you enjoy the advice we've given to you above. If so, be sure to check out some of our other articles about Tel Aviv: