Berlin, Germany, is a city with a long and culturally storied past. Visitors come from all around the world to see this historic city, fabled with Prussian kings and queens, the Nazi regime, and the infamous Berlin wall. Today, Berlin is a city of vibrant diversity, from its people and cultural dishes, to its memorials and shopping centers. There is truly something for everyone to enjoy here.
With 3.7 million inhabitants, this capital city of Germany is also the most populous city in the entire European Union. To put its size into perspective, Berlin takes up roughly the same space as New York City. Due to its location in the European Plain, Berlin has a temperate seasonal climate, meaning you can expect moderate to chilly winters, and comfortable, warm sunny days in the summer.
Historically, Berlin was first documented in the 13th century because it marked the crossing site of two important trade routes. Even today, its relative location within western Europe is part of what makes it such a prominent city still today. Berlin serves as a continental hub for dozens of intersecting air and rail lines. The city's public transportation is also one of the most vast and complex in all of Europe.
Today, Berlin's economy is known for its high-tech firms and its service industry, making the city very forward-thinking overall. Fortunately, if you're interested in visiting this European gem with eco-friendly options in mind, you'll have plenty of hotels and attractions to choose from. The city is very green and seeks to preserve the environment around it. That's why we put together this list of the 5 best sustainable hotels in Berlin. Read on to learn more!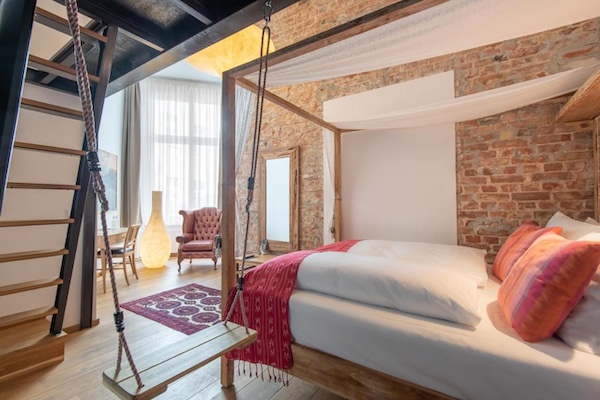 Lulu Guldsmeden
Lulu Guldsmeden is an iconic eco-friendly hotel located near the Tiergarten and Schöneberg neighborhoods, slightly southwest of the city's center. The hotel offers bike rentals for the whole family to enjoy, making it easy to get to popular destinations nearby, such as Checkpoint Charlie, the Schwules Museum, and the Berlin Zoological Garden. The Tiergarten is also one of the most popular areas in the city for outdoor recreation and relaxation.
Lulu Guldsmeden combines many cultural and contemporary styles into one flawless aesthetic. Drawing its hotel design from Nordic sleekness and Balinese retreats, Lulu Guldsmeden is the perfect urban refuge after a long day spent enjoying the sights of Berlin. In total, the hotel offers 81 rooms, each complete with a four-post bed and an in-room swing set. It's also pet-friendly and equipped to host business conferences and events.
What makes Lulu Guldsmeden sustainable
Where Lulu Guldsmeden perhaps excels the most however, is its focus on sustainability. To start, the hotel offers an organic restaurant and bar with locally sourced ingredients and a wide variety of drinks. In addition to the eco-friendly meals, the hotel has a green courtyard where you can relax and enjoy the sunshine. When you retire to your room for the evening, you'll also be pleased to find sustainable bedding, high-efficiency astronaut showers, and cosmetic products in bottles of reused plastic.
Lulu Guldsmeden even equips visitors with sustainable means of traveling around the city, with daily bike rentals available all day, every day.
Hotel details
Address: 
Potsdamer Straße 67, Mitte, 10785 Berlin, Germany.
Guest rating:
4.1 out of 5
Price per night:
From $140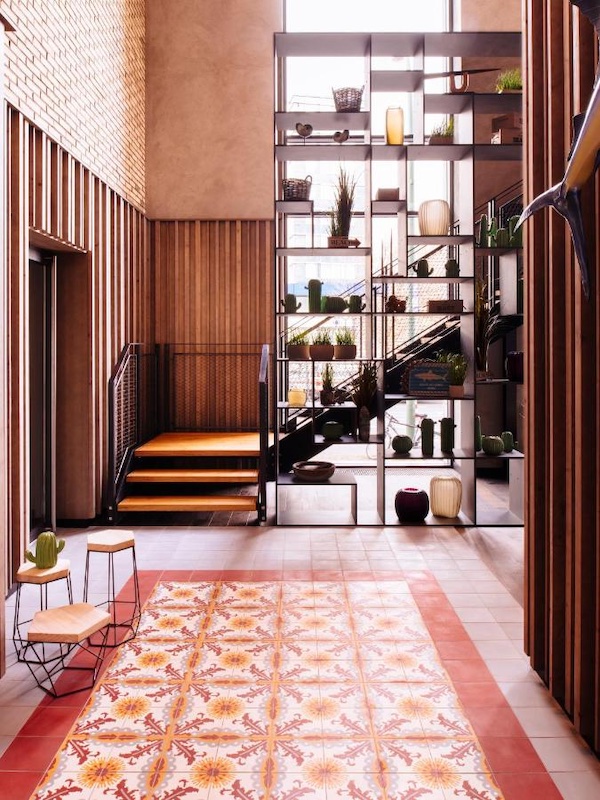 Vienna House Andel's Berlin
On the east end of Berlin, in the Friedrichshain neighborhood, you'll find Vienna House Andel's Berlin. Nearby attractions include the Stasi Museum, the Zeiss Major Planetarium, and the Berlin Wellenwerk Surf Park. This highly-rated 4-star hotel also makes it easy to reach other major attractions in the city center, such as the Pergamonmuseum, the Berliner Dom cathedral, and the Berliner Fernsehturm tower.
Compared to the more rustic feel of Lulu Guldsmeden, Vienna House focuses on being vibrant and sophisticated. There is a large-scale meeting hall and several conference rooms, 557 sleek rooms and suites, three restaurants and bars, a spa, and a private lounge service. If you're looking for a little more seriousness in your stay without losing the ability to relax and unwind, this is the hotel for you.
What makes Vienna House Andel's sustainable
From a standpoint of sustainability, each year, the hotel undergoes recertification and works only with companies that meet the same environmental standards. The restaurants in the hotel also only use local ingredients from regional providers. The hotel also has its own farmers' garden, where it sources additional ingredients.
In addition to the green initiatives set forth by the restaurants, the hotel itself also uses 100% green energy from wind and water sources. There is also LED lighting throughout the hotel and every appliance produces low emissions. When it comes to sustainability, Vienna House Andel's Berlin does a phenomenal job of protecting the environment without sacrificing luxury.
Hotel details
Address: 
Landsberger Allee 106, Lichtenberg, 10369 Berlin, Germany.
Guest rating:
4.2 out of 5
Price per night:
From $100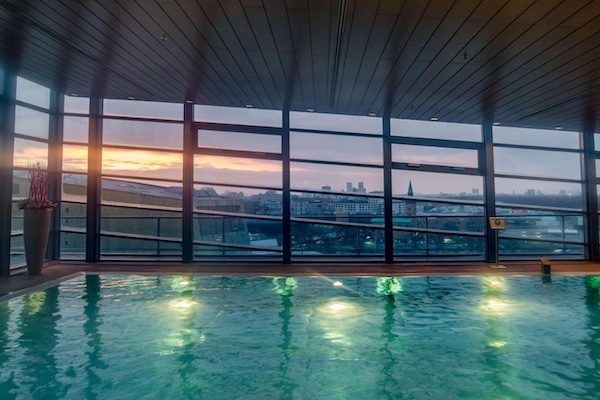 Grand Hyatt Berlin
Just south of Tiergarten, travelers can also enjoy a friendly and familiar hotel while still respecting eco-friendly practices. The Grand Hyatt Berlin is a 5-star hotel nearby to the shopping square of Potsdamer Platz, the Brandenburg Gate, and one of the most renowned Holocaust memorials in all of Berlin. The close proximity to Tiergarten park also makes it especially easy to get out and enjoy the greenery at the heart of the city.
Grand Hyatt Berlin offers 321 elegant rooms and 21 luxury suites, each offering scenic views of Tiergarten, the Berlin Philharmonic, or Marlene-Dietrich-Platz. Each guestroom features beautiful contemporary art on the walls and bathrooms adorned with marble and cherry wood decorations. Guests will also receive exclusive access to the Club Olympus Spa & Fitness center on the 8th floor of the hotel overlooking the rooftops of Berlin.
What makes Grand Hyatt sustainable
Although the Grand Hyatt of Berlin makes sustainability less of a focal point compared to some of the others on the list, it does observe eco-friendly initiatives. There are dozens of electric vehicle charging stations in the parking garage. The green terrace on the rooftop also supports several forms of plant life and grassy areas for guests to lounge on.
Hotel details
Address: 
Marlene-Dietrich-Platz 2, Mitte, 10785 Berlin, Germany.
Guest rating:
4.5 out of 5
Price per night:
From $190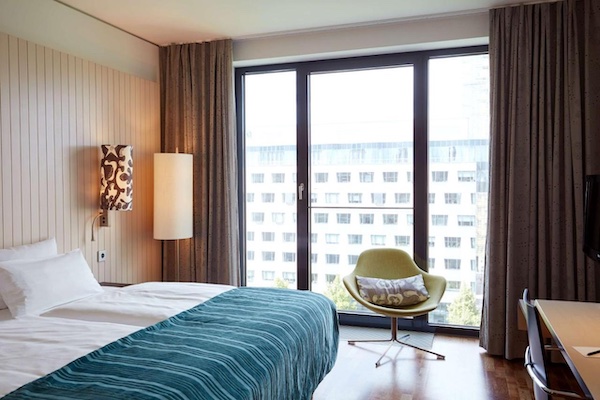 Scandic Berlin Potsdamer Platz
Looking for a slightly cheaper option than the Grand Hyatt while still respecting sustainability? No problem. The Scandic Berlin Potsdamer Platz hotel is similarly located south of Tiergarten, on the eastern side of the Tilla-Duriuex Park. The Potsdamer Platz shopping square is just a short walk, or electric scooter ride, away from the hotel. You'll also be close to several art galleries and the German Museum of Technology.
Scandic Berlin has a distinctly Scandinavian style throughout the hotel. With 561 guestrooms and 17 conference rooms, there's plenty of availability for guests from all around. Each of the rooms has four-season Scandinavian designs, ensuring that your stay will be enjoyable. The hotel restaurant and bar bring Swedish flair to modern organic dishes, all housed within a warm and comfortable atmosphere.
What makes Scandic Berlin sustainable
Scandic Berlin boasts of being the most eco-friendly hotel in all of Berlin. Each year, the hotel sets rigorous goals to cut down its CO2 emissions and total waste production. Impressively, as one of the leading hotel chains in the area, it has empowered each of its employees to find ways to build on its mission in sustainability, allowing them to hit its eco-friendly goals year after year. Scandic Berlin is even proud to share that one of their team members was the first to propose that guests hang up their towels if they want to reuse them, a standard now widely practiced in the industry.
In addition to its ongoing efforts in sustainability through community service and goal setting, Scandic Berlin has also emphasized its focus on reusable plastics, reducing water waste, and focuses on using 100% clean energy. The overwhelmingly positive impact of their sustainability practices has spread out across the nordic regions as one of the largest hotel chains in western Europe.
Hotel details
Address: 
Gabriele-Tergit-Promenade 19, Mitte, 10963 Berlin, Germany.
Guest rating:
4.2 out of 5
Price per night:
From $100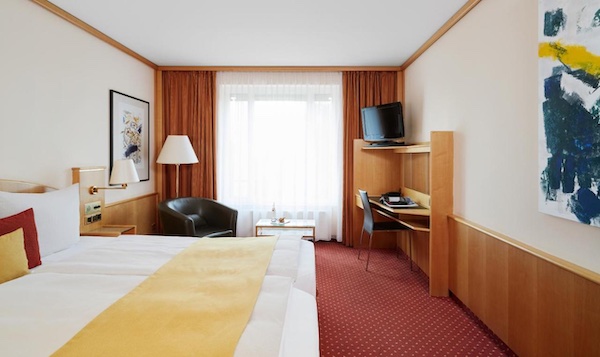 Living Hotel Großer Kurfürst
Just a short walk from the Berlin Stadtschloss and Humboldt Forum, and located directly beside Berlin's Museum Island, Living Hotel is an ideal base for travelers wanting to stay in the city's center. The nearby Märkisches local history museum is just a short walk away, or if you'd like to explore further, the local subway station will take you anywhere from Prenzlauer Berg to the Zoological Garden. You can also reach Alexanderplatz and the Fernsehturm within just one subway stop.
The hotel itself is a renovated apartment building, allowing guests to get up close to what daily life is like in Berlin. Many of the rooms are well-equipped for long-term stays. Each room has a desk to allow guests to work from free high-speed internet, queen or king-sized beds, and a fully equipped kitchenette.
What makes Living Hotel sustainable
When it comes to sustainability, every year, Living Hotels seeks recertification with Green Globe, a premier worldwide certification and performance improvement program developed specifically for the travel and tourism industry. Since initially partnering with Green Globe, Living Hotels has accomplished several goals: 100% green electricity throughout the hotel, support of environmental projects around the Earth, utilizing recycled paper for printed materials, and more.
Living Hotels Großer Kurfürst doesn't just focus on sustainability as a selling point, it lives it through and through, always seeking to improve in its initiatives to help preserve the Earth.
Hotel details
Address: 
Neue Rossstr. 11-12, Mitte, 10179 Berlin, Germany.
Guest rating:
4.6 out of 5
Price per night:
From $105
How we select the best eco-friendly hotels in Berlin
We are a travel research company. We check a lot of details and guest reviews before making a selection. First, we check which hotels follow eco-travel principles. Are they recycling their waste? Do they work with local communities? Are they using renewable energy? Are they not using single-using plastics?
Secondly, we check guest reviews across multiple websites and only list hotels with an aggregated review rating of at least 4 out of 5. So you can be confident you will stay at an excellent eco-friendly hotel in Berlin.
Sustainable travel is becoming increasingly popular and essential as we strive to reduce our carbon footprints. There are many easy ways to reduce your impact while traveling, from choosing eco-friendly accommodations to respecting the local wildlife. Here are some of the essential tips for sustainable travel.
More Berlin guides
Get to know the city even better by reading our other articles about Berlin: