Tel Aviv—with its artsy vibe, quirky neighborhoods, and Mediterranean beaches—is a fantastic and dynamic destination for travelers. It's a very youthful city with a diverse population, making it a seriously energetic hub for arts and culture.
Tel Aviv houses immigrants from many different countries, so the city has many styles of cuisine, architecture, and culture. Although technically founded in 1909, Tel Aviv retains the old feeling in some areas while also hosting many trendy emerging neighborhoods, such as Neve Tzedek and Florentine.
The old part of the city is around the ancient area of Jaffa, which was originally separate from Tel Aviv but now is often grouped together with it. On a street walking tour, you can discover the beautiful old streets of Jaffa, located on the southern side of the city. Another great place for a walking tour is the UNESCO-recognized Bauhaus architecture located in the White City, located around Rothschild Boulevard. There, you'll find many eclectic designs, making for a must-have experience.
There is more on the cultural front to experience, such as the Haaretz Museum, Independence Hall Museum, and the massive Carmel Market which has more food than you can imagine. Of course, you have to spend some lazy hours on the beach and stroll along the Old Jaffa Boardwalk. Finish off the day by experiencing the best of Tel Aviv's nightlife.
Tel Aviv is an ideal starting point for exploring other areas of Israel, such as Jerusalem and Masada, but it's also great to spend a week in by itself. If you're traveling to Tel Aviv and are looking for a great place to stay, why not book one of the city's awesome sustainable hotels? Keep reading for our list of comfy and eco-friendly hotels.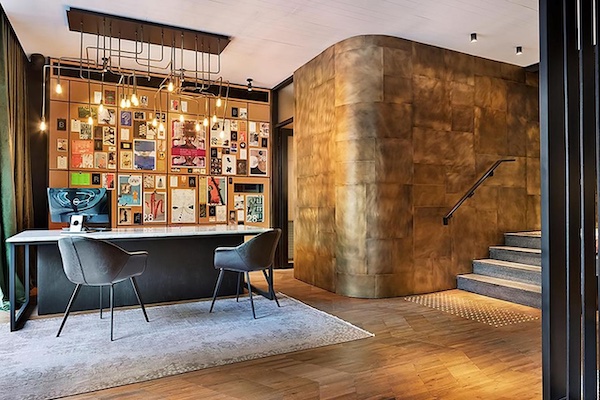 Fabric Hotel
First on our list of sustainable hotels is Fabric Hotel, located on Nahalat Binyamin Street and named for its housing in a former textile factory. If you stay here, you'll be a short walk from Carmel Market, Nahalat Binyamin Crafts Fair, Independence Hall Museum, Rothschild Boulevard (which is full of restaurants, shops, and more), and the trendy neighborhood of Neve Tzedek. Fabric Hotel is also less than a mile from Tel Aviv Beach.
This 43-room hotel has an industrial aesthetic juxtaposed with warm, colorful furniture and art. Downstairs is an "all-day bar," Bushwick (named after the popular New York City neighborhood), that serves drinks all day, starting with an early morning coffee to a late-night cocktail. There is also a yummy breakfast buffet and Saturday brunch for more substantial eats. Free bikes are conveniently available for guests, and some rooms have a balcony. All the staple amenities—free WiFi, 24-hour front desk service, coffee machines in the rooms, family rooms, and more—are also provided. Lastly, Fabric Hotel has an awesome rooftop for guests only.
What makes Fabric Hotel sustainable
Fabric Hotel has several sustainable measures. For example, it doesn't use single-use plastic such as bottles, clubs, and cutlery. Locally-sourced food makes up most of the restaurant's food, and most lighting is energy-efficient LED bulbs. There are green spaces throughout the hotel, including a lovely rooftop garden, and guests can use bikes free of charge to discover Tel Aviv. Additionally, Fabric Hotel invests some revenue back into the community and offers local artists the opportunity to display work on the property.
Hotel details
Address: 
28 Nahalat Binyamin Street, Tel Aviv, 6516205, Israel.
Guest rating:
4.7 out of 5
Price per night:
From $181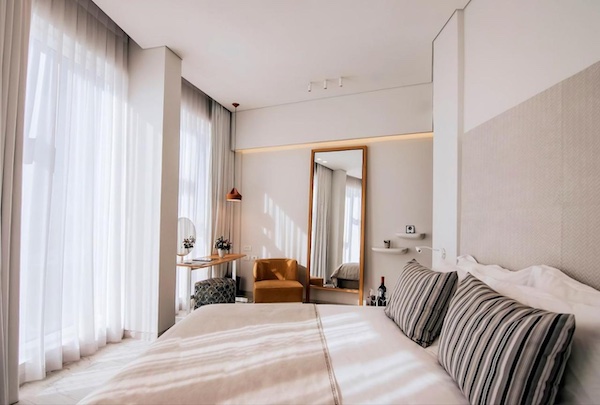 65 Hotel
65 Hotel is in the center of the action, located on a corner of Nachmani Street and the buzzing Rothschild Boulevard. Nearby, you can find Carmel Market, Independence Hall Museum, Nahalat Binyamin Crafts Fair, Meir Park, and the countless restaurants, bars, and shops for which the Boulevard is known.
Although you're in the heart of the city, you will feel relaxed at 65 Hotel. The property's glittery cylindrical form rises above the trees and other buildings from the street making for an impressive first impression. The cool design continues inside, with a modern, minimal, yet retro vibe—guests describe it as upscale but comfortable. Downstairs, in the lobby, guests dine at Café 65, which has a great breakfast; guests praise it highly online. The award-winning food offered is traditional Middle Eastern with an inventive flair. Later in the day, guests enjoy a Happy Hour from 5–7 PM.
What makes 65 Hotel sustainable
65 Hotel has several measures to lessen its footprint as an eco-friendly property. It doesn't use single-use plastics such as straws and bottles, the bathroom has water-efficient fixtures, and guests can opt-out of daily cleaning. They are conscientious on the energy front by using motion-sensor lights, double-glazed windows, and LED lighting. Additionally, most food is locally sourced, and there are green spaces for the enjoyment of the guests.
Hotel details
Address: 
65, Rothschild Boulevard, Tel Aviv, 6578512, Israel.
Guest rating:
4.6 out of 5
Price per night:
From $165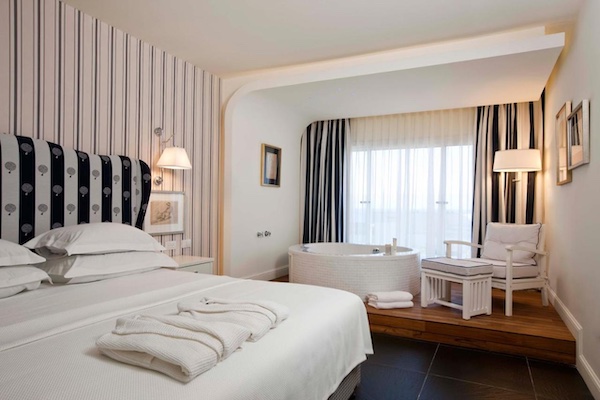 Shalom & Relax
This next hotel highlights another awesome reason people come to Tel Aviv: the sparkling Mediterranean Sea. Shalom & Relax, just a few paces away from the white-sanded shore, is another one of the great eco-friendly hotels in Tel Aviv. Although by the beach, you're still close to nearby sites such as the Tel Aviv Museum of Art, Ben-Gurion House, and the Old Tel Aviv Port Area.
The tranquil design echoes the calm sea, making for a great break from the city, and it has a unique European-influenced atmosphere. The room has a total of 51 rooms, some of which have a Jacuzzi and all of which are thoughtfully designed for maximum rest and relaxation. Make sure to hang out on the stunning rooftop terrace where you can look at the Mediterranean blue waters. For a reasonable price, guests can opt for a breakfast buffet with a ton of variety and a Happy Hour in the evening. All rooms have a flat-screen TV, strong WiFi, and a city or sea view.
What makes Shalom & Relax sustainable
Why is Shalom & Relax on our list of sustainable hotels? First off, it offers recycling bins and limits its food waste. Additionally, many single-use plastic items are not used, and there is a water cooler for guests. Amenities in the bathroom are water-efficient, and guests can reuse towels. The property also invests money into the local community through sustainable projects and gives visitors information regarding the local ecosystem and culture. Guests can explore the best of Tel Aviv through an on-site bike rental for eco-friendly transport. Lastly, there are serene green spaces at Shalom & Relax.
Hotel details
Address: 
216 Hayarkon, Tel Aviv, 63405, Israel.
Guest rating:
4.6 out of 5
Price per night:
From $165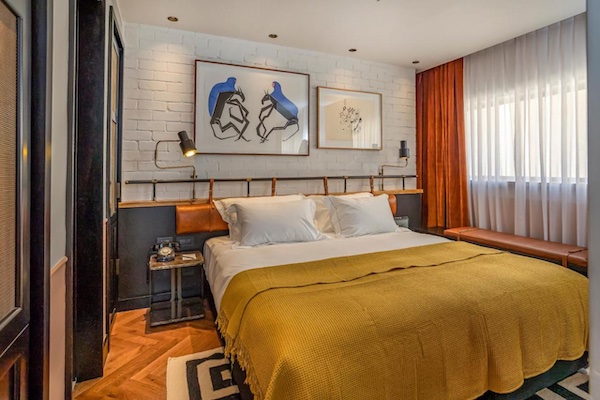 Backstage Hotel
Housed in what was once the famous Ohel Theater is the Backstage Hotel. It's conveniently located between the major landmarks and the calm beach, so you can easily access both. Nearby things to see include Meir Park, Jerusalem Beach, Bograshov Beach, and Frishman Beach.
As the name suggests, the aesthetic draws the building's past. Throughout the hotel, you will find touches paying homage to the former hotel, including show biz posters; the decor even reflects the backstage feeling you can find at plays. At Backstage Hotel, you have tried and true amenities such as à la carte breakfast, flat-screen TVs in all rooms, 24-hour concierge, and great bathrooms. Some little added perks include currency exchange, bathroom robes, and coffee machines in every room.
What makes Backstage Hotel sustainable
Let's discuss what makes this one of Tel Aviv's eco-friendly hotels. To start, most food is organic and locally sourced. In the rooms, windows are double-glazed, and showers and toilets are water-efficient. You are welcome to reuse towels and opt out of daily room maintenance. On a bigger scale, the property aims to minimize food waste, and single-use plastics such as mini shampoo and body wash bottles, beverage bottles, plates, and straws are not in use. Overall, Backstage Hotel is a boutique business with amazing food and inventive decor, with the bonus of green practices.
Hotel details
Address: 
6 Beilinson Street, Tel Aviv, 6356711, Israel.
Guest rating:
4.7 out of 5
Price per night:
From $145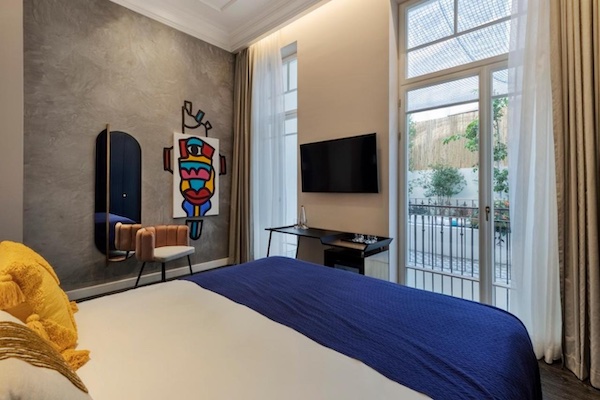 Alberto by Isrotel
Last but not least on this list of sustainable hotels is Alberto by Isrotel, located in the city center on Nahalat Binyamin Street. If you stay here, you'll feel the city's energy inside the hotel. You're right by many cultural attractions, hip bars, and restaurants along Rothschild Boulevard. However, you're still close enough to Tel Aviv, Banana, and Charles Clore beaches, so you have the best of both worlds.
All rooms have flat-screen TVs, good WiFi, air conditioning, and a kettle for making coffee or tea. One awesome thing that sets this property apart from others is its outdoor swimming pool on the roof; there is also a 24-hour gym and spa. Alberto offers guests a light but tasty breakfast buffet from 7–10 AM that includes various pastries, cheeses, salads, and of course, coffee and tea; later in the day, grab a seat at the cozy in-house bar. You can also opt to have room service.
What makes Hotel Alberto sustainable
Alberto by Isrotel has a few different green-minded initiatives. For example, recycling bins are throughout the hotel for guests to use, and there is a water cooler. Plastics such as water bottles, straws, and cups aren't used. Each room's bathroom has water-efficient appliances, and rooms are double-glazed for better insulation. You can, like many hotels, choose to be more eco-friendly by opting out of daily room cleaning. Of course, there is a nice garden to enjoy.
Tel Aviv is a spunky city with countless things to offer travelers. Whether you're looking for a beachfront stay or to immerse yourself in city life, you'll find an awesome place to stay with one of these sustainable hotels.
Hotel details
Address: 
Nahalat Binyamin Street 46, Tel Aviv, 6516305, Israel.
Guest rating:
4.2 out of 5
Price per night:
From $185
How we select the best eco-friendly hotels in Tel Aviv
We are a travel research company. We check a lot of details and guest reviews before making a selection. First, we check which hotels follow eco-travel principles. Are they recycling their waste? Do they work with local communities? Are they using renewable energy? Are they not using single-using plastics?
Secondly, we check guest reviews across multiple websites and only list hotels with an aggregated review rating of at least 4 out of 5. So you can be confident you will stay at an excellent eco-friendly hotel in Tel Aviv.
Sustainable travel is the key to enjoying a responsible and meaningful trip. You can make a difference in the environment and the communities you visit with the right sustainable travel tips. From packing light to choosing eco-friendly transportation and accommodations, there are plenty of ways to reduce your environmental impact.
More Tel Aviv tips
Get to know the city even better and check out our other articles about Tel Aviv: