Tel Aviv, located alongside the Mediterranean coast in Israel, is a vibrant city. It is a place of remarkable contrasts. Modern skyscrapers are symbolic of the city's economic and technological success. Ancient, historical monuments and structures contrast the city's modernity. Striking coastlines and year-round sunshine add to Tel Aviv's charm.
The city is an ideal place to visit. You will find no shortage of exciting things to do in Tel Aviv. You have fantastic beaches, like Tayelet, Bograshov, and Frishman, to sunbathe at and play beach volleyball year-round. If you love to shop, there are many marketplaces, including Carmel and Sarona Markets. Museum-lovers would enjoy visiting Ilana Goor and the Tel Aviv Museum of Art. The city's weather is pleasant all year so that you can enjoy the sights at any time.
Tel Aviv has excellent accommodations for visitors. Here's our list of the five best hostels in Tel Aviv:
Florentine Backpackers Hostel
The Florentine Backpackers Hostel is in one of Tel Aviv's trendiest neighborhoods. This thriving area has lively venues with jazz music, craft beer bars, and funky cafés. Old Jaffa, the historic district filled with flea markets, is only a 15-minute walk away from the hostel.
Florentine Backpackers is inviting and homey. The onsite bar sells inexpensive beer and has striking rooftop terrace views for guests to enjoy. Available rooms include mixed or female-only doors with lockers, towels, and linens. Each morning, the hostel serves up a free breakfast. If you want to cook, there is a kitchen onsite. For those who want to explore Tel Aviv, there are daily walking tours.
Visitors enjoy the great location, value, and welcoming staff.
Hostel details
Address:
10 Elifelet Street, Tel Aviv, Israel
Guest rating:
4.6 out of 5.
Price per night:
from $17.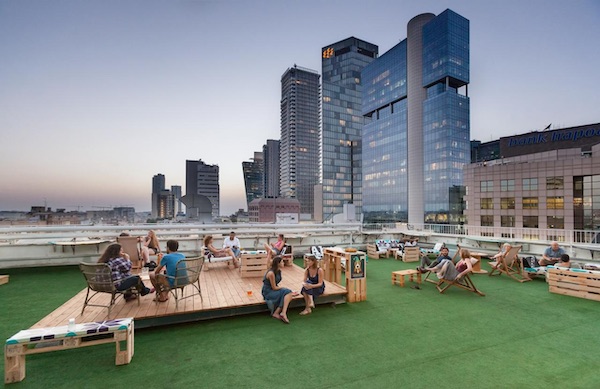 Abraham Hostel Tel Aviv
Abraham Hostel is in the Electric Garden neighborhood. The area is small but highly creative and fashionable. You can relax on the sandy beach in under 30 minutes and party the night away in the hip Florentin neighborhood in less than 15 minutes.
The hostel is fresh and vibrant. You can fall asleep beneath the palm tree on the rooftop terrace. The hostel organizes yoga classes, cooking workshops, barbecues, and bar hopping. Local bands play in the bar and lounge onsite. You can rent a bike to explore the city's streets. Guests can choose from private rooms or mixed/female-only dorm rooms. All rooms have attached bathrooms.
The delicious breakfast, social atmosphere, and activities are why guests love the Abraham Hostel.
Hostel details
Address:
21 Levontin Street, Tel Aviv, 6511604, Israel.
Guest rating:
4.4 out of 5.
Price per night:
from $21.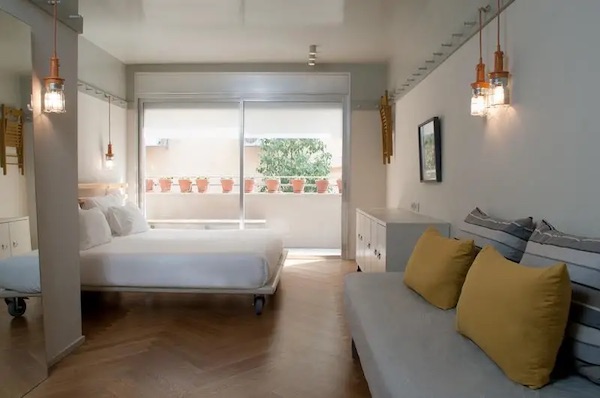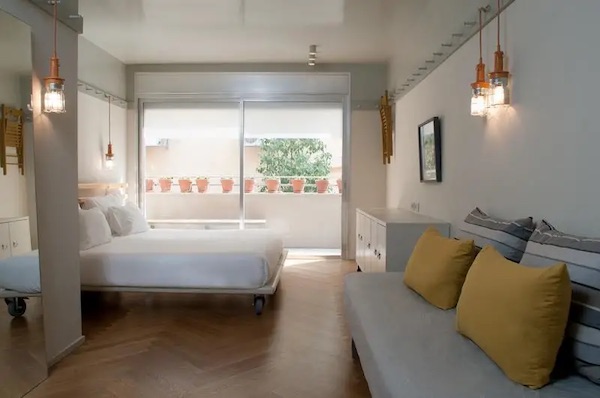 Florentin House
Florentin House is a hostel at the heart of the bustling Florentin neighborhood. The surrounding area has plenty of distinctive shops, hip bars, and tasty restaurants. Within a ten-minute walk, you can also explore the Neve Tzedek neighborhood, see stunning Bauhaus buildings, and visit world-class museums.
This ultramodern, five-story hostel has a lobby-lounge and various shared, private, and dorm rooms. Some rooms even have a balcony with spectacular views of the city. Amenities include showers, daily cleaning services, towels, linens, and air conditioning. The 24-hour reception staff is happy to help you plan your trip and organize group events, live entertainment, and daily city tours.
Guests were impressed with this hostel's clean and spacious rooms, friendly staff, and exciting neighborhood.
Hostel details
Address:
6 Florentin Street, Tel Aviv, Israel.
Guest rating:
4.8 out of 5.
Price per night:
from $40.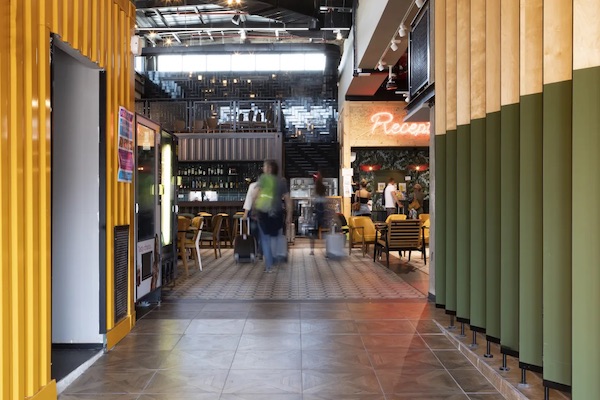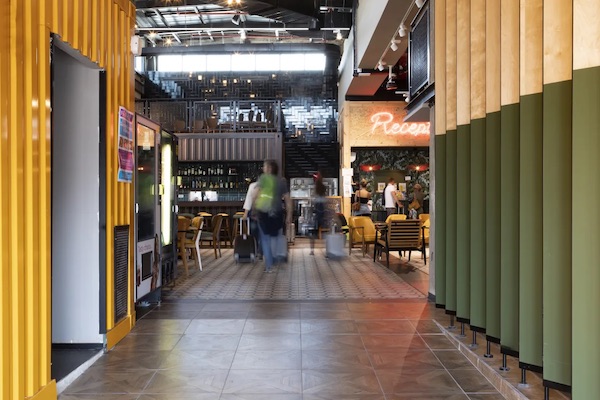 The Spot Hostel
The Spot Hostel has a prime beach location near a lush park and river. From this hostel, you can walk to attractions such as Dizengoff Street and Hayarkon Park. In the neighborhood, you can find excellent shopping, entertainment, bars, and restaurants.
This large, sleek hostel has a selection of over 80 rooms. Accommodations include dorms, family rooms, capsule rooms, and double and private spaces. Guests can enjoy delicious Israeli cuisine at the restaurant and drinks from the bar on site. Entertainment offered for visitors includes a game room, pool table, and cable T.V. For visitors who need help with their trip, there's a tours/travel desk.
This hostel has high ratings because of its beachside location, delicious food, and updated facilities.
Hostel details
Address:
Ha'taarucha 3, Tel Aviv, Israel.
Guest rating:
4.7 out of 5.
Price per night:
from $30.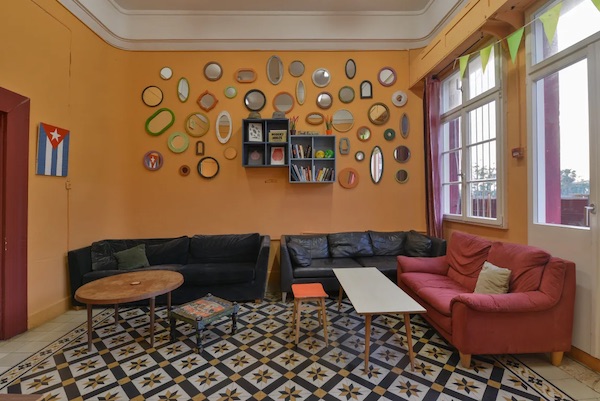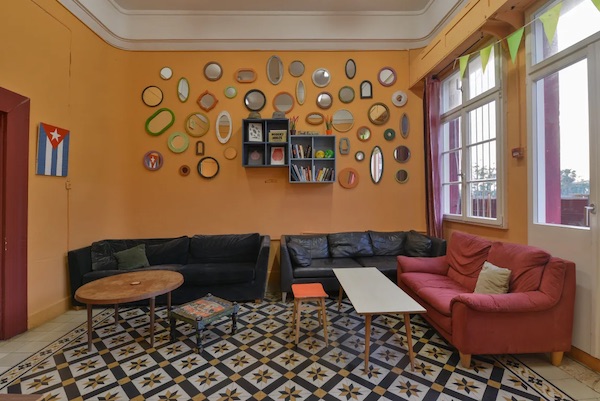 Roger's House Tel Aviv
Roger's House has a central location between the popular Nave Tzedek and Florentin neighborhoods. You can reach all the city's top attractions from this hostel. Within ten minutes, you can walk to the famous Alma Beach and Rothschild Boulevard. These areas have many historical sights, markets, bars, clubs, and entertainment.
This hostel, built within a historic 1929 building, has trendy decor. Rooms are dorm-style and come in various sizes. Rooms have privacy curtains, personal shelves, lamps, lockers, and charging sockets. Onsite, there is a brewery with daily Happy Hours that serves specialty house-made craft beer. Each day, guests can enjoy a basic breakfast and a communal dinner.
Highlights from this hostel include communal dinners, a welcoming environment, and social life.
Hostel details
Address:
17 Aharon Chelouche Lane, Tel Aviv, Israel.
Guest rating:
4.5 out of 5.
Price per night:
from $22.
About our Tel Aviv hostel recommendations
Are you a solo traveler looking for a private room? Or a backpacker traveling around in a group wanting to stay in a cheap and cozy dorm? Above you will find the best hostels in Tel Aviv for all your needs.
Please note, we only list hostels that have an aggregated guest review rating of at least 4.0 out of 5. We aggregate all reviews from different booking sites and other unbiased review websites. Hence, you can be certain all hostels listed above offer an excellent value-for-money stay in Tel Aviv.
Best price guarantee
For our hostel recommendations, we work together with Hostelworld and Booking. These partnerships don't have any influence on the recommendations we make or on the order in which our recommended hostels are listed. The reasons why we have chosen to partner with these companies is that they're trustworthy, offer excellent service and they both apply the best price guarantee. This means you can claim a refund for the difference if you find your reservation cheaper on another website. It has to be for the same property, accommodation type, dates, cancellation policy and conditions, otherwise, you can't claim the refund for the difference. If you book through Booking.com then all you need to do is contact them at least 24 hours before your check-in date. If you book through Hostelworld you must claim the refund within 24 hours after you made the booking.
Top 5 hostels in Tel Aviv
To summarize again, based on thousands of guest reviews, these are the best hostels in Tel Aviv:
Why you should be careful when booking the cheapest hostel available
The cheapest hostels available are typically not in a great location. If you want to go sightseeing or go for a night out in central Tel Aviv, you probably end up having to pay for public transport or a taxi to get there. So your stay could end up being more expensive compared to a stay in a central location. For first-time travelers, we recommend staying central anyway, but also for frequent visitors, it's probably worth it to pay a bit more to stay in a central location.
Another reason why you shouldn't stay at the cheapest hostel is that the people staying at the cheapest hostels are often not the people that can afford to travel like you. Because a very cheap hostel is often cheaper than renting a flat, these places tend to attract migrant workers or local misfits. That's probably not the crowd you want to hang out with, especially if you're a solo traveler looking for friends.
The third reason why you should avoid the cheapest hostels is safety. Some of the cheapest hostels don't check IDs, don't ask for signatures, or only accept cash at check-in. The hostel won't know who is actually staying there.
Lastly, the service at these hostels isn't great. For instance, if you choose to store your luggage, your bags will be unattended in a public space. It won't be recorded anywhere or tagged and stored in a locked room.
So, it's probably worth it to spend a bit more on your hostel stay in Tel Aviv.
And finally, a tip: always read the latest reviews of the hostel! All places have good and bad reviews, but the most recent reviews matter the most.
More Tel Aviv tips
Get to know the city even better and check out our other articles about Tel Aviv:
Best boutique hotels in Tel Aviv
Best luxury hotels in Tel Aviv