New York is one of the most traveled destinations in the world with an impressive skyline, an unimaginable number of things to do, and restaurants and shops around every corner. The ever-evolving hotel scene is stepping into the light of sustainability and environmentally friendly practices, New York strives to be "the capital city of a responsible world."
Many hotels have implemented sustainability by adding green roofs, solar panels, energy saving, and omitting carbon footprint omissions. Surrounding areas have also taken part to preserve the city, hoping other establishments follow in their footsteps. New York City itself showcases more than 20 properties that are currently committed to the New York City Carbon Challenge, aiming to reduce omission by more than 30%.
For environmentally cautious travelers, or those looking to travel while also keeping the environment as healthy as possible, consider one of these eco-friendly hotels in New York City.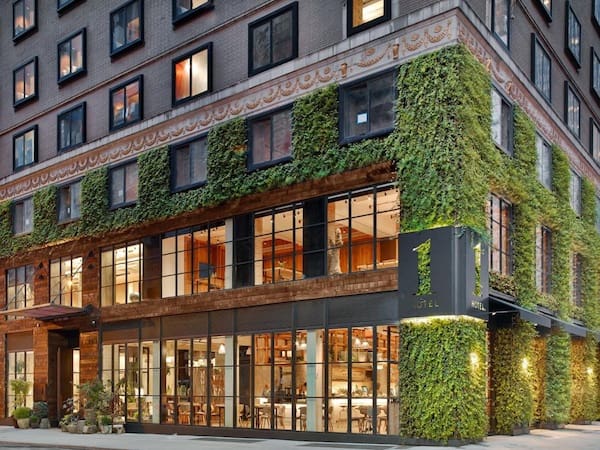 1 Hotel Central Park
1 Hotel Central Park is a natural oasis tucked away in the center of the city. Its sustainability makes it environmentally friendly, reducing carbon footprints and using recycled and natural materials all throughout the establishment. The friendly staff are there to help make your stay relaxing, and naturally peaceful in the city that never sleeps.
Located in the heart of Manhattan, 1 Hotel Central Park is in a prime location to explore Central Park. Walk along the various pathway into the strawberry fields, park fountain, or even take a bicycle tour. It is located within walking distance of Carnegie Hall, the Museum of Modern Art, and 12 miles from Newark Liberty International Airport.
Rooms in 1 Hotel Central Park include treetop views, organic mattresses, and reclaimed woods with a modern design. They include a television, cotton slippers and bathrobes, a work area, a safety box, a safe, a yoga mat, and a coffee machine. The on-site restaurant is open for breakfast, lunch, and dinner, featuring a gorgeous reclaimed oak open kitchen.
What makes 1 Hotel Central Park sustainable
Being an urban retreat inspired by nature, 1 Hotel Central Park is a highly recommended sustainable hotel choice in New York City. Green is incorporated around every corner, with earth-friendly design features of wood and organic bed lines. The hotel is LEED certified, carbon neutral, and provides water filters on all sinks and taps. Additionally, guests who want to reduce their carbon footprint can take advantage of valet bicycle service and electric car charging stations.
Hotel details
Address: 
1414 Avenue of the Americas, New York, NY 10019, United States of America.
Guest rating:
4.3 out of 5
Price per night:
From $395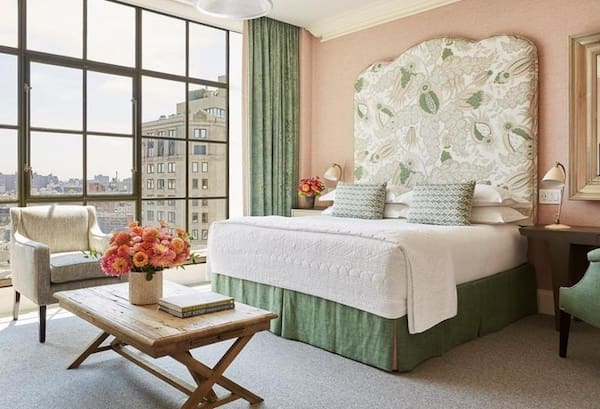 Crosby Street Hotel
Crosby Street Hotel is a charming and sustainable hotel on a cobbled street in New York City. It takes pride in having luxurious and plentiful amenities and being ecologically friendly. Its organic farm-to-table restaurant and contemporary design make it a sanctuary of peace and relaxation.
Located in the trendy neighborhood of SoHo it is conveniently located within walking distance of multiple restaurants, shops, cafes, and businesses. It is a block away from the Spring Street Subway Station and adjacent to the Museum of Modern Art Design.
Crosby Street Hotel has a natural and contemporary style atmosphere. Rooms are bright and modern full-length mirrors and high ceilings, a television with a DVD player, and iHome. There is a 24-hour gym within the hotel, as well as a private theater with weekly films, a fire pit, and an onsite restaurant and terrace. Breakfast and Brunch are served daily, in addition to afternoon tea and pastries.
What makes Crosby Street Hotel sustainable
The Crosby Street Hotel is a rural and organic oasis within the busy streets of New York City. The on-site gardens grow a variety of fruits, vegetables, and herbs, in addition to a new and improved chicken coop. Crosby Street hotel reduces the cost of heating and cooling by absorbing light from the sun, earning them a "green roof" status.
Hotel details
Address: 
79 Crosby St, New York, NY 10012, USA.
Guest rating:
4.7 out of 5
Price per night:
From $555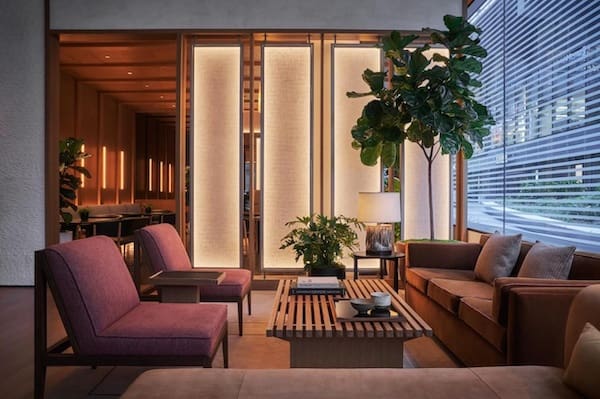 Pendry Manhattan West
Pendry Manhatten West is an eco-friendly hotel giving guests a new perspective of the city. A blend of progressive luxury and California-inspired aesthetics brings a relaxed and sophisticated vibe to Times Square. For environmentally-conscious travelers, Pendry Manhattan offers a natural serenity on the new west side.
Located on Manhatten West Side, it is conveniently located within walking distance to various sites and neighborhoods. Fifth Avenue and Madison Avenue have immense shopping opportunities, while the Hudson yards has more than 100 culinary destinations. Additionally, the Empire State Building and Penn Station Complex are nearby as well.
Rooms a redesigned for comfort, with a sophisticated feel. Wide spacious settings and hospitality are two of the main aspects of Pendry Manhatten West. They include floor-to-ceiling windows, LED televisions, private bathrooms, sitting areas, and jaw-dropping skyline views. Additionally, a suite of dining and drink options are available, multiple rooftop venues, and personalized custom dog amenities for your furry friends.
What makes Pendry Manhatten West sustainable
Pendry Manhatten West knows that wellness and sustainability are 2 important aspects. All facilities provide an open-air setting with an organic design. A wellness center on-site focuses on personal wellness and balance, in addition to access to the RunGo app keeping you sustainable and giving you environmentally friendly tips while on the go.
Hotel details
Address: 
438 West 33rd Street, Hudson Yards, New York, NY 10001, United States of America.
Guest rating:
4.5 out of 5
Price per night:
From $595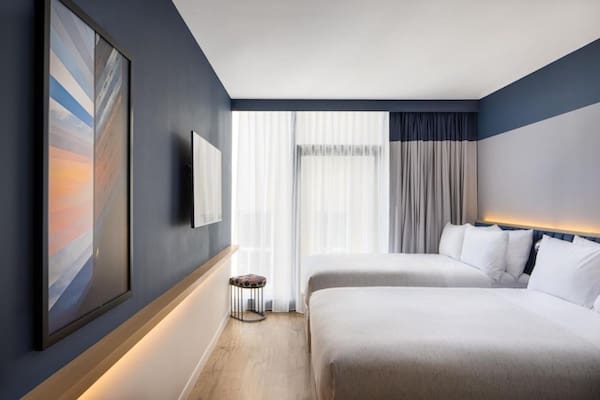 Motto by Hilton NYC
Motto by Hilton NYC is a unique, urban-styled sustainable hotel in Chelsea. Towering 42 stories high, it comes with breathtaking skyline views of the city and is conveniently located for a visit full of entertainment. Focusing on living a healthy lifestyle, Motto by Hilton NYC offers a spacious and airy setting, keeping the well-being of guests and the environment in mind.
Located in the trendy Bohemian neighborhood of Chelsea, Motto by Hilton NYC is surrounded by sights and landmarks, vibrant shops, boutiques, and restaurants. Points of interest like the Flat Iron Building, Madison Square Garden, Chelsea Market, Greenwich Village, and Macy's, and is 7 miles away from LaGuardia Airport.
Motto by Hilton NYC has a terrace, onsite bar, and restaurant open daily, in addition to the fitness center and free bike rentals. Rooms are equipped with all amenities needed such as televisions, private bathrooms, wifi, a lockbox, and luxurious bed linens.
What makes Motto by Hilton NYC sustainable
Motto by Hilton promotes sustainability by focusing on health and wellness and saving energy. Free onsite bikes and gym facilities are available for guests, key cards are digital, and carbon footprint reductions are available. The hotel is pet friendly, non-smoking, and curated around comfort and cleanliness.
Hotel details
Address: 
113 West 24th Street, Chelsea, New York, NY 10001, United States of America.
Guest rating:
4.5 out of 5
Price per night:
From $190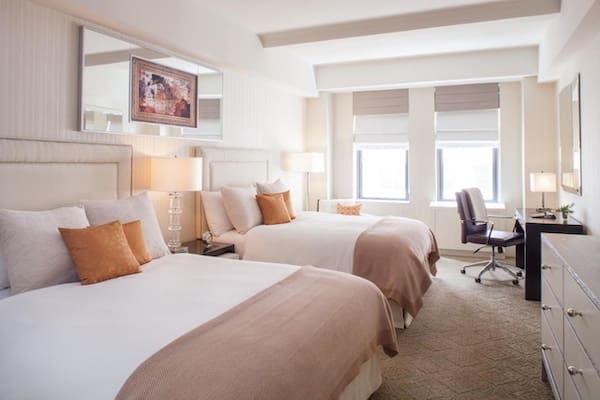 The Benjamin
The Benjamin is one of the most highly valued sustainable hotels in New York City and has even earned the honor of NYC landmark status. Representing the early evolution of skyscraper design, it plays a large role in the culture and heritage of the area. The friendly staff keeps guests accommodated by being personal and allowing them to forget they are even away from home.
Located in Midtown East, The Benjamin is smack dab in the middle of the best shopping, architecture, and entertainment. It is within walking distance of Grand Central Station and Rockefeller Center, and less than a mile away from Times Square and Central Park.
There are an uncountable number of restaurants, shops, and cafes lining the streets around the area.
The hotel takes a residential appeal with relaxed sophistication, with a natural and modern-toned interior and Romanesque design. Rooms are equipped with televisions, private bathrooms, coffee makers, and iHomes. Breakfast is served daily in the historical on-site restaurant with a bistro menu. Additionally, The Benjamin is home to a fitness center, has free wifi, and is pet friendly.
What makes The Benjamin sustainable
The Benjamin takes pride in being a highly sustainable hotel by going to great lengths to minimize its carbon footprint and being environmentally friendly and having a fabulous recycling program. They have low-flow fixtures and energy-efficient lighting, eco-friendly bath amenities, and a laundry program.
Hotel details
Address: 
125 East 50th Street, Midtown East, New York, NY 10022, United States of America.
Guest rating:
4.5 out of 5
Price per night:
From $245
How we select the best eco-friendly hotels in New York City
We are a travel research company. We check a lot of details and guest reviews before making a selection. First, we check which hotels follow eco-travel principles. Are they recycling their waste? Do they work with local communities? Are they using renewable energy? Are they not using single-using plastics?
Secondly, we check guest reviews across multiple websites and only list hotels which have an aggregated review rating of at least 4 out of 5. So you can be certain you will be staying at an excellent eco-friendly hotel in New York City.
Sustainable travel is becoming increasingly popular and important as we strive to reduce our carbon footprints. There are many easy ways to reduce your impact while traveling, from choosing eco-friendly accommodations to respecting the local wildlife. Here are some of the most important tips for sustainable travel.
More New York City tips
Get to know the city even better and check out our other articles about New York City:
Best cheap hotels in New York City
Where to stay in New York City
Best boutique hotels in New York
Best luxury hotels in New York City