Miami, Florida is known for its white-sand beaches, crystal clear water, delicious Latin-inspired cuisine, and the diversity of the city. Often referred to as "The Magic City," due to its rapid growth, Miami has attracted visitors from all around the world. What makes this city even better though is that you can visit this island-like destination easily from within the continental US.
Located near the southern tip of Florida's peninsula, Miami is one of the most tropical locations on the mainland of the United States. The city has lavish cars, outstanding nightclubs, and magnificent high-rise buildings. But just because this larger-than-life city has a lot of flashy things doesn't mean you can't visit in an eco-friendly way.
There are a ton of hotels in the area that offer sustainable accommodations, contributing to the magic of the city. As an ocean-side destination, it's important for the city to do everything it can to preserve the natural environment, especially due to its close proximity to Everglades National Park. Many of the hotels in the area also seek to reach the standards set by the Florida Green Lodging Program, which focuses on things like water conservation, waste reduction, and energy efficiency.
However, because there are so many to choose from, finding the right eco-friendly hotel in Miami can be challenging. That's why we put together this expert list of the 5 best sustainable hotels in Miami, so you can choose the best option for your stay with full peace of mind.
Read on to learn more about our top picks for sustainable hotels!
1 Hotel South Beach
The 1 Hotel brand is one that is truly paving the way in sustainability. Located in dozens of destinations around the world, 1 Hotel South Beach is another stunning eco-friendly resort located directly on the Atlantic coast. The hotel can be found on the popular barrier island of Miami beach, meaning it's surrounded by water on almost every side. Nearby, you'll be just a short walk away from 5-star restaurants, incredible museums, and of course, the well-known South Beach.
Each guest room is expansive and decorated with reclaimed wood, soft blue and teak linens, and warm lighting. The rooms also offer custom-made cotton mattresses and pristine ocean side views. Downstairs, you'll also find a complimentary farm stand with fresh fruit and seven unique dining outlets. 1 Hotel South Beach also offers bicycle tours and in-room yoga mats that you can take down to the beach. Did we mention that they provide exclusive access to 600 feet of a white sand beach?
What makes 1 Hotel South Beach sustainable
When it comes to sustainability, expect big things. The hotel is LEED certified and equipped with state-of-the-art, energy-efficient heating and cooling systems. Each faucet is equipped with a filtration system to encourage guests to reduce the use of single-use plastic bottles. Even the rooms come with cups made from recycled wine bottles. If you'd like to tour around the city for the day, you can also take advantage of their small fleet of emission-free, fully electric Audi vehicles.
Hotel details
Address: 
2341 Collins Avenue, Miami Beach, FL 33139, United States of America.
Guest rating:
4.3 out of 5
Price per night:
From $400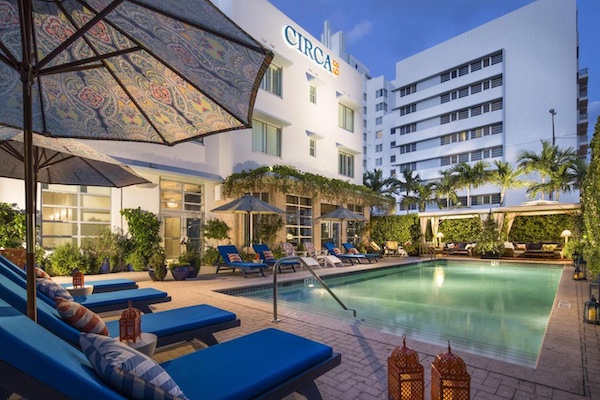 Circa 39 Miami Beach
This boutique hotel in the heart of Miami Beach is a traveler's paradise. Having won the 2022 Traveler's Choice Award for hospitality, Circa 39 is on a mission to provide the most relaxing and luxurious stay possible. Similarly located on the barrier island of Miami Beach, this lavish hotel provides nearby beach access and is just a short drive away from downtown Miami.
The hotel itself is eclectic, unpretentious, and welcoming. The guest rooms are decorated with an assorted mix of cheerful colors, giving it a chic and vibrant atmosphere. You can also enjoy a beautiful resort-style sun deck and pool, an all-day cafe featuring tapas-style dishes, and the Wunderbar for some specialty cocktails perfectly fit for the tropics. In the evening, head down to Jules Kitchen for some truly extraordinary dishes featuring ingredients from all around the world.
What makes Circa 39 sustainable
Circa 39 also excels in its commitment to sustainability. The hotel is recognized by the Florida Green Lodging Program as well. As an eco-friendly hotel, Circa 39 has energy-efficient lighting, locally-sourced decorations, and the option to replace towels only upon request. The cafe and kitchen also strive for waste reduction and clean, quality cuisine. Circa 39 is also a large contributor to sustainability efforts led by the city of Miami.
Hotel details
Address: 
3900 Collins Avenue, Miami Beach, FL 33140, United States of America.
Guest rating:
4.2 out of 5
Price per night:
From $110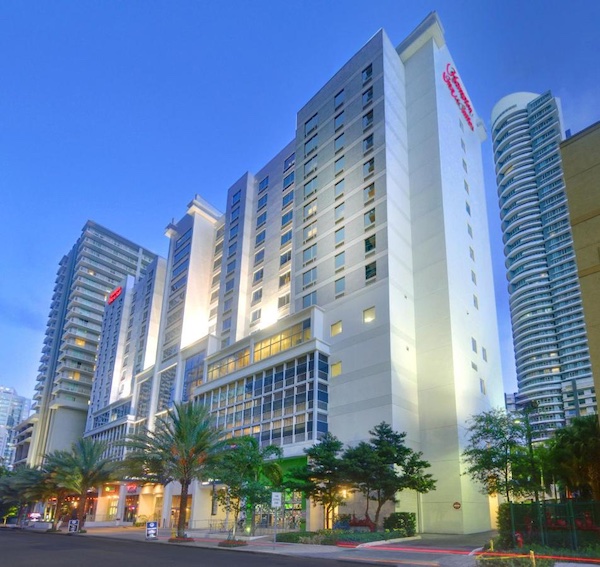 Hampton Inn & Suites Brickell
Located near the heart of downtown Miami, Hampton Inn & Suites Brickell provides guests with the confidence in booking with a trusted name. This luxury 3-star motel is both more affordable than some of the other options and within close proximity to many popular attractions. The Hampton is close to the Brickell Key, as well as dozens of museums, restaurants, parks, and photo hotspots. This is a great option for visitors who are looking to enjoy the downtown area more than the beach.
Regarding the hotel amenities, for starters, the hotel has the popular Batch Gastropub at ground level. This restaurant and sports bar are highly regarded for their food and atmosphere, as well as their cocktails. On the rooftop of the hotel, you'll also find a pool, a whirlpool, and several cabanas to relax under. You can also take advantage of their 24-hour fitness center or step into the dining area for a warm complimentary breakfast in the morning.
What makes Hampton Inn & Suites sustainable
From a sustainability standpoint, Hampton Inn & Suites Brickell has the distinct honor of being the first LEED certified hotel in the City of Miami. They strive to keep up this distinction as well by continually improving their mission of providing eco-friendly accommodation. The hotel has a full list of sustainability practices which you can read more about, but we'll list a few here.
For starters, the guest room showers all have low-flow valves for water conservation. They also have a 35,000+ gallon cistern to harvest rainwater for irrigation and washing exterior surfaces. The hotel also uses LED lighting, sensors to turn off lights in public areas, biodegradable tableware at breakfast, Energy Star rated appliances, and so much more!
Hotel details
Address: 
50 Southwest 12th Street, Brickell, Miami, FL 33130, United States of America.
Guest rating:
4.3 out of 5
Price per night:
From $150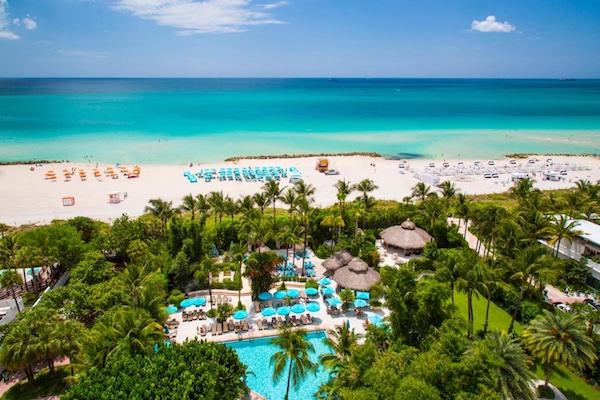 The Palms Hotel & Beach Resort
The award-winning Palms Hotel offers a tropical escape in the Miami Beach area. This oceanfront resort and hotel are both sophisticated and welcoming, with an emphasis on offering an environment dedicated to total wellness. Guests of the resort can enjoy the pristine white sand beach just outside and downtown Miami is just a short drive away. They were also prized the 2022 World's Best Award by Travel + Leisure and rated the Best of the Best by TripAdvisor's Traveler's Choice.
This tropical oasis offers 251 guest rooms and suites, each curated to be as relaxing as possible with soft ocean-inspired hues from floor to ceiling. They also offer state-of-the-art amenities, tropical beachside cabanas, poolside tiki cabanas, and garden group yoga sessions. Even the hotel restaurant focuses on providing a down-to-earth atmosphere, with Caribbean-style covered terraces, farm-to-table cuisine, and incredible service.
What makes The Palms Hotel sustainable
For those seeking a resort with expert sustainability practices, the Palms Hotel is also another top contender. The resort is also sustainability certified by the Green Globe foundation. Their "Inspired by Nature Program" provides the guidelines to make their operations as eco-friendly as possible, to minimize their impact on the environment, and to create awareness of local environmental issues at stake.
They are 100% disposable plastic free, offer low-flow showers, and have LED lighting throughout the hotel, to name a few items. They also regularly organize beach cleanups and test the ocean water behind the hotel every week to help support quality standards led by the city of Miami.
Hotel details
Address: 
3025 Collins Avenue, Miami Beach, FL 33140, United States of America.
Guest rating:
4.3 out of 5
Price per night:
From $170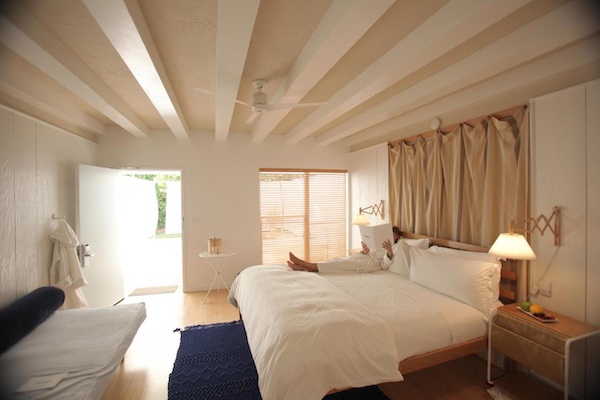 The Standard Miami Beach
Located on Belle Isle, one of the barrier islands between downtown Miami and Miami Beach, this hotel truly sets the standard for luxury accommodations. They regard themselves as being less of a hotel, and more of a spa with guest rooms. The Standard has even been the hotel of choice for many yogis and wellness practitioners over the years. You'll also be close to the world-famous Miami Beach Golf Club.
Much of the hotel grounds are set amidst peaceful tropical gardens. Each guest room also offers breezy, private terraces and plush cotton master beds. Many of the guest rooms also have outdoor soaking tubs, and a hydrotherapy playground. In the morning, enjoy a Bloody Mary from the Lido Bayside Grill, or come back in the evening to check out the Monterrey Bar, an intimate indoor bar with high-end cocktails.
What makes The Standard Miami sustainable
To make things even better, The Standard is recognized by the Florida Green Lodging Program for its commitment to sustainability. They promote an overall eco-friendly lifestyle and their restaurants offer healthy, organic dishes. The Standard Miami leads efforts in the area to encourage guests to leave with a more mindful attitude toward protecting and preserving their environment. This means that in addition to LED lighting, water conservation, and waste reduction, they empower guests to go out and become agents of change themselves.
Hotel details
Address: 
40 Island Avenue, Miami Beach, FL 33139, United States of America.
Guest rating:
4.3 out of 5
Price per night:
From $295
How we select the best eco-friendly hotels in Miami
We are a travel research company. We check a lot of details and guest reviews before making a selection. First, we check which hotels follow eco-travel principles. Are they recycling their waste? Do they work with local communities? Are they using renewable energy? Are they not using single-using plastics?
Secondly, we check guest reviews across multiple websites and only list hotels which have an aggregated review rating of at least 4 out of 5. So you can be certain you will be staying at an excellent eco-friendly hotel in Miami.
Sustainable travel is becoming increasingly popular and important as we strive to reduce our carbon footprints. There are many easy ways to reduce your impact while traveling, from choosing eco-friendly accommodations to respecting the local wildlife. Here are some of the most important tips for sustainable travel.
More Miami tips
Get to know the city even better and check out our other articles about Miami: