With its stunning natural beauty and warm tropical climate, the Bahamas is a favorite destination for people looking for a high-end vacation experience. Among the secluded coves of the Bahamas are many exquisite luxury resorts and hotels, offering exclusivity and personalized service to guests looking for the ultimate retreat.
From private beaches to secluded islands, there is something to interest everyone in the crystal-clear waters of the Bahamas. However, with many luxury resorts spread over the Bahamian archipelago, it can be difficult to choose the best destination for your island getaway.
This is why we have collated some of the best luxury hotels in the Bahamas, detailing everything from sustainable accommodation to beachfront bungalows. Read on to discover the best luxury resorts in the Bahamas.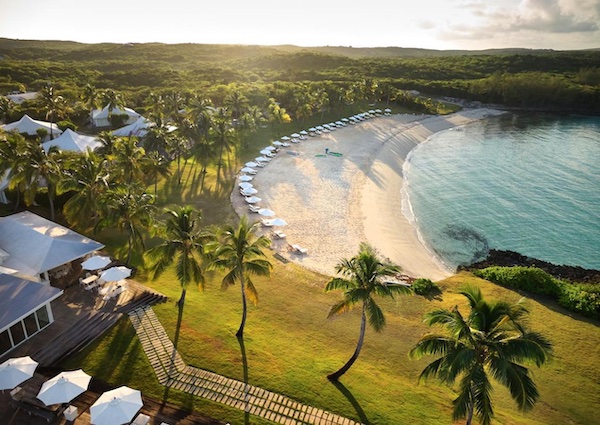 The Cove, Eleuthera
The Cove Resort is a luxury boutique resort located on the island of Eleuthera, in The Bahamas. The resort is known for its luxurious accommodations and secluded location.
Each of its 57 beachfront suites and villas has been designed with either private patios or balconies, modern amenities, and elegant decor. Some villas at the resort have a private plunge pool or outdoor showers, and the entire resort has been designed to complement the natural beauty of the island.
The highlight of this resort is the impressive twin coves with pretty pink sands, where beach attendants from the resort serve refreshing cocktails. However there is more than just pink sand to enjoy, visitors can explore the island's many natural wonders, including hidden coves, exotic coral reefs, and surfing at Surfers Beach.
The Cove Resort offers guests an excellent range of amenities during their stay, including two restaurants, two bars, a full-service spa, and a fitness center. There is also a brilliant range of water sports available at the beach, a short skip away.
The island of Eleuthera also has a rich history and guests can visit the town center, a short distance away to discover interesting landmarks such as Glass Window, before retreating to the tranquility of The Cove resort.
Hotel details
Address:
Queen's Highway , BS, Gregory Town 1548, 1548 Gregory Town, Bahamas.
Guest rating:
4.0 out of 5
Price per night:
From $320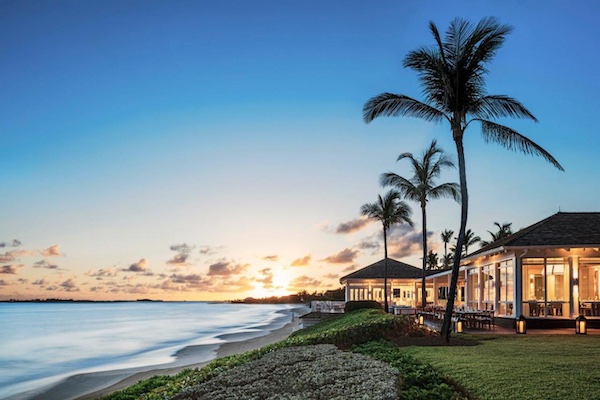 The Ocean Club Four Seasons Resort
The prestigious Ocean Club, a part of the renowned Four Seasons hotel chain, can be found on the north coast of Paradise Island, near New Providence, and encompassed by extraordinary white sandy shores. This remarkable hotel provides the epitome of luxury stays in the Bahamas, featuring three magnificent swimming pools, a location directly on the beach, five dining establishments, and an exquisite Balinese spa.
The hotel boasts an appealing and fashionable design consisting of low-rise structures adorned in bright and breezy shades of white and blue, along with natural wood accents. The Ocean Club offers a variety of accommodations, including roomy bungalows, beachside villas, and cozy rooms with ocean views.
Visitors can take advantage of the hotel's exceptional amenities, such as the beautiful Versailles-inspired gardens, or indulge in a meal at the amazing Dune restaurant. Here, Michelin-starred chef Jean-Georges presents an extraordinary fusion of Asian and French cuisine.
Guests can also indulge in daily strawberries and champagne while admiring the sunset on the expansive beachfront. The Ocean Club provides numerous activities, such as an 18-hole golf course, a top-notch fitness center, and tennis courts with coaches available.
Nonetheless, if guests desire to explore outside the resort, they can access New Providence Island via two bridges connecting it to Paradise Island, allowing them to discover Nassau city. Here, they can spend a day visiting intriguing museums and art galleries or browsing through the various boutique stores available.
Hotel details
Address:
One Ocean Drive, Paradise Island, 0000 Nassau, Bahamas.
Guest rating:
4.5 out of 5
Price per night:
From $1200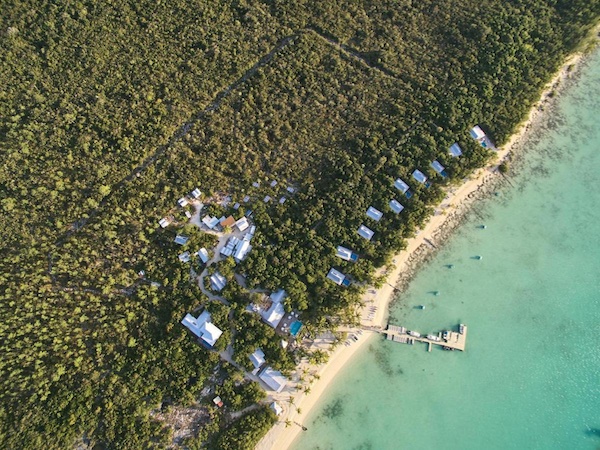 Tiamo Resort, South Andros
Tiamo Resort is located on the island of South Andros in The Bahamas and is known for its pristine white sandy beaches and crystal-clear waters rich with exotic marine life. This eco-resort offers 11 stunning beachfront bungalows, which have all been carefully designed to provide guests with a unique blend of luxury and sustainability.
Sustainability plays a large role at the Tiamo Resort with each bungalow being built using sustainable materials and gaining its power from solar energy. Although the resort is very eco-conscious, the resort still offers guests an exclusive and luxurious experience.
Each bungalow includes an outdoor shower, a private terrace, and a view of the ocean. The resort also offers an excellent range of guest services and amenities, including a full-service spa, a restaurant, a bar, and a range of water sports activities.
One of the reasons guests enjoy staying at Tiamo Resort is due to its location. The resort is situated on a secluded beach, allowing guests to enjoy the tranquility of the island in total privacy.
The surrounding waters are also known for their abundant marine life, making it a popular destination for diving enthusiasts and excellent for snorkeling.
For guests looking for an adventure, Tiamo Resort offers a range of activities with exciting fishing tours, kayaking, and paddleboarding. Guests can also explore the neighboring islands via boat tours. The hotel offers the ultimate secluded island escape, surrounding guests with an abundance of beautiful natural wonders.
Hotel details
Address:
South Andros island, Kemps Bay, Bahamas.
Guest rating:
4.5 out of 5
Price per night:
From $330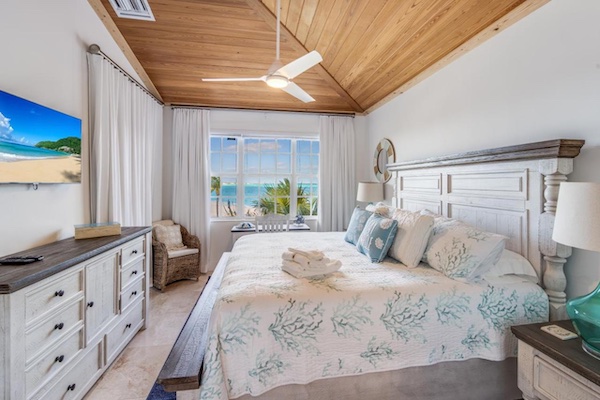 Bahama Beach Club Resort
The Bahama Beach Club is an upscale resort situated on Great Abaco island in the Bahamas. Positioned on the immaculate Treasure Cay beach and encircled by transparent turquoise waters, it provides visitors with the ultimate exotic holiday experience.
This breathtaking Bahama Beach Club is adorned in a tropical fashion and offers an array of lodging choices, such as 1, 2, and 3-bedroom suites. Every guest suite includes a roomy living space, a fully furnished kitchen, and a private outdoor section boasting extraordinary ocean views.
A broad selection of activities awaits resort guests, featuring two exceptional swimming pools, a well-appointed fitness center, and tennis courts. In addition, guests can benefit from the resort's close proximity to Treasure Cay beach, where a range of water sports activities are available, such as snorkeling, scuba diving, and kayaking.
Guests seeking a tranquil experience can rejuvenate at the comprehensive spa, offering various massages and spa services. The resort also boasts a superb beachfront bar and grill, where mouthwatering cocktails and fresh seafood are accompanied by stunning ocean views.
The Bahama Beach Club boasts a prime location on Great Abaco Island, encircled by local attractions like the charming town of New Plymouth and the Elbow Cay Lighthouse.
This luxurious and serene resort provides visitors with an ideal mix of leisure and amusement amidst natural splendor. Whether your desire is to discover the island or merely bask on the beach, The Bahama Beach Club caters to all preferences.
Hotel details
Address:
Treasure Cay Road, Treasure Cay, Bahamas.
Guest rating:
4.3 out of 5
Price per night:
From $390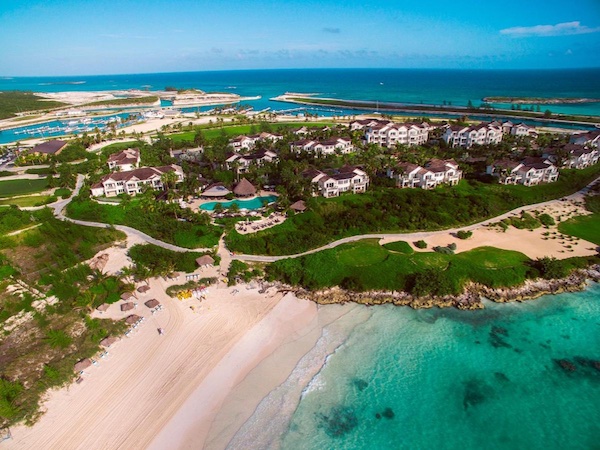 Grand Isle Resort, Exuma
Grand Isle Resort is a luxury resort located on the island of Great Exuma in The Bahamas, known for its wondrous white sandy beaches and crystal clear waters. Located on a secluded stretch of beach this stunning resort offers 78 villas and suites, each designed to provide a comfortable yet luxurious retreat.
The villas and suites at Grand Isle Resort feature spacious layouts, luxurious furnishings, and modern amenities. Guests can choose from one, two, or three-bedroom villas, many of which come with fully equipped kitchens and private balconies or patios. The resort also has a spectacular infinity pool, and a full-service spa, and offers a range of water sports on the beach, such as kayaking.
Guests can also book private excursions to nearby islands or for exclusive experiences, such as snorkeling with a marine biologist or seeing the island on a quad-biking tour. Guests can also explore the island's many cultural and historical attractions, such as the historic town of Georgetown.
Grand Isle Resort is a luxurious and peaceful retreat surrounded by natural beauty. The stunning location, high-end amenities, and excellent service make it a popular choice for guests looking to unwind in ultimate luxury in The Bahamas.
Hotel details
Address:
Emerald Bay 29253, Farmer's Hill, Bahamas.
Guest rating:
4.2 out of 5
Price per night:
From $490
About our luxury hotel recommendations in the Bahamas
We are a travel research company. Our team helps you discover the best luxury hotels in the Bahamas by researching the internet for you. We have also visited some of these places. Hence, it's not just our opinion, it's the opinion of many travelers who have been there before you. We make it easy for you to find out about the most luxurious and exclusive 5-star hotels on the islands.
Kindly note that we only list hotels that have an aggregated guest review rating of at least 4.0 out of 5. We aggregate all reviews from different booking sites and other unbiased review websites. Hence, you can be certain all hotels listed above offer you a great stay in the Bahamas.
Best price guarantee
We partner with Hotels.com and Booking.com to ensure you get the best price for your stay in the Bahamas! Both sites offer price matching. That means you pay the lowest prices for your stay. If you find a cheaper offer on another website for the same luxury hotel in the Bahamas at least 24 hours before check-in, contact them to claim a refund of the difference!
Best 5-star hotels in the Bahamas
Now that you've gone over this guide, let's summarize it. We got to know what the best 5-star hotels in the Bahamas are thanks to thousands of guest reviews and tips from travel experts:
More Bahamas guides
If you like the advice we've given you above, make sure to check out some of our other articles about the Bahamas: